Best Road Trips in India: By Car, Bike, and Bus
We always crave a road trip to bit the monotonous daily life, and India is a very much diverse Country in terms of the landscape which may make you wanderlust soul again and again. The country is massive and there are many remote destinations that are accessible by road only. The adventure to reach those destinations may thrill you and the landscapes on the way can give you the sheer beauty of India which can't describe in the words. If you are a biker- the serene roads in the mountains are waiting for you if you love Public transport- the experiencing the local culture is waiting for you and if you love traveling by Car- the alluring countryside and widening roads are just for you! In this post, I am sharing the Best Road Trips in India, gear up, and travel to the different landscapes of India with me.
Related Read: Unique Cultural festivals to experience in India
Shimla to Manali: 250 Kms
One of the best Road trips I took in my life is Shimla to Manali when I started traveling. The distance between Shimla to Manali is 250 kms but it will take 7-8 hours to reach Manali. If you are an adventure lover, surely you will love it. The roads are in excellent condition and the drive is a very scenic one. The beautiful Mountains on one side and deep valley on the other side will leave you spellbound for sure. The road trip is perfect for any Photography lover as it is one of the best Road trips in India. The best part is after Bhuntur, you will almost drive along the river bed and you can pit stop at any Dhaba on the rover bank to get tummy filled and to enjoy the river.
As the roads are curvy, one should start early in the morning to reach Manali on time. On the way you can visit Kullu town, indulge in White water rafting and you can visit the Kullu emporium for shopping of sweaters, shawls, etc. Manali offers so many beautiful experiences but don't forget to visit a few offbeat Places near Manali too. The Best time to take this Roadtrip in India is from late September to Mid July, Avoid Monsoon season if Possible due to landslides.
Manali to Leh Highway
By Arnav Mathur from The ETLRblog
The Manali to Leh Road Trip is not only one of the best road trips in India, it is one of the most scenic ones too. The landscape literally changes around every corner, and some of the landscapes are unique to the region. You cross some of the worlds highest passes to reach Leh, and then there are a couple of others such as the Khardung La Pass that you cross to reach Nubra Valley and Chang La Pass that you cross to reach the mighty Pangong Tso lake; which is probably why Leh is also called as the Land of High Passes.
The Gata Loops and Moore Plains are two segments of the Manali – Leh Road Trip that will have you in awe. The ideal road trip would be, reaching Leh by covering the Manali – Leh route, then spending a week in Leh, experiencing what Leh has to offer, and then returning via the Srinagar route.
This was you complete the entire circuit, and not only cover the highlights as mentioned in this 7 Day Leh – Ladakh Travel Itinerary, but also cover a trip to Drass – the second coldest place in the World and Kargil. Visiting Hemis Monastery ( The Richest Monastery), Thiksey Monastery, the mighty Panging Tso, admiring the beauty of the sand dunes in Nubra Valley, are some of the experiences that you should definitely have on your Ladakh Bucket List.
Leh to Pangong Lake
By Vrushali from Mumbaikar Mom
On my trip to Leh Ladakh, my husband and I traveled from Leh to Pangong Tso in an SUV driven by one of the many skilled drivers from Ladakh. In fact, this journey has to be one of the best road trips of my life! The distance between Leh and Pangong Tso is only about 160 kilometers. Yet, the journey can easily take up to six to eight hours. What's exciting about this journey is that it takes us through diverse road conditions, climatic conditions, altitudes, and landscapes. In the beginning, you will travel on the even road of the Leh Manali highway. The Thiksey Monastery and the Shey Monastery are located here. However, it is best to visit these monasteries on your way back from Pangong.
Once you leave the highway, you will start ascending towards the Chang La Pass. The Chang La pass is situated at a height of about 17000 feet and is the third-highest motorable road in the world. From here, you will again start descending. Along the way, you will pass through many villages such as Durbok and Tangste and finally reach the spectacular Pangong Tso. What makes this road trip magical is the breathtaking Himalayan beauty that you get to experience along the way. From snow-clad mountains to lush green mountain ranges, the landscape keeps changing every few minutes. You will pass the Shyok river along the way. You will also find a number of animals grazing in the mountains. You could even stop on the way to play with a few cute marmots. Some points that you must remember when planning this road trip are that you will need an Inner Line permit (for Indians) or a Protected Area Permit in order to travel to Pangong Tso and that you should carry enough medication to deal with Acute Mountain Sickness.
Spiti Valley Roadtrip
By Suruchi & Tashi from AllGudthings
Lahaul Spiti Valley in Himachal Pradesh is the extension of the mesmerizing landscapes of Tibet with challenging terrains and adventurous hairpin bend roads. It is a dry desert with the towering Himalayas in the background and the emerald green River Sutlej and Spiti feeding the area. The valley has calming vibes and is a visual treat for every tourist, traveler, photographer, and adventurist. We did 13 days Lahaul Spiti Valley road trip from Delhi by car. You can either start from the Manali side or the Shimla side. The Best season to travel Spiti is from June-September in summer months. Lahaul Spiti is a nature's paradise. It is a place to relax and enjoy the changing colors, terrains & the beauty of the Himalayas. Apart from this, spend time with the lamas in the Tabo, Dhankar & Key monastery, listen to the stories of the valley from locals, relish their local cuisines, drive to the surrounding villages like Gue, Dhankar, Hikkim, Kibber, Chicham, Tashigang, Langza, and Pin Valley and also check the moon lake – Chandratal.
Keep in Mind that The Rohtang Pass & Kunzum Pass are high altitude passes, so check the weather forecast with locals before heading out. In the mid-July – August, there are spells of rains in the Lahaul Spiti Valley, although being a rain shadow region. So, the drive can be tough as well as risky. Always keep a buffer for a day while taking the Lahaul Spiti road trip. Also, get your vehicle properly inspected and carry proper car toolkit along. Don't drive at night as the roads are narrow and valleys are deep. From the Manali side, for crossing Rohtang Pass one needs permits, which can be taken online or by visiting the DC office in Manali. Always Carry the additional photocopies of a permit with you, during the trip. The last and highest fuel station is at Kaza after Manali, the next can be found in Rekong Peo and then in Sangla, so keep this in mind if you are doing a Bike Trip.ATM facilities are available in Sangla, Rekong Peo, Kaza, Manali & Shimla but it is better to carry more cash with you. I highly recommend to spare a day for acclimatization and don't rush in the valley. Spiti is a highly Barren Desert, do respect locals, their traditions, and cultures. And remember to keep the valley clean and don't litter around, Practice responsible tourism.
The Golde

n Triangle

(Delhi-Agra-Jaipur): 450 Kms
By Kenny Chow from Knycx Journeying
The India Road trips list is incomplete without mentioning the Golden Triangle Circuit. The Golden Triangle is a classic tourist circuit, connecting three major travel destinations in Northern India: Delhi, Agra, and Jaipur via the Yamuna Expressway and NH8. The three cities house an impressive number of sights including the Taj Mahal, Humayun's Tomb, Hawa Mahal in Jaipur, and more. There are plenty of tour operators organizing private or group tours with professional travel guides, yet it is completely do-able to organize your own road trip with a car. The road between the three cities is well-paved and easy to navigate, and thanks to the great number of tourist visits, the infrastructure makes trip planning a breeze.
Begin your journey from Delhi, as the capital city has an international airport that travels to a lot of places in the world. You don't want to miss seeing Taj Mahal in Agra, a national monument that is voted as one of the New Seven Wonder of the World. The road is dotted with lots of Dhabas and restaurants to quench your hunger. The total distance can be covered in 7 hours but you need at least a week to explore all the important historical sites in three cities. Start the trip by visiting the Taj Mahal-the giant ivory-white mausoleum built in the 17th century is truly one-of-its-kind and nearby Fatehpur on the way to Jaipur. Then visit Jaipur- the Pink city which is packed with heritage sites including the famous Hawa Mahal, the Amber Fort, Jantar Mantar, and the City Palace and shop for some traditional Rajasthani items in Jaipur. Finally, in Delhi, explore the Lotus Temple, Humayun's Tomb, India Gate, Red Fort, Chandani Bazaar. The Best time to take this Road trip is from October to March in Winter Months as Summers are hot in this part of India.
Delhi to Jaisalmer via Bikaner:

760 Kms
By Avantika Chaturvedi from Waywardwayfarer
Though Road trips to the Himalayas for their 600+ kilometers mark are fairly Popular from Delhi, people often forget that the far west corners of Rajasthan are equally far off, if not more. I took a road trip from Delhi to Jaisalmer for 7 days on a KTM 390 Adventure motorcycle. I was initially a bit apprehensive of covering the 800 odd kilometers riding Pillion behind my partner, but the desolate landscapes of the Thar Desert between Bikaner and Jaisalmer proved to be quite meditative and introspective! We took 2 days to cover this journey on one side and made a night halt at Bikaner each time.
The road from Delhi to Bikaner is mostly highways and the constant tarmac can be quite boring, but the adventure of Bikaner to Jaisalmer makes up for the initial boredom. There were also patches on the road where sand had deposited with the winds and it was near impossible to maneuver the bike across. Each time we came across such patches, I had to get off while my partner made quick and precise movements to cross. I even saw a sedan get stuck in the sand at one such place. One definitely either needs a 4-wheel drive or an adventure bike to make through these sandy patches. But the beauty of the golden city of Jaisalmer was worth every sweat we broke and every adventure we had on our journey! My favorite bit of the trip was the many day trips we took to nearby villages like Khoohdi and Kuldhara to witness the raw beauty of the Thar Desert and testing delicious Rajasthani food. So if you are looking for Road trips from Delhi by Bike, this one can be the best one from all, from the retro Delhi to the Desert of Rajasthan.
Jaipur to Udaipur

: 395 Kms Royal Roadtrip
By Ami Bhat from Thrillingtravel
From the Pink City to the City of Lakes, though this Rajasthan road trip can be done in 7 hours and includes delightful stops in major towns – Ajmer and Pushkar. The journey showcases the vibrancy of Thar desert through its delightful culture. Keeping in mind the fact that there were major stops all along this route, I recommend that you keep aside at least one day extra at either Pushkar or Ajmer. Given the desert heat, it is best to plan the journey in a four-wheeler, especially if you are with kids.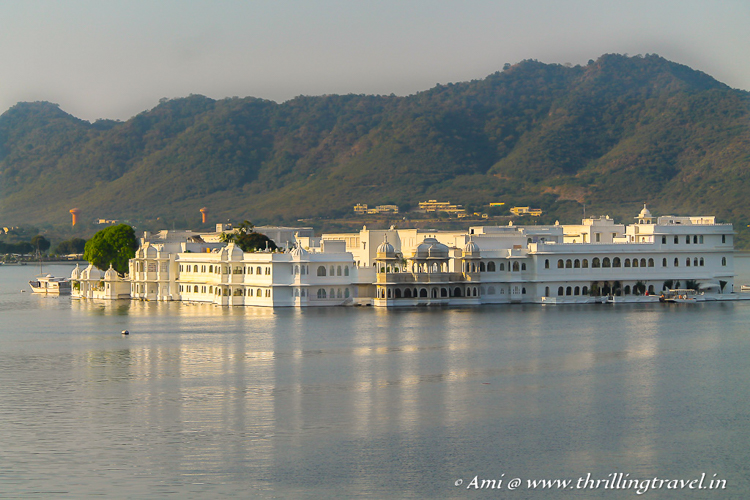 ​I started my road trip from Jaipur quite early in the morning to reach Pushkar in 2.5 hours. A quick walk around the holy Pushkar lake, a visit to the rare Brahma Temple, and delicious lunch at its delectable Dhabas, we moved to our next stop just 45 minutes away – Ajmer and its famous Dargah. If you have the time, you must drop in to see Ajmer Fort and its beautiful museum. You can choose to stay either at Ajmer or head to one of the many desert camps around Pushkar or Ajmer. After a good breakfast, the next day hit the road to Udaipur. En route, I recommend two major stops – the first at Ranakpur Jain Temple and the 2nd at the World's second longest wall – Kumbhalgarh Fort. Both these places will take up at least 1  – 2 hours of your time. Udaipur is just around 1.5 hours from Kumbhalgarh. Once in Udaipur, Visit the CIty Palace, Pichola Lake, and all the famous attractions of Udaipur. This Road trip from one Royal city to another is quite charming and is one of the best weekend road trips in India.

Jodhpur to Udaipur:

250 Kms
James Ian from Travel Collecting
If you are traveling to Rajasthan, you can't forget the Blue City Jodhpur. I and My Partner visited Jodhpur, we had taken a zipline over Mehrangarh Fort and shopped till we dropped in the Blue City.  We arranged a driver through the Haveli Inn Pal, where we'd stayed, to take us from Jodhpur to Udaipur. It is possible to do the road trip in one long day, but you can also break with an overnight stop. The drive is through lovely countryside with tiny fields, hills, and ancient water wells.  Oxen pull wooden wheels that draw water in tiny metal buckets from the wells, that show typical village life along the road. Just before Udaipur, stop at Ranakpur Jain Temple, which is stunning.  With dozens of intricately carved pillars and ornate statues, this is one of the most beautiful Jain temples in India.  Another highlight – and a good place for an overnight stop – is Kumbhalgarh Fort.  The well -preserved fort sits atop a hillside (it's a short but steep walk up to it) with spectacular views of a crenelated wall snaking over the surrounding countryside.
 In Udaipur, Stay at Heritage Haveli right on Pichola Lake and one can spend several days exploring Udaipur. Highlights include the incredible City Palace and taking a boat ride on the lake to visit Jagmandir, a former palace on a tiny island in the middle of the lake.  For a splurge, you could even stay on the island Taj Lake Palace and live like a Maharaja or Maharani. This trip is through Rajasthan, which gets incredibly hot in summer, so it is best explored in winter.  I was there in February, and this was a great time to go.
Ahmedabad to Great Rann of Kutchh: 454 Kms
Editor's Choice
The winter months are good to visit the vast white desert of Gujarat-Rann of Kutchh. The barren desert for miles and miles, the smiling locals, artisans at work making colorful Kutchhi Handicrafts, and lip-smacking food will make your trip worthwhile. From Ahmedabad, start early in the morning to bit the traffic, but the roads are in excellent condition. On the way must visit Indian Wild Ass Sanctuary is known as Little Rann and Chhari Dhand- a bird watcher's Paradise. Also, you can visit Bhuj for a day, nearby Hodko Village, and Ajrakhpur for Ajrakh Print Handicrafts in Kutch. On the way to White Rann of Kutchh, you must visit Kalo Dungar and Nirona village for Rogan Art Workshops. The sunset at Rann of Kutch is spectacular especially on Full Moon day, so try to reach near sunset time and spend your night at one of the resort in Kutch under the twinkling stars. I must say this would be one of the most memorable trips of your Life! The annual Rann Utsav festival held between October to march, which is the best time to take this Road trip in India.
Pune to Mumbai Expressway: 140 Kms- T

hrough the Scenic Western Ghats
By Trisha from Try Wandering More
Having lived in Pune, I drove to Mumbai often with my family, Partner, and friends. Despite the frequency, the charm of this drive never died. Why? The 6-lane Mumbai-Pune Expressway is another of India's most developed road networks apart from NH 8 and it is one of the best route for road trips to take in India. The road to Mumbai is a well-maintained and runs across the hilly Western Ghats, passing long tunnels and picturesque valleys. The best time to take this Road trip is Monsoon season, the usually barren brown hills become verdant green, with waterfalls dotting the way. Often shrouded in mist, these hills have a mystical charm. The journey takes 3-4 hours but you should spend 1-2 nights midway at beautiful resorts in Lonavala. If you're into camping and hiking then camp at Pawna Lake for the epic sunrise/sunset over the water, hike 16km to Rajmachi Fort or do the overnight Rajmachi Hike and Camp to see fireflies twinkle like stars.
Nature lovers can admire the valley view and relish some Bhajjis at Tiger's Point in Lonavala, visit Duke's Nose Point at Khandala, and tour the Karnala Bird Sanctuary near Mumbai. Kids will love their time at Imagica where they can choose between the theme park, the snow park, and the water park. If you're looking for luxury or a staycation, opt to spend the night at top-notch resorts like Hilton Shillim Estate Retreat and Spa, Della Resort, or Aamby Valley City. Here you can live among nature and have fun without needing to step out. Remember that two-wheelers aren't allowed on the expressway. Try to avoid this route on Friday and Sunday evenings as you're likely to get stuck in a traffic jam. So pack your road trip essentials and set out for an immensely scenic trip!
Bangalore to Coorg via Mysore: 270 Kms
Editor's Choice
The road trip from Bangalore to Coorg is one of the most famous Road trips in India and a delight for nature lovers. The Coorg- famous for its Coffee Plantation is a small Hill Station of Madikeri District in Karnataka. The Coorg is a popular weekend gateway from Bangalore and considered one of the best hill stations in India. I traveled from Bangalore airport to Coorg via Mysore by Volvo Bus and the roads are in excellent condition, it hardly takes 5-6 hours to reach Coorg. The Coorg is surrounded by Western ghats, which provides stunning landscape and stunning vistas of surrounding hills. If you are traveling by car, visit the Srirangpatna and historical Places of Mysore for a day. If you are traveling via NH 75, must visit Shravanbela Gola Jain temples. Once in a Coorg, take your days slowly and visit nearby Bylakuppe and Madikeri town. There are many Places to Visit in Coorg- from waterfalls, hiking hills to Lakes but don't forget to stay at one of the Coffee Plantations and knowing about the Spices in Coorg.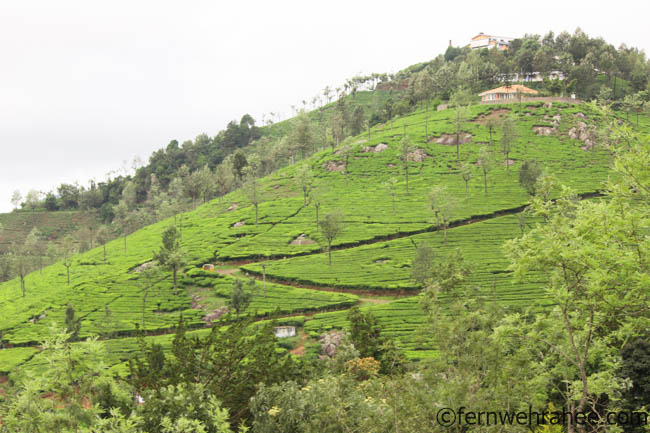 Banaglore to Ooty: 330 Kms– 7-8 hours
Editor's Choice
Ooty is the Queen of hill stations in India and nestled amidst the green Nilgiri hIlls. Whether you are traveling by Car or Bike, this Road trip in India is for all nature lovers. The verdant greenery that changes every mile, lush green mountains, and the scenic landscape will give you one of the best experiences of your life in this stretch. The route stretches along NH 275, don't forget to visit Bandipur forest and Madumalai Wildlife Sanctuary along the way. If you want to stop for a bit on the way, visit the stunning BR Hills. And once you are in Ooty, you will be greeted with acres of tea Plantations, majestic waterfalls along the way, and beautiful Lakes with clear water. The nearby towns like Coonoor and Kotagiri will enchant you with its unparalleled beauty. If you are old fashioned childlike, take the Heritage Nilgiri Mountain Toy train Ride from Mettupalayam to Ooty or ride toy train in Ooty instead of taking a road trip from Mettupalayam.
Also Read: Best Places to Visit in Ooty- 3 days itinerary
Coimbatore to Kodaikanal: 180 Kms- 5 hours
Editor's Choice
The Road between Coimbatore and Kodaikanal is 180 Kms, but it will take 4-5 hours to reach the Princess of Hill Station-Kodaikanal. The road stretch is most scenic and runs through picturesque landscapes. There are hills on both the side and beautiful greenery all around. As you cross Pollachi and enter Dindigul, the scenery changes to farmlands- coconuts all along the highway and green trees form a tunnel-like view! As you reach towards the Kodaikanal, 50 km of Kodaikanal Ghat road will start. It will take almost 1 hour to cover this scenic Ghat road that passes through waterfalls, mist, and clouds. You will love the fragrance of fresh humid atmosphere as you reach towards Kodaikanal.
The Kodaikanal is one of the quiet Hill Station in South India surrounded by Lakes, waterfalls, and picturesque villages. Don't forget to visit this pretty hill station covered in fog and mist surrounded by the Pine forest. During my South India trip, I stayed for 2 days in Kodaikanal which was one of the most memorable days of my life!
Kochi to Munnar: Kerala Road Trip
By Kunjal Karania from Unplugged Moments
I love monsoons and experiencing the lush green with fresh air down south, hence we did this road trip in Kerala in June with My husband and our friends. It was started from Kochi to Munnar and ended at Kochi via Thekkady, Kumarakaon for 10 days. The Roads are in good shape and the road starting from Munnar till Thekkady is beautiful and scenic. There are nameless waterfalls on the way along with tea plantations alongside which makes it so serene. Being monsoons, we experienced a lot of food on the way, so be careful with that. Luckily, no heavy rainfalls stopped us. At Munnar, trek to Eravikulam national park to spot the Nilgiri Tahr ( we were lucky to have spotted a few) and the views are a bonus. And, Of course, we drove the tea plantations, its simply heaven especially the sunset time. And during monsoons its simple mesmerizing. Moving ahead, we went for safaris at Thekkady, even though you might not spot animals ( which happened with us) but the mountains, valleys, and nature are worth it.
Also, you can enjoy the local tradition of kalaripayattu and kathakali at Thekkady. Leaving the mountains behind, head to Kumarakom, and take a houseboat ride at backwaters, which is a beautiful experience, opt for sunset. Also, Visit the beautiful Marari beach at Alleppy, it is sparingly very clean. End your journey at Kochi- walk through the lanes and beach of Kochi for some colonial architectural beauty and Chinese fishing nets. If you are looking for a beautiful and refreshing road trip with the mountains, tea plantations, safaris, beaches, backwaters, and history, the Kerala Road trip is a must in India!
Chennai to Pondicherry:

The ECR Coastal Drive
By Debjani from The Vagabong
Pondicherry or Puducherry as many of us are fond off is well known for its colonial mansions, french avenues, and several beautiful french style architecture. It is very well connected to Chennai. Although there are about 50 trains which go from Chennai to Puducherry. But, one of the best ways to travel is by road. There are however two routes but one of the most scenic routes is the ECR route which passes through the sea coast. Pondicherry is at about a distance of 152 km from Chennai and takes about 3.5-4 hrs depending upon traffic.
There are many state-run buses and as well as Volvo bus which runs on this route but must drive or travel by car to cherish the serene roads. The road stretch runs along the Bay of Bengal and gives a nice panoramic feel of the coastal seaside. There are several hotels/ resorts on this route and the best part is one can also stop at Mahabalipuram to check the iconic stone temples of Mahabalipuram and checking out the beaches. Mahabalipuram falls in between Chennai and Puducherry. The best time to take the ECR Route road trip in winter months from December to February. Pondicherry is ideally a weekend destination from Chennai and can be easily covered in 2-3 days. There are various yoga retreats at Auroville if one wishes to opt for that. Puducherry is also famous for its water sports and adventure activities like Surfing or Scuba Diving in Puducherry is one of the best. Also, there are many restaurants/cafes/bars one can hangout by giving a pit stop anywhere in between. So for a laid back weekend drive down south, the Chennai- Pondicherry route is one of the best-recommended road trips in India at all times.
Visakhapatnam to Araku Valley: 115 Kms- 3 hrs
By Shubhadeep from Mytravelframes
One of the Best and beautiful Road trip in India is Vishakhapatnam to Araku Valley. Araku Valley, the most visited hill station in Andhra Pradesh is 112 km away from the city of Vizag. The journey from Vizag to Araku Valley through the rich landscapes of Eastern Ghats make it one of its kind. We made a day trip to the valley, the plan was to reach Araku first and then after visiting the tourist points in the valley we would stop at the other places en route while coming back. Although the train journey to Araku has its own charm, from the alluring beauty of Green to stunning Hills makes it spectacular.
The route across the Eastern Ghats is the best part of the journey. The wet ghat roads, drizzling rain, lush green forest, and rolling cloud at the top of Ananthagiri Hills – the beauty of Eastern Ghats make it magical in monsoon. The ghat roads gradually opened to a wide valley with a pitch-black road running at the center. There were wide stretches of farmlands on both sides with small tribal villages scattered in between. It takes 3 hours to reach the Araku town from Vizag. You can Visit Araku Tribal Museum, Galikonda View Point, Ananthagiri Coffee Plantation, Borra Caves and Katiki Waterfalls, etc. Don't forget to taste the freshly brewed Araku Coffee from one of the roadside stalls near Ananthagiri Coffee Plantation.
Bagdog

ra

to Darjeeling:

68 Kms- 2.5 hours
Northeast India is blessed with abundant mother nature and the eastern Himalayan range. If you are heading the first time to East India, Darjeeling should be your first stop of your to your North East India Road trip. The Roadtrip to Darjeeling Passes through lush green tea estates, scenic views, and soak into the aroma of hot piping Green tea wherever stop for a while. The road is curvy and narrow but the fresh scent of the forest will make your journey more enjoyable than the destination itself! This Best road trip is best memorable when you visit the region in the Monsoon season and will be one of the unforgettable experiences with waterfalls on the way. You can stop for a few hours at beautiful Mirik Town, Ghoom Monastery, and Pashupati Market at Nepal-India Border. Once in Darjeeling, You must visit all the Best Places of Darjeeling including tea testing sessions at Tea Lounges.
Also Read: Toy Train Ride in Darjeeling
Kolkatta to Sundarbans:

100 Kms
By Anwesha from Going Places with Anwesha
The mangrove forests of Sundarbans have a way of captivating you with its wildlife living in tandem with the ecology, cradled by the greenery. A UNESCO world heritage site spread across an area of 10,000 square Km, sharing itself with Bangladesh. The vast jungle of mangroves is home to dangerous and diverse species. In short, it's a paradise for wildlife enthusiasts and photographers who love to spend time in the laps of nature. A road trip to Sundarban National Park from Kolkata is a thrilling adventure.
Start your drive through Basanti-Malacha highway to reach Godhkali, from where you can hop on to a boat from the Jetty to cross the river. The hour-long boat ride will give you time to take everything in and appreciate your surroundings. You could do the Sundarban tour in a day, but I will suggest you stay for at least two days and explore all the islands. Do the boat Safari with the tour operators operating out of Godhkali as they will save your time and obtain all the necessary forest entry permits for you. Enjoy the boat ride through the Sundarban National Park, meandering your way through al the creeks, canals, and waterways in search of the wildlife. And if you are lucky, you can catch a glimpse of the beautiful Bengal tigers along with other wildlife. Don't forget to visit the watchtowers Sajnekhali and Sudhyankhali – for watching more than 200 species of winged friends. September to March are the best months to visit Sundarbans, the winters being the most pleasant period in the region.
Related Read: Places to Visit in Gangtok in 2 days
Guwahati to Ziro via Tezpur: 460 Kms- 10 hours
By Rachita from Meanderwander
Ziro is an offbeat hill station in North East India that very few people ever visit. Thankfully, I was able to visit this place during the Ziro Music Festival and had one of the most amazing times here. One of the easiest ways to reach Zero is to reach Guwahati and then taking a train/Roadtrip via Tezpur. You can also take a red cab to reach Ziro. There was an uneven Path due to the monsoon season in September but the scenery was undeniably beautiful. This road trip is one of the best for any adventure lover as roads are in good condition and the scenic beauty is breathtaking.
The Ziro valley in Arunachal Pradesh has a spectacular view of the mountains! The layered landscapes of rice- fields, and rivers give you views like Postcard. There is an annual Ziro Music Festival held in Sept/Oct. What I loved about Ziro was how clean and green it was and the unique lifestyle that was followed here. This destination is one of the few places to practice ecotourism and you can even meet the Apatani Tribe people who are responsible for this. During your stay here, you can opt for a lot of activities here such as learn how to fish in the local fishing village, take a tour of the village and interact with the members of the Apatani tribe, go on day hikes, and so on. Also, make sure that you try the rice beer which is a specialty here, and do attend the Ziro Music Festival. This festival celebrates talent from all over the world and has some kick-ass lineup every year. There are lots of stay options available in Ziro such as tents, homestays, and a couple of hotels as well. Personally, I would suggest you stay in tents or homestays to experience what Ziro has to offer you.
Guwahati to Tawang:

510 Kms- 14 hours
By Ishani Nath from The Buoyant Lifestyle
Perhaps one of the must take Road trips in India or in North East India is Guwahati to Tawang. Tawang is located in Arunachal Pradesh state of India. The Route from Guwahati to Tawang is filled with lush green scenery and mountains on both the side. The Road trip is quite long and adventurous plus the Roads are in rough condition, the landslides are frequent on this route. My Road Trip to Tawang was one of the most hazardous road trips that I and my husband had ever taken because I faced two landslides along the way and stranded in a car for a night! But hopefully, we could visit the Tawang on clear days. The Route is long, we took a stopover at Bomdilla for the Road trip to Tawang. You can witness the Buddhist Culture at beautiful Tawang Monastery and other mesmerizing Places of Arunachal Pradesh like Sangester Lake, Bumla Pass, Buddha Park during your visit to Tawang.
On the way back Sela Pass took our breath away and as I sipped hot tea at a cafe; I was drifted to another world. The journey onward to Dirang was smooth, the sun was shining bright and we made innumerable halts to take photographs. Also, you can stop at Tezpur in Assam to explore its cultural and historical attractions. Don't forget to try the lip-smacking food on the way. The best time to take this Road trip is from March to October. Most of the roads in high altitudes are in deplorable condition. The areas are full of landslides, shooting stones, which are quite common here. That makes road trips across the Northeast so thrilling, adventurous, and memorable.
Travel Tips to Plan India Road Trip:
Keep your Loved ones informed when you are on the road for your safety.
Be wary of your Navigation System.
Research about destinations on the way in advance, about Road Condition and traffic scenario to avoid offbeat track.
Tank the fuel full and keep spare fuel with you to avoid the hassle.
Keep cash ready at check-posts and tolls on the way.
Keep your eye on the weather if you are heading to the Mountain drive.
In India, you will experience different terrains so choose the car wisely for your ride.
Keep the first aid kit along with you if any unwanted events happen on the road.
Finally Don't drink while you Drive and Be safe! If you like this Post about the Best Road Trips in India, Pin it for later.