Perfect 10 Days Kerala Itinerary and Kerala Travel Guide
The below itinerary is based on my own experiences and this 10 days Kerala Itinerary is entirely doable and will allow you to see the best that Kerala has to offer. I also included a few Kerala travel tips.
Kerala, India's southernmost state is known as God's own country and for every right reason. The state is blessed with backwaters, lagoons, tea and spice plantations, wildlife as well a vibrant culture. It is an extremely safe state for family tours, group travelers, as well as women, and solo travelers. That is one of the reasons why it is popular not only in India but also with international travelers. Kerala or Rajasthan is generally the first choice of visit in India.
So here is the Perfect 10 days Kerala itinerary by road to explore the lush greenness and the lovely countryside.
Note: This itinerary starts in Kochi(Cochin international airport) and finishes in Varkala (leaving from Trivandrum International Airport).
10 days Kerala itinerary & Kerala Travel Tips
What I love most about Kerala is lush greenery, amazing backwaters, rolling hills with tea plantations, varying landscapes throughout the state, amazing temples, beautiful beaches, a blend of cultures, and amazing food- it offers everything one can ask for! Every place has its own charm and Kerala is special on its own.
In this article, I have covered the Best places to visit in Kerala, must-visit attractions and how to get there, and what to do. I have covered most of the things to do in Kerala in this 10 days Kerala itinerary article which may help you to plan your perfect Kerala trip.
What is the best way to cover this 10 Days Kerala itinerary?
It is ideal to hire a car or self-drive all the way in order to cover the maximum number of places possible. However, this itinerary can be covered using public transportation such as a bus. Ideally, visitors can fly or ride a train up to Kochi or Thiruvananthapuram which are the major cities in Kerala, and driving from here to other touristy places is ideal. The plus side is both are on the coast so one can cover the entire state either from north Kerala which is Kochi to south Kerala which is Thiruvananthapuram or vice versa.
This itinerary will cover various places from Kochi to Thiruvananthapuram(Trivandrum).
Day 1 of 10 Days Kerala Itinerary: Kochi
Kochi is the major airport in Kerala and is connected to the country's most important domestic airports as well as many international ones. Kochi is the economic capital of Kerala and is the perfect Keralean city to orient you towards the state and what to expect. In its modern lanes still lies the traditional heart.
You can see the fort, and Kochi beach, enjoy a traditional meal, and cultural dance, or enhance your senses with a spice market, all in one city. But I suggest that you experience each of these in various places across Kerala.
To make the most of your 10 days Kerala Itinerary, make sure you reach early in the morning so that you can freshen up and start exploring Kochi right away! I suggest spending one day in Kochi and then moving towards the hills of Munnar.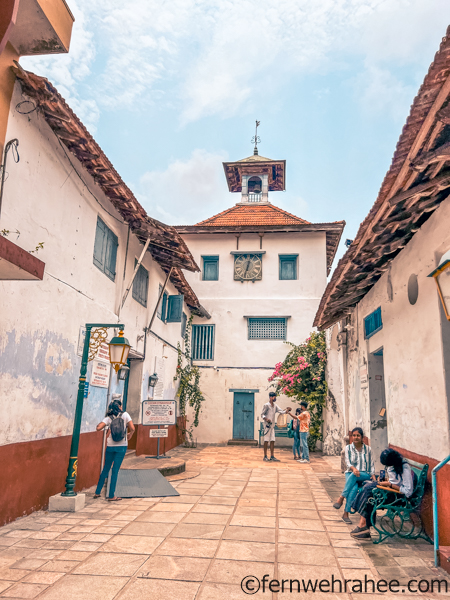 Things to do in Kochi: Kochi Sightseeing
Thankfully, most of the sightseeing places are all located in one part of the city. Spend the half-day at Fort Kochi and the rest of the day visiting other Places in Kochi. In Fort Kochi, you can visit the Mattancherry Palace and Pardesi Synagogue. Mattancherry Palace is also known as the Dutch Palace which has beautiful mural paintings.
There are so many amazing places to visit in Fort Kochi as it is known for Dutch, Portuguese, and British colonial architecture. The famous bamboo Chinese Fishing Nets are still being used for 500 years, it is interesting to learn how they still work! St Francis and Santa Cruz Cathedral Basilica are also must-visit Places while in Kochi.
Also, check out souvenir shops on Princess Street. Kochi is a good place to watch the Kathakali Dance show which is an ancient dance form of India. If you have more days in hand, I would recommend spending 2 days in Kochi and exploring its cafe scene. One must visit Kashi art Cafe to see the unique art creations.
Day 2-3 of 10 Days Kerala Itinerary: Munnar
Munnar is Kerala's favorite hill station. Famous for its tea gardens, it is indeed a tourist paradise. Chosen by people of all ages, there is a lot to do or not in Munnar. Ideally, you need 2 days in Munnar.
Leave early from Kochi for a 5-hour road trip to Munnar- One of the Best Hill Stations in India. The city traffic will slowly reduce towards this hill town as the cool breeze will welcome you. As you go closer to Munnar, the straight roads will turn into zig-zag rods and all you will see around are acres and acres of tea plantations across the valleys.
Things to do in Munnar
Munnar is one of the most popular places to visit in Kerala. It is a great location to spend 2 days amidst the tea plantations and hills. The temperature remains cool throughout the year in Munnar. One of the most popular things to do in Munnar is taking a stroll in one of the many tea plantations that are open to visitors.
India produces the best tea in the world and you can take guided tea-tasting tours that explain the history and manufacturing process, you can even taste different varieties of tea at the end of the tour. You can buy what you taste from the retail shop.
Related Read: Ooty- the tea Capital of India
The next day, pay a visit to one of the many wildlife parks in Kerala. Eravikulam National Park which is situated close to Munnar is famous for the goat species known as Nilgiri Tahr. These mountain goats exclusively roam in the hills of Munnar and it is amazing to catch a glimpse of them in their natural habitat. It is best to book the tickets online so as to avoid waiting in line. If you want to cover more wildlife parks, Chinnar Wildlife Sanctuary is 2 hours away from Munnar and has sightings of birds, elephants, and spotted deer.
The park will take up most part of the morning so you should head towards Mattupety Dam and tea estate, Echo Point, and Top Station which are some of the most touristy places in Munnar. These are good places for a photo-op and have a nice relaxing atmosphere.
Apart from this, there are so many places to visit near Munnar and you can even take do many adventure activities in Munnar. There exist many hiking trails which can be covered with the help of local tour operators or guides. Rock climbing, rappelling, and many such adventure camps also exist in Munnar which offer activities from a few hours to days.
Day 4-5 10 Days Kerala Itinerary: Thekkady-Periyar
Thekkady is another hill station in Kerala. While it is totally okay to give this a miss if you are visiting Munnar,I will highly recommend you to visit Thekkady. Thekkady is 4 hour driving distance and the roads from one hill station to another are nothing short of breathtaking.
Things to do in Thekkady-Periyar
After reaching Thekkady, relax for a bit and then take a stroll in the many spice plantations in the area. Kerala is the largest producer of spices such as black pepper, small cardamom, and cloves. It is also the largest producer of rubber. There are many spice plantations that allow visitors and take them on a guided tour where each of these fruits and spice trees is shown and their life cycle is explained.
In the evening, immerse yourself in the cultural event of the Kathakali dance. Kathakali is a religious dance that draws inspiration from the Ramayana and stories from Shiva traditions. It is performed by men in traditional attires with face paints. It takes hours to perfect the art of getting ready for the performance. All of this is showcased during the show. There are many places where this takes place.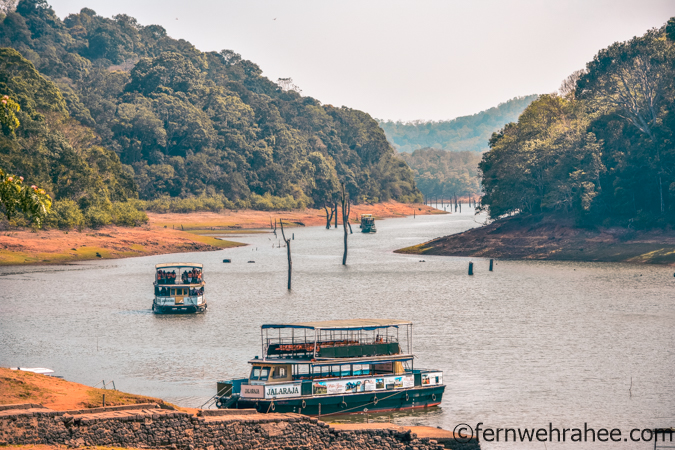 On the next day, get ready to visit Periyar. One of the top things to do in Thekkady is visit Periyar Tiger Reserve. Thekkady is home to the stunning Periyar river which hosts the elusive Tiger in its forests.
To experience the best of Periyar Tiger Reserve, opt for Bamboo Rafting which includes a trek through Jungle and a Boat ride. A boat ride on the Periyar river is therapeutic with beautiful and peaceful surroundings.
The ride paints a beautiful picture with broken tree barks in the river, deers drinking water from the riverbank, and cormorants trying to catch a fish. Catching a glimpse of a tiger or elephant is difficult on a boat ride but not impossible.
If you are a serious wildlife enthusiast, you can choose to take up a gypsy ride in the forest or even decide to stay in the forest guesthouse. This whole experience of exploring the untouched beauty of Periyar Tiger Reserve may take 6-7 hours.
Day 5-6 of 10 Days Kerala Itinerary: Kumarakom
After the boat safari in Periyar, it is time to move to Kumarakom. Located on the banks of Vembanad Lake, Kumarakom is a refreshing change from the hills to the lake. It is located 3 hours from Munnar so by the time you reach Kumarakom it will be evening. So relax and chill on the banks of Vembanad lake watching the sunset.
Things to do in Kumarakom
Kumarakom is a popular destination lined with resorts for a relaxing stay. There are some resorts located on the banks of Vembanad lake while some are in the backwaters. There is an option of choosing a houseboat here. You can choose to stay in Kumarakom and explore Alleppey the next day or choose to spend 2 nights in 2 different places. You can read about my one day in Kumarakom along with many recommendations.
Day 7: Alleppey
Kumarakom and Alleppey are located on opposite sides of the Vembanad lake and both have backwaters, which Kerala is famous for.
Things to do in Alleppey
Other than exploring the country life in Alleppey or relaxing by the backwaters or experiencing ayurvedic massages, there are not many activities to do in Alleppey. If you want to cruise the backwaters and stay a night on a houseboat you might want to choose Alleppey. The boats leave from both locations but Alleppey has by far the biggest choice for a backwater cruise. You can either choose Kumarakom or Alleppey in this itinerary and save a day. If I had to choose, I would choose Alleppey over Kumarakom for the rugged country life.
If you choose to go for the houseboat cruise, note that the boat sails only for 6 hours. Local regulations reserve the lake for the fishermen at night and all houseboats have to dock by 5:30 pm.
Instead, choose a hostel on the backwater and hire a shikara or narrowboat to navigate through narrow channels. The Shikara boats are available around the backwaters and if you request them they will show you many birds around the area.
Should you go to Alleppey or Kumarakom?
This totally depends on your choice and what you want to do! If you want to cruise the backwaters and want to spend the night in a houseboat, choose Alleppey. There are more choices to choose houseboats for Alleppey. You will not find many resorts for the stay for the Alleppey.
If you want to experience both the resorts and overnight Stay in a Houseboat or cruise, Kumarakom would be the better choice. Many resorts offer packages for the same.
Day 8-9 of 10 Days Kerala Itinerary: Varkala
The day is the 8th day of the Kerala itinerary to visit the beach town of Varkala. Varkala is approximately 4 hours from Alleppey and is famous for stunning and clean beaches all across. Varkala is one of the most popular tourist destinations of Kerala and for good reasons.
firstly, the iconic cliff beach and the shops, and cafes around the cliff makes it one of the hippiest place in Kerala. Secondly, it has a beach that is perfect for surfing in India. Thirdly, it has many Yoga ashrams and is known for its Ayurveda. These reasons are enough to include Varkala as one of the must-visit destinations in your 10 days Kerala itinerary.
Things to do in Varkala
Enjoy the evening sipping coconut water overlooking the sunset on Papanasham beach or Bekal beach. Taking a dip in the beach water will definitely relax you from all the driving you have been through in the week! Or perhaps some yoga by the beach may calm your nerves?
On the next day, visit the Varkala cliffs. Varkala is the only place in Kerala where cliffs are found adjacent to the sea. It is a perfect place to take a stroll, play some volleyballs or simply chill in the many cafes set up on the cliff. Do visit the red laterite cliff which is one of the most popular tourist places in Varkala.
If you want to drive away to do something else, Kappil Pozhi Lake is a serene lake that is approximately 6 kilometers from Varkala town. It is surrounded by coconut and palm trees which makes it tranquil. If an adrenaline rush is on your mind, Varkala offers Paragliding adventure activity over the cliffs, overlooking the ocean.
Anjengo Lighthouse is another place you can visit while in Varkala. Climbing a good 250 stairs from the lighthouse offers a stunning panoramic view of the Arabian Sea.
You can try surfing, visit Yoga Ashram or visit the beaches of Varkala, there are so many things to do in Varkala which keep you relaxing.
Day 9-10 of 10 Days Kerala Itinerary: Thiruvananthapuram
Thiruvananthapuram (or Trivandrum) is the capital of Kerala and is distinguished by its British colonial architecture and art galleries. Thiruvananthapuram is the last leg of the journey which is located 2.5 hours away from Varkala.
Things to do in Thiruvananthapuram
One of the most popular places to visit in Trivandrum is the Shri Padmanabhaswamy temple. The temple is said to be built as an amalgamation of Dravidian and Kerala-style architecture with tall Gopuram.
After visiting the temple, visit the museum complex which is something not to be missed. Also known as Palayam, the Museum Complex houses a museum (Napier Museum), an art gallery (Chitra Art Gallery), churches, a botanical garden, and a few markets. The museum and art gallery inside the complex is known to have restored many historic artifacts and selective paintings.
Next day head to Kovalam, a small beach town located 30 minutes from Thiruvananthapuram. Kovalam is most famous for its iconic Kovalam beach and Vizhinjam Lighthouse, a must-visit while in Thiruvananthapuram. Kovalam beach will certainly remind you of one of the North Goa beaches if you have been to one!
Water sports, beachside shacks, people sunbathing on the beach, and overall a lot of crowds will welcome you to the beach. But it has a vibe not to be missed!
The Vizhinjam Lighthouse and promenade along the beach which is lined with stores, cafes, and restaurants are a few of the distinctive features of the beach. After climbing 150 stairs of the lighthouse, you will come across beautiful landscapes not to be missed!
Either go for a swim on the beach or laze around in the lounge chairs or sit back in one of the cafes and read a book. And end your trip by just chilling out by the beach.
Best time to visit Kerala
Kerala enjoys a tropical climate across the year but the best period to visit Kerala is from November to March when the weather is much more pleasant. Most visitors prefer the Indian winter period because it's warm but not too hot and fewer chances of rain in Kerala.
From April, the temperatures start rising towards 30 degrees and more. Most tourists avoid Kerala during these months but it is a great time to explore the region if the heat doesn't bother you and the hotel rates are lower with fewer crowds.
June, July, and August are the monsoon season in Kerala which is extremely hot and humid. There are heavy showers and floods are common during this time of the year.
Must visit activities in Kerala
Kumarakom Boat race which takes place in September and October
Cochin Carnival which is widely celebrated in January
Must try the food of Kerala
Kerala food deserves a blog of its own because it is influenced by so many different cuisines across the world and has developed a unique flavor that is hard to get anywhere. The distinct curry leaves and coconut used in the local food will keep you coming back for more. Kerala cuisine has an abundance of rice, tapioca, and spices like black pepper, cloves, cinnamon, and ginger. Both vegetarian and non-vegetarian options are available in plenty here! These dishes are available in humble roadside restaurants as well as resorts.
Some of the must-try vegetarian dishes are:
Malabar Parotta with Kadala Kurma
Appam with curry – a soft thin pancake made from rice batter and served with curry
Puttu and kadala curry – Rice Cake made out of steamed rice flour; cylindrical in shape
Idiyappam with curry – Noodles made out of rice batter
Erissery (Lentil & Pumpkin Stew) – a kind of dal curry
Payasam (Rice kheer) – a dessert made out of milk and rice
Sadya – a feast consisting of many vegetarian dishes served on Banana leaf
Some of the must-try non-vegetarian dishes are:
Nadan Kozhi Varuthathu (Spicy Fried Chicken)
​Kerala Prawns Curry
Karimeen pollichathu (fish)
Malabar Parotta with Kerala beef curry
Fish moilee
If you are fussy about the food then you can find so many cafes and restaurants that serve vegetarian, nonvegetarian, and regular continental dishes. Most hotels and resorts serve a variety of food at their restaurants.
How to reach Kochi, Kerala for 10 days Kerala Itinerary
Kochi has an international airport and is well-connected with most major cities of India and the world. Here is how to reach Kochi.
Reaching Kerala by Air
Cochin International Airport is 25 km away from Kochi city at Nedumbassery. Visitors can board direct flights from Ahmedabad, Delhi, Mumbai, Kolkata, Hyderabad, etc. There is also good air connectivity to Kochi from most Gulf countries and South Asian countries. Most people prefer to fly in and out of the Kochi international airport as Kochi is near most of the sightseeing places to visit in Kerala.
Train to Kerala
Most of the major tourist places of Kerala are well connected by train. Also, India has a heavily connected train network that covers all major cities of India. The state capital of Kerala- Kochi has train connectivity to Ernakulam Junction which is the busiest rail junction in Kerala.
You can board direct trains from major cities like Mumbai, Delhi, Mangalore, Bangalore, and many others. Internal state connectivity is also good from here. You can reserve a seat in AC or Sleeper class via the IRCTC website. For shorter journeys, you can travel in a general compartment.
By Road
Kochi is well-connected to neighboring cities and states. The NH-17 connects the city to Mumbai, Kozhikode, Mangalore, Bengaluru, Chennai, and Goa. Deluxe Volvo buses, AC sleepers, as well as AC normal buses, are also available right from the cities to across the major destinations.
Kerala KSRTC runs numerous buses within Kerala to reach major tourist destinations. You don't require any prior reservations to board these Buses. You can check the Bus timings online on KSRTC Website. You can show up at the station and board the bus as per your route. If you want to do a long-duration trip, you can always book the Bus via Red Bus or any other online website.
Getting around Kerala
To reach one destination to another, you can travel via Kerala KSRTC buses. It's a reliable and convenient option. Trains are also a popular option for transportation around Kerala.
Within cities, you can rely on tuk-tuks or auto rickshaws which are a common way to get around in the cities in India. You can hire an auto for a full day at less prices than taxis.
If you are a luxury traveler and want a comfortable trip without budget issues, hire a car with a driver throughout your stay in Kerala for your 10 days Kerala trip.
If you like my 10 days Kerala itinerary Post, Pin it for the later: