7 Best Places to Visit in Thekkady, Kerala: Complete Travel Guide
If you are planning a trip to India, Kerala should be on your bucket list, in your India itinerary. Also, if you are planning your summer vacation and are confused about your choice of the hill station, then add Thekkady to your Kerala itinerary. Check out my recommendations about Best Places to Visit in Thekkady and add them to your list of things to do in Kerala.
Thekkady is a popular tourist destination in Kerala and is located 4 km away from Kumily, a plantation town on the Kerala-Tamil Nadu Border. If you think it's just a hill station, it is not! It has so much to offer and so many places to visit in Thekkady including Periyar Tiger Reserve, Spotting wildlife, evergreen forest, culture, and yummy food. It is a delight for travelers because of its unending chain of hills with scented spice plantations along with tea, coffee, and cardamom.
Tourists arrive from every nook and corner of the world to spot the tigers in Periyar National Park because Periyar is one of the major tourist attractions in Thekkady, Kerala. Also, it offers Ayurvedic massages, spice plantation visits, and everything that nature can offer to you! The idyllic destination offers thrilling adventure activities, unique wildlife, untouched nature, and decent and affordable accommodation which makes it one of the best places to visit in Kerala.
I visited Thekkady for one day and I fell in Love just when I crisscrossed the roads from Alleppey to Thekkady! The time I spent in Thekkady was one of the best times I had during my Kerala trip. The best places to visit in Thekkady fit on everyone's list from nature, culture, wildlife, adventure, and food. Here read about Best Places to visit in Thekkady, Kerala.
Please note: This post may contain affiliate links which means I may earn a commission if you make a purchase by clicking a link on this post. This will be at no additional cost to you. Affiliate links help me keep this website up and running. Thanks for your support!
Best Places to Visit in Thekkady
Begin your Thekkady sightseeing by adding these Thekkady attractions to your list of things to do in Thekkady.
Periyar Tiger Reserve– Top Things to do in Thekkady
One of the Best Places to visit in Thekkady and the main attraction is Periyar Tiger Reserve. Also known as Periyar National Park and Wildlife Sanctuary, this 925 sq km park is located high in the Cardamom Hills of the South Western Ghats near the Tamil Nadu border and is a nature lover's dream. Home to hundreds of species of flowering plants and environments that range from tropical forests to grasslands to lakes and rivers, it's no surprise that a wide range of animals can also be seen there.
Wildlife of Periyar National Park– Must-visit Tourist Attractions in Thekkady
Depending on your interest and choice, you can spend a few hours to a few days in Periyar National Park as Periyar is famous as one of the best places to see in Thekkady. It is heaven for wildlife lovers and is an important tiger and elephant reserve.
A total of approx 40 Bengal tigers reside in the Periyar National park. Apart from tigers, you can see a few unique species like Malabar Squirrel, Sambhar(a species of deer) Wild Pig, Nilgiri Tahr, Sloth Bear, Red Mongoose, Lion-tailed Macaque, etc, and about 260 species of birds can be spotted in the Periyar National Park.
Best Time to Visit Periyar National Park
September to June is considered the best time to visit Periyar National Park. The monsoon season lasts from September to early October and brings rain showers that bestow the national park with verdant vegetation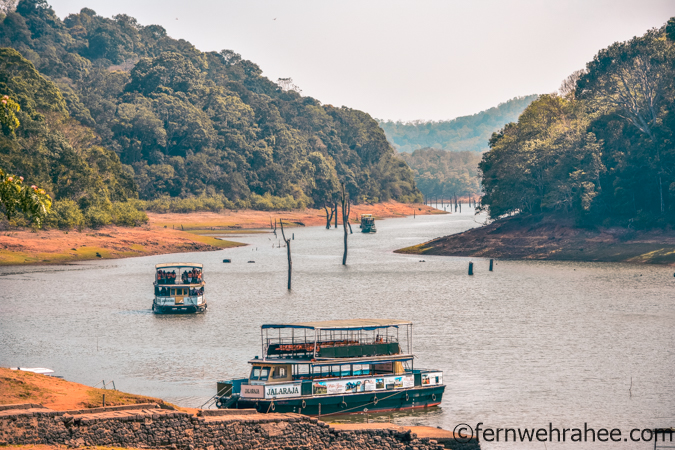 Activities in Periyar National Park
Boat Ride on Periyar Lake– Major Tourist attractions in Thekkady
Boating on Periyar ake in Thekkady. is one of the most famous tourist attractions in Thekkady. Periyar wildlife sanctuary is known for its flora and fauna along with endangered species, being a protected area, so Jeep Safaris are not allowed in the Park. Instead, the Boat ride on Periyar Lake is the only way to see the Periyar National Park.
The Kerala Forest Department (KFD) and Kerala Tourism Development Corporation (KTDC) run 90-minute boat cruises at the famous Periyar lake. The lake is surrounded by the forest and has tree stumps standing out making it a sight to behold. You can see the wildlife in their natural habitat via the boat cruise. So, if you are in Thekkady, don't miss the Periyar Lake Boat Cruise- one of the best tourist places in Thekkady.
How to Book Tickets for Periyar National Park
It is better to book tickets online to save time standing in a queue. Also, even though you book online you are required to go to the ticket counter to get the physical ticket.
Entry Fee: INR 255 for adults. INR 105 for kids aged 5 to 12 years. Boat Timings: 7:30 AM, 9:30 AM, 11:15 AM, 1:45 PM, and 3:30 PM
Also, KTDC and Periyar Forest Reserve operate buses from the parking until the Periyar lake from where the boats leave. Plan to reach at least 15-30 mins before the scheduled departure.
Note: It's very unlikely to spot tigers during the boat ride, though elephants, bison, and sambar can be spotted. Don't forget to take your binoculars to spot the wildlife in their natural habitat. Take early morning and late afternoon boat rides which are most sought by tourists as it is believed that animal sighting happens as they come out for a drink.
You will be delighted to see the lush green forest, natural beauty, wildlife spotting, and cruising on the Lake will give you a unique experience for a lifetime. So many Bollywood movies are also shot here. Definitely one of the must-visit places to see in Thekkady.
Hiking and Bamboo Rafting– Top Things to do in Thekkady
Just like White Water Rafting in Rishikesh, Bamboo Water Rafting is one of the most unique things to do in Thekkady. It is popular among tourists and adventure junkies who visit Kerala. If you are looking for some offbeat experiences in Kerala, try Bamboo water rafting in Thekkady.
Bamboo Rafting in Thekkady is one full-day activity. It involves hiking about 10 km usually 4-5 hours into the wild forest woods before reaching the river for rafting where the water current is high. Then you have to do Bamboo Rafting in the special bamboo rafts. Bamboo is used as a raft and rafting usually lasts for three hours.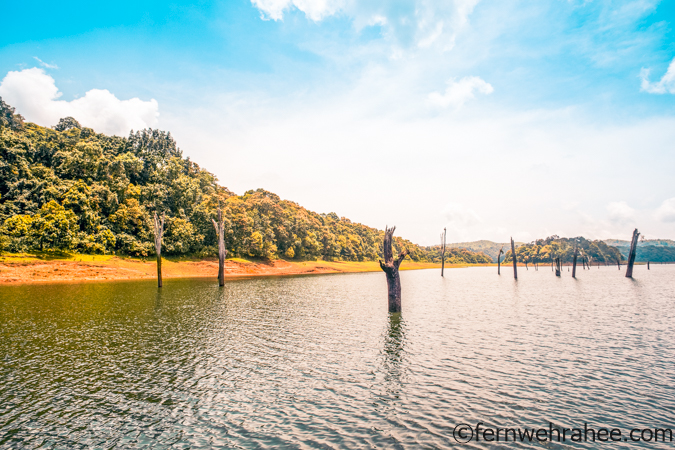 Bamboo rafting in Thekkady begins early morning and ends at sunset taking the tourists through the most panoramic views overlooking the Periyar Lake. You will come across the beautiful mountains surrounded by thick forests, teeming with wild animals in their natural habitat up close to you, it surely makes a great adventure.
Each team comprising ten tourists will be accompanied by an armed forest guard and four guides. Most of these guides belong to the tribal communities, who are familiar with every nook and corner of these dense forests.
Tickets: INR 2000 per person and children below 12 years are not allowed. As it is a whole day activity Breakfast and Lunch are provided during the activity.
Night Safari and Jungle Walks
The night safari called the 'Jungle Scout' is one of the unique ways to experience the Periyar National Park. It is a 3-hour trek with the company of armed guards. The Program starts at 07:00 PM and ends at 04:00 AM. Don't forget to carry your torchlight, and drinking water. Also, it is advised to wear knee-length jungle boots to protect you from leeches.
Tickets: INR 1400 per person. Kids under 12 years are not allowed.
Nature Walks in Thekkady
A Nature walk is one of the best things to do in Thekkady. There are many guided treks and hikes to choose from depending upon the time and route that suits you. In Thekkady, most of the resorts provide nature walk along with a local guide. They will take you through lush green trails.
Definitely, you can't spot the wildlife but you can connect with the flora and fauna of the Thekkady. You will listen to the chirping of the birds and come to know about them. Also, you will spot many butterflies around you! It is a surreal experience with beautiful landscape in front and hills in the backdrop.
The walk lasts generally 2-3 hours and early morning or evening is the best time to take a nature walk. So, if you are in Thekkady, one day get up early and soak into the forest vibes!
Spice Plantation Walk– Best Places to Visit in Thekkady
Thekkady is renowned for its spices which are exported worldwide. The weather of Thekkady is perfect to grow different spices. Be it Cardamom, Black Paper, Cloves, Cinamon, and other herbal plants grow here. There are acres of plantations spread across the entire town. The Spice plantations visit in Thekkady, Kerala should be on your list of places to visit in Thekkady during your Kerala Visit.
I love to see the different plants, and trees and plucking the fruits from the trees. Be it cherry plucking in Kashmir or Coffee Plantations in Coorg, it is my favorite thing to do during my travels. It is always interesting to see how they are grown, knowing about their life cycle and how final products are made for our kitchen!
We can also learn so much from the locals working in the plantations. The Spice Plantation is one of the best places to visit in Thekkady with family and kids, they can learn so much by seeing actual plants!
I stayed at Carmelia Haven Thekkady and the resort itself was set amidst tea and spice plantations. The resort itself was spread across 55 acres with different spices plantations. We took the early morning walk with the local guide of the resort through the plantation and saw pepper vines, elephant grass, clove, turmeric, cinnamon, ginger, and nutmeg trees along with banana, and further on branches bearing oranges, Guavava, jackfruit, etc to name a few. The entire plantation was full of spices and herbs that are used in Ayurvedic medicines.
But the star attraction of the Spice Plantation visit was 30 acres of Cardamom plantation. Thekkady is known for its Cardamom Plantations. Cardamom grows in diffused sunlight under the dense cover of evergreen trees that form a canopy over the plantation. We had the opportunity to view at close quarters the planting and plucking of the crop.
Also, the cardamom processing factory located next to the planter's bungalow is a fascinating experience. Here you can witness how cardamom is cleaned, processed, and packed. One can also sample some of the finest quality cardamom pods and you can pack them to take home.
If your resort doesn't have spice Plantations, then visit Green park Spices, Abraham's Spice Garden, or Periyar Spice garden in Thekkady.
Tickets: INR 100 per person Time: 09:00 to 05:00 PM
Visit Pattumala Matha Church in Thekkady
Set in a magnificent location, Pattumala chapel is a wonderful spot to contemplate and find calm. Pattumala Church, dedicated to Our Lady of Good Health, is a Roman Catholic site in Thekkady. It is served by the Missionary Brothers of Saint Francis of Assisi. The church is surrounded by tea plantations and it is located atop the hilltop.
The Church is made of Granite and the word Pattumala translates to "Silk-Draped Hill."The church is designed in gothic style with a complete dome. The Dome of the church is the largest among Christian churches in India.
At the entrance, the main door frame is made of rock-cut and there are rock-cut portraits depicting various events in the bible. The church is the best example of architectural excellence.
The terrain surrounding Pattumala is breathtakingly beautiful, and it is one of the Best Places to Visit Places in Thekkady.
Watch Cultural Show- Kalaripayattu Martial Art or Kathakali: Top Things to do in Thekkady
Kalariyapattu is one of the oldest Martial art forms in the world and is believed to be the oldest surviving martial art in India, with a history spanning over 3,000 years. It is considered among the oldest and most scientific martial arts in the world with weapons and combative techniques that are unique to India. The word 'Kalari' means 'battlefield' and 'Payattu' means 'training of martial arts.
kalarippayattu uses weapons such as swords and daggers, Spears and Axes, Sticks and maces, and weapons released from the hand, like arrows, discuses, catapults, boomerangs, and so on. The primary aim of art is the ultimate coordination between mind and body. Another focus of Kalaripayattu is specialization in indigenous medicinal practices. Kalaris are also important centers of religious worship.
Kadathanadan Kalari Centre and Navarasa center are one of the best places to see Kalaripattu in Thekkady. They run one hour of evening show daily between 06:00 PM to 07:00 PM.
Kalaripayattu Thekkady Ticket Price: INR 250 per person
Kathakali is one of the oldest theater forms in the world. It is very known for colorful makeup, costumes, and faces masks that the traditionally male actor-dancers wear. Kathakali is a group presentation, in which dancers take various roles in performances traditionally based on themes from Hindu mythology, especially the two epics, the Ramayana and the Mahabharata.
The dancers wear large headdresses, and the contours of the face are extended with molded lime, this takes a lot of time. The extraordinary costumes and make-up may transport the audience to a world of wonders. If you reach early before the show, you can see how the artists apply the make-up.
You can watch the Kathakali Show in Thekkady at The Navarasa Kathakali which is the Most Popular in Thekkady.
Kathakali Thekkady Ticket Price: INR 250 per person.
Visit Tea Plantations and Tea Factory in Thekkady
If you think about the tea plantations of Kerala, you will immediately think about Munnar. But Thekkady also has a few tea plantations. The smooth curvy roads of Thekkady are ornamented with numerous tea estates on both sides. It would be blissful to walk through them in the cold and misty climate.
This wonderland of tea on the top of these magical hills has been an attraction to many. While it may not be as enchanting as Munnar and may not fit in the top places to visit in Thekkady, a wonderland of tea on the top of the magical hills can attract many.
Connemara tea plantation in Thekkady is the perfect place to learn about tea processing and manufacturing. This place is a true heaven, especially if you are a tea lover. Connemara tea estate is open from Monday to Saturday, from 9: 00 AM TO 4:00 PM. You can take a guided tour of the tea factory and the plantations. You can walk through the plantations and see each step of tea making inside the factory. Also, you can buy the tea at their outlet at the end of the tour.
Other Popular tea plantations you can visit in Thekkady are – The Misty Mountain Tea factory and plantation, Pattumalay tea factory, and Poabs tea outlet.
Get Ayurvedic Massage
Kerala is famous for its Ayurveda and Ayurvedic treatments. Originated in the pristine land of India 5000 years ago, Ayurveda is the oldest healthcare system in the world. The term Ayurveda originated from two Sanskrit words Ayur or Ayus meaning 'life' or 'longevity' and Veda meaning 'science or knowledge'. The literal translation of the term Ayurveda is "the science of life or longevity".
Inherent from its therapeutic nature, Ayurvedic massages harmonize the body and stimulate the muscles to be relaxed, increase blood circulation and remove impurities from the body. It is safe and can be undergone by both genders of any age.
The specific oils infused with traditional herbs are gently massaged into the body. The oils are imported from authentic, traditional Ayurveda pharmacies in God's own Country – Kerala.
Ayurvedic treatments are best during monsoon season. Usually, people are asked to do such treatments during the rainy season because the atmosphere will be cool, moist, and dust-free during monsoon. This helps to open the skin pores and it becomes more receptive to herbal oils and therapy.
The Massages mainly include Shirodhara, Back massage, Full Body Massage, and special massages for back pain and muscles.
You can visit Kalari massage Center, Mayura Ayurvedic Center, OR Pranamaya Ayurveda in Thekkady. After doing lots of sightseeing in Thekkady, getting an Ayurvedic massage and relaxing the body is one of the best things to do in Thekkady.
The Price range for Ayurvedic Massage starts from INR 1000 depending on your choice. Also, Most of the resorts in Thekkady provide an Ayurvedic Spa facility on their premises.
Stay in Tree House in Thekkady
One of the most unique and best things to do in Thekkady is experiencing the treehouse stay. Many Plantation resorts offer this experience. As the spice plantations are located on hundreds of acres of land amidst mountains and forest, treehouse offers an uninterrupted jungle experience that too in Thekkady.
Kerala is most famous for its tree houses in Wayanad but Thekkady also has its fair share. You can stay at Carmelia Heaven or Rangerwood Nature Castle Machan Treehouse in Thekkady for a unique experience.
Places to Visit Near Thekkady, Kerala
Visit the Vineyards of Cumbum
I know, Nashik and Bangalore are famous for their vineyards in India, but yes you are reading right, Thekkady also has its fair share of Vineyards. Located just 25 km from Thekkady, a small village of Tamilnadu on the Border between Kerala and Tamilnadu is famous for its Vineyards.
The place is fondly known as Cumbum valley consists of large areas of farmland and includes crops like paddy, vegetables, grape vineyards, and mango and pomegranate farms.
At Cumbum one can visit the grape farm and have a firsthand look at the cultivation of grapes in the vast vineyard. To visit it, you can take a jeep ride from Thekkady to the Cumbum grape farm. The route takes you through the Periyar Tiger Reserve.
One can also indulge in some shopping at the vineyard's store for some wine that is brewed at the vineyard itself. The visit to the grape farm is a refreshing and peaceful experience and one of the best places to visit near Thekkady. It can be a perfect destination for a getaway with your family or friends.
Chellarkovil Waterfalls
Located near Cumbum, Chellarkovil is located 11 km from Kumily on the border of Kerala and Tamilnadu, a small village famous for its beautiful plain views and cascading waterfalls. The lush green mountains, pleasing view, and cascading waterfalls add up to the exquisiteness of this place. It also offers a scenic view of the plains of Tamil Nadu from the height of 1200m above sea level. The famous waterfall over here looks enchanting during monsoon season due to the increased inflow.
There is a place in Chellarkovil, known as 'God's own balcony' from where visitors can avail stunning views of sunrise and sunset with the help of a telescope placed on the balcony.
Trek at Gavi in Thekkady
If you have a love for the jungle wilderness, then take your chance and do trekking in the jungles of Gavi. It is the most popular eco-tourist spot in Kerala and has been listed as one of the must-see places in India. It is so much natural scenic beauty as well as wildlife which includes the endangered species of both animals and birds.
You need to visit Gavi in the Jeeps hired from Thekkady. It is a two-hour journey if traveling in a jeep from Kumily to reach Gavi. For your ease and comfort such ensure, it is highly appreciated that you do the prior booking with the Kerala Forest Development Corporation.
It will be a guided tour with a forest guide including Lunch, and also includes a visit to Cardamom plantations and Sabrimala viewpoint. During the trekking, you will encounter spectacular scenery, waterfalls along with herds of bison, wild boar, and some wonderful birds of many species.
Shopping in Thekkady
When you are in Kerala, you will see the stores all around selling the Spices. The whiffs of the spices fill the streets.so, how can you go back without shopping for fresh spices?? I highly recommend buying the Spices- cloves, black pepper, cinnamon, green cardamom, nutmeg, and bay leaves in Thekkady.
Most of the resorts in Thekkady have spice Plantations, so you can buy fresh spices from the resort itself. But if you don't have much knowledge about spices, I recommend taking the help from the staff where you are staying. They can guide you in the shopping for better quality spices.
The typical price range for the spices ranges from INR 400 to INR 2000 depending on the spices. Also, Packs of spices with small quantities of multiple spices are also available to carry as souvenirs or gifts.
Apart from spices, you can buy Banana Chips which are very famous in Kerala. The specialty of these chips is that they are fried in Coconut oil which offers a very unique taste. Kerala Banana Chips are a must-buy in Kerala.
Best Time to Visit Thekkady
The best time to visit Thekkady is from March to May when the weather is moderate and comfortable. October to February is also a good time to visit Thekkady as the weather is great and you will be able to explore the destination comfortably.
How to Reach Thekkady
Thekkady doesn't have its own airport but Kochi is the nearest airport, approximately 190 km away from the heart of Thekkady. The nearest railway station is Kottayam at a distance of about 114 km. Thekkady also has good connectivity with various cities via road. You will find comfy deluxe buses as well as private cabs to reach Thekkady.
Is Thekkady worth visiting?
Yes, Thekkady is definitely worth visiting. If you are a nature lover and someone who rejoices to interact with wildlife and boating then Thekkady is definitely worth a visit. Also, there are many interesting things to do in Thekkady that will catch your interest. You need at least 2 days to Cover everything in Thekkady.
Best Places to Stay in Thekkady
There are so many Hotels and Resorts in Thekkady that suits every type of budget.
Hotel Aranya Niwas
This is a KTDC property, located inside Periyar National Park. These Jungle lodges are the best who want to experience the wildlife up close.
Hills & Hues Resort Thekkady
One of the best properties with an infinity swimming pool overlooking the Hills.
Spice Village- CGH Earth
One of the best properties known for its eco-friendly and sustainable practices. This resort has tribal-styled huts to give an experience of a tribal village located inside the Spice plantations.
Carmelia Heaven Thekkady
The Carmelia Haven Resort Thekkady sprawls over 55 acres and is nestled in the midst of cardamom and tea plantations. The resort draws heavily from the ancient heritage and culture of Kerala in its decor and functioning, this is amply reflected in its food, spa, and general ambiance.
Abad green Forest Thekkady
If you are looking forward to staying inside the jungle lodge, go ahead and book this hotel. it is located on 3 acres of green forest and woodlands.
Thekkady is not only home to the largest wildlife sanctuary in India but it also is a breathtaking little hill station with a dreamy landscape and spice plantations in the Idukki district of Kerala. You must add Thekkady to your Kerala itinerary.
Note: I was invited to explore Kerala as a part of Kerala Travel mart 2022. I was hosted by KTM and explored Thekkady as a part of their Premart tour. However, all opines are my own.
If you like this Post, Save the Best Places to Visit in Kerala for later!