15 Best Things to Do in Munnar, Kerala: The Ultimate Travel Guide
Read about the things to do in Munnar with top Munnar sightseeing attractions along with the best places to visit near Munnar. Munnar is the most beautiful hill station in South India, nestled between tea plantations, rolling hills, waterfalls, and wildlife with the best breathtaking views which must be included in the Munnar sightseeing itinerary. Whether you are in Munnar for one day or two, you will love this Beautiful and fascinating hill station of Kerala.
Munnar is located 4 hours away from Kochi and 3 hours from Thekkady a prominent place in Kerala. This beautiful hill station has everything you ask for! From tea plantations and tastings, scenic valleys, numerous streams, swimming in waterfalls, visiting wildlife parks, and being amongst the clouds with epic viewpoints. You will be surely spoilt for your choice!
Adorned with rolling hills and tea plantations covered with cotton-white mist with ultra-blue skies flying right over your head, Munnar is definitely the go-to place once in your lifetime. There are so many things to do in Munnar and there is something for everyone- whether adventure seeker, honeymoon couple, or solo traveler!
Here are the top 15+ things to do in Munnar – the ultimate Munnar Travel Guide!
There is no dearth of interesting things to do in Munnar. Plan your itinerary by picking your preferred activities from our list below that will enhance your travel experience in Munnar on your blissful vacation in Kerala.
Where is Munnar in Kerala?
Munnar is a hill station in South India, in the state of Kerala, in Idukki District which is located 1,600 meters above sea level! Blessed with abundant natural beauty, Munnar is often referred to as the Kashmir of South India.
The Munnar as we know it today, with its tea plantations and factories, was founded by British explorers in the 19th century. Since then, it expanded and became accessible to tourists all over the world! It is a favorite destination among many people and people visit it for its cooler climate throughout the year.
Of all places, I have visited in Kerala, Munnar is one of the best among them. I would love to return here again and again. The popular tourist places in Munnar are replete with charming vistas of tea plantations, rolling hills, tranquil lakes, and stunning waterfalls.
Also Read: Beautiful Hill Station of South India- Kodaikanal
What is the Best Time to Visit Munnar?
No matter the time of year, Munnar manages to entice travelers to taste the serenity! so, be it winter, summer, or monsoon, Munnar is equally beautiful and as thrilling. The Peak season of Kerala is from October to March which is the best time to visit for the weather. During this time, the general climate is cozy and snuggle-worthy! But due to peak season, expect big crowds and jammed roads due to traffic.
April – June is the summer months, which although hot, is the perfect time for wildlife spotting. The climate can get quite warm during the daytime, while evenings incline towards being chilly. It will be busier due to everyone wanting to escape the heat in the clouds.
Another great time to visit is in Monsoon from July to September. The rains make the jungle nice and lush, while mist cloaks the atmosphere, plus there will be lots of waterfalls to enjoy in full force! One must experience this natural beauty when it is at its freshest. Although the region is absolutely breathtaking during this time, it is still deemed as the off-season. As such, travel and accommodation will be more affordable, and one can optimize on great deals.
I would suggest the months of March or the end of September which is still counted as the 'offseason so everything will be cheaper and you can avoid the heavier crowds too.
How to Reach Munnar?
Kochi is the nearest airport to reach Munnar. The most easiest and convenient way to reach Munnar is by taking a taxi or cab from Kochi. Kochi is 130 km from Munnar, so it may take 3-4 hours if there is no traffic! Otherwise, you can self-drive a car.
If you are traveling from Alleppey then take a halt at Thekkady and if you are traveling from Kochi- you can take many pitstops along the way for waterfall visit or pitstop for sightseeing whenever you like! it is totally safe to drive from Kochi to Munnar.
If you are on a shoestring budget, you can take Public transport and reach by bus to Munnar.
Are there any trains from Kochi to Munnar??
The Kundala Valley Railway, set up by the Kannan Devan Company for the transportation of tea, is one of them which was devastated by a flood in 1924. They had set up the railway station. There used to be a train that would run up to Munnar and even Top Station, but now both of those are relics and what is left was moved to museums.
The building that acted as the main railway station is today the regional office of Kannan Devan Hills Plantations Company Private Limited (KDHP). The remains of the railway and the ropeway still exist on the Kundala – Top Station route.
Today, the only way that you can get up to Munnar from Kochi is to drive up the winding hills by car or bus.
Kochi to Munnar by Bus
Munnar is well connected by Road from major south Indian states like Kochi, Bangalore, Madurai, etc. You can always take an overnight bus from these cities to reach Munnar. If you are traveling from Kochi, then you can opt for Kerala Road Transport Corporation(KSRTC) Buses and you can book the tickets online.
Deluxe and super deluxe buses are also available to reach Munnar from Kochi. The cost may vary according to the services you choose from INR 200- to INR 300 per ticket and takes 3-4 hours.
Kochi to Munnar by taxi or a Tour
Most tourists or travelers opt to hire a taxi or cab to reach Munnar. If you have your car with a driver, means you have more freedom and can stop where you like and all your sightseeing can be done without hassles. It makes perfect sense to hire a cab/car to get around Munnar.
But, if you are on a budget or you have no transport option, then, Book this Day trip to Munnar from Kochi.
10+ Best Things to do in Munnar- Complete list!
Read about the Best recommendations for Munnar Bucketlist and below is a great mix of things to do in Munnar. As I said Munnar has everything from tea plantations, rolling hills, viewpoints, and historical places to wildlife! You will not get bored for a moment when you visit this beautiful hill station in India.
Here are the top tourist attractions of Munnar that you can easily cover in 2 days.
Admire the Views from Anayirangal Viewpoint
Munnar has so many tea plantations and rolling hills of tea gardens. Munnar has so many man-made wonders like dams that are built around lakes. The dams here have the ability to beckon visitors with their architectural majesty and stunning beauty. Munnar has a plethora of lakes and dams, but Anayirangal Dam stands out and deserves a special place in your Munnar itinerary.
The name 'Anayirangal' is the amalgamation of two Malayalam words; 'aana' which means elephant and 'irangal' which means descend. As the name suggests, elephant herds come down to drink water from the Dam. There are lakes and tea plantations adjacent to the Dam, which adds extra gorgeousness to this reservoir.
You can take a boat ride in the reservoir and it will take you close to the dense forest. The boat will help you steal glimpses of wildlife in the forest. The boating timing is 8:00 AM to 5:00 PM.
You can take a view of the whole reservoir and dam from the road adjacent to it and you can search on the GPS map ' Anayirangal Viewpoint '. The views from the top are stunning and give you a panoramic view of the landscape.
So, when you are doing a road trip through Munnar, don't miss this must-visit sightseeing place Munnar for its views.
Visit the Tea Plantations at Devikulam
Devikulam is about 7 KM from Munnar and is famous for its tea plantations. Seeing a tea plantation is one of the top things to do in Munnar. But, you may be surprised to know that many of them are blocked off by the public so you can't enter them.
But you can find Devkulam Viewpoint and it has an entry fee, which may allow you to enter the tea Plantations with beautiful surrounding views. You can take lots of photographs here with picture-perfect views with the backdrop of the mountains.
You should visit this place early in the morning to get the best experience. The morning mist, the fresh air on the hills, and the panoramic views from the top are what make this trip unforgettable.
Alternatively, you can always take a Private 4WD Jeep tour at many of such Plantations like Lockhart Tea Plantation if you really want to explore a tea plantation and escape the tourist circuit. There are so many local tour agencies that can book it for you.
Learn how Tea is made at Lockhart Tea Factory
If you are really keen on knowing about Tea and the history of Tea, you must stop by one of the Tea factories in Munnar. I have visited tea factories in Darjeeling, so I was not very keen on the Process of it. But if it is your first visit, I highly recommend taking a Private Tea Estate and Tea Factory tour.
I visited Lockhart Tea Factory in Munnar which is one of the oldest tea factories in the area that still produces tea today. The factory follows the Orthodox Tea Manufacturing process instead of Modern machinery.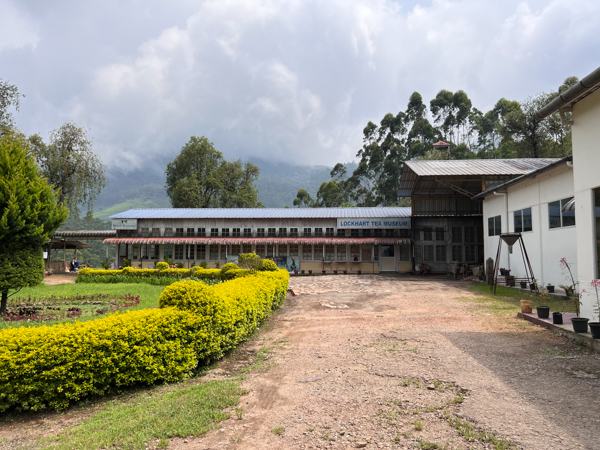 In their factory, you can go on a guided tour to see the whole cycle of tea production, from the wilting process to oxidation which decides which type of tea it will be, to packaging. They give insights into the making of black tea, green tea, and white tea in traditional ways.
But, you can browse around the museum to see photos and equipment that were used during the colonial era. Plus, they also have a tasting area, café, and some fantastic viewpoints that you can relish in too.
Inside the Factory, you can also visit Munnar Tea Museum. This is the oldest and largest tea production factory in Munnar and produces 22 million kilos of tea each year.
Tour Cost: INR 200 per person for Indian tourists and INR 400 for foreign Nationals.
Chase the Waterfalls of Munnar– Chinnakanel Waterfall
Munnar has so many waterfalls which you can chase during your Munnar sightseeing itinerary. You will spot this tempting waterfall right on the side of the road. The source of the waterfall is the river Devikulam and it is surrounded by lush greenery. One can take snaps, bath, enjoy the fall, and sit there for hours; you just can laze around the fall as much as you want. During the monsoon season, it appears like gallons of milk are being thrown from a height!
You can also visit nearby Seethadevi Lake(Devikulam Lake). According to legend, Mother Sita, the wife of Lord Ram of the Ramayana epic, once took a bath in the Lake. Since then this came to be known as Sita Devi Lake.
You can find pristine beauty, untouched and unspoiled by the works of mankind at this lake. If you are a water baby, must visit the waterfalls of Munnar and Chinnakanal should be one of the best places to visit in your Munnar sightseeing itinerary.
Other waterfalls you can visit in Munnar are Lokkam Waterfall, Nayamakad waterfall in Kanan Devan Hill, Cheeyapara waterfall on the way to Kochi, and Thoovanam waterfall in Chinnar. The waterfalls are the top places to visit in Munnar.
Pothemedu Viewpoint and Attukad Waterfall
Pothamedu View Point is known for its scenic environs, which offer a panoramic view of Munnar and its adjoining valley blanketed in lush green. You can gauge the height at which the viewpoint is, when you look down upon the winding serpentine roads, with tiny cars and vehicles making a climb up the mountain top.
During the Monsoon time, you can spot the waterfalls flowing through the valleys and tea plantations from the height. The best time to visit the Pothemedu viewpoint is at sunrise or sunset. The exquisite location is perfect for those who seek to be amidst nature and love to view the refreshing tea, coffee, and cardamom plantations. Also, who love adventure sports, Pothamedu Viewpoint offers hiking and trekking opportunities as well.
Pothemedu is one of the must-visit tourist places in Munnar which offers 360-degree views of Munnar.
You can visit nearby Attukad waterfalls which flow through the mountains overlooking the tea gardens. The Attukal waterfalls are popular for their cascading flow and which makes them appear like white froth due to the force. The falls are especially mesmerizing in the monsoon due to the mightier force and greenery all around.
Spot the Nilgiri Thar at Eravikulam National Park
One of the Top Places to visit in Munnar is Eravikulam National Park, which is a UNESCO world heritage site. The National Park is located 8 km from Munnar town, covers an area of 97 sq km, and stands out for the ravishing beauty of its rolling grasslands and sholas.
The Eravikulam National park is famous for housing the endangered mountain goat of South India, the Nilgiri Tahr– the native mammal of the Western Ghats. Also, Neelakurinji flowers, which bloom just once every 12 years, are another highlight of this park, which is located on the 2,700-meter-high Anamudi hill.
The Nilgiri langur, Atlas moth (largest in the world), lion-tailed macaque, small-clawed otter, Indian bison, and a rare tiger are some of the main animal species that can be spotted here. You can also behold a view of the Anamudi Peak from the Park, which is the highest peak in all of South India. The Eravikulam national park is one of the most popular places to visit in Munnar which will surely make your Munnar sightseeing quite interesting.
This park allows a walking safari from a drop point. It is ideal to book a ticket online in advance so as to avoid the line in the Park.
Timings: 08.00 AM to 02:00 PM Entry Fee: INR 200 for Indians and INR 500 for foreign Nationals
September to November and April to June is the best season to visit Eravikulam National Park.
Drive up to Top Station to See Tamil Nadu
The ultimate destination among places to visit in Munnar is a Top Station and must-see places in Munnar. At an elevation of 1700 Metres in the Kannan Devan Hills, Top Station is the highest point in Munnar, overlooking the silent valley of Tamil Nadu. Also, you may be surprised to know it's actually on t along with the Kerala-Tamil Nadu states.
Its name as it used to be the highest railway station in the valley. It was the uppermost railway station of the Kundala Valley Railway way back in the early 1900s. It used to be a terminal shipment station for transporting tea that was part of the Kundala Valley Railway until 1924. After the great flood of 1999, it was never rebuilt.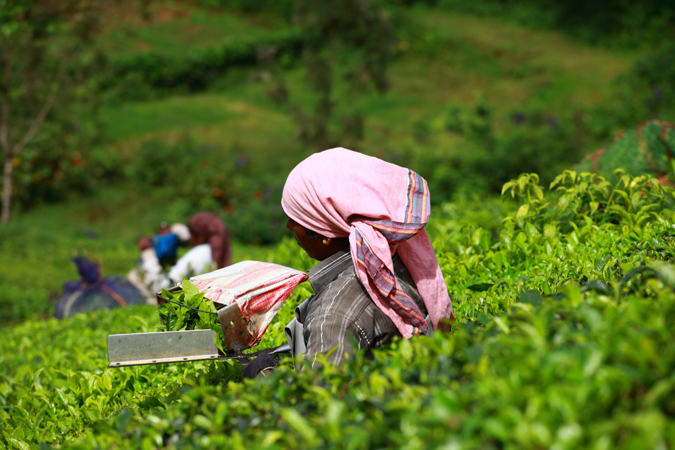 Top Station offers breathtaking views of the Western Ghats and lush valleys below.
Top Station is heaven for hikers and adventure lovers. It provides a 360-degree view of the Western Ghats with mountains, trekking trails, and waterfalls on a clear day.
The best time to visit Top Station is Sunset. The rolling hills provide a perfect backdrop for stunning views of the sunset. Kurinjimala Sanctuary is close to Top Station which is popular for the rare Neelakurinji flowers. These flowers bloom once in 12 years.
Chase the Flowers at Munnar Botanical Garden
The weather of Munnar is perfect for flowers that bloom throughout the year. Located on the highway, near Government Engineering College Munnar- it attracts so many tourists throughout the year. The botanical garden has a wide variety of flowers and plants that are spread across 5 acres.
You can enjoy the spectacular garden which houses around 150 varieties of flowering plants, an open theatre, beautiful landscapes, walkways, a canteen, a souvenir shop, and spice shops. Don't miss this one of the best places to visit in Munnar.
Entry Fees: INR 20 per person and INR 10 for children below 12 years Timings: 09:00 AM to 7:00 PM every day
Visit Mattupetty Dam
Mattupetty Dam is one of the popular tourist Places in Munnar. The dam of Mattupetty is a dam storing waters from the confluence of the mountain streams of the Muthirappuzha River, Chanduvarai River, and Kundale River. More than the dam, the catchment area has lovely scenery overlooking the hills and also serves as a picnic spot.
The dam has an abundance of water at all times of the year which makes it a biodiversity hotspot. The Munnar Tourism Government has also set up many activities around the dam which include watersports, boating, Zorbing Paddleboarding, etc. Many families bring picnics and you can also find a lot of stalls selling food, hats, and gifts to bring home too.
You can even go for a hike inside the Shola forest surrounding it. So, Mattupetty Dam is one of the best places to visit in Munnar if you are looking for some adventure activities.
Make an echo at Echo Point
There are a few activities that are worth stopping for on the Top Station route and Echo Point is definitely one of them. It is actually a gorgeous reservoir that sits in the hills and a phenomenon happens here where if you make a loud noise, it echos back! Hence the name.
It is a great way to spend time here while taking a walk in the lush greenery surrounding the place. It is an ideal picnic spot. A lot of families stop here for picnics and for boating on the lake. This is also a prime viewing spot for the Neelakurinji flowers that bloom once every twelve years. Don't forget to add this one of the top things to do in Munnar to your bucket list.
Watch the Kalariyapattu Show- the ancient art of Kerala
Kalaripayattu is an ancient form of Martial Arts that originates from the time when the warriors of Kerala used to be here! The training for Kalaripayattu starts when a boy or girl is young and is seen as a lifelong profession.
With each level of training, the weapons get more intense. For example, you start off with wooden sticks and make your way up to swords and maces. I saw Men fight with sticks, and swords, kicking footballs triple their height, and even jump through burning hoops of fire!
It is well worth going to see a Kalaripayattu in the evenings here in Munnar.
Try adventure and Trekking in Munnar- Anamudi Peak OR Meesapulimala
If you think Munnar is just about tea plantations or a relaxing Hill station, you are totally wrong here! Anamudi is the highest Peak of Munnar and Meesapulimala is the second-highest peak in the Western Ghats. Situated on the top of the Eravikulam National Park, Anamudi peak is the pride of Kerala. Also, it is the highest point in India outside the Himalayan-Karakoram Mountain range and offers a view of lush green valleys and tea plantations.
Declared a world heritage by UNESCO, Meesapulimala consists of eight hills spreading across like a mustache, giving it its name. Once you are at the peak of Meesapulimala, you can witness the true beauty of Munnar. It is priceless!
Meesapulimala Trek
This trek requires one full day of dedicated trekking. Meesapulimala is located 40 km away from Munnar Town and requires 4-6 hours of walking along the route and the trail leads to a wonderful mountaintop above the clouds.
Also, you can trek to the Anamudi Peak and experience how it feels to be on top of the world but make sure you have taken permission from Forest and Wildlife authorities at Eravikulam.
Apart from it, there are other few Munnar trekking destinations and you can do night camping along with it! Who knows Munnar offers this experience too! Don't miss visiting Meesapulimala which is one of the best Munnar tourist places.
The prices are common and some include meals and/or snacks:
Sunrise trekking – 600 INR
Soft trekking – 450 INR
Full-Day trekking – 900 INR
Visit Chocolate Factory in Munnar
When you are leaving Munnar, you will come across so many chocolate shops across the city center. but how about visiting a Chocolate factory in Munnar??
Surely, the chocolate capital of the world is ' Brussels ' in Belgium, which is the home of the two biggest chocolate companies in the world Godiva and Leonidas. But In Kerala Munnar is the natural hub of homemade chocolates, where anyone with a sweet tooth love to visit and taste chocolates.
I visited the MACOFA chocolate factory on the Kochi-Munnar road. I was surprised to see the chocolate factory and buy fresh chocolates straight in front of me! Even it was more surprising that Munnar offers a large amount of Cocoa to chocolate manufacturers making Munnar a favorite spot for Homemade chocolate.
Here you can learn about cocoa production, processing, chocolate making in factories, and all. The best thing is that Cocoa beans are used instead of cocoa butter in making homemade chocolates in Munnar. Homemade chocolate is the real attraction of Munnar for sweet tooth lovers.
The factory has a processing unit and a shop that sells different varieties of chocolates. You can also buy dark chocolates here.
You can visit the MOCOFA factory from 8:00 AM – 7:00 PM from Monday to Sunday
Places to Visit Near Munnar
Kolukkmalai Peak at Sunrise and Tea Estate
If one of the most beautiful places you want to visit in Munnar then it is – Kolukkmalai! Located 40 km from Munnar Kolukkumalai is a small village located near Suryanelli in Kerala. The place actually belongs to Tamilnadu! Perched at an approximate height of 8000 ft above sea level, the world-famous Kolukkumalai Tea Estate has its record as the world's highest tea plantation on the lofty Kolukkmalai hills.
In addition, Kolukkumalai's time-tested tea factory still sticks to the orthodox (handmade) methods of tea processing it has practiced since the colonial era. Due to the rough and crooked pathway, the estate is accessible only by jeep from a drive through the town of Suryanelli and tea plantations owned by Harrisons Malayalam Ltd onto a narrow, serpentine, and rocky dirt path leading up to Kolukkumalai tea estate.
Kolukkumalai Trekking
When you arrive at the estate, there is a trek of around 3 km to see the most captivating and sparkling dawn. The Sunrise is the feature of Kolukkumalai amid mists and clouds, the sight is stunning. You have to start the trek from Suryanelli and it needs uphill climbing for 4-5 hours. It is a total of 15 Km trek up and down.
You can book the trek and day excursions package from Kolukkmalai Tea estate. They have a camping facility in the estate for the sunrise treks. After the trek, you can visit Kolukkmalai's top viewpoint, Tiger faces rock, and the nearby top station view and Tea Estate along with the tea factory. The sunrise at Kolukkmalai is one the best places to visit in Munnar if you are a sunrise seeker.
Chinnar Wildlife Sanctuary and Lakkam Waterfalls
Chinnar Wildlife Sanctuary is 1.5 hours away from Munnar Town. Located on the Kerala-Tamilnadu border in the Anaimalai Hills is considered a UNESCO World Heritage site. It is home to the Great Grizzled Squirrel of India. Numbering less than 200, they are among the most endangered species on the planet. One can view herds of gaur and elephants strolling around casually in this area.
While making the journey to Chinnar one can spot the Deer, Sambar, Hanuman Langur, and peacocks alongside the road along with many species of birds in the sanctuary.
You can combine the trip to Chinnar with the beautiful sandalwood forest, some caves, and the gorgeous Thoovam waterfall.
Lakkam Waterfall
Lakkam waterfall is located near Chinnar wildlife sanctuary and you can get to swim in the lagoon beneath it!
You don't need a permit to enter the waterfall and it only costs INR 20 for a standard ticket. But, if you want to explore further, you can do some treks too.
How many days of trip is good for a trip to Munnar?
Munnar is the most beautiful place in Kerala, I would say to make the very most of the area you will need at least 3 days. Munnar is split up by certain road 'routes' and it's better to stick to one route per day. The most popular is the Top Station route, so if you don't like crowds or traffic, you can avoid it and look for a different way to spend your time.
With proper planning, you can still cover all the tourist places in Munnar in 2 days. You cannot do everything in just 1 day! You can cover all the mentioned places in 2 days trip to Munnar. Here are the suggested 2 days Munnar itinerary for you.
Day 1: If you are arriving from Kochi, on the way visit the Cheeyapara waterfalls, and Devikulam Tea Plantations, then go to the tea factory visit Lockhart Tea Museum, and the Chinnakanal waterfall. Visit the Pothemedu viewpoint in the afternoon and if time permits Attukal waterfall. Keep the evening reserved for shopping in Munnar Town.
Day 2: Visit the Top Station(40 km from Munnar), Visit Mattupetty Dam, Echo Point, and Botanical Garden. Keep the evening reserved for the Cultural show Kalariyapattu or Kathakali. Later go for some tea-tasting sessions at one of the cafes in Munnar town.
Day 3: Start Early Morning and reach Eravikulam National Park and later visit Chocolate Factory and Head to Thekkady/Kochi.
How to Get Around Munnar
Depending on your budget, you can rent a bike, or auto-rickshaw, go by car or move around on the state bus. The common price for hiring an autorickshaw for the day is 800-1000 INR.
Most of them will offer the following options:
Mattupetti direction: Rose Garden, Forest Honey Bee Hive, Photo Point, Elephant Park, Mattupetti Dam, Elephant arrival spot, shooting point, echo-point, Kundala Lake, Top Station.
Marayoor direction (in some local booklets Coimbatore direction): Tea museum, Nyamakad waterfalls, Eravikulam National Park, Anamudi Peak View, Luckom waterfalls, Sandalwood forest, Chinnar Wildlife Sanctuary.
Cochin direction: Blossom Park, Pothamedu View Point, Spice plantation visit, Attukad waterfalls, Dream Land Fun Park.
Thekkady direction: Lockhart Gap & Rock Cave, tea plantation view, Chinnakal Waterfalls, Anayirangal Dam view, Spice plantation view.
As I said each of the directions above takes almost the whole day, so take it easy and do a one-direction trip every day whether by auto or by car. Alternatively, you can skip a few places and can combine other places as per your choice and sightseeing Munnar itinerary.
Best Places to Stay in Munnar
Shopping in Munnar
Munnar is famous for its Tea Gardens, so of course, you should buy fresh tea from here. Other than tea, you can buy Coffee and spices. Being famous for its exquisite taste and aroma, the tea grown here comes in many different varieties. So are the coffee and spices.
If you want to shop in Munnar do so in the street shops in the local markets. They are the best places where you can find local produce, handicrafts, tea, coffee, spices, and hand-woven garments. Also, Munnar is famous for its handmade chocolates- a must-buy from Munnar. You can visit Main Munnar Town Market for shopping. Also, almost many tourist places in Munnar have small markets surrounding them, which you can explore for shopping in Munnar.
I hope this Munnar travel guide on Things to do in Munnar will help you to plan your trip. Pin it for the later!!