15 Best Things to Do in Fort Kochi in One Day: Complete Travel Guide
Best Things to do in Fort Kochi in Kerala, India with one day Kochi itinerary. You can read about how to visit fort Kochi in 1 or 2 days with a complete travel guide. If you are visiting Kerala, India, read about my recommendations about visiting Kochi in one day, where to stay in Kochi, the Best things to do in Kochi in one day, where to eat in Kochi, and more about Kochi.
Kochi – the historical city and area of Fort Kochi is one of my favorite cities in Kerala. Kochi- formerly known as Cochin is a major seaport of the Malabar coast and Arabian sea. Called the "Queen of the Arabian Sea", Kochi was an important spice trading center on the west coast of India. The Kingdom of Cochin allied with the Ming Dynasty, Portuguese Dynasty, and Dutch and became a princely state of British India. Earlier the small fishing village, later became the first European Township and so you can see the history at every nook and corner in Kochi. Here in this post, I am sharing important landmarks and historical places to visit in Fort Kochi.
I was looking forward to visiting Fort Kochi for a long and this time I got the chance to visit this city- perfect for history lovers. ! It has colonial charm, historical mansions, old religious institutes, and beautiful backwaters- you can ask for! There are so many things to do in Fort Kochi and many Places to visit in Fort Kochi. Be it Churches, synagogues, Historical Vasco D Gama Square, or Chinese fishing nets- you will definitely fall in love with this city at first moment!
If you arrive in Kerala, Kochi would be your starting point for Kerala Travels. So, I recommend spending at least one day in Kochi to explore Fort Kochi and the surrounding area. In fact, you can spend a couple of days here. Here is my Complete Travel Guide to explore Fort Kochi and the best things to do in Fort Kochi in one day. It is the perfect gateway to start your Kerala Trip.
How to Reach Kochi
Kochi serves as a major gateway to major destinations of Kerala and it has a major international airport. It is well connected with major cities of India and the world. Here is how to reach Kochi:
By AIR:
Cochin International Airport (CIAL), situated about 25 km north of Kochi city at Nedumbassery, handles both domestic and international flights. One can fly from Singapore, the Middle East, Sri Lanka, Malaysia, and most major Indian cities.
BY TRAIN:
Kochi has two major railway stations – Ernakulam Town and Ernakulam Junction (locally known as the North and South railway stations respectively). However, reservation facilities are available only at the Ernakulam Junction (Mon-Sat 8 AM-8 PM, Sun 8 AM-2 PM ). The major Indian Railway stations are connected with Ernakulam Junction. You can book Sleeper and AC tickets via IRCTC(Indian Railway Reservation System).
BY ROAD:
Kochi is well connected to neighboring cities and states. The NH17 connects the city to Mumbai, Kozhikode, Mangalore, Bengaluru, Chennai, and Goa. You can get overnight AC and Non-AC buses to reach Kochi from major South Indian cities.
Best Time to Visit Kochi
The Best Time to Visit Kochi surely depends on what you are looking for! Kerala is a year-round destination and you can visit it any time during the year but October to March will be the best time to visit Kochi as the weather will be pleasant. Temperatures range between 17 degrees Celsius and 33 degrees Celsius with little rain. So it is an ideal time to visit Kochi. This is a great time of the year for honeymooners, beach lovers, and adventure seekers. This is peak season in India due to Diwali Holidays.
But if you can beat the heat, you can visit it between April- June. Due to Summer Holidays in India, many tourists visit during this time too. But due to the hot summer weather, you can see less crowd and you may get good deals on hotels!
The Monsoon runs from July- to September, again if you don't mind the rains, it is the Best time to visit Kochi. The city wears green carpets! Since this is not the peak tourist season, it is possible to get good deals on hotels. But make sure you carry an umbrella or raincoat along as you enjoy your monsoon holiday in Cochin
Before I start my recommendations about my favorite things to do in Fort Kochi, read about the history of Fort Kochi.
Please note: This post may contain affiliate links which means I may earn a commission if you make a purchase by clicking a link on this post. This will be at no additional cost to you. Affiliate links help me keep this website up and running. Thanks for your support!
Fort Kochi History:
Fort Kochi was an earlier modest Fishing Village that later turned into a major trading hub for spices like Cloves, Cinnamon, Pepper, etc during the Early Centuries. Even today, Kochi is an important center of spice export. In the 1500s, the Portuguese arrived and they ruled from 1503 to 1682 for 180 years. With the Permission of the Maharaja of Cochin, they built the Fort Immanuel(Fort Cochin). They built houses, churches, and other buildings.
Then Dutch arrived in AD 1663, but they laid out the town as it is! During the Dutch era, the town gained fame as a major commercial, and cultural hub and noted ship-building yard. In 1795, the Britishers took over the town and they ruled till the Independence! You can see the influence of Indo-European architecture in most of the buildings in Fort Kochi.

After years of history, many communities, and colonies with several immigrants later, today Fort Kochi is a treasure trove for history lovers like me. It has everything you can ask for Colonial houses, beautiful churches, yummy food, pretty street art, and beautiful streets.
The Best Things To Do in Fort Kochi
Here are my recommendations for things to do and see in Fort Kochi:
Chinese Fishing Nets
One of the best things to do in Fort Kochi and one of the most popular sights to see in Fort Kochi are Chinese Fishing Nets. If you are even for one day in the Fort Kochi area, you should not miss this Popular Kochi sightseeing attraction.
Locally known as Cheenavalla- Chinese Fishing Nets in Kochi date back more than 500 years. These nets were introduced to local fishermen by Kublai Khan's traders between 1350 and 1450 CE. They were introduced by Chinese admiral Cheng Ho and to date, it is used by fishermen in Kochi. Most of the nets are rebuilt today but the technique is the same as used to be.
The best place to see the action of Chinese Fishing Nets is Vasco da Gama square. Here you see how they lower the net and fresh catch being caught in! The Vasco da Gama Square is a narrow Promenade that runs parallel to the Fort Kochi beach. The Chinese fishing nets look beautiful during the sunset and are most photogenic with the beautiful backdrop of the colorful sky!
Visit St. Francis Church
Built by Portuguese Franciscan friars in the 16th century, St Francis Church is the oldest church in Fort Kochi and one of the oldest European churches in India.
The structure of St. Francis' Church was built by Franciscan friars. It was initially built of timber but later reconstructed in stone masonry. It was restored in the 18th century by the Protestant Dutch and converted to an Anglican church by the British less than 20 years later.
The architecture of St. Francis' church reflects an old-worldly charm, with stepped pinnacles on either side of the building and decorative wood carvings.
The most interesting fact about the St Francis Church is that the Portuguese explorer Vasco da Gama, who died in Kochi, was once buried here, but his remains were later moved to Lisbon.
You can still see his tombstone here. This is an important historical landmark of Fort Kochi and you should not miss it.
The Church is open from 9:00 AM – 5:00 PM, Monday – Friday; 9:00 AM – 1:00 PM on Saturdays, and from 1:00 PM- 5:00 PM on Sundays. There are no Entry Fees.
See the Vasco House:
The Vasco House is one of the oldest Portuguese residences in Fort Kochi. It is built in the 16th century and is believed to be the residence of Vasco da Gama. Vasco House has the typical European glass paned windows and balcony cum verandahs characteristic of those times. The place is now a heritage homestay and you can stay at this old residence.
The Bastion Bungalow:
Bastion Bungalow, situated on River Road in Fort Kochi, was built in 1667. When the Dutch captured Kochi in 1663, they started destroying fort Immanuel and reduced it to almost one-third of its size. Originally, the fort had seven bastions. Of these, the Stormberg bastion was later converted to the Bastion Bungalow. The Bungalow, today the official residence of the Sub-Collector, is an impressive building of Dutch architecture.
See the Bustling Vasco Da Gama Square and Fort Kochi Beach:
If you want to see the local life and Local people in action, head to Vasco Da Gama Square in Fort Kochi. One of the best things to do in Fort Kochi is to learn about the locals!
As I said, it is an ideal place to watch fishermen use these nets is the Vasco da Gama square. It is a narrow Promenade along with Fort Kochi Beach. You can see the fishermen gather their daily catch from the Chinese fishing nets. The square, which has numerous stalls serving fresh delicious seafood, tender coconut, and so on, is also perfect for a nice, relaxed evening.
Fort Kochi Beach is not that nice and the best attraction in Kochi but you can get the best click of Chinese fishing nets from here. You can see life in action at Fort Kochi beach and Vasco da Gama Square.
If you are looking for some Private tours, then take this Private walking tour of Fort Kochi which will give you all insights about fort Kochi and the mechanism of Chinese Fishing nets from locals.
See the Beautiful Street Art in Fort Kochi:
Art lovers will be delighted to see the beautiful and colorful Murals around the streets of Kochi.
Every two years, Kochi celebrates the Kochi-Muziris Biennale , the largest art exhibition in India and the first of its kind held in the country. A contemporary art event where art sessions, art exhibitions, talks, workshops, educational performances, film screenings, etc are held and several art forms are created in and around the Fort Kochi area.
You can see the best art forms of different artists in and around Kochi that showcases the power of artisans. It will also give you a few Insta-worthy Pictures if you are an active Social media Person! In this area, you will also find beautiful buildings, but despite their current state of decay, it is easy to appreciate their former splendor. If you are a fan of abandoned buildings and beautiful decay, don't miss exploring this side of Fort Kochi.
Where to see the Street art in Kochi??
Wondering where you can see those beautiful art forms then head to Vasco De Gama Square, Calvathy Road, the area around the Santa Cruz Basilica, and Bazaar Road, ICM road to satiate your art lover soul.
Visit Old Colonial Buildings & stay at Heritage Properties :
The moment you reach the Fort Kochi area, you will step back in time! Fort Kochi and the surrounding area have so many colonial buildings and beautiful houses which may grab your attention. So many of these bungalows and houses are now converted into heritage hotels.
A few of these Properties I can recommend for your stay in Kochi are :
Fort Kochi Heritage Hotel – I loved the architecture of this hotel, it has all vintage vibes with yellow color and is located right in the Fort Kochi area. It was originally a Dutch Palace that was erected in the 17th century. In the year 1997, it gained the status of a heritage hotel. This beautiful structure is constructed from tiles, wood, and limestone with every original feature being kept intact. The hotel though renovated has retained much of its heritage value. Period furniture, paintings, and chandeliers have been used to give that old-world charm.
If you are looking for more luxury then head to Brunton Boatyard Hotel – A CGH Earth Property. The CGH Hotels are a big luxury name in South India. It is housed in a former shipyard from British times. All of their rooms and en-suite bathrooms overlook the sea and you can catch some stunning sunsets right from the room.
It is rebuilt from the wonderfully restored remnants of the 19th-century Victorian shipyard. The hotel enjoys a picturesque location. All the modern amenities have been carefully developed without destroying their colonial charm.
Bolgatty Palace Kochi: Bolgatty Palace is located on an island of the same name, Bolgatty Island. It is one of the oldest Dutch palaces outside Holland built by the Dutch. Built in 1744 by Dutch traders, today it is one of the best heritage hotels in Kochi. This exclusive mansion has four capacious rooms that boast wonderful decor and are fitted with contemporary comforts. Even if you are not staying at this property, It's a great place to wander around and enjoy a cup of tea!
If you are looking for Budget Place to stay while enjoying the heritage feel- must try the Dutch Bungalow. Abad Dutch Bungalow is a 375-year-old heritage hotel in Fort Kochi that was built in the year 1668 by the Dutch East India Company. There is a swimming pool in the center and the rooms have rustic charms with huge spaces.
Other heritage Properties you can look at Koder House Kochi, Malabar House Residency Kochi, and Hotel Le Colonial Kochi,to name a few for your heritage stay. And always, you can stay at homestays for better experiences!
Just aimlessly wander through Rose street and Princess street in the Fort Kochi area to soak into the all colonial vibes.
Visit Santa Cruz Cathedral Basilica:
If you are looking for the most beautiful places to visit in Fort Kochi- then head to Santa Cruz Basilica. Santa Cruz Basilica is one of the most pretty churches I have seen in India. The church, which is more than 500 years old, has an eventful past going back to the arrival of the Portuguese. The first Portuguese viceroy, Dom Franciso de Almeida built the church in 558. Later, Pope John Paul raised the status of the cathedral to a Basilica.
The Basilica has magnificent Indo-European and Gothic architecture and grandeur in the use of colors. It has two bright lofty spires, an indelible pastel-colored interior, and is adorned with paintings. The frescos and murals on the life of Christ embellish the ceilings and the interior and the beautiful stained glass windows add to the charm of the place. It bears testimony to the craftsmanship of those behind the making of the magnificent monument.
Santa Cruz Cathedral remains open to visitors from 9:00 AM to 1: 00 PM & 2:30 PM to 5:30 PM from Monday to Saturday. On Sundays, remains open from 10:30 Am -1: 00 PM. It remains closed every first Friday of the month.
Watch the Kathakali Show:
If you are in Fort Kochi- don't miss the ancient art form of Kerala – Kathakali dance Show. Kathakali is one of the best places to visit in Kochi at night. One of India's classical dance forms- Kathakali tells Spiritual and Mythological stories from Hindu Puranas.
The most fascinating thing about this dance form among all Indian Classic Dances is that it has the most elaborate costuming consisting of headdresses, face masks, and vividly painted faces!
It typically takes several evening hours to prepare a Kathakali troupe to get ready for a play. With bright costumes, intricate hands, body, facial, and even eye movements, Kathakali Performance is one of the most epic things to do in Fort Kochi. The best place to watch a Kathakali performance at Fort Kochi is the Kerala Culture Center.
Also, if you want to see how they dress up and apply their make up-you can reach early at the center. You can see how they do makeup that transforms them from humans to divine beings.
Explore the Indo-Portuguese Museum
The Portuguese have left marks on our history and culture. The Indo-Portuguese Museum situated in Fort Kochi tries to encapsulate this bond. Their influence on the art and architecture of Fort Kochi and the surrounding region is on full display here.
The constant efforts of the late Dr. Joseph Kureethra, Bishop of Kochi, played an integral role in its formation so that future generations could understand the Indo-Portuguese Christian Art heritage. You can see the life of people during Portuguese rule when the Portuguese have a strong influence in this region. If you are a history and museum lover, must add this museum as part of your one-day fort Kochi itinerary.
Visiting Hours: 9:00 AM to 1 PM and 2:00 PM to 6:00 PM. It remains closed on Mondays and all Public Holidays. Entry Fees: INR 20 per Person
Visit the Artisty Cafes of Kochi
Fort Kochi is filled with so many artists' cafes! If you are an art lover along with a foodie, hop on as many cafes as you can while you are in Fort Kochi- a must-do when in Fort Kochi.
Kashi Art Cafe- It is one of the most popular art cafes in Fort Kochi where they host local artists every month. With an old-school charm as it is set up in a traditional Kerala-style bungalow, this is the most hipster cafe in Kochi. Be it breakfast, lunch, or dinner, head here anytime and the zen vibe of the cafe along with great food will put a smile on your face.
Loafer's Corner Cafe – Located on the Princess Street of Fort Kochi – probably the most happening place in Fort Kochi this cafe has colonial-era structures that capture the spirit of the bygone era.
Other Famous cafes you can explore are Mocha art café, Qissa café, Oy's café restaurant, Teapot café, and Farmer's Cafe.
Best Things to Do Near Fort Kochi Area
Just near the Fort Kochi neighborhood must visit the area of Jew Town where you can see the multiethnicity of Kochi! You can reach here on a walk or an auto. You can see the melting point of the culture of fort Kochi here. Here are my recommendations to visit a few places near Fort Kochi.
Visit Mattancherry Palace :
The Mattancherry Palace (known as Dutch Palace) is one of the most beautiful places to visit in Fort Kochi. The Dutch Palace is neither Dutch nor a palace. It was a house built by the Portuguese in the mid-16th century, as a gift for the king of Cochin. Later the Dutch renovated it so thoroughly that it came to be known as the Dutch Palace. The architectural style of the Dutch Palace is typical of Kerala and is known as Nalukettu, a quadrangular structure having a courtyard in the middle.
Its walls have amazing murals depicting scenes from the Indian mythology of Ramayana and Mahabharat. The designs and murals reminded me of the paintings I had seen in Jaipur.
Of course, the prime attraction in Mattancherry palace is murals and beautifully carved wooden ceilings but other attractions include the collection of portraits of Maharajas, old Dutch maps, royal palanquins, and old furniture.
Exploring Mattancherry Palace is a treat to the eyes. The palace is open from 10:00 Am to 5:00 PM every day except Fridays. The entry fee is INR 20 per person. Photography is not allowed in the rooms that have murals.
Visit The Paradesi Synagogue:
Fort Kochi has most immigrants and the locals called them 'Paradesi'(Paradesi means foreigner). The locals called Jews Paradesi and this is how they are known as Paradesi Jews. If you get out of the Mattancherry Palace and walk towards Jew Town street, you can reach the Paradesi Synagogue. In fact, it is located behind the Mattancherry Palace but you need to cross the Jew town street to reach the Paradesi Synagogue. If you are in the Jew Town area, you must visit Paradesi Synagogue the most important place to visit in Fort Kochi.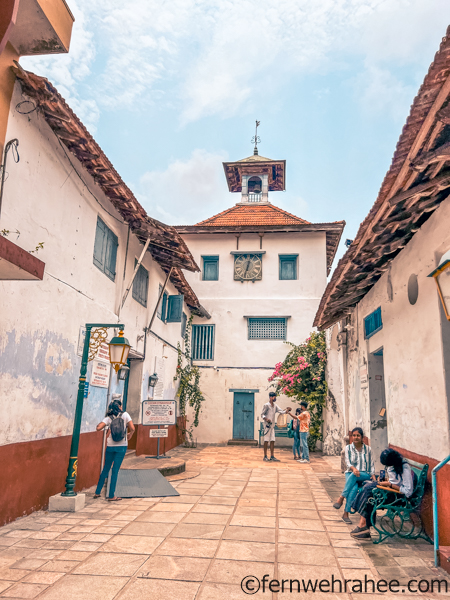 The Jewish synagogue was built in 1568, adjacent to the Mattancherry Palace, given by the erstwhile king of Cochin. As you enter the synagogue, the light falling through the large open windows makes the sight of chandeliers and lamps more delightful. The glass chandeliers dangling from the ceiling were imported from Belgium and Its floor is covered with hand-painted porcelain tiles from china.
The synagogue is open from 10:00 AM to 6:00 PM from Sunday to Thursday and 10:00 AM to 2:00 PM on Fridays. They are closed on Saturdays and during Passover. There is an INR 10 entry fee and you can buy it at the entrance. Photography is not allowed inside the synagogue.
Wander the Colorful Streets of Jew Town:
I love exploring the colorful streets whether it is from Siddhpur of Gujarat or Kochi in Kerala! There is a quaint street next to Mattancherry Palace known as Jew Town. It is one of the most charming and attractive Places I had visited in Kochi.
The narrow street that leads to Mattancherry Palace is filled with so many antique shops and colorful galleries. The shops feature Hebrew words such as Shalom, Stars of David, and other Jewish symbols, but they are now run by other residents of Kochi. It's one of the oldest antique markets in India. If you want to buy souvenirs it is the best place for shopping in Kochi. Being the most colorful place, you can have some gram-worthy photos here.
Also, it is believed that Jews came from Isreal to here and since the place that sheltered them was near the Mattancherry Palace, this place started to be known as Jew Town. Then in the latter part of the 20th century, Jews went back to their original country Israel and their left things and houses are found in Jew Town. Today many of the families still live here and warmly welcome travelers. Hence, Jew Town is an ideal heaven for connoisseurs and shopaholics. If you love to shop for antiques for your home and surroundings, then it is the best place to go for!
In addition to antiques, here you will find spices, all sorts of garments such as kurtas, scarves, etc, and also plenty of souvenirs – these are just some of the things to buy in Kochi.
If you are more interested in knowing about Jewish Heritage, take the Jewish Heritage tour of Kochi which lasts for 6 hours, and learn about India's oldest Jewish communities
Take Sunset Cruise
A Sunset cruise is one of the must-do activities when you are in Kochi. It is one of the best ways to enjoy the backwaters of Kochi. You can see the Chinese Fishing nets from the water. Also, perfect for watching the dolphins!
The sunset cruises run daily except during the monsoon season. They tend to last 1.5 to 2 hours depending on the company.
Indulge in Shopping
When in Kochi- Shopping is a must, especially Spices! After all, it's spices that make Kochi on the world map and more famous. It has a history of trading spices all over the world! It is famous for good-quality pepper, cardamom, cinnamon, ginger, vanilla, and nutmeg. In ancient times, Kerala was an important spice trading center for the Greeks, Romans, Chinese, and Arab traders.
Black pepper and cardamom of Cochin are considered the best in the spice market of Kerala. Kerala grows around 70% of the total Indian production of pepper, out of which a major part is produced in Cochin only and Mattancherry was once the hub for trading spices.
Even today you can get authentic Kerala Spices as you walk through the Bazaar Road near Mattancherry Palace where the majority of shops sells spices. Also, Kerala is famous for its handwoven cotton sarees. If you want to buy sarees, head over to M.G. Road and Princess Street in Fort Kochi.
Where to eat in Fort Kochi
Ginger House: To get to Ginger House you need to walk through an antique shop with a pretty big wooden boat inside. It gives the best waterfront views in Fort Kochi, so it's worth a visit!
Kashi Art Cafe: Kashi Art Café doubles up as an art gallery and a café. It serves the best sandwiches, soups, and salads in a lovely atmosphere. The food is great and the staff is very friendly.
For a more upscale dining experience, you can experience the following restaurants:
Armoury Café at The Brunton Boatyard Hotel, Thai Soul at the Grand Hyatt Kochi Bolgatty, and Cassava at the Kochi Marriott Hotel. I had the best dining experience during my visit to Kerala Travel mart 2022 at Grand Hyatt Kochi Bolgatty.
If you are looking to try traditional Kerala meals i.e Kerala Sadya then must visit Bharat Hotel OR Vijay Lakshmi Bhavan for Kerala Sadya Lunch. Also, you can visit Amba Swamy's, Brindhavan Veg restaurant, and Udupi Anantha Bhavan Restaurant for authentic south Indian Dishes.
Must try Idiyappam with curry, Kerala Puttu Kadala, Avial, Malabar Parotta, Appam and Payasam. I had a few coconut dishes during y Kerala travels which I loved most of all.
Best Hotels to Stay in Fort Kochi
I already mentioned the Heritage Mansions' stay in Fort Kochi. but if you want to stay in upscale New Hotels, here is the list of the best places to stay in Fort Kochi.
Ramada by Wyndham Kochi Resort:
If you like to stay away from the bustling city area, then consider staying at Ramada by Wyndham Kochi Resort. Within easy reach from Fort Kochi, it is quaint and offers a relaxing stay. It has a swimming Pool with the Biggest Spa in Kerala and many restaurant options for your choices.
Grand Hyatt Kochi Bolgatty:
If you want an extra luxurious stay, With Vembanad Lake views, this hotel is the best to book. With over 260 sophisticated rooms, you can pick according to your choices! All of the rooms have views over the backwaters, the city skyline, and landscaped gardens. I had the pleasure of visiting it during KTM 2022. It Serves gourmet cuisines at the property's five distinct upscale dining options.
Neemrana's Tower House:
This Hotel is just a 4-minute walk from the beach. The Tower House sits facing the Chinese fishing nets, marking the spot of a 17th-century lighthouse hence the name The Tower House! It is located just a 5-minute walk from the Chinese Fishing Net. The Neemrana's – The Tower House features an outdoor swimming pool and if you are looking for something unique, luxurious, and experiential, then book this place!
The Postcard Mandalay Hall :
This newly opened Hotel is located in Mattancherry, the hotel is within a 10-minute drive of sightseeing, shopping, and socializing in Fort Kochi and Ernakulam. A 200-year-old, beautifully restored building, Mandalay Hall is a five-room art hotel. Bridging Kochi's past and present, each of the five luxury rooms is an immersive living gallery, exhibiting artwork and installations by different artists. The three rooms have bathtubs. The hotel itself is an art destination!
Getting around Fort Kochi
Fort Kochi is quite a small area that you can easily explore on foot. Just list out the places you want to visit and wander around the coastline and Vasco da Gama Square. You can easily get lost in the quiet alleys of Fort Kochi. But if you don't prefer to walk then easily you can hire an auto-rickshaw for short journeys. You can reach Fort Kochi via OLA/UBER taxis or by taking the Metro line in Kochi.
How to Spend One Day in Fort Kochi- Itinerary??
You can easily cover all the places I mentioned during one Day in fort Kochi. You can cover the Mattancherry and historic Fort Kochi neighborhood either by walking or by tuk-tuk. Here is a suggestive one-day Kochi itinerary.
Start your day with an authentic Kerala Breakfast at your hotel or any restaurant as I mentioned.
Morning to Noon:
Start with exploring Jew Town
Mattancherry Palace
Paradesi Synagogue
Jew Town street
See the Street arts
Explore Art cafes OR have Lunch at Ginger House in Fort Kochi
Afternoon Head to Beachside:
Santa Cruz Cathedral Basilica
St Francis Church
Vasco House & Bastion Bungalow
Fort Kochi Beach
Vasco da Gama Square
Indo Portuguese Musuem
See the Chinese Fishing Nets with Beautiful Sunset
Sunset Cruise if have more time
Lastly, end your day by watching the Kathakali Show.
Day Trips from Fort Kochi:
If you are in Kochi for 3-4 days, take day trips to nearby Places. Here I am recommending more options:
Explore the Backwaters of Alleppey:
Kerala is synonymous with backwaters and houseboats. If you are in Kerala and didn't stay in Houseboat then certainly you are missing something! Cruising the backwaters of Kerala in a houseboat is one of the most amazing experiences in the world! So, if you are in Kerala, must stay in a houseboat for one night.
The Kochi Private and Heritage Tour will take you through the ride of local villages, backwaters, and paddy fields with Kerala Lunch on the way. In the afternoon, you can explore the famous landmarks of fort Kochi.
And if you have more time, take this Kochi to Alleppey 2 days cruise with one night stay on Houseboat. You can admire scenic views for a full day with the gliding backwaters of Alleppey. On the second day, you can explore Fort Kochi.
If you are visiting Kerala, just after the monsoon season, I highly recommend exploring the waterfalls of Kerala. The Athirapally waterfall is the most famous waterfall in India and it can easily be visited on a day trip from Kochi. You can book a Private Athirapally waterfall trip with lunch as a day trip from Kochi.
Note: I was invited to explore Kerala as a part of Kerala Travel mart 2022. I was hosted by KTM and explored Kochi as a part of their Premart tour. However, all opines are my own.
I hope this post has given you enough inspiration for the best things to do in Fort Kochi! And if you loved my list of best things to do in Fort Kochi, then Pin it for later!