Colourful Vohrawad of Siddhpur -Glimpse of Europe in India
Every day when I flip through social media, mostly instagram; my eyes set on those photos from warsaw,Copenhegen,Stockholm etc  –  European cities that have most colorful houses and streets. I sometimes envy to those who live there. But in India, Gujarat has one town naming Siddhpur that holds such colonial styled houses at 'Vohrawad' with pastel color sheds and I can say you can have glimpse of Europe in India and Siddhpur considered as one of the best places to visit around Ahmedabad.
Siddhpur is a little town in Patan district of Gujarat state,India situated on the bank of river sarswati. In the 10th century, under the Solanki rulers, this town was at the pinnacle of prominence and glory. It derived its name from the great ruler of Gujarat, King Siddhraj Jaisinh from the Solanki dynasty.
People who visits Sun temple,Modhera and Rani Ki Vav,Patan; hardly visit siddhpur as it's not known by many people; even Gujaratis don't know about this hidden gem. After visiting Rani Ki Vav, we left by noon to reach Siddhpur which is half an hour from Patan. Due to its close proximity with Ahmedabad it can be  easy weekend Gateaways from Ahmedabad. 
Apart from Hindu religious places, the town holds importance for the Bohra Muslims- an affluent Muslim community spread all over the world. They have contributed significantly to the development of Siddhpur.
The Dawoodi Bohras are Shia Muslim community from Gujarat whose routes date backed in Yemen. Bohra mosques were built-in a different style and women wore brightly colour burkas instead of the usual,all black. Most of the Boharas now living abroad or across country; visit their ancestral homes on important social occasions. Otherwise, a caretaker looks after their house.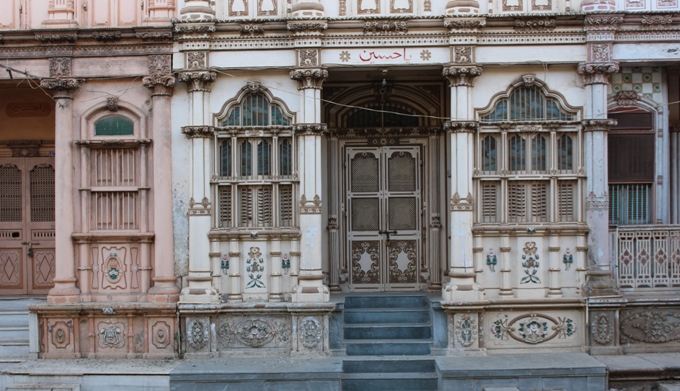 As we entered in the town, we asked for Bohrawad houses and locals guide us the way to Najampura area. My first sight on eye was feeling of being in Victorian era. I was awe-stricken by seeing all pastel shades with row of mansions on both the sides of street.
The town is flanked by multicolored old Havelis and mansions, some over 100 years old have a markedly European flavor. After crossing Water Tank area, entering towards 'Bohra Vad' or 'Vohra Wad' is like a stroll through empty streets of dusky town; more like sleepy streets.
As most of Bohras settled across India and abroad, almost houses were locked. You can see few people in their house who visit their ancestral houses on holidays or old age people who live there. It is the place where you can find yourself alone in the entire street.
The mansions were built by wealthy Dawoodi Bohras,a shia trading community who migrated from Yemen to India and settled in Siddhpur. During the British Raj times, money trading was taking place in India and in other African countries. A lot of this money was put in construction of these havelis as an investment which was boomed in 18th century.
Architecture:
The havelis have clearly European architecture as they tried to create a slice of Europe in their hometown. The houses have no space in between to feel the contentedness of the community. The houses have gabled roofs, ornate pilasters, decorated doors and windows with lot of Gothic and colonial ethics. The facades are rich in variety with intricate details in wood. Each house has Monograms depicting the initials of owners.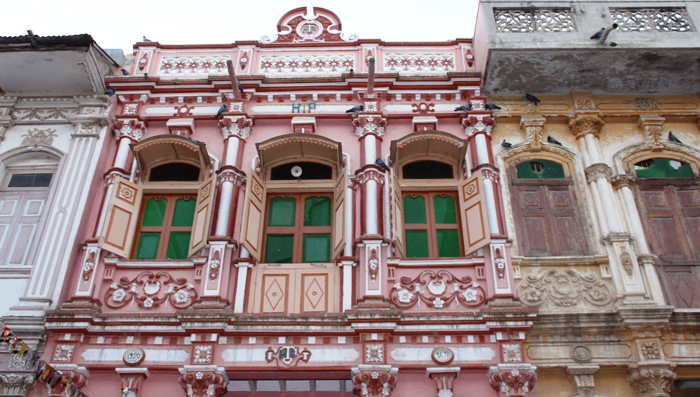 There is one street which is famous for many such colorful houses; I was eager to click the photographs of it. As I entered there; it was looking vibrant with Instagrammable frames in all Mediterranean colors – green, orange, blue, pink, beige and so on. The rows and rows of empty colorful canyon streets look like rainbow. Some of Bohra houses have been demolished to make a new modern house.
After moving from the Boharawad to Main Street, we saw an abandoned Mansion with 365 windows named Jhaveri Mansion. The Place looks like haunted villa with black and white look. A stranger informed us "this Mansion observes light illumination in night" and showed us the pictures. I don't believe in such things but surely the Mansion was haunted looking.
After spending few hours and clicking photographs we move towards clock tower area; a market area of the town. There were few Bohra houses near to it which I saw livelier than empty Bohrawad.
The living spaces of the Bohra community or so-called 'Bohra Havelis' represent a nostalgic visual straight out of Europe. We can call this sleepy town – a Siddhpur or Stockholm of India. So when you are considering Places to visit near Ahmedabad , don't forget visit to Siddhpur!
Travel Tips:
Bohras are little bit reserved; take their permission to capture the photographs of their house if they are around.If you are lucky;they may give permission to step inside their house to have look.
You need at least 3-4 hours to capture the beauty of the town.
You can visit Rudramahalaya temple; now a ruin which has brilliant architecture.
How to Reach Siddhpur Gujarat:
Siddhpur is well connected with Ahmedabad by train and road.There is good GSRTC bus frequency from Ahmedabad,Patan,Mehsana.