Matheran in Monsoon: Sightseeing in Matheran
Updated June 2020
If you are living in Mumbai, you may have heard about Popular Hill Station of Maharashtra- Matheran. I visited Matheran on my birthday, perfect way to celebrate my 30th Birthday. I planned to visit Matheran in Monsoon season of August! This Post is all about Matheran Points of Interest including Matheran Trip Cost, and how breathtakingly beautiful Matheran looks in Monsoon.
Before few days of our travel, we booked train to Kalyan junction near Mumbai;I was so much happy that I am finally visiting Matheran in rainy season,forever my dream it was! Despite it is few hours away from my home town, I couldn't visit it in Past, but this time my dream came true and we all set to go there. As it was weekend,we had booked hotel Girivihar,Matheran which was in our Budget.
About Matheran:
Matheran is a small hill station near Mumbai in Maharashtra state tucked between western Ghats and very well known for Vehicle free destination. Matheran is well connected to Mumbai (100 km) & Pune (120 km) by rail and road, while Neral is the nearest rail station from where narrow gauge toy train connects Neral to Matheran.
The only form of automobile allowed in Matheran is an ambulance operated by the Municipality. No private automobiles are allowed in Matheran. Within Matheran, transport facilities available are horses and hand-pulled rickshaws. As vehicles are banned, it makes hill station Pollution free and peaceful.
How to Reach Matheran:
As we had booked tickets to Kalyan junction; we took Karjat bound slow local and got down at Neral junction. Neral is nearest railway station to Matheran. From Neral, we hired shared taxi [Rs.80 per head] and within half an hour we reached to Dasturi Point. From Dasturi Point, No vehicles are allowed and you have to reach Matheran by walk along railway line, which passes through lush green forests. At Dasturi Point, you have to pay entry fee of Rs.50 per person to enter Matheran.You can hire Potter at Dasturi Point to carry your luggage.
It was heavily raining when we reached Matheran; we walked for an hour to reach our hotel Girivihar Matheran with few pit stops in between. I was happy and felt like doing walking Meditation. Normally,you can reach the city center within 30 minutes which is busy market area.
After Checked in our room, we decided to explore the Matheran Points of interests by walk. I was so much excited as rain didn't stop for a while and everything was covered in green carpet, waterfalls were in full flow everywhere.
There are so many Places to Visit in Matheran which gives you views of Western Ghats. Matheran in Monsoon looks breathtakingly beautiful. We started walking towards Pathways with signboards which took us now here. It is the only option to get around. If you ever feel, you are not on right pathways, ask to locals and they will guide in your way. We noticed that sign boards were not clearly visible everywhere.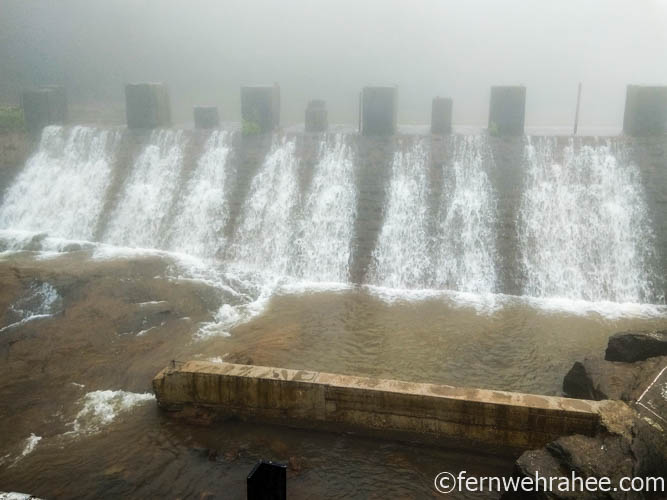 We kept walking and walking through the Wood and Mud. The jungle was looking spooky and haunted. We passed the famous 'The Verndah in the forest' and descended in the direction of the one of the lake named Charlotte. It is a small lake with waterfall and few view points.
After admiring the beauty of the Lake, we returned to hotel as rain god was raining heavily and we hardly could see anything. After returning, we kept busy ourselves at hotel and strolling on market area.
On second day, we started early from our hotel and decided  Visit Matheran attractions of Southern Part. It was raining but we weren't disappointed and walked towards pathways as told by hotel owner.
Soon we were passing through small shops, haunted like forest and few sign boards in between. At one point, we thought we were on the wrong track, but soon enough we saw locals, pony riders and voices of tourists and felt happy we are on the right trek. I didn't feel any fear of any kind as we were together; these are the perks of travelling with husband I guess.
We decided to complete whole circuit of the Matheran trek and we Passed through few Points. It was heavily raining in between with heavy water logging but we didn't give up. We passed through few view points, waterfalls and clicked the photographs.One of the best thing to do in Matheran is just do random walking,do walk and you will find views everywhere!
We kept on walking till we completed the circuit and visited few tourist spots in Matheran like one tree hill, boulevard point, little chock and Alexander point. It was heavy rains and foggy atmosphere but we enjoyed every bit out of excitement and joy.
After completing the trail, checked out of hotel and we started walking again towards Dasturi Point to catch the local train from Neral station.
Matheran is all about admiring western Ghats which turns in Green Carpet in Monsoon.If you are Planning to Visit Matheran in Monsoon, you will not disappointed.
Best time to Visit Matheran:
Matheran Hill Station can visit any time throughout the year.But the best time to visit Matheran is from August-September in monsoon, best time to enjoy western ghats. While October-May, climate remains pleasant which is perfect for Matheran sightseeing.
Matheran Travel Tips:
If you get down at Neral station, you can catch the famous Matheran Toy Train from Neral to Matheran. Toy Train takes around 2 hours to reach Matheran. 

Horses and hand pulled auto rickshaws available if you are unable to walk around.

Matheran is covered under area of 7 Km sq and having so many points to explore, you can plan your trip for 2-3 days to cover all of it.

Avoid carrying food in your hand or open bags as it may be snatched away by monkeys and it is seriously nuisance here.

Carry good comfortable walking shoes or whatever you are comfortable with for walking. If you are visiting it in monsoon, be prepared with slippery mud everywhere.
Where to Stay in Matheran:
Matheran is small hill station and it has few options for cheap places to stay for backpackers. But if you are on budget, you can have so many options of good comfortable hotels. There are few luxurious resorts also available with good amenities to just relax and chill.
Matheran is like trekking paradise and there is everything for everyone from nature lovers to families who want to spend some time together in the hills with greenery all around.
Matheran Trip Cost:
Transport: Train from Surat to Kalyan and return: Rs.800 + Kalyan to Neral return: Rs.60
Taxi Neral to Dasturi Point: Rs.320 two ways
Entry fees: Rs.100 for two
Accommodation: Rs.1360/night
Food: Rs.1000 for two days for two
If you liked this Post on Matheran in Monsoon, Pin it for Later!!