Popular Cultural Festivals in India you must Experience!
India – Known as the Cultural Capital of the World! India is a land of different festivals and people from different communities of different religions live together and celebrate the festivals together. Indian festivals are always filled with colors, chaos, traditions, and rich culture. There are many different festivals celebrated in India in each state, in this Post, I am including Popular cultural festivals in India which you must experience once during your trip.
About Indian Festivals
India is a secular country full of diversity, languages, castes, geography, and food habits too are so much diverse. People celebrate festivals throughout the year whether they are Hindu, Sikh, Muslim, Jain, or Christian- each has its unique traditions, and even every state has its own traditions! You can aptly say the states are a country in itself!
While each festival has its own history behind it, many are National festivals while other are religion based and few are community-based but there is the significant importance of festivals in Indian Culture. Here is a list of cultural festivals of India, the history behind the celebrations, and activities to do on the festival day to know the vibrant culture of India! One should experience one of these cultural festivals once in their life to seek the memoirs for a lifetime.
Diwali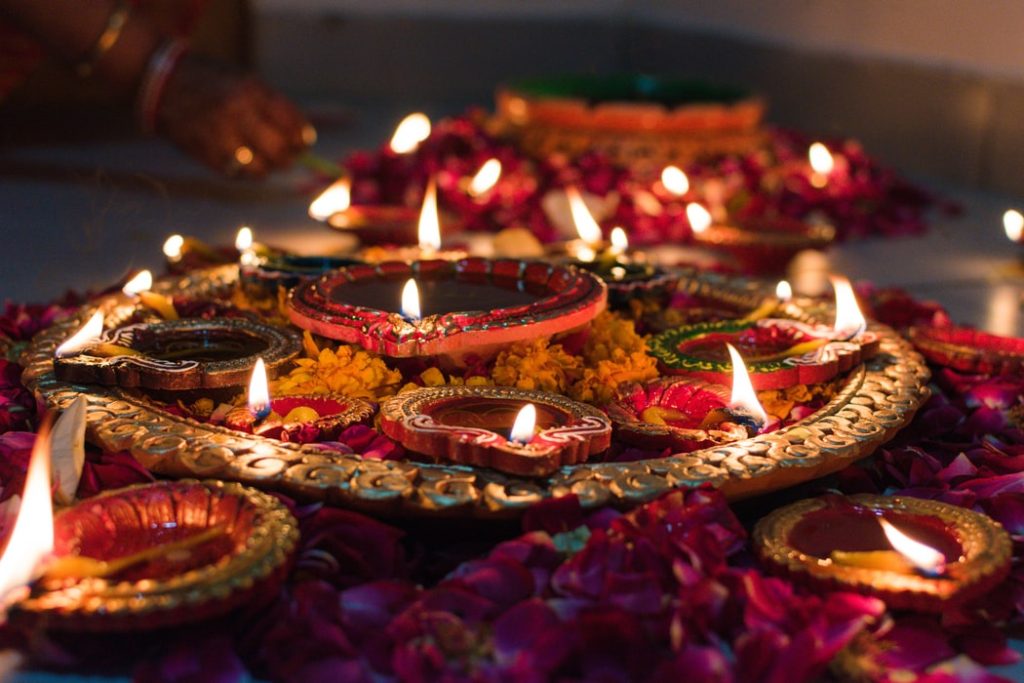 Diwali is one of the Popular festivals in India for Hindus and is celebrated throughout the country happily by every community and caste. It is famously known as the 'festival of Lights', Diwali celebration in India is a major event as houses decorated with Diyas, Lamps, and Rangolis are made in front of houses.
It is said that Lord Rama came back on this day from his exile of 14 years in the Jungle. People do Pooja of Lord Lakshmi in the evening and children burst crackers. Diwali is celebrated all over India with full joy and enthusiasm. The states of Gujarat, Uttar Pradesh, Rajasthan, and Delhi has more importance to them, whereas Celebrating Diwali in Ayodhya is one unique event to experience once in a lifetime.
Celebrating Diwali in Ayodhya
-Abhinav Singh from Asoulwindow
Deepawali in Ayodhya is surely the most underrated event which happens just a day before Diwali. 3 lakh diyas(mud lamps) illuminated the ghats and the religious hymns and Aarti wafted through the air making the whole experience surreal. You will never see Diwali as that happens in Ayodhya. Not only are the ghats decorated like a bride but even the holy Sarayu river is also decorated with more lamps and marigold flowers.
The Laser shows events that keep you busy, it retells the story of the epic Ramayana in a very modern way. Many many beautiful Rangoli designs are made depicting scenes from Ramayan at every few steps. The models masquerading as Shri Ram, Sita ji, and Hanuman ji keep the Crowd excited. If you are staying overnight in Ayodhya, you should visit Ramjanmabhoomi in Ayodhya. When in India, don't miss attending Diwali in Ayodhya!
When and Where: Mid-October to Mid-November as per Hindu Calendar, celebrated across India.
Narkasur Chaturdashi(Choti Diwali)
–Soujanya Rai from The Spicy Journey
Chaturdashi (Kali Chaudash) is celebrated before the day of Diwali with great fervor across the tiny state of Goa. In other states, it has the least importance but Goa celebrates it with great fervor. According to Hindu mythology, Narkasur was a demon king who had power over both heaven and earth.
However, he was defeated by Lord Krishna, and before he died, he asked for his death anniversary to be celebrated each year. And so, every year on his death anniversary, Narkasur-making competitions are held and there are demonstrations on the street where large effigies of Narkasur are burned on the eve of Diwali all across Panjim, the capital of Goa, and other cities and villages in the state.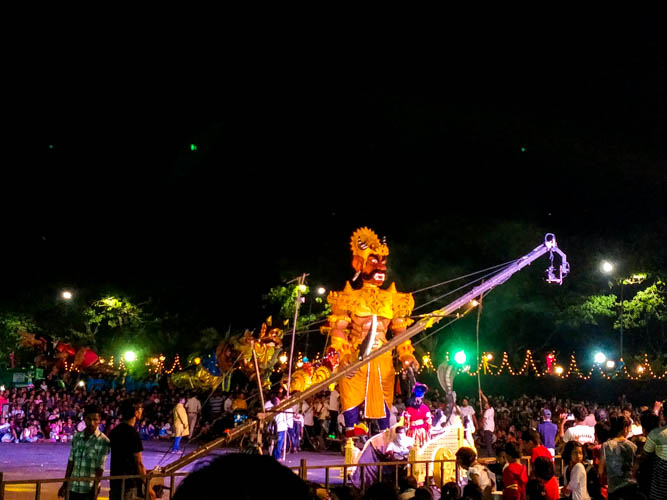 Both the youth as well as the older generation show great interest and enthusiasm in making Narkasur effigies to participate in these competitions. While Diwali and Narkasur Chaturdashi festivals which fall together each year, signify the ultimate victory of good over evil.
Holi: Festival of Colors
–Debjani Lahiri from TheVagabong
Holi- known as the festival of Colors, considered as best Indian festival for Hindus. Holi is celebrated across most of India. It also in a way, commemorates the onset of the spring season when the flowers are in full bloom to bid goodbye to the winter and welcome summer. At this festival, People throw colors at each other and play with colors.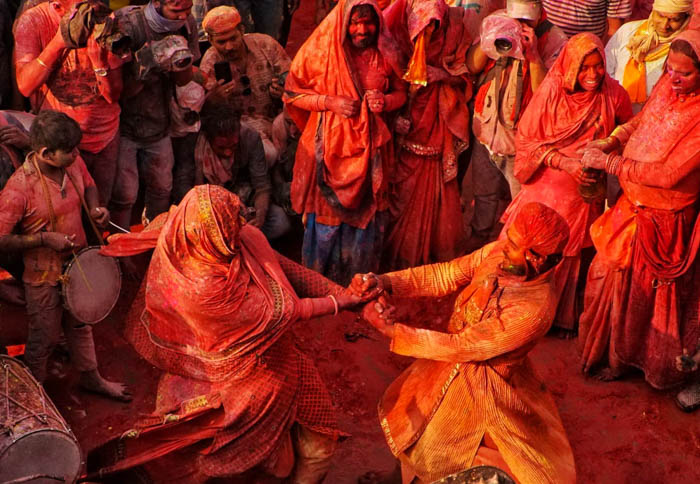 One of the mythological stories says that King Hiranyakashyap ordered his sister Holika to burn his own son Prahlad who was a devotee of Lord Narayana. Holika had a boon that fire can't burn her. She took young Prahlada in her lap to burn him, but he got saved and she was immolated. And thus, the rituals of Holika Dahan are performed by lighting a bonfire while chanting prayers on the previous day of Holi.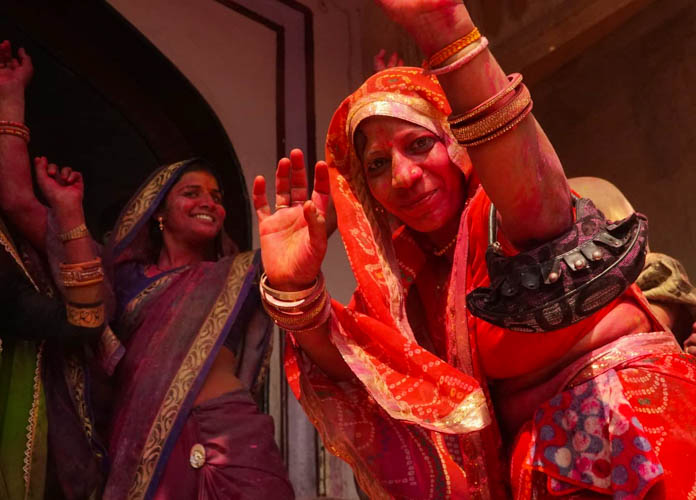 The second tale is associated with Raas-Leela of Radha and Lord Krishna in the holy land of Mathura and Brindavan as the former is also the birthplace of Lord Krishna.As per the folklore, a love tryst between Gopis known as Raas-Leela where Krishna playfully put colors on Radha and teased Gopiyas in the form of divine dance. If you want to experience Holi on a large scale, head to Uttar Pradesh where it is celebrated over 7 days. But one must see Holi celebrations in Mathura and Vrindavan as it is a special one among all other Indian celebrations.
However, if you want to experience a different version of Holi, head to West Bengal where you can visit Dol or Basanta Utsav at Shantiniketan. Don't miss this one of the most famous festivals in India.
When and Where: Mostly in March as per Hindu Calendar, celebrated all over the country, being one of the top festivals of North India, the most vibrant celebrations in India can be seen in North Indian states.
Basant Panchmi(Sarswati Puja)
–Eliss Veen from Backpackadventures
Basant Panchmi is celebrated throughout India mostly in February. Historically it welcomes the 40-day transition period before the arrival of spring and Holi, the start of the ripening of the yellow mustard flowers in the fields. Most People wear yellow clothes and eat yellow sweets. Then, People pray to the goddess Saraswati; the goddess of knowledge, music, and arts which symbolizes creative energy.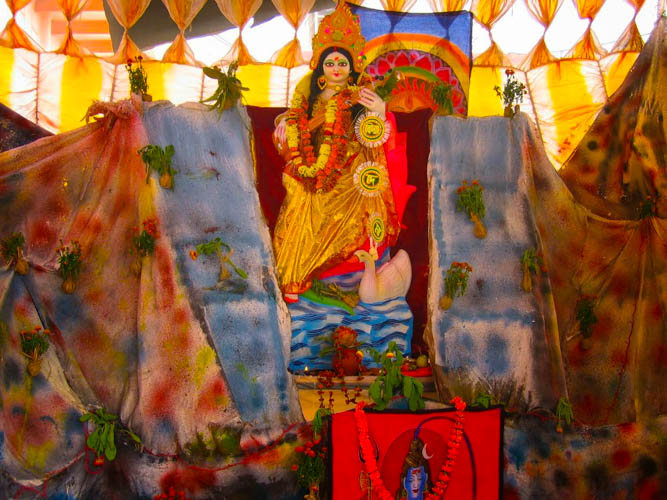 You can see the Indian traditions and celebrations in Varanasi where they believe the holy Ganges river is the home of the gods. Therefore throughout the day, people walk with handmade statues of Saraswati around Varanasi to bring them back home to the river. During the day you can see the people singing and dancing on the ghats of the Ganges river. Later in the afternoon, it gets rowdier with young men playing music and throwing color powder at each other. So when in Varanasi, don't miss this very important festival of India.
When and Where: North Indian states, West Bengal, Assam in February
Navratri
-Ketki Gadre from Explorewithecokats
Navratri is one of the famous cultural festivals in India, celebrated all over India but differently in each state. Navratri is synonymous with Gujarat and includes 9 days of grandeur celebrations including fasting during the day and dancing to the traditional beats at Night. Garba enthusiasts dress up in beautiful traditional attire like Chaniya Choli for Garba night. Popularly Known as the longest dance festival in the world, people participate with full passion and enthusiasm and embrace this once-in-a-year charm called Navratri.

The word Garba is used for dance and song sequences but originally refers to an earthen pot in which a Diya is lighted for Goddess Amba. After lightening the diya, an Arti is sung in respect of Goddess Amba, and then begins the dhols, live singing and every enthusiast plays Garba to the tunes of religious songs in concentric circles around Goddess Amba idol.
It is a sight to behold for the watchers as thousands dance together and it is even bigger an experience to be part of that energetic crowd that magnifies with each beat. Vadodara is one of the cities where the most traditional Garba UNITED WAY takes place.
When and Where: Mostly in October as per Hindu Calendar, celebrated all over India but the most vibrant celebration is in Gujarat, Maharashtra, and a few Metros. Gujarati Samaj in all cities across India and the world organize Garba during Navratri and anyone can participate and enjoy the festival.
Durga Puja: Most Popular Hindu festival in India
–Madhurima from Orangewayfarer Blog
Come the Bengali month of "Sharat", Bengal remits an inexplicable aroma of the festival! The advent of turquoise blue clouds afloat in the sky and fragrant Shiuli flowers blooming at the crack of the dawn announces the onset of Durgapuja! 
"Ma Aschen", as they say! Durga Thakur… Durga Maa. Debi Durga.. she has 108 names. More than a Goddess, she is family. She is our mother, sister, daughter, and everything in one form. She is love personified. Even the strictest communist Bengali would not deny the sheer cultural appeal of Durgapuja. It is definitive to Bengali culture and dare I say, an industry in itself, that benefits people irrespective of any social strata, religion or culture.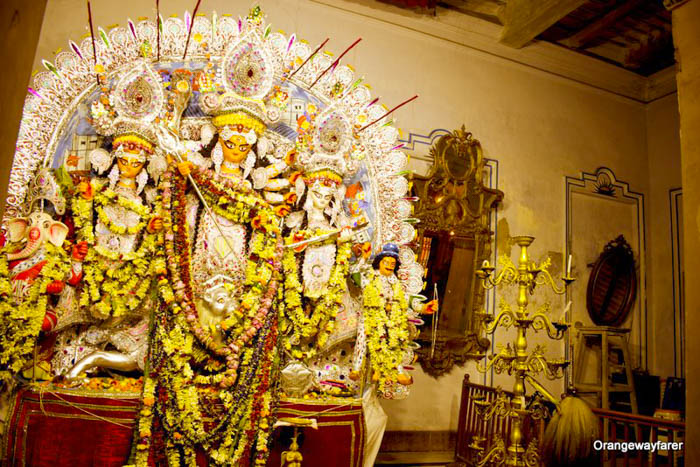 Durgapuja takes place in October. The date is fixed based on Bengali Panji. From Mahalaya, Debipokkho starts, which also denotes the start of Durgapuja. For the next ten days, the celebration continues, with the idol being immersed in the water on Bijaya Dashami. the Barowari Puja committees bring idols from Kumartuli on Panchami. Nowadays, Carnival takes place in Kolkata, with the biggest of Durga Idols queued up in a truck and the proceeding takes place. However, the Bonedi Barir Durgapuja gets over on the day of Dashami itself. 
Usually, that one week is a holiday in Bengal. Millions of people hit the road, do "Puja-parikrama", loosely translated to Pandal hopping for the whole night, and eat their hearts' content. From mutton biryani to chicken rolls and a full-fledged Bengali thali with at least 5 types of fish are a quintessential part of Durgapuja meals.
A community kitchen cooks Puja Bhog, the food offered to the Goddess, usually Labra and Khichuri. At Bonedi Bari Durgapuja, distinct types of dishes are prepared. Some offer a strictly vegetarian meal. Some include fish. Few offer mutton on the day of Dashami. Food is an important and integral part of Durgapuja. 
Durgapuja also means buying the best Sarees and dresses. The two months prior to Durgapuja, saree shops usually do spectacular business. New trends and newer designs rule the city! For each day of Durgapuja, we usually assign a new dress, with the best reserved for Ashatami night, when Dhunuchi Dance takes place! 
When and Where: September-October as per Hindu Calendar, Kolkatta and other Metro cities are the best places to celebrate Durga Puja in India.
Navratri Golu
–Bhushavali from My Travelogue by Bhushavali
Navratri Golu is another famous religious festival of India that precedes Dusshera. In South India, it is celebrated with the arrangement of 'Kolu' in TamilNadu. Keping Golu during Navaratri is to show our, gratitude to the Gods, Goddesses, our gurus, and all-natural elements such as birds, animals, trees, flowers, etc.
It is the arrangement of various dolls in steps. The dolls are traditionally handmade, hand-painted terracotta dolls, however, you can find many other materials these days! Traditionally it was nine steps representing nine days of Navratri.
Usually, the dolls represent idols of Gods and Goddesses. However these days beginners begin at 3-5 and families of the heritage Practice have even 11-13 steps. The dolls are segregated by type in each step, like major Gods, scenes depicting the fables of Gods like Raas Leela, etc, holy practices, and regular mortals like grocery sellers, farmers, animals, etc in each step.
The kids are encouraged to dress up as Radha & Krishna and visit the Kolu arrangements in other houses. People sing songs in front of it and the host offers a snack which is always a variety of 'sundal' i.e, legumes like chickpeas or red beans etc, boiled & sauteed with mild spices!
When and Where: Tamilnadu, Karnataka, Andhra Pradesh
Mysuru Dussera
–Athul Menon from Ourbackpacktales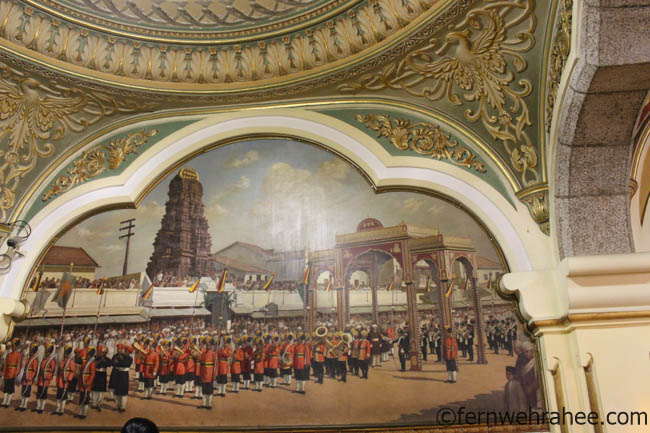 Dussera is a Hindu festival celebrated in association with Navaratri and Vijayadashami (the last day). The festival celebrates the slaying of the demon 'Mahishasura' by Goddess Chamundeshwari. The central place to witness the Dasara festival is Mysore, Karnataka, which is a popular Place to visit from Bangalore.
This is also considered as the best time to visit Mysore as the entire city is lit up with the festivities. The main attraction is the Mysore Palace which is said to be illuminated with more than 100,000 bulbs on all ten days of celebration. The Palace grounds are also the venue for various cultural programs.
A procession with the idol of Goddess Chamundeshwari from the Mysore Palace to Bannimantap is also an essential part of the festival. The festival is more than 400 years old and is said to have begun in the Vijayanagara era, and inscriptions of this can be seen on the walls of the Hazara Rama Temple in Hampi.
Related Read: Manas National park Assam Bihu celebrations
Ganesh Chaturthi
–Raksha Nagraj from Solopassport
Indian traditional festivals include Ganesh Chaturthi, a Hindu annual festival. According to Hindu mythology, the festival celebrates the birth of Lord Ganesha. Lord Ganesha is the god of auspicious beginnings and wisdom. The festival is believed to bring peace and prosperity to all humans.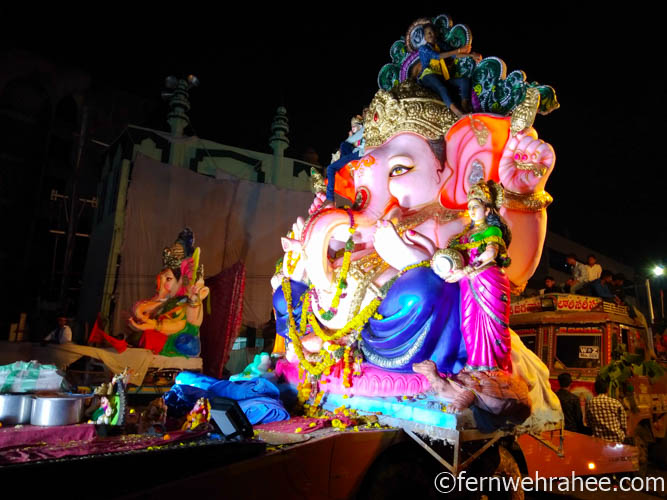 On the day of the festival, the idol of Lord Ganesh is brought home with huge celebrations. The hand-crafted beautiful idol of Lord Ganesha is installed in homes and in Pandals. The Puja and Aarti are Performed in the morning and evening. As a rule, the idol is kept for 1, 3, 5, 7, or 11 days. On the last day, Lord Ganesha is bid farewell and is immersed in a body of water such as a river, pond, or a sea. Cultural activities like singing and dancing are held during the celebrations.
Apart from this, Gowri Habba, a festival for Lord Gowri (Lord Ganesha's mother) is celebrated one day prior to Ganesha Chaturthi in Karnataka and Tamil Nadu on large scale.
When and Where: It is mostly celebrated in Maharashtra, Gujarat, Goa, Karnataka, etc. But high spirits can be seen in Maharashtra and Andhra Pradesh.
Janmashtami
Janmashtami is an important religious festival of India, considered as beautiful and the biggest celebration in Indian culture. Janmashtami is celebrated as the birth celebration of the Hindu deity Lord Krishna.
The prominent celebrations happen in Mathura and Vrindavan, as being associated with Lord Krishna. It hosts several events like Rasa lila, dramatic enactments depicting the life of Lord Krishna. People keep fast throughout the day and break the next day with a special meal.
People visit temples, sing Bhajans, and prayers at midnight are part of the celebrations. The temple pictures 'Jhankhi' of Lord Krishna's birth night. The next day, the 'Dahi Handi' competition is held in major cities, villages, and towns which is one of the popular cultural celebrations in India, this makes Janmashtami one of the most popular cultural festivals in India.
When and Where: Across India and Grand celebrations at Major temples.
Kumbh Mela – Major Religious Festival in India
–Martina & Jürgen from PlacesofJuma
The list of important festivals of India is incomplete without mentioning Kumbh Mela. Kumbh Mela is celebrated in a cycle of 12 years, at four banks of rivers that are considered holy – namely Prayag, Haridwar, Nashik, and Ujjain. 
One of the most spectacular festivals in India is definitely the Maha Kumbh in Haridwar. The special thing is, that it is only celebrated once every 12 years. The dates are based on Hindu astrology. The next festival will take place in 2021. This holy festival is a bathing festival where Pilgrims dip in the holy waters to wash away their sins in the Ganges river.
It is a particularly important sign of the Hindu way of life, a confirmation of faith and a renewal of our deep-seated beliefs.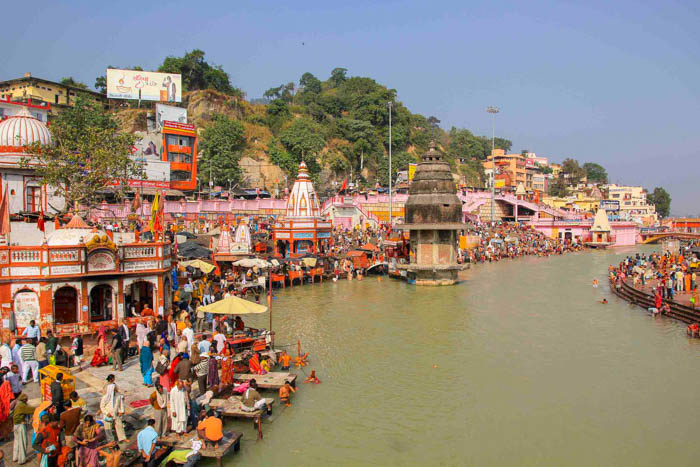 If you are visiting India, plan your dates such that you can visit the most popular Indian festivals like Maha Kumbh in Haridwar. The hotels and guesthouses booked out quickly due to large numbers of requests, especially on the main celebration dates.
Related Read: Rann Utsav Festival at White Runn of Kutch
Chhath Puja – festival of Lord Sun
-Tanayesh Talukdar from Shoestringtravel
One of the regional festivals of India is Chhath Puja mainly celebrated in the state of Bihar and Uttar Pradesh. The festival is dedicated to the Lord Sun and Shashthi devi (Chhathi Maiya) to thank them for bestowing the bounties of life on earth and to request them to grant certain wishes to the devotees.
The Chhath Puja is celebrated for 4 days, devotees take a holy dip or bath in the river Ganges following the path of self-resistance from worldly things. Other rituals include fasting, and those who observe the fast, take only one meal prepared in soil or bronze utensils, few People abstain from drinking water than standing in water for long periods of time, and offer Prasad (offering) to setting Lord Sun.
In the evening women prepare special Prasad kheer (cooked rice in jaggery or milk), Puris, and fruits which are offered to the Chhathi Maiya, devotee break the fast by eating this Prasad. on 3rd day, the devotees wear new clothes and gather either at the banks of a river. They sit there for one to two hours and worship Sun God, singing Chhath songs. After the sun sets, they offer evening Sandhya Arghya to perform the rituals of the day.
On the last day, devotees get ready to go to the banks of the river to offer to the rising Sun. The festival comes to an end with the breaking of the fast by having Chhath Prasad, taking ginger and water followed by delicious food.
When and Where: In October/November as per Hindu Calendar, Grand celebrations in Bihar and Uttar Pradesh.
Makarsankranti (Kite flying festival)
One of the most awaited Cultural festivals of India is Makarsankranti famously known as 'Kite Flying day' in Gujarat state, celebrated just one day after Lohari in Punjab. The festival is dedicated to the Lord sun which makes the termination of the winter season and the beginning of the harvest season.
It is the only festival that observes the Lunar cycle. From the day of Makar Sankranti, the sun begins its northward movement, so the festival is known as Uttarayan. The festival has a different name in different states but the celebrations include preparing sweets like til Laddoo, savoring 'bajre ki khichadi', and flying the kites.
When and Where: fixed date 14th January every year, Celebrated all over India but the best place to celebrate is North India and the state of Gujarat- the Famous International kite flying festival held at Ahmedabad every year.
Onam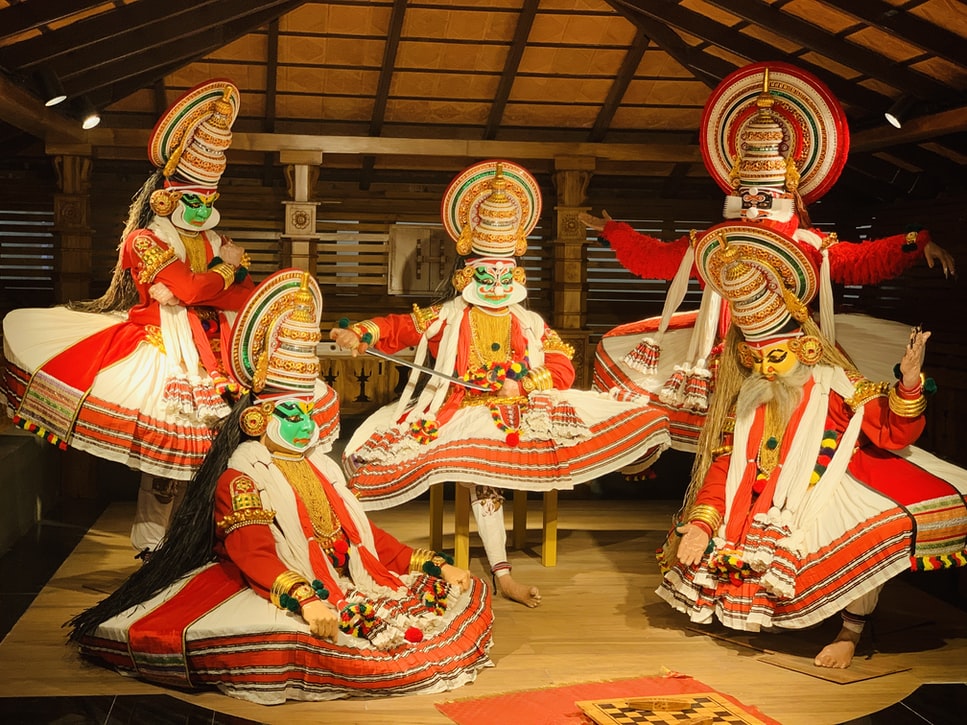 one of the Popular cultural festivals in India celebrated in the South Indian state Kerala as a homecoming of king Bahubali. Onam is a harvest festival, that mostly falls in September-October and is celebrated for 10 days. Like other Indian religious festivals, people wear traditional clothes, adorn houses with flowers and prepare Onasadya (an elaborate meal of about 13 dishes). Many events such as the famous Kerala Boat Races, Kathakali dance, Mask dance, and folk songs are part of celebrations. Onam is New year's Day for Malayalis.
When and Where: August-September in Kerala State.
Eid-Ul-Fitr
Eid is an important religious festival of the Muslim Community of India. Eid marks the end of the Islamic holy month fasting of Ramadan as the conclusion of month-long fasting during Holy Ramadan. It is believed that Prophet Muhammad got the first revelation of the Holy Quran in this month. 
The dates of the festival depend on astronomical calculations. The festivities only begin after the crescent moon is seen. The People wake up early in the morning, take a bath, put ittar, and attend community Prayers. Later they visit friends and exchange sweets with relatives.
Where: celebrated by Muslims all over India.
Christmas/New Year: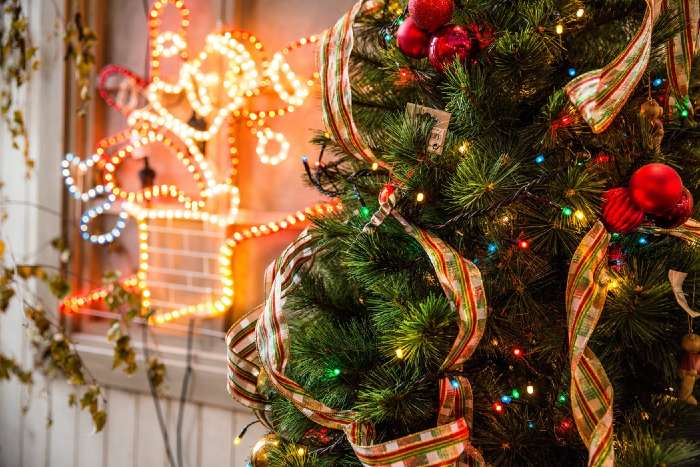 India's cultural celebrations include the Christmas festival and New Year. Everyone regardless of their religion celebrates Christmas. The children wait for the gifts from secret Santa. The churches are decorated to celebrate the birth of the Lord Jesus. After Christmas, New Year's eve has significance with Cultural festivals. Exotic New Year Parties are held in most parts of India to welcome the new year.
The People from Metro Cities, hotel organizers, Pubs, and clubs remain full during the last week of December. People enjoy delicious feasts with fireworks that light up the city just like it happens in Diwali. In Goa, many new year beach parties are arranged with live music and drinks. It is one of the best times to visit India to celebrate New Year.
Where: Goa,Mumbai, Delhi for Parties and for Christmas visit Goa, Kerala and Pondicherry, North East India.
Lohari: Popular Harvest Festival
–By Majulika Pramod from Pendown Blog
I hail from Uttar Pradesh and until I shifted to Delhi after my Dad's transfer, I had no clue that we had a festival called Lohri. Year after year, I saw my neighbors celebrate this festival every 13th of January.
I really enjoyed the gathering where people danced to the beats of the Dhol, around a bonfire. Who knew that a few years later, I would be married to a Punjabi family where this would be an important festival. Here, I must share that Lohri is not a festival of any particular sect, it is the festival of people of North India, especially Punjab, and is associated with agricultural activities (harvest of rabi crops).
Lohri also marks the end of the winter season and is celebrated one day before Makar Sankranti. I love Lohri for its popcorn, reverie, rice puffs, and sweets which are not only an integral part of the celebration but also the offerings for the bonfire.
After the sunset, people dress up in their best clothes to offer prayers and take rounds of the bonfire. Once the offerings are given, dancing and singing follow suit. Overall it's a very zestful festival. During the day, some people also fly kites and feast over Makke ki Roti and Sarso ka Saag. The first Lohri after marriage is often celebrated with lots of pomp and show in some families.
When & Where: 13th January Every Year, fabulous Celebrations can be seen in North India mostly Punjab.
Bihu – Popular festival of Assam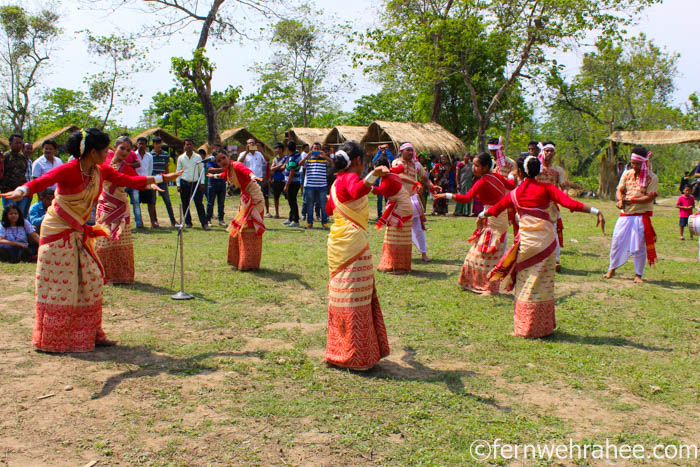 The cultural festivals in India, mostly in Northeast Indian states are unique to that region. Bihu is the most Popular Indian festival in North East Indian States.
Bihu is the major harvest festival of Assam and I witnessed one such celebration during my last trip to Assam. There are three types of Bihu festival-Rongali Bihu observed in April, Kongali Bihu observed in October and Bhogali observed in January.
Rongali Bihu is Assamese New Year. Like other Indian traditional festivals, Bihu is associated with agriculture, Particularly Rice. The men, women, and children wear their traditional clothes and perform Bihu Dance and sing melodious folk Bihu songs. People pray to god for a thriving harvesting season.
Horn Bill Festival,Nagaland
–Anshul Akhoury from dailypassenger Blog
The list of festivals celebrated in India includes the Grand Hornbill festival which is celebrated in Nagaland. Northeast India is culturally rich and a heaven for those who want to explore more than just typical itineraries. This part of India is known for its beautiful festivals that bring together communities to celebrate life.
Hornbill festival is one of the most unique festivals in Northeast India. Organized in Nagaland's capital Kohima, the festival witnesses 10 days of celebration with participation from all the 16 Tribes of the state along with many who come from neighboring States as well.
The hornbill festival is celebrated in the month of December. The popularity of Hornbill can be guessed from the fact that all the homestays are booked in advance and many opt for camping in the wilderness of this beautiful valley.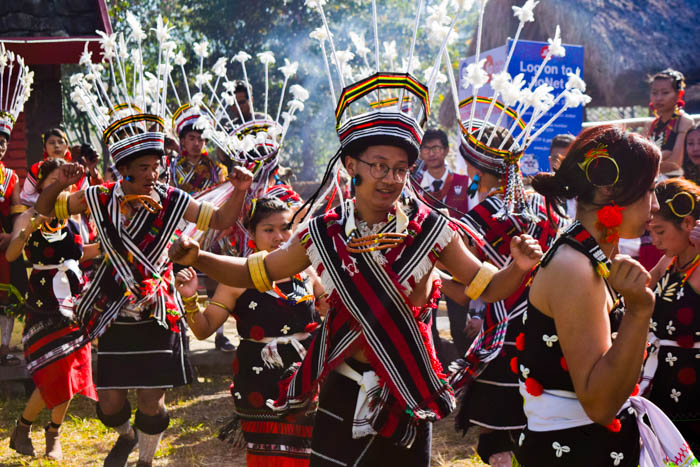 Those who like to enjoy shopping will find this festival a great place to buy locally-made handicrafts and embroideries along with many traditional spices, jams, and Pickles. Hornbill Festival is truly the gem of East Indian Celebrations and tribal festivals of India which showcases ancient tribal culture and heritage.
When and Where: Kisama Heritage Village from December 1-10 every year.
Wangala Festival, Meghalaya
–Amrita and Agni from taleof2backpackers
Wangala Festival is one of the most Popular Cultural festivals in India for Garo tribes in Meghalaya. It is a post-harvest thanksgiving festival celebrated in many parts of the Garo Hills of Western Meghalaya. 
In this festival, the Garos pay their tribute to Misi Saljong, or the Great Giver for having blessed them with bountiful crops. The festival is performed annually in almost all the non-Christian villages of Garo Hills. It is a 3-day festival consisting of elaborate rituals and celebrations that are followed by a feast, song, and dance.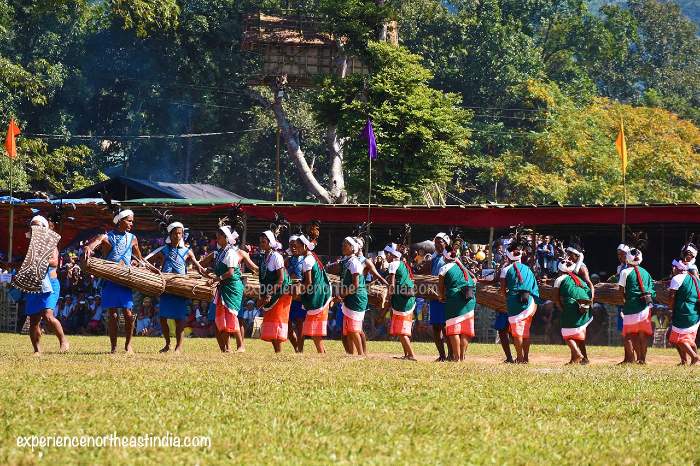 The Wangala Festival at Tura in Meghalaya, the headquarters of Garo Hills, is no longer a village affair and has become a festival to celebrate the cultural uniqueness of the Garo people. There are various cultural competitions, exhibitions, martial arts, and songs and dances by various sub-tribes.
The main attraction is, however, on the last day when 100 people play drums together and 300 men dances to the rhythm of the drums. That is indeed a spectacle to watch and known as the 100 Drums Wangla festival.
You can visit Tura to witness this cultural extravaganza of Meghalaya. You will get overnight buses from Guwahati to Tura as well as shared sumos. Please stay for the last and final day when the main attraction takes place.
So Plan your trip such that it coincides with the dates of Cultural festivals in India to experience colors, enthusiasm, and joy.
If you like this Famous Indian Festival Post, Pin it to read later!!