Street Food in Varanasi and Best Places to Eat them!
Varanasi- One of the ancient city of India, established by Lord Shiva, also Popularly known as 'Banaras' OR 'Kashi'. Varanasi attractions includes ghats and historical temples but the narrow alleys of the city are also famous for its street food scene. In this Post is all about Best Places to eat Street Food in Varanasi. As you walk the alleys of Varanasi, smells and sights of Varanasi will be completed with delicious street food and sighting the colors all around you! It would be sinful not to eat the street food in Varanasi!
As Varanasi is one of the oldest city in the World, Varanasi street food is blend of dishes from different Parts of India and the world elaborating city's history.They evolved with the time, but still keeps their original flavors. The famous street food in Varanasi named Particular streets dedicated to food only! Due to more flow of western tourists, you can also find many continental restaurants and cafes along the Ghats of Ganga. If you are looking for food trail in Varanasi,opt for guided Varanasi food tour to understand food culture of Varanasi.
Street food in Varanasi and Best Places to Eat in Varanasi:
Kulhad Chai:
India is tea loving country and Indian's morning starts with Chai aka Tea! The different Parts of India has different Version of tea- from black tea, Milk tea to Masala tea.
In Varanasi, tea is served in Kulhad (earthen Pot) which is Eco friendly option to Plastic cups. Kulhad mitti (clay) adds flavor to the tea and tastes different than normal tea served in the cup. When in Varanasi, must have Kulhad wali Chai at any stalls.
Where to get: At any tea stall in Varanasi, but best at Assi Cafe near Assi Ghat.
Black Lemon Tea at Assi Ghat:
If you are black tea lover, head to Assi ghat, here you can get Black tea with lemon which looks different than typical black tea.The flavor of tea includes Pepper, Chat Masala and Lemon- unique combination! You can ask anyone about Pappu Chai on Assi Ghat for his best Lemon Tea.
Kachori Sabji/Poori Sabji: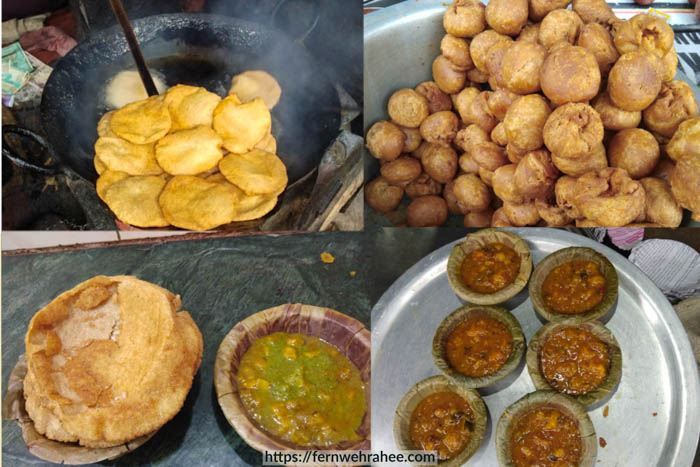 The Popular breakfast in Varanasi is Kachori Sabji/Poori Sabji. There are two types of Kachori – Badi kachori and Chhoti Kachori. Badi kachori is stuffed with lentils while chhoti Kachori is stuffed with spicy mashed Potato mix. This flavorful items are served with tangy and spicy Potato Sabji (Curry). This is such a unique combination to try in Varanasi for breakfast.
Poori is made with wheat flour and Sabji is made of Potato and Chickpeas in it. Most of the shops that sells Poori Sabji and Kachori Sabji are run out of stock by 10 AM as it is served for breakfast only.
Where to Eat: Chachi ki Dukan in Lanka and Ram Bhandar at Chaukhamba and Kachori Gali are Popular for Best breakfast in Varanasi.
White Makhan Toast:
If you don't want to opt Kachori Sabji for breakfast in Varanasi, you can go for White Makhan toast – kind of different combination then typical continental version. The locally sourced bread is toasted over a coal oven and served with fresh yellow butter over it. The toast is served with Pinch of Chaat Masala or sugar as per your preference. So when in Varanasi, have White Makhan toast with chai!
Where to Eat: Lakshmi Chai Wala near Maldahiya at Chowk.
Jalebi with Dahi:
Jalebi is deep fried dish that is commonly found in North and western India, one of the famous street food in Varanasi. If you visit any shop in Varanasi for breakfast, you will also come across cooks skillfully preparing Jalebi and it is delight to watch it! Jalebi is typically served with Milk Rabari in most Part of India, but in Varanasi Jalebi is served with Dahi. This is kind of strange combination but curd is good for digestion after devouring heavy kachori sabji in breakfast.
Where to eat: At any local stalls OR Sweet Shops in Varanasi like Rajbhandhu Sweets and RamBhandar.
Malaiyyo– Famous Sweet of Banaras:
Malaiyyo is delicious street food of Varanasi which is unique to this Place! You will not find this food item anywhere else in India.Technically Malaiyo is dessert, but it is very light,airy and lighter on stomach too. Malaiyyo is prepared with Milk and served in small earthen cups(kulhad). It is said that dish has Persian origin and flavored with cardamom and saffron, served with pistachios and almonds.If you are in Varanasi, must eat Malaiyyo – Varanasi's best kept secret and specialty of Varanasi.
Typically, Malaiyyo is available in Winter months only; it is frothy in texture and melts into your mouth, so its available till 10 AM- 11 AM in morning.
Where to eat: Malaiyoo is special street food item of Varanasi and available at Gowdolia chowk area. But Best Malaiyyo in Varanasi is available at Markendey and Shreeji Sweets in Gopal Mandir Lane(Kachori Gali).
Banarasi Chaat:
Chaat is Popular Indian street food which is sweet,tangy and bit spicy in taste that comes in wide variety. Banarasi Chaat is an integral part of Varanasi Food culture.There are many flavors in one dish and it comes in many varieties. The most Popular Banarasi chaats are Papdi Chaat, Bhalla Papdi Chaat and Dahi Kachori Chaat. Chaat is served with sweet curd,tangy tamarind chutney and green chutney.
Where to eat: Kaashi Chaat Bhandar and Dina Chaat Bhandar are famous for best Chaat in Varanasi.
Tomato Chat and Palak Chaat:
This is Variety of famous Banarasi Chaat but it is more local Version of famous Aloo tikki Chaat. Tomato Chaat is made using mashed mixture of boiled Potatoes, tomatoes,onions, green chilies,ginger and fresh coriander leaves, Chaat Masala is sprinkled over it. This chat is tomato based and it is less spicy as compared to other Chaat items. This mouthwatering Chaat is served hot in earthen bowl. If you are in Varanasi, don't miss this Banaras specialty.
Other famous is Palak Chaat which is prepared with Spinach Leaves,served with spicy and tangy chutneys.
Where to eat: Deena Chaat Bhandar and Kashi Chaat Bhandar are famous for Best Chaat in Varanasi.
Chena Dahi Wada:
Chena Vada is kind of variation of Bhalla made using lentils which is popular in North India and Delhi. In Chena Vada, Vada is made from Chena(Cottage cheese) that is dipped in sweet yogurt. It is then garnished with pinch of Garam Masala, black Pepper, salt and coriander Powder. This item is perfect mix of sweet and sour flavors. Chena Dahi Vada is quite Popular street food in Varanasi.
Where to eat: Deena Chaat Bhandar near Dashashwamedh Ghat
Choora Matar: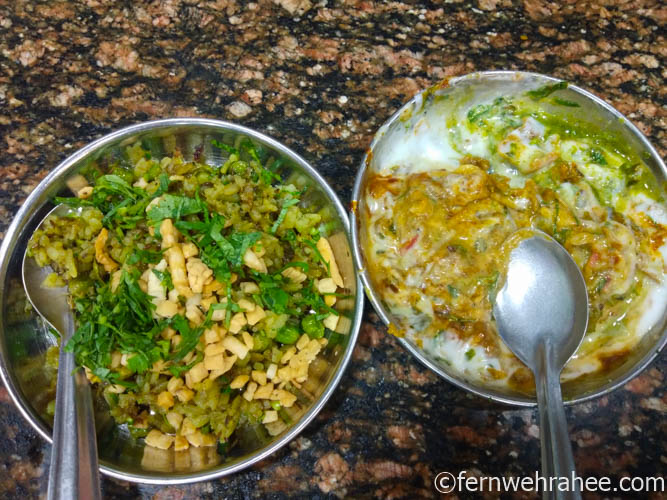 Choora Matar is Varanasi version of Maharashtrian Poha. Flatten rice,saute in Desi ghee and stir fried with green peas and variety of spices. Choora Matar is famous evening snack of Varanasi.The spices like Black Pepper,Garam Masala,Hing and raisins are added to enhance its flavor.
Where to Eat: Deena Chaat Bhandar near Dashashwamedh ghat, Gopal Mandir Lane
Lassi with Rabari Malai:
Varanasi has high Production of Milk and Curd, so you can see profound use of it in most of the food preparations. One of the Popular drink of Varanasi is Lassi. The Lassi in Varanasi is different from the typical Punjabi sweet Lassi- fresh,creamy and flavorful. A generous amount of yogurt and sugar are hand churned to make special Banarasi Lassi. This Lassi is served in earthen pots, topped with a generous amount of Rabari and Malai, and garnished with crushed pistachios. Laasi is drool worthy and refreshing drink to beat the hassle of Varanasi!
If you are looking for more varieties of Lassi, head to Blue Lassi shop near Manikarnika Ghat where you will get 83 varieties of Lassi. It is most Popular Lassi Place among travelers.
Where to Drink: Blue Lassi Shop, Siwon Lassi (Rajaram Lassi) Shop, Pahalwan Lassi in Lanka and Shiv Prasad Lassi outside Ramnagar Fort. Among all, my favorite were Pahalwan Lassi and Shiv Prasad Lassi– they serves creamy and authentic Lassi!
Thandai/Bhang Lassi:– Must try in Varanasi
Banaras is most famous for its special Lassi kind of Drink- Thandai. Banarasi Thandai is famous across India for its refreshing taste. Thandai is a flavored milk with variety of Spices added into it. It is made from seasonal fruit Puree,served in Kulhad and topped with Rabari, dry fruits,fruits and ice cream depending on our preference. With saffron and cardamom remain as main ingredients makes Thandai more rich in taste. On the occasion of festivals, Bhang(weed) is added to it which is most famous drink of Banaras. Among all the flavors, Kesaria Thandai is most famous due to its unique taste.
Where to get: Baba Thandai, Raju Thandai and Badal Thandai at Godowlia Chowk are most famous for Thandai in Varanasi.However, if you want more authentic taste, head to Pathakji Thandai on Rampura Laksha Road.
Gol Gappe with Dahi Chutney: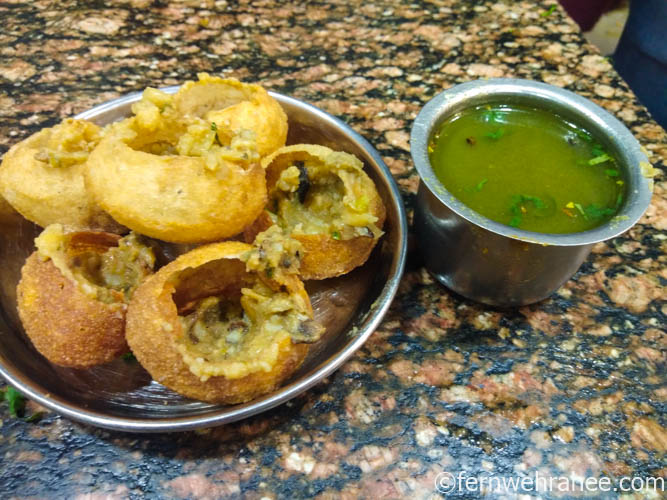 There is No Indian who will tell you – No,I don't Like Gol Gappe! Spicy Gol Gappe/Panipuri is famous street food of India and loved by adults and children's as well. The sweet version of Gol Gappe is famous in Varanasi. Thin and crisp small Puri is filled with Potato mixture and then topped with spicy,tangy chutneys, sweet curd and garnished with spices and Sev. It is very similar to Papadi Chaat of Delhi. This Popular and mouth licking Chaat is served at almost all Chaat Centers in Varanasi.
Launglata:
Launglata is One of the regional specialty of Varanasi, prepared usually during Holi festival, but can be found on the streets of Varanasi throughout the year.It is made with refined flour, stuffed with Khoya(milk solids),nuts and sugar. It is then deep fried,soaked in flavored sugar syrup and served. This famous Varanasi Sweet dish is perfect for any sweet lover, just a piece or two is enough to satiate your sweet tooth.
Baati Chokha:
Varanasi is close to Bihar and Baati Chokha- a favorite delicacy of Bihar makes another Popular food to be found on the streets of Varanasi. Baati is stuffed whole wheat flour dough balls,stuffed with sattu/chana dal and roasted over coal. This 'Baati' is dipped in desi ghee and served with Spicy Chokha- mixture made of boiled Potato,eggplant and tomato. It is one of the must eat dish for traditional food in Varanasi.
Where to eat: You can get this dish anywhere on the streets of Varanasi as well as Plush restaurants in Varanasi. But the best Place to eat Baati Chokha is at 'Baati Chokha Restaurant' and 'Potli Chokha Restaurant' in Varanasi.
Banarasi Paan:
We all have heard famous Bollywood song 'Khaike Paan Banaraswala' written to tribute famous Banarasi Paan which is famous all over the world! Banarasi Paan is made by stuffing Beetle leaves with Areca nut,lime, Kiwam,Catechu etc. There is also a Meetha Paan that avoids tobacco,lime and stuffed with soft Supari,sweetened rose petals etc. Paan is Popular as mouth freshener in India and you will find many shops on the ghats and inside the narrow lanes of Varanasi.
Where to get Best Paan in Varanasi?? If you are looking for exotic and symbolic Banarasi Paan, head to Rajendra Chaurasia Paan in Chowk or Deepak Tambul Bhandar at Dashashwamedh Ghat or Keshav Tambul Bhandar in Lanka which are famous among locals as well as tourists.
Sweets in Varanasi:
Varanasi is famous for its sweets. If you have sweet tooth like me, Varanasi is heaven for sweet lovers! There are many sweet shops in Varanasi and they allows you to sample the sweets. You can devour the sweets while walking the narrow lanes or the ghats. I highly recommend Dahi Kesar at Ksheer Sagar and Gulab Jamun from Rajbandhu Sweets which are known as best sweet shop in Varanasi.
Varanasi food really blends with traditional as well as with current dining Practices. Almost everywhere, street food in Varanasi is served in utensils made of natural material like leaf bowls,leaf Plates and earthen Pots known as Kulhad. This way Varanasi street food Practices Eco friendly Practices and makes the whole experience attached with traditions of Banaras.
I highly recommend to take Varanasi food tour to devour best street food in Varanasi.Alternately, you can walk from Gopal Mandir-Kachori Gali-Kashi Vishwanath Temple-Chowk area on your own as I did.
If I have missed any of the food items from Street food in Varanasi, let me know about it! If you like this Post of Varanasi food tour, Pin it for Later!!