Places to Visit near Ganpatipule: Complete Guide
I have based myself at Ganpati Pule and explored beaches near Ganpatipule.In this Post, I am including complete guide for Places to visit near Ganpatipule including travel tips.
My first place was Jaigadh. Jaigad is a coastal town 14 kms from Ganpatipule. It is the last town on this coastal route of Maharashtra. You can explore the forts,beaches and vast vistas with green pastures around.
Jaigad Fort:
Jaigad fort is said to have been built by Bijapur Kings in the 16th century. Nestled on a cliff, it overlooks a bay formed where the Shastri River enters the Arabian sea. It has a majestic view of the bay, the nearby JSW power Plant and the open sea. Although it is like abandoned ruins, most of the fort's outer wall still stands and in well condition.
We climbed the walls of Jaigad fort and walked around the fort area.It is not so big fort but located on very perfect location. I could imagine this must be built to guard the towns in ancient era to keep the enemy away that can come through the Sea route. Also I wondered that all the forts were located just on perfect locations on the seashore with majestic views on the western coastline of India.
Jaigad Light House:
The stunning Light house is located in one of bastion on the western edge of Jaigad fort. Upon inquiring the light house care taker, it came to me that it can give signals to ships up to surrounding 25-35 kms. It can be best Picnic spot near Ganpatipule, just by the beach.
Light house offers panoramic view of Arabian Sea. One can see the Light House from inside until in the evening before 5:30.
Karhateshwar Temple
Karhateshwar Devsthan is situated in the village Nandiwade near the Jaigad Fort.The temple is dedicated to Lord Shiva and it looks like ancient temple with a wooden structure, built on the slopes of the hill by the seashore. A flight of steps leads down to the temple. It is small one room temple.
As I stepped down more, I came across beautiful seashore where wave's strikes off the rocks and one can enjoy this process for hours. I found this place as calm and serene than more like pilgrimage place.
Jai Vinayak Temple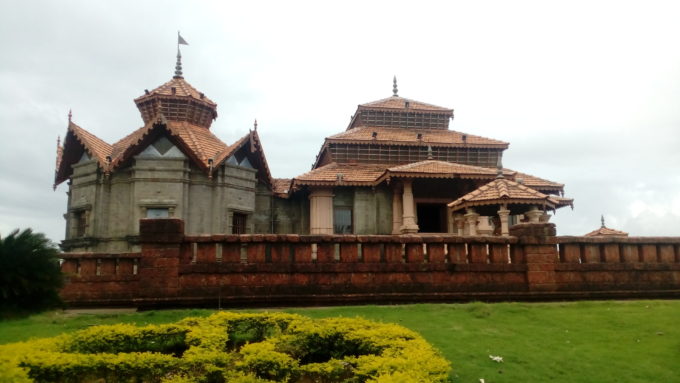 Jai Vinayak temple is built by Jindal Steel who runs coal based Power Plant near Jaigad. It is newly built temple with lush greenery all around. The temple is dedicated to Lord Ganesha.
The temple is built in Pagoda style of architecture having three layers of roof. The main Ganesh idol is made of brass and holds a very peaceful expression. Also temple has Lord Hanuman statue, Mushook in the temple premises. Temple has a pond consisting of various fishes. Temple premises itself gives fresh air and serenity that gives relaxing therapy who visits it.
Travel Tip: Apart from this you can also visit Malgund beach. It has numerous beach front resorts. If you wish luxurious weekend gateway, you can stay at one of the resorts in Malgund.
Few Sightseeing Places to visit near Ratnagiri:
Ratnagiri which is famously known as Ratnagiri 'Alphonso' mangoes. If you visit during the months of Apr-May, you will be delighted with the Mangoes galore. Ratnagiri is also Port city located on Arabian coast with long shoreline. It has rivers, hills, creeks, forts and beaches also, few of best attractions you can explore are:
Lokmanya Tilak House:
Ratnagiri is the birthplace of the great freedom fighter Lokmanya Tilak. I visited the place which is now a museum fairly dedicated to his work and life.
It is small 3-4 room house in which you can see his birth chart, family chart, his photographs etc. I was overwhelmed how it has been well maintained till now and amazed to stand in the house of such amazing leader.It is one of the best places to visit near Ganpatipule.
Ratnadurga Fort:
One of the top tourist places near Ganpatipule is Ratnadurga fort. The fort is surrounded by the Arabian Sea from three sides is having a shape of Horse Shoe and a length approximately 1300 m and width 1000m. It's having strong fortifications from south-east to west side. Approximately at the centre of the fortifications, there is a main entrance gate. There is a Lighthouse on one of the bastion. You can see it from the one of the walls of fort.
It is said that fort was constructed during the rule of bahamanee and later Chattrapati Shivaji took the charge of the fort in 1670.
As you enter the fort, there is small temple in the center dedicated to Devi Bhagwati. The fort is surrounded by fort walls and I had walked all the walls which give the view of Arabian sea. There are bastions at regular intervals. As you walk from west to east you will be delighted with jetty on one side and then Arabian Sea, cliffs and waves that gives beautiful scenes to watch.
It is well maintained place to walk and enjoy the beauty of sea and surrounding area. It gives whirl round view of Ratnagiri.
Thibaw Palace:
One of must Places to visit near Ganpatipule is Thibaw Palace , a historical building in Ratnagiri. It was built in 1910-11 by the british. This palace area is about 25803 Sq. Meter. Burma was partitioned from India in 1935. British took over the Burma kingdom and arrested king Thibaw. To keep him far away from his kingdom i.e. Burma he was kept under house arrest at Ratnagiri. Though the king was under British rule, he was given legal rights and was treated with the state honors and for the King Thiba the palace is built.After the death of king Thiba it was taken by British again and then by Indian Government.
Presently the palace is maintained by archaeological depth. Thibaw palace is best situated on a hillock and panoramic view from this point is most enchanting. This is a point worth visiting. This place is known as Thiba point, is at a considerable height from Sea level from where the small Rajiwada port can be seen.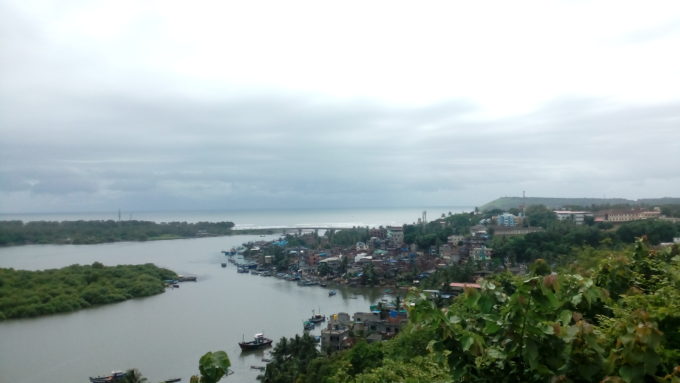 My trip to Ganpati Pule ended up with exploration of beautiful forts, beaches,temples and stunning coastline.
How to Reach Ganpatipule:
Ratnagiri is nearest Rail head which is 25 Kms from Ganpati Pule. You can take bus from Ratnagiri Bus station to reach here. Autos ply frequently to Ganpati Pule from Ratnagiri Railway station. It may costs you Rs.500 per Auto. Also Ratnagiri is well connected by road and Rail by major cities of Maharashtra.
Accommodation:
Ganpatipule has numerous stay options from budget to luxury.You can book budget home stays on arrival also.I stayed at Sukhakarta homestay near to Beach for Rs.800 per night. Also MSTDC resort is best place to stay just right on the Ganpati Pule beach with swaying coconut trees around. Other options you can try are Abhishek Beach resort, Oceano resort and Blue Ocean resort for some luxurious stay.
Getting around:
Auto is the best option for nearby sightseeing.Also you can hire 2-wheeler for a day at Rs.600-800.If you are not on tight budget, you can hire car and get around all the places you like.
If you liked this Post on Places to visit near Ganpatipule, Pin it for Later!