Top Places to Visit in Maheshwar in a day
Last updated on 20th October,2020
I had been a long time wish to visit the Maheshwar. I had heard that Maheshwar is full of history; the ones who said so were not wrong either. The History of Maheshwar says that it was known as "Mahishmati' – the capital of southern Avanti at the time of King Kartavirya Arjun. I visited this place as a part of my visit to Ujjain-Omkareshwar. I am sharing with you famous Places to Visit in Maheshwar in one day.
After having temple darshan at Omkareshwar, the next morning we caught the local bus to Maheshwar. Public transport is tricky here and buses remain jam packed with village people, school children, employees who work in a nearby city etc. The bus was scheduled at 7 AM; we had time to munch something during that time. We had poha and jalebi; you can find it at all the places in Madhya Pradesh.
As Bus started from Omkareshwar, was passing through so many villages and lush green fields that caught my eyes. That journey reminded me of my childhood days when I went to my native place in this type of buses; during the time when roads were not excellent.
After a bumpy journey of 3 hours, we reached to Maheshwar from Omkareshwar. I had pre-booked my hotel at Maheshwar. You can find so many budget hotels at Maheshwar but Places to eat in Maheshwar are very sparse. Our hotel was at the base of the entrance of Ahilya Fort- a major Maheshwar tourist attractions. After checking into the hotel we got some refreshments and headed towards Maheshwar Sightseeing.
We started our exploration first by entering to Maheshwar fort, which was built by Devi Ahilyabai Holkar which stands on a hill overlooking the Narmada. In the late eighteenth century, Maheshwar served as the capital of the great Maratha queen Rajmata Ahilya Devi Holkar. She embellished the city with many buildings and public works, and it is home to her palace, as well as numerous temples, a fort, and riverfront Ghats. This fort is the best example of ancient Indian material construction, war tactics & defense policy.
A  huge statue of Devi Ahilya Bai is the built-in entrance to the Rajgaddi within the fort complex. After crossing it, we entered Rajwada where fascinating relics and heirlooms of the Holkar dynasty could be seen in detail. This area has a place where Ahilyabai used to sit for administration and justice for all.
Surprisingly the building does not depict the Maratha styled architecture only but it also boasts of designs inspired by French and Mughal trends.
Fort complex houses indicatively stone carved temples. Temples are tiered temples and distinguished by their carved overhanging balconies and their intricately worked doorways. It fascinated me more than anything here. Among all, Ahileshwar temple is stunning and most revered. The fort complex now houses heritage hotel Ahilya Fort which stands atop with stunning views of River Narmada. Fort itself has balconies that give a stunning view of Ghat and Narmada. Though Ahilya fort is not as impressive as the forts of Jaipur, it is one of the top tourist places to visit in Maheshwar.
After exploring the fort complex, we left the complex and headed towards the Ghats. Ghats are made on the riverfront with flights of steps lead down to the river. One can see here the life of rural India; ferries which ply to take villagers to cross and recross across the surging waters. Life at the shore of Narmada was so much inspiring.
It was the Noon and the sun was so harsh, we decided to return to the hotel for the rest of 2 hours. Ahilya fort houses a decent cafe called Laboos cafe which serves delicious food. It is the best Place to eat in Maheshwar for continental food.It also houses guesthouse accommodation but at little expensive prices.
In the afternoon, we left for another trail. We visited Rewa Society, which weaves Maheshwari Sarees. Maheshwar is famous for its famous Maheshwari Sarees. It was introduced by Rani Ahilyabai 250 years ago. These sarees are renowned throughout India for their unique weave. You can get insight into the weaving of these Sarees at Rewa Society and you can purchase it also from many shops in the town. Rewa Society is the Best Place for Shopping in Maheshwar.
I was already intrigued by stone temples carvings in the fort; we decided to visit a few more temples. Our first stop was the Rajrajeshwar temple. The temple is very old and dedicated to Lord shiva. There are small other temples in the complex which are equally beautiful.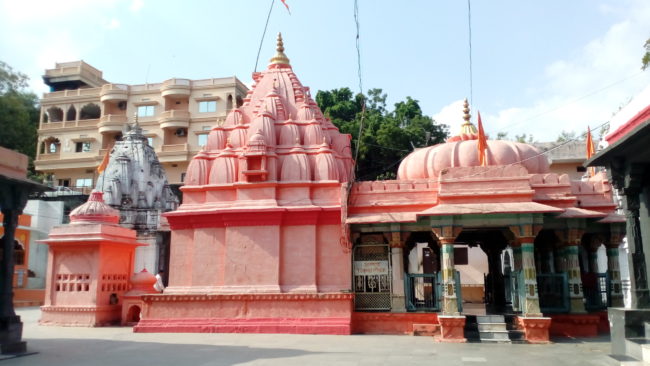 After exiting, within walking distance, there is Kashi Vishwanath temple atop on the Ghat of River Narmada. The temple is told to be a replica of the Kashi Vishwanath temple of Varanasi and was built by Devi Ahilya Bai as devotees could pray there instead of visiting Kashi. It is the most colorful temple I have seen in my life. The ceiling is studded with colorful mirror work. Don't miss Vishwanath temple- top tourist Places to visit in Maheshwar.
After exploring so many places, now it was time to just watch life at the Ghats of River Narmada. There are so many miniature Shiv Lingas which stands on the Ghats and people worship at the time of evening aarti.
Also Read: The stone Carved temple of Mahabalipuram
The River, temples, and worship give strong spiritual vibrations to me, you can say Places to visit in Maheshwar is all about this only. It was dusk time and we decided to take a boat ride to go away for a while to capture stunning snaps of the fort and the Ghat. The Boat took us in the middle of the river to the stunning Jaleshwar temple which was eye-catching too. Don't miss the sunset boat ride which is the main thing to do in Maheshwar.
After returning to the Ghats, we sat down and observed the atmosphere, there were so many tourist folks inside the fort complex and the scenario was changed than morning. We watched the sun setting down and one another day ends at the Ghats of River Narmada. With a heavy heart, we left the place that day.
Maheshwar Travel Tips:
From Maheshwar Bus stand, it is a walkable distance to reach Ahilyabai Fort. Don't overpay for auto as it is merely 5 min walk from the bus stand to the fort.
Boating at the evening time is a must-do activity. Boat person will take you to another side at INR 50. Try to catch a sharing boat; Private boats will be expensive. The boat will take you to Jaleshwar temple and return. You can also visit Sahashtra Dhara by boat.
I had Poha, Jalebi, Kachori as the best snacks here.[INR 20 per plate]
If you are a Saree lover, one of the must-buy in Maheshwar is Maheshwari Sarees from any shop in Maheshwar. Try to bargain for a few bucks if you purchase it from a town other than Rewa Society.
You can do trip to Mandu from Maheshwar which is 40 Km away.
How to Reach Maheshwar:
Indore is the nearest airport which is 95 Km away from Maheshwar. From Indore, you can get direct buses else to get a bus to Dhamnod and then get a bus to Maheshwar from Dhamnod.
From Omkareshwar to Maheshwar; there are direct buses to Maheshwar via Barwah. If you cannot find a direct bus, catch a bus to Barwah and then get a connecting bus to Maheshwar.
If you wish to come here from Mandu, catch a bus bound to Dhamnod and then a bus to Maheshwar.
Stay in Maheshwar:
Maheshwar has many accommodation Options from Guesthouses, hotels to the luxurious fort. You can stay at Ahilya fort hotel which is a heritage hotel for upscale luxury atop Ahilya fort. There are many mid-range hotels too. You can stay at Hotel Ashray residency [on opp lane to Laboos cafe], Hotel Rewa residency [near Rajrajeshwar temple] which is mid-range options.
Other than that Hansa Heritage hotel is the best choice located at the base of the fort. There are other hotels names Krishna Palace and Balaji residency which are also good budget options for stay. You can also choose MPTD Narmada Retreat near to the town for its best location.
If you are on a backpacking budget, the town has few guesthouse options in the city center.
If you like this Post about top places to visit in Maheshwar, Pin it for Later!!