Varanasi in 2 days: Best Places to Visit,Stay and Eat
India is attracting many spiritual seekers to its holiest Places which are oldest cities in the whole world and Varanasi is a such ancient city located on the Banks of the River Ganges. Popularly known for the abode of Lord Shiva, Varanasi is one of the famous Places to visit in India as it is considered as the City of Mokasha since many centuries for Hindus.
I visited Varanasi for the first time and I was just astound by the vibes,scenic aura and charm of the city. In this Blog I am including Varanasi in 2 days for the first timers including best places to Visit,stay and Eat in Varanasi.
About Varanasi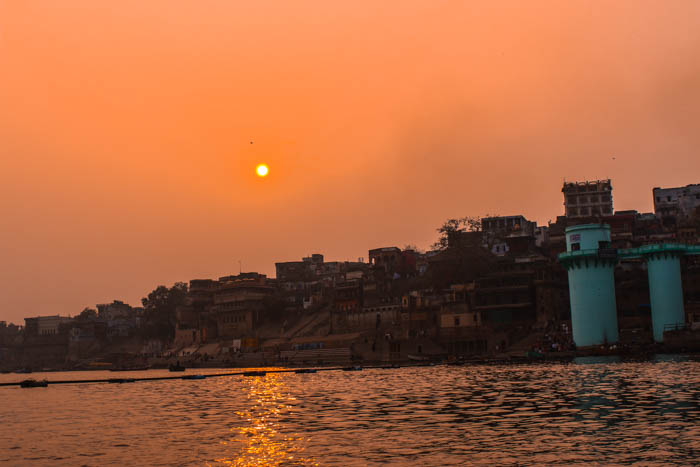 India holds many spiritual Places but there is none like Varanasi famously known as Benaras and Kashi(City of life). The legends of Varanasi date back 10,000 years or more and make it one of the oldest cities in the world as mentioned in Puranas and Skandas.
Varanasi is a holy city, many pilgrims take a dip in the mighty Ganges as they believe their lifetime sins will wash away with it!! It is believed that the people who die and are cremated in the soil of Varanasi, get an instant getaway to heaven and they are released from the cycle of death and rebirths.
Varanasi is famous for its mystic spirituality, life on Ghats, widening alleys, old temples, silk sarees, and its food. Varanasi always remains a motivation for many writers and you will read many quotes on Varanasi. This Place is famous among authors, Poets, and Photographers and inspiration to many people who seek solace. For me, Varanasi will always remain an intriguing Place a city of legends and myths.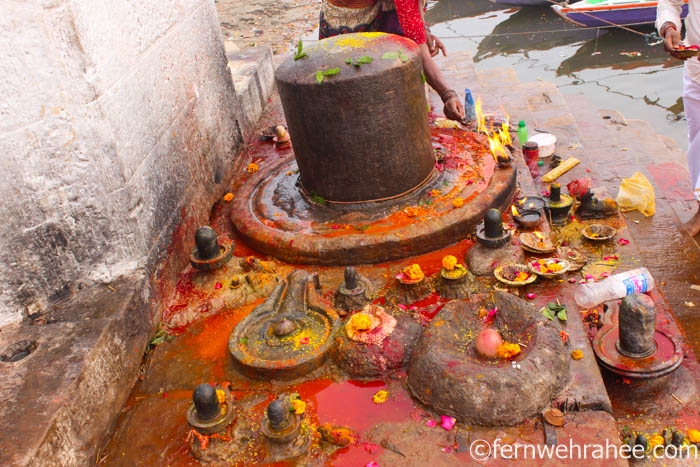 Varanasi can be chaotic on your first day but gradually you will fall in love with the charm of this city and it is one of the unmissable experiences of India. I recommend giving 3-4 days to soak into the mystic world of Varanasi!! So start reading my Varanasi Sightseeing travel guide and the best things to do in Varanasi, Places to stay, Eat, and so on. But after visiting all the Places, you will realize Varanasi is all about feeling it!!
'Benaras' is older than history, older than tradition, older even than legend, and looks twice as old as all of them put together...one of the famous authors Mark Twain was impressed by Varanasi.
Best Things to do in Varanasi in 2 days
There are many things to do in Varanasi but the ideal way to see Varanasi is by taking a Walk. Take a walk in the old city and experience Varanasi -chaotic and colorful. There are many Hindu temples, and ghats on the Ganges to see the different activities and just walking aimlessly also can give you an insight into the Place; you just need to soak into all of them. So travel with me to the Best Places to Visit in Varanasi in 2 days.
Take Stroll on the Ghats of Ganga
One of the top things to do in Varanasi is definitively to take a walk along the Ghats of the Ganga river which are riverfront steps leading to the river. There are total 88 ghats in Varanasi and all of them are connected to each other. You can start your walk from the far end of Raj Ghat to the last Assi ghat.
As you stroll along the ghats, you will come across the real charm and essence of the Varanasi as most of the spiritual activities revolve around the ghats. The Pilgrims and tourists from all over India come to the ghats for taking a holy dip into the gangs so that their sins are washed away.
I walked ghats at sunrise and also during the day, but the best is sunrise when spiritual rituals are performed and early morning activities are started, though ghats remain active throughout the day.
Among all the ghats, Dashashwamedh Ghat is the main ghat in Varanasi which always remain chaotic and crowded yet colorful with all the people from around the world! Its close proximity to Kashi Vishwanath Temple makes it busier. One of the Popular things to do in Varanasi is to take a walk from Dashshwamedh Ghat to Assi Ghat to see the best ghat in Varanasi; just walk and see which ghat you like; then sit and see the activities around you.
SUBAH- E – BANARAS at Assi Ghat
Subah e Banaras is really early morning event held at Assi Ghat every day. One of the top things to see in Varanasi is its famous Aarti rituals. Every day, at 5.00 AM on Assi Ghat, routine Aarti of Ganga is held with chanting of Mantras, blowing the conch, and singing of religious songs by young girls, Popularly known as 'Subah-e-Banaras'.
This event is held before sunrise, after that, you can participate in yoga sessions on the ghat. It is said that one or other classical Programs are always ongoing at Assi Ghat with participants from around the world; I was the lucky person to witness one such Program during Assi Ghat Aarti.
Sunrise Aarti at Assi ghat is a one-hour ritual and it's not much crowded, it is Photographer's dream to capture every moment through the lenses, so don't miss this event from your Varanasi Sightseeing list even though it's an early morning ritual.
Take a Sunrise Boat Ride along the Holy Ganga River
After attending the sunrise Aarti at Assi Ghat, you can go for a sunrise boat ride in Ganga to witness the colors of the rising sun across the ghats in Varanasi.
During the sunrise, Ghats start being alive and you can witness all the rituals on the ghats from life to death. If you are in Varanasi, don't miss this surreal experience, and one of the top things to do in Varanasi, taking a boat ride and see the ghats from the other side.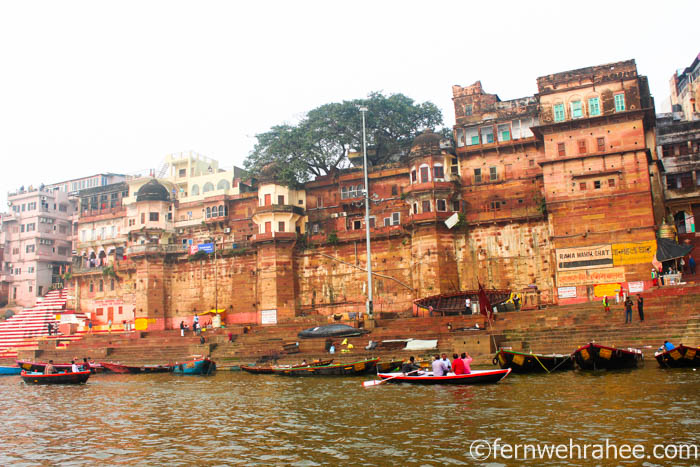 In the morning, the crowd remains less as compared to the boat rides during the day, so it gives a good opportunity to capture Photographs of the ghats. You can just walk along the ghats and you will be offered boat rides many times but ask around the Prices for a boat ride and then bargain before setting off for the final Price, the maximum you can pay is INR 300-500 for a hand rowing boat from Assi Ghat to Manikarnika Ghat.
As you ride the Boat, you can observe the colors, life, spiritual rituals, and other activities on the ghats. You can see pilgrims taking a dip in the Ganga, Prayers taking place in temples, Sadhus in their daily rituals, People washing & drying the laundry, children playing, and so on. The life of Varanasi is connected with the Ghats which come alive.
See Kushti at Tulsi Akhara in Varanasi
Akharas are one of the important parts of Varanasi. Located near Assi ghat, as you walk a few steep steps that go up to Tulsi Ghat, there is a Tulsi Pehalwan Akhara where women too are allowed to watch wrestlers getting training for wrestling.
Tulsi akhara is a famous one and it has produced many wrestlers in the past. The wrestlers are trained under the guidance of their Guru(coach) here. They apply oils on the body, exercise, practice and then go back to their home for routine life. You should not miss this must-visit place in Varanasi.
Evening Ganga Aarti On Dashaswamedh Ghat
One of the most popular and top Varanasi attractions is Ganga Aarti at Dashashwamedh Ghat. Almost all the Varanasi travel guide will advise you to include this important place in Varanasi. Varanasi's evening Ganga aarti ritual is an hour-long procession and Dahshaswamedh ghat Aarti timing: starts at 06.00 PM in Summer and 07.00 PM in Winter every day.
Unlike sunrise Aarti at Assi ghat, evening Aarti at Dashahswamedh Ghat is a crowded affair. At sunset, most of the tourists and pilgrims gather at Dashashwamedh Ghat to watch the Aarti offering to the holy Ganges. The young priests perform the Aarti with chanting of religious songs and music. All the rituals are performed in harmony by the priests, which attracts Photographers from around the World. This is one of the most beautiful events in Varanasi who are seeking spiritual experiences in India.
You can witness the Ganga Aarti from the Boat as well as from the ghat. As Aarti is performed for the holy Ganga, priests face the river Ganga, so it is better to take a seat in the Boat for Photography, don't pay more than INR 200-300 for the same. There are sitting arrangements done for the tourists but come as early as 6.00 PM to deserve the best spot to capture it with the camera lenses.
Have Bhang Lassi in Varanasi
Varanasi is famous for its its 'Bhang Lassi' – considered as 'Prasadam' of Lord Shiva. I visited Varanasi during Mahashivratri (the biggest festival of Lord Shiva); many Places and shops were selling it for free as 'Prasad'.
It is said that having Bhang helps devotees to worship Lord Shiva in a better way. I was in a confused state of mind about whether to try it or not, but I gave a quick light shot of Bhang at Badal Thandai on Godowlia Chowk.
Bhang is considered a weed(Marijuana), it's only legal in Varanasi(Banaras) and is sold from government-authorized shops. Mostly it is considered as 'Special Thandai' by tourists. If you want to try it, have a mild shot if you are traveling alone and if it doesn't affect you, you can try a medium shot on another day. If this is not your kind of thing you can try one of the numerous Thandai ( Cream Thandai best).
Visit Music School in Varanasi
Your Varanasi in 2 days is incomplete without mentioning its contribution towards classical music. Yes, you heard it right. Varanasi is one of the oldest spiritual city and its music heritage traces back to the time of Puranas(ancient Hindu literature).
Varanasi sustains its rich cultural heritage through its cultural music festivals and gives an understanding of music and cultural traditions. If you walk around the ghats in the evening, you will see many youngsters playing guitars OR flutes which shows Music is an integral part of Varanasi.
Kashi's annual Drupad Mela which takes place at Tulsi Ghat is epicure of Hindustani classical music. There are many Music schools in the narrow alleys of the ghats in Varanasi where you can learn about Indian Classical Music. Several of India's most talented musicians hailed from Varanasi which has given Varanasi as the status of UNESCO "Cities of Music".
See Cremation on Manikarnika Ghat
One of the must-visit Places in Varanasi and the most intriguing Place is Manikarnika Ghat which attracts thousands of tourists and Pilgrims to Varanasi. There are many stories associated with its name and origin but witnessing the funeral rituals on Manikarnika Ghat is one of the eye-opening experiences.
According to Hindus, by dying in Varanasi one can achieve Moksha-liberation of the soul from the cycle of Birth and Death. You can see the cremation and funeral pyres burning 24/7 at Manikarnika Ghat, on average 100 dead bodies are cremated every day on Manikarnika Ghat. People from outside Varanasi also come here for cremation.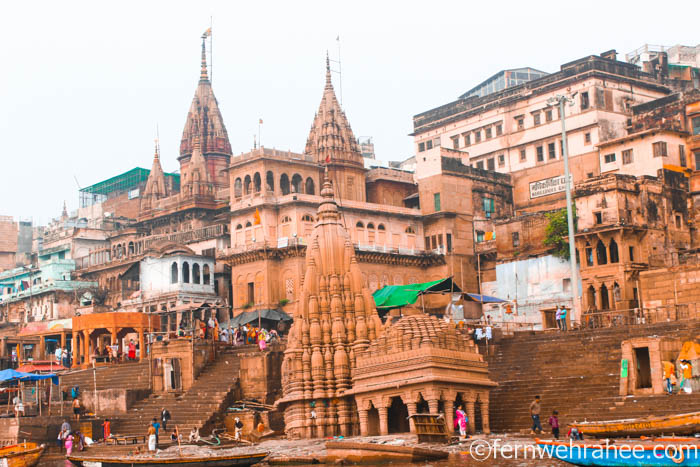 At first sight, it is unusual to see the burning body, it can be difficult and strange to you but if you understand Hindu traditions, it will become easy to understand it. You will see tonnes and tonnes of wooden piles as you walk from the market to the alley towards Manikarnika Ghat.
Manikarnika Ghat can be reached either from the Market side or by boat (the last stop during the Boat ride). As you get close, you can see the dead bodies, ashes flying in the air, and unusual smell; if this makes you nervous watch it from the boat. Also, be respectful while observing the funerals and do not click the Photos from near. You can click the Photos from the boat.
Looking at its importance to Hindus, Manikarnika Ghat (Burning Ghat) is one of the famous places to visit in Varanasi among tourists.
Visit Ramnagar Fort & Museum
Apart from the ghats, the most visited place in Varanasi remains the old Ramnagar fort. Ramanagar fort is 14 Km from the Varanasi City Center and located on the other side of the River.
The fort can be reached by Bridge or by boat from Tulsi ghat. The fort was built in 1750 by Kashi King Balwant Singh. The fort is built in Mughal style architecture with creamy color sandstone on high ground so that it remains safe from the flood of the Ganga river.
The fort houses a temple, a museum, and the residence of the king inside the complex. The fort has many carved balconies, open courtyards, and pavilions. Only a part of the structure is open to public viewing, the rest of the fort is used as a residence by the King till today.
At Present, many festivals are celebrated inside the fort and you can enjoy one of them during winter.
The museum inside the fort is known as Saraswati Bhawan. This Bhawan was a public audience hall in the past. Today, the museum holds a rare collection of ivory works, vintage cars of America, medieval costumes, vintage weapons, gold ornaments, etc.
Ramnagar fort is not as big and impressive as other forts of Rajasthan OR forts of Jaipur but it's still impressive and remains the famous place to Visit in Varanasi in 2 days.
Visit the BHU(Benaras Hindu University)
Varanasi is famous for one of the oldest universities in India– BHU. The university was established in 1916 by Madan Mohan Malaviya; one of Asia's largest residential universities with a campus stretching over 5 Kms area.
The Prominent landmark inside the BHU Campus is the New Kashi Vishwanath Temple, one of the famous places to visit in Varanasi as it is open to all people and religions. The evening Aarti at the temples is interesting to watch if you have more time in your Varanasi sightseeing itinerary.
The buildings inside the campus have beautiful architecture and famous Places to see in Varanasi -Bharat Kala Bhavan which is an art and archaeological museum.
The museum is best known for its collection of Indian paintings, archaeological artifacts, textiles, and costumes about Indian history. BHU Campus is in the Lanka area, outside it has divine Lassi at Pahalwan Lassi near Guru Ravidas Ghat.
Visit Famous Temples in Varanasi
Varanasi is Popularly known as the city of temples that attracts tourists from around the world. There are more than 20,000 small and big temples in Varanasi, among which many allow foreigners to visit it.
Among the most famous temples of Varanasi, is Kashi Vishwanath Temple which is 12 Jyotirling shrines for Hindus dedicated to Lord Shiva. Looking at its religious importance, it is one of the top places to visit in Varanasi.
Other important temples in Varanasi are Kaal Bahirav Temple, Sankat Mochan Hanuman Temple, Mrityunjay Mahadev Mandir of Lord Shiva, Nepali Mandir, Durga Temple, and famous Bharat Mata Temple(the only temple in India dedicated to Mother India) which you can include in your Varanasi sightseeing.
Also read : Jyotirling Shrine of Lord Shiva – Dwarka
Visit Banarasi Silk Saree weaving Units
The list of Banaras Visiting Places must include visits to the Banarasi Saree weaving unit. If you don't know, Banarasi Saree is considered a must-have in Indian weddings.
It is not as expensive as the famous most complicated textile Patola of Gujarat, hence traditional hand-woven Banarasi silk saree is always on the wish list of every Indian Bride. The Banarasi Silk Saree can take a few weeks to 4 months in making depending on the designs.
You can see the weaving units and small workshops at narrow widening alleys of Varanasi Ghats, Peeli Kothi, Jaitpura,Lallapura, and Madanpura areas in Varanasi, just ask around and locals will guide you.
As you walk you can hear the rhythmic sound of hand looms where artisans carefully weave colorful weft and warp in the darkness with old techniques. In the last few years, the number of skillful workers is decreasing, and machine-made artificial sarees are selling in the market but one should visit the weaving unit to see the artisans at work. If possible, buy a Banarasi saree directly from them to help the artisans.
Take a Day Trip to Sarnath
Varanasi to Sarnath is 14 km and it is a perfect day trip from Varanasi. Sarnath is one of the four important sights of Buddhism (Lumbini, Bodh Gaya, Kushinagar). It is the place where Buddha gave his first sermon to his disciples under a tree after he got enlightenment in Bodhgaya.
There are several ruins, stupas and monasteries in Sarnath to escape the chaos of the Varanasi. But the most important Places to visit in Sarnath are the Bodhi tree, Dhamek Stupa, and Mulgandh Kuti Vihar where Buddha's forst sermon is daily chanted at Sunset. Also, Ashok Chakra(India's National symbol), Thailand temple, the Japanese temple, and Archaeological Museum with ancient artifacts in Sarnath are important Places to see near Varanasi.
You can't complete places to visit in Varanasi in 2 days, but you can visit all the above places as first timer.
Where to Stay in Varanasi
Varanasi Travel Guide is incomplete without mentioning tips for Places to Stay in Varanasi. The accommodations in Varanasi are divided between the Ghat area and Cantonment area. Most of the Budget accommodations in Varanasi are located close to the the ghats and few on the ghats itself.
The best area to stay in Varanasi is near Dashahswamedh Ghat (busy Main ghat), you will find Restaurants, Cafes and Budget Guesthouses along the river Ganges and in the narrow alleys of ghats.
Assi Ghat is 30 mins by walk from Dashashwamedh Ghat; also a good option to leave the crowd and choose a quiet stay. I stayed at Om Shanti Paying Guesthouse Assi Ghat for 3 nights which is a budget guesthouse having many eateries around it.
If you ask me, I would suggest Assi ghat is better and Best Place to stay in Varanasi than the crowded Dashashwamedh ghat.
If you are traveling on tight budget, there are numerous hostels and Ashrams to stay in Varanasi near the ghats.
Budget Places to Stay in Varanasi: Best Guesthouses and Hostels
GOSTOPS

: Popular Hostel with dorms and Private rooms, just 2 Km from Assi ghat is the Best hostel in Varanasi. They organize Group tours to explore Varanasi at reasonable rates.

Zostel :

Popular Indian Chain, Zostel is 1.8 Km from Dashashwamedh Ghat, it is spic and Span place to stay near the Varanasi Center. Their organized tours are also very good.

On The Ghat By Howdy Hostels

: Located in the middle of Assi Ghat and Dashashwamedh Ghat, this hostel is located on the Ghat with a rooftop terrace feature.

Ganpati Guesthouse:

Very Popular and comfortable option at Meer Ghat which is close to Kashi Vishwanath temple. The basic rooms are cheap but decorative rooms are more expensive.
The White Yard – Stay & cafe: One of the amazing Place to stay in Varanasi in the center of the town is White Yard. The decor is very urban chic with deluxe rooms and terrace.

Om Shanti Guesthouse :

I stayed here and it is 1 min walk from Assi Ghat, surrounded by lots of cafes. This homestay offers deluxe rooms with in house restaurant. It is one of the best guest at Varanasi near Assi ghat.
Best Hotels in Varanasi: Mid Budget and Luxury Option

s
Hotel Alka:

Located on the Meer ghat, just 5 mins from Kashi Vishwanath temple, hotel Alka is best hotel to stay in Varanasi overlooking the Ganges river, makes easy to get around for Varanasi Sightseeing.

Hotel Ganges View:

The hotel is located on the banks of the Ganges river at Assi Ghat which is old world heritage Property with colonial-style architecture. It has a Garden, terrace, and restaurant.

Amitara Suryauday Haveli:

Located on Shivala Ghat and just a 15-minute walk from the famous Kashi Vishwanath Temple is a good option to stay on the ghat but away from the chaotic Dashashwamedh Ghat.

Stay Banaras- A Boutique Hotel:

If you want a clean and quiet Place to stay in Varanasi, just book this Place just 3 km from in Godowlia area in Varanasi. The hotel has gorgeous colors and elegant designs. It is one of the new hotels in Varanasi but they feature dorms and deluxe rooms with Parking, a Garden, and a restaurant facility.

Bridge Rama Palace- A Heritage Hotel:

Perched on the Banks of the Ganges river near Munshi ghat, this fort-shaped hotel is one of the oldest buildings in Varanasi. The rooms are luxurious and it includes complimentary yoga sessions. The hotel features Live classical music that can be enjoyed at the Bada Aangan. There are two fine dine options at the hotel with Darbhanga which serves excellent vegetarian food and Kamalaya serves hot snacks and beverages.

Taj Ganges :

One of the most luxurious stays in Varanasi – Taj Ganges offers 40 acres of tropical Garden, located 6 Km from the bustling Temple town. The rooms are modern with garden/city views. The hotel also features an outdoor Pool. The restaurant Varuna offers fine dining Indian cuisine and it is a must to visit this restaurant in Varanasi.
Places to Eat in Varanasi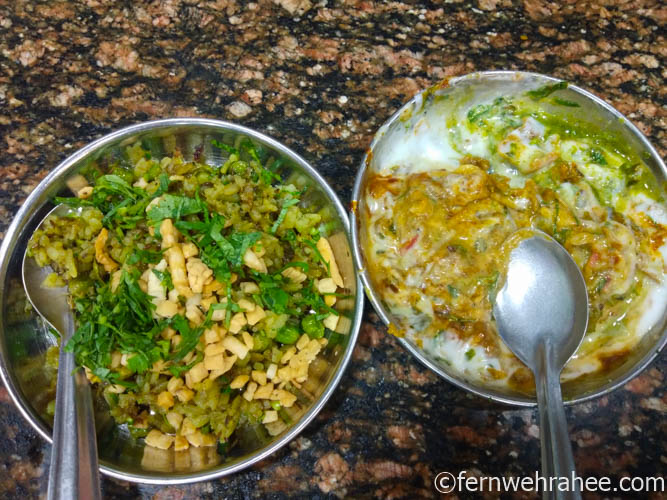 No Varanasi Trip is complete without mentioning the Street food of Varanasi which is famous among Indian travelers. Varanasi doesn't offer many fine dining options but is well known for its cafes, chats and restaurants on the Ghats.
There are many named and unnamed stalls in Varanasi to eat; you can't choose one Particular Best Place to eat in Varanasi. If you have weak stomach then hold on, this Place is not for you!! Here you go, list of Places to eat in Varanasi with recommendations of best food in Varanasi.
Ram Bhandar: A very Popular Place at Kachori Gali for its Kachori, Sabji and Jalebi in breakfast.You can devour Hing Kachoris from any Shop of Kachori Gali.
Gopal Mandir Lane: Near Manikarnika Ghat, famous for Malaiyo (sweet frothy Milk) which is available in winter only. Head to Markendey for best Malaiyo in Varanasi.
Deena Chaat Bhandar OR Kashi Chaat Bhandar: one of the most Popular Places to eat local chat in Varanasi is at the Godowlia area. Try Tomato Chaat, Palak Chaat, Churra Mattur, Gol Gappe and Gulab Jamun. My personal favorite is Palak Chaat.
Try Lassi: one of the famous things in Varanasi is Lassi, very creamy and buttery and made with milk and sugar. Must try the

varieties of Lassi at

Blue Lassi OR Siwon Lassi

in Kachori Gali. But my favorite is Pahalwan Lassi

at Lanka.

Dosa Cafe, Niyeti Cafe, and Kerala Cafe: Located along the ghats, offers South Indian and North Indian cuisines.
Thandai : Visit Baba Thandai/Pathakji Thandai/Badal Thandai in the Godowlia area near Kashi Vishwanath Temple.
Brown Bread Bakery: One of the most Popular Places to eat in Varanasi for Continental and Italian cuisines. They offer a variety of Bread, pasta, and Pizzas. It remains open from 9.00 AM to 10.00 PM every day.
Pizzeria Vatika Cafe: One of my favorite Places to eat in Assi Ghat, offers Pizzas and pies. I loved their apple Pie so much.
Baati Chokha Restaurant & Potli Chokha Restaurant: They are best Places to try famous Litti Chokha of Varanasi.
Top Travel Tips before Visiting Varanasi
Before arriving to Varanasi, I asked many girls – Is Varanasi Safe?? yes, It is completely safe for solo female travelers, you just need to take safety tips as you take in the other Parts of India. Here is my Varanasi Safety tips:
If you are arriving in India for the first time, this city will be a little overwhelming for you as it's like an assault on the senses, try to Visit Varanasi at the end of your trip when you have known a bit about Indian Culture and the atmosphere.
Varanasi's Main Ghats are always crowded and full of touts and scams. If anyone around you try to pressure you to book a tour OR try to pressure you for shopping after a rickshaw ride, be aware, they can be commissioned agents, keep it clear, and deny it Politely.
The streets along the banks of the river Ganges are tricky and you can easily get lost, try to avoid it at night if you are alone.
To get to the Main Ghat area and other crowded Places around the ghats, you can take battery operated auto rickshaw or cycle rickshaw at INR 50- INR 100, for short distances you can pay INR 10-INR 20.
Varanasi is best explored by walking to know about the rich and unique history of the city, but to avoid the hassle, you can take any guided tours from Roobaro Walks or Varanasi Walks.
Varanasi is Spiritual City, dress modestly to avoid unwanted attention. Cover your shoulders when you visit any temple.
Varanasi will always remain a special trip for me, I just fell in love with it!! If you liked my Varanasi in 2 days' Post, Pin it for Later!!!