3 days Jaipur Itinerary: Complete Travel Guide
This 3 days Jaipur itinerary is perfect for first-time visitors to the capital city of Rajasthan. From when to visit, how to reach, how to get around to recommended restaurants, suggested shopping places, and more.
I have been to Jaipur two times back in 2012 and 2014 – When I started experiencing the joy of travels as a young girl! The memories are still fresh but those were the days when I hadn't any Camera gear with me. But after declaring Jaipur city a UNESCO WORLD HERITAGE SITE – 2nd city in India, earlier AHMEDABAD was declared a UNESCO City; I was tempted to visit it and wanted to see it through the angle of a Photographer and Blogger. I still miss my early days of traveling when I had no pressure on Content creation.
In this post, I am sharing the Best Places to Visit in Jaipur with 3 days Jaipur Itinerary + Jaipur Travel Guide which is part of the Golden Triangle tour of India.
Please note: This post may contain affiliate links which means I may earn a commission if you make a purchase by clicking a link on this post. This will be at no additional cost to you. Affiliate links help me keep this website up and running. Thanks for your support!
Introduction to Jaipur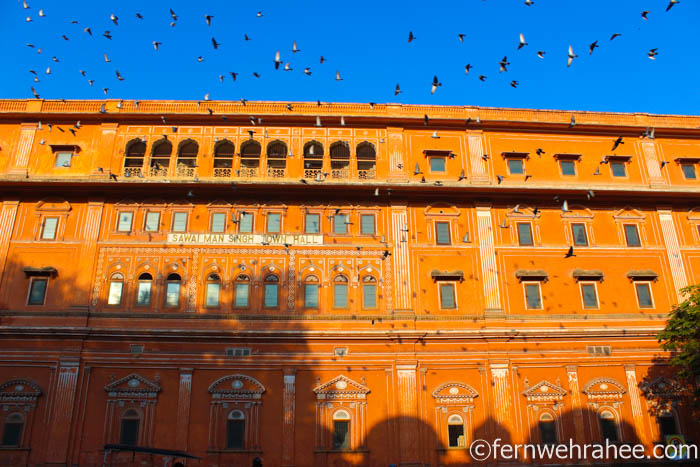 Jaipur- the Pink City and Capital Jewel of Rajasthan State of India are one of the well-Planned cities in India was founded by King Jaisinh who shifted his capital from Amber to Jaipur. The city has great architecture which makes you fall in love instantly. During British Rule, the City was Painted 'Pink' to welcome the Prince of Wales, and then onward everything remained Painted Pink- which made it a symbolic 'Pink City of India.
Presently, Metro Rail work is in Progress in the Old City of Jaipur which makes it a bit chaotic, and walking around can't be easy. But Still, I loved my 3 days in Jaipur soaking into the ancient forts and Palaces.
Jaipur Travel Guide: Places to Visit in Jaipur in 3 days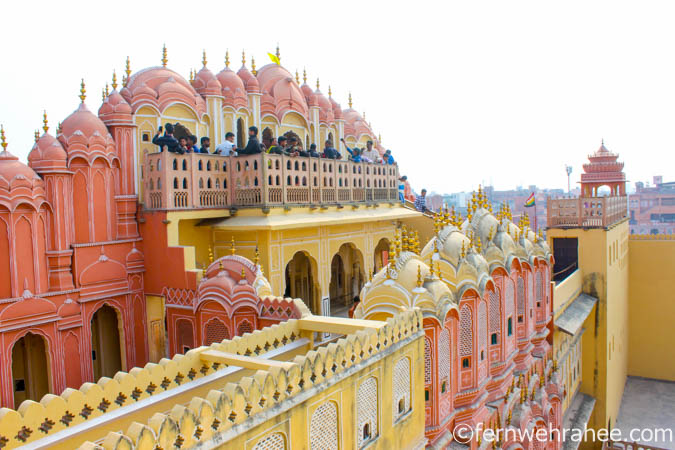 One of the highlights of my 3 days Jaipur itinerary was about visiting forts, monuments, and old temples which are the best places to visit in Jaipur.
A visit to any city is incomplete without exploring its food scene- so I devoured all the food from famous cafes and eateries and tried most of the street food in Jaipur which I included in My Jaipur Travel Guide. So grab your tea/coffee and start reading the Jaipur travel guide which contains all the information about Jaipur's famous places list, the best Rajasthani food in Jaipur, and accommodation in Jaipur to help you plan your Jaipur trip.
So start reading this Mega Jaipur Travel Guide- 3 days Jaipur itinerary and tonnes of things to do in Jaipur!!
How to Reach Jaipur
By Air: Jaipur is well connected by air with all major cities of India and abroad with air connectivity. Jaipur airport is located 13 Kms from Jaipur City Center
By Train: Jaipur is well connected by Rail with all the major cities across India. Delhi to Jaipur by Train is 4.5 hrs Journey and Agra to Jaipur by Train is 4 Hrs journey. You can book tickets online on IRCTC . I would recommend buying it in advance 120 days before traveling to Jaipur. You can also book it via Current reservation over the counters but the chances of Confirmed seats are less in this case.
By Road: Jaipur is well connected with National highways and Roads are in excellent condition. All the nearby major cities are well connected with Jaipur by Road. You can book Government Buses from Delhi to Jaipur OR Agra To Jaipur via RSRTC. Also, there are many Private Luxury Buses that run on this Route. You can book them via online Portals Redbus, Goibibo, Makemytrip, etc.
Also, you can Book your Private Transfer from Agra or Delhi to Jaipur. Book your Private AC Vehicle in advance for hassle-free transportation in India.
How to get around Jaipur
Jaipur is pretty safe for solo female travelers and for transport in Jaipur, I would recommend hiring an auto/car on day to day basis as per your need. OLA and UBER cabs are also available if you want to book one-way rides.
You can also rent 2-wheeler bikes but again driving uphill is not an easy task, better to go with two people together if you want to hire a vehicle, ask your hostel/hotel for the same.
For me, hiring an auto-rickshaw per day basis is an affordable option. If you are looking for the best option to get around Jaipur, then hire a car with a driver on a per km basis for the entire duration of the trip, it's an expensive affair but gives you the flexibility to explore everything on your own time.
Day- 1 of 3 days Jaipur Itinerary
I am assuming you arrive in Jaipur a day ahead to start your Jaipur trip plan. This itinerary is complete for 3 days Itinerary means 4 nights in Jaipur. Here are the Best Places to Visit in Jaipur.
On Day-1 of exploring Jaipur attractions, explore the Amber side of Jaipur. Jaipur city is divided into three Parts- Amber side, Old City, and New City. You can follow this Jaipur sightseeing map:
Jal Mahal-Panna Meena Ka Kund- Amber Fort – Anokhi Museum- Jagat Shiromani Temple- Jaigarh Fort- Nahargarh Fort
Wake up early this day and start before Sunrise to visit the Amber Side of Jaipur. If your hotel can prepare Breakfast in the early morning, Pack it to eat later.
If you are Photo enthusiastic like me, early morning at sightseeing Places in Jaipur is always a good idea. So start your power-packed day while wearing good comfortable shoes as you are going to walk a lot!!
JAL MAHAL: 6.30 AM- 7.00 AM
Your first spot should be Jalmahal in Jaipur, located in the middle of Man Sagar Lake on Amber Road. It is showcasing the Rajputana architecture style surrounded by water and is known as 'Water Palace'.
Sadly, boating is not allowed to visit here but it is one of the Photography places in Jaipur at Sunrise or Sunset. The golden sky in the backdrop during this time makes it more beautiful. So don't skip the best places to see in Jaipur during your stay.
If you are active on social media and want to tour the Most Instaworthy Places in Jaipur, Book this Photography Tour of Jaipur to take Instagram-worthy shots framed by symmetrical architecture and stunning views.
Panna Meena Ka Kund: 7.00 AM- 7.30 AM
Now your first stop after clicking Jalmahal should be Panna Meena Ka Kund. Panna Meena Ka Kund is an ancient Stepwell in Amber town with symmetrical stairs making it a beautiful place in Jaipur. Like other architectural Marvels like Rani Ki Vav in Gujarat; Panna Meena Kund is also one of the finest examples of architecture that was used to store the water for Amber town. Recently, this Place has gained more attention due to Instagram.
Panna Meena Kund Travel Tips:
The truth is you are not allowed to go down the symmetrical stairways of Panna Meena ka Kund anymore, so arrive early and ask the Guard Politely for Permission. If he would agree, it's your Good Luck!
Amber Fort: 08.00 AM- 12 PM
Probably one of the Most visited places in Jaipur and one of the top places to visit in Rajasthan is Amber Fort. Amber Palace is located in Amber town and is famous for its Architecture and colors; is unarguably one of the top tourist places in Jaipur.
Amber fort is UNESCO World Heritage Site and every part of this Palace has the most Instagram-able locations making it the best place in Jaipur.
Amber Fort is a great example of Indian-Mughal architecture built in red sandstone and Marble. This fort has four levels each having a courtyard- Diwan E aam, Diwan E Khas, Shish Mahal, Jai Mandir and it is built in such style that is mostly known as Amber Palace.
The entrance to the Amber fort is via the 'Ganesh pole' (Ganesh gate) which is the Most Photographed Place in the amber fort. The Sheesh Mahal is the most beautiful and it remains crowded all the time, apart from this Amber fort looks more beautiful at night during light and sound shows which is an important sightseeing spot in Jaipur.
Amber Fort Photography Tips:
Amber fort is the best visiting place in Jaipur, arrive 30 mins prior to opening the fort as you need to walk for 15 mins uphill to reach the entrance gate. After getting your tickets, head straight to Ganesh Pole to take Photographs without the crowd.
For god's sake, Please don't take an elephant ride at Amber Fort. I reached here at 8 AM and still it was crowded during the weekend. You can also come here at sunrise to climb the fort wall, but I don't recommend it without having Jaipur's local travel guide.
Entry Fees: Indian Nationals: INR 100, Foreign Nationals: INR 200
Visiting hours: 08.00 AM to 5.00 PM
Anokhi Museum Jaipur: 12.00 PM- 1.00 PM
Most People don't know that Jaipur is famous for its Hand block Printing. Apart from famous forts, Palaces, and monuments in Jaipur, you should visit a few offbeat Places in Jaipur like Anokhi Museum.
Located a few Metres from Amber fort, Anokhi Museum is dedicated to Hand Block Printing which is one of the traditional art of Rajasthan. The museum is restored Haveli in which they showcase the detailed history, tools, and related objects.
There are many varieties of textiles exhibited in the Museum. Visitors can see a live demonstration of Wooden Block making as well as Block Printing on textiles.
You can also try your hands on it during the live demonstration; the people here are so warm and kind! Don't forget such unique Places of interest in Jaipur as part of your 3 days Jaipur itinerary.
If you want exclusive pieces of hand-block prints, head over to Sanganer which is a shopper's Paradise.
Entry Fees: Indian Nationals: INR 20, Foreign Nationals: INR 200
Visiting Hours: Tuesday to Saturday- 10.30 AM -5.00 PM, Sunday- 11.00 AM to 4.30 PM, Closed on Monday and major national holidays.
Jagat Shiromani Temple: 1.00 PM- 1.30 PM
If you love architecture, heritage, and history, must include one of the famous temples in Jaipur- Jagat Shiromani temple in your 3-day Jaipur Itinerary. The temple is located near Amber fort/Panna Meena ka Kund but this Place isn't visited by many tourists.
If you are looking for hidden gems in Jaipur, Jagat Shiromani Temple won't disappoint you. The temple dates back to 1599-1608 AD, dedicated to Mira bai and Lord Krishna. It is one of the oldest temples in Amber Town built with intricately carved Marble and it is said that the Gate of the temple connects to Amber Palace stairs.
Whatsoever the reason, for me it's a Photogenic location as an architecture lover and you should too include these best places in Jaipur.
After exploring all the above Places, you will be quite hungry and the sun could be harsh to walk; take a break for your legs and head for Lunch. You can have lunch at nearby Restaurants in Amber Town else you can visit the Cafe across the Amber fort -Stage Restro Cafe which gives good views of the fort and serves delicious continental dishes.
Jaigarh Fort: 3.00 PM- 4.00 PM
Another Prominent fort in Jaipur is Jaigarh Fort, located on a steep uphill; and I recommend hiring an auto/Car to reach Jaigarh fort. It may take 15-20 minutes to reach the fort entrance.
Jaigarh Fort has a similar design to Amber Fort with views of the Aravalli hills. It is one of the famous Places in Jaipur, Popular for its cannon on wheels named 'Jaivana Cannon' – the World's Largest Cannon on Wheels!! The barrel is 20.19 feet and weighs 50 tonnes, capable of firing in any direction. I was amazed to see this overwhelming attraction in Jaipur.
Jaigarh fort is actually meant as more of a defensive structure rather than the palace itself. And so if you don't know, Jaigarh fort and Amber Fort are connected by a water Passage. You can take this water walk if you have more time on hand. Don't drop out of this fort from your Jaipur sightseeing itinerary.
Nahargarh Fort: 4.30 PM- 6.30 PM
Your final stop of the day would be Nahargarh Fort as part of your day 1 of 3 days itinerary. Nahargarh Fort serves as the highest point in Jaipur city and is famous for its bewitching sunset over Jaipur City. Being known for its views, Nahargarh fort is the most visited place in Jaipur.
Nahargarh Fort was earlier known as 'Sudarshangarh' but was later named 'Nahargarh' due to tigers roaming in that area. The most opulent is Mahendra Bhawan built by king Sawai Madho Singh; has 12 identical suites for his queens and one for King himself.
There is a stunning fresco in the interior of the building and there are connecting hallways to different rooms. It is said that the rooms of the queens are built in such a way that when the king visited one of the queens, others can not find out about it!
Other than the Panoramic views of Jaipur; I loved the colorful corridors and stunning fresco in the Palace which speaks about the glory of a bygone era.
Nonetheless, Sunset over Nahargarh Fort is one of the top things to do in Jaipur. There is a food court, Wax Museum, and Glass Palace inside the Fort. You can easily spend your 2-3 hours time at one of the best forts in Jaipur.
Nahargarh Fort Photography Tips:
You may have seen so many Pictures of the Nahargarh fort wall on Instagram, but please don't climb the wall- it's scary! Instead, sit at Padao Cafe inside the Fort and watch the sunset over Jaipur.
Entry Fees: Indian Nationals: INR 100, Foreign Nationals: INR 250
Visiting hours: 9.30 AM – 5.30 PM
This is all about day-1 of your 3 days Jaipur itinerary which will entice you with mesmerizing views covering forts and a few of the best places to visit in Jaipur.
If you have only 1 day in Jaipur and want to cover Most of these Places, It's Possible! You can take a Private Full day City Tour which covers all major Jaipur attractions Hawa Mahal Palace, Amber Fort, Jal Mahal, Nahargarh, etc.
Also Read: Places to Visit in Delhi in 2 days
Day-2 of 3 Days Jaipur Itinerary
On the second day of your 3 days Jaipur itinerary, you will visit local sightseeing Places in Jaipur like Palaces, artistry Cafes, and famous art shops. Follow this Jaipur sightseeing map to cover famous places to see in Jaipur:
City Palace- Hawa Mahal- Jantar Mantar- Gaitore Ki Chhatriya- Blue Pottery Art Centre– Bar Palladio
City Palace: 9.30 AM- 12.00 AM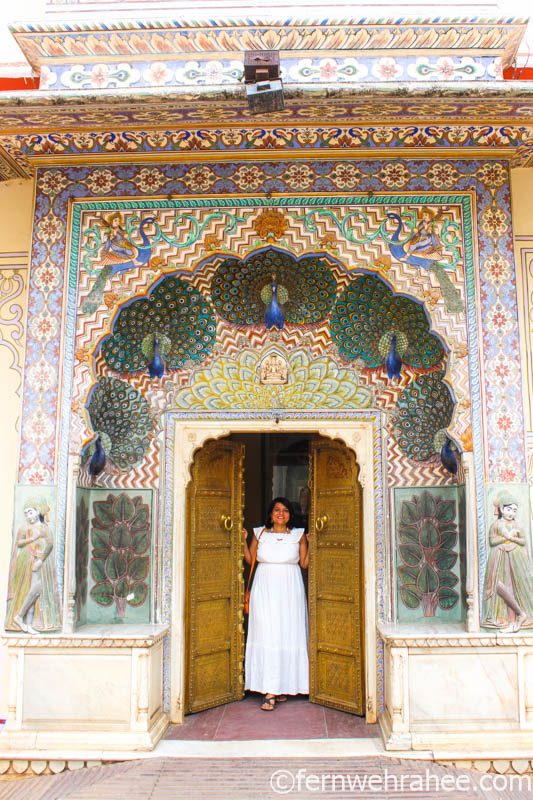 On the second day of your 3 days Jaipur Itinerary, start your day on a relaxed note. You can have a good hearty breakfast at your hotel and then leave for the best-visiting places in Jaipur- City Palace.
City Palace is located in the Old City of Jaipur. The City Palace is a blend of Rajasthani and Mughal architecture. The City Palace was established by King Sawai Jai Singh II when he moved his capital from Amber to Jaipur. The Palace is still a residential home to the Royal Family of Jaipur.
The City Palace Complex has Prime attractions like four Courtyards, Chandra Mahal, and Mubarak Mahal. Others are Galleries, Museums, Gardens, and Restaurants. These all places show the grandeur of the Royal Past of India.
Out of all these, Pritam Niwas Chowk is the most popular attraction in City Palace, known for its four Gates representing four seasons. It is basically an inner courtyard that provides access to Chandra Mahal.
The peacock Gate represents autumn and is dedicated to Lord Vishnu, Lotus Gate represents summer, Green Gate for Spring, and Rose Gate with flower Patterns represents the winter season.
Apart from the above, Sabha Niwas(Diwan-e- Aam), and Sarvato Bhadra(Diwan-e-Khas) are also the most Photographed Places in the City Palace.
Chandra Mahal is used as a residence for the Royal Family which consists of Sukh Niwas, Shobha Niwas, and Chhavi Niwas; but access to this Part of the City palace requires shelling out more money. Mubarak Mahal serves as Museum and textiles Gallery.
Other than this, you can visit the Armour gallery and Paintings of the late 18th century. This is the reason, City Palace is one of the best visiting places in Jaipur!!
City Palace Photography Tips:
Reach the City Palace prior to 15 Minutes of Opening time. There are three entrance gates to City Palace but enter via Jaleb Chowk near the Parking area Which gives entry to Diwan-E-Khas and then straightway head to Pritam Niwas Chowk; so you can take Photos without the Crowd.
Other Gate will lead you to Mubarak Mahal. If you want to visit Sukh Niwas and Chhavi Niwas which are Private residences of the City Palace; you can visit with Official Palace Guide, and you will be provided snacks during the tour.
Entry Fees: Indian Nationals: INR 300 , Foreign Nationals: INR 700 , Sukh Niwas Entry Fee: INR 2500
Visiting Hours: 9.30 AM to 5.00 PM
Hawa Mahal: 12.00 PM- 2.30 PM
One of the highlights and Best Places to visit in your 3-day Jaipur Itinerary is Hawa Mahal. Hawa Mahal needs no introduction- unarguably the main tourist place in Jaipur.
Probably during your stay in Jaipur, you will come across Hawa Mahal many times while you visit the famous best places of Jaipur. Hawa Mahal is just 10 minute's walk from the City palace, in fact, it is an extended part of the City Palace.
Hawa Mahal translates to 'Palace of Winds' and shows a blend of magnificent Rajputana and Mughal architecture.
Mostly known for its honeycomb structure with 953 intricately carved windows called Jharokhas was built for Royal Women to have a glimpse of the City, Public Events, and Royal Processions without being noticed from outside, this way they could enjoy their freedom while maintaining their 'Purdah' customs. The tiny windows give cooling effects and were the favorite resort of King Jai Sinh.
Hawa Mahal information:
Tourists can take a tour of Hawa Mahal from inside. The palace is a five-story building with large courtyards. You can see beautiful doors, Pillars, Stained Glass windows, and museums dedicated to ancient artifacts. So if you are skipping the Hawa Mahal Palace tour, I highly recommend this one of the famous places to see in Jaipur from the inside.
Hawa Mahal Photography Tips:
To capture the beauty of Hawa Mahal- head over to one of the cafes across the road of Hawa Mahal. There are two cafes named Wind View Cafe and Tattoo Cafe where you can click the Best Photographs of Hawa Mahal.
In return for the favor, I suggest spending a few bucks over Lunch/dinner at this best rooftop cafe in Jaipur. Sunset and Sunrise are good times to visit Hawa Mahal as sunrays make it more Golden.
Entry Fees: Indian Nationals: INR 50, Foreign Nationals: INR 200
Visiting Hours: 9.30 AM to 5.00 PM, Closed on Friday.
Jantar Mantar: 2.00 PM-3.00 PM
As you walk a few meters from Hawa Mahal, you will come across the Jantar Mantar observatory. It is a Popular Jaipur tourist place in Jaipur which has a collection of nineteen architectural astronomical instruments featuring the largest stone sundial and is the UNESCO World Heritage Site of Jaipur.
It is one of the excellent masterpieces of engineering of the bygone era. The structure was useful to measure time, predicting eclipses, track the location of major stars, and eclipses, and determining the celestial altitudes. so don't miss this engineering marvel from your Jaipur must-see places list.
Visiting Hours: 9.30 AM- 5.00 PM
Entry Fees: Indian Nationals: INR 50, Foreign Nationals: INR 200
Gaitore Ki Chhatriya: 3.30 PM- 4.30 PM
Gaitore ki Chhatriya or Royal Gaitore means the resting place of departed souls. It comprises a magnificent cenotaph of Maharaj of Jaipur. With its beautiful carvings and stunning architecture, this place is one of the most instagrammable places in Jaipur.
Royal Gaitore is still a hidden gem in Jaipur that is still not visited by many tourists. You can visit here any time of the day as it is not much crowded. I photographed myself at my heart's content here.
Entry Fees: INR 30 Visiting Hours: 09.00 AM to 05.00 PM
Jaipur Blue Pottery Center: 5.00 PM- 6.00 PM
One of the best things to do in Jaipur in 3 Days is to learn about art at Blue Pottery. As you may know, Jaipur is famous for its Blue Pottery. Jaipur Blue Pottery is a traditional craft of Jaipur with its origin in Persia(Iran) and Central Asia.
The Blue pottery Pieces use traditional cobalt blue dyes. I visited Jaipur Blue Pottery Center on Amber Road; another one is Neerja's Blue pottery center on Gopalpura road.
Here the owner will explain to you how Blue Pottery is made and the amount of work that goes into the making. This is not an actual factory Place but you can see the final products in the factory at Sanganer. You will be amazed to see Blue tiles, Magnets, Vases, and Jewelry of Blue Pottery. You will be tempted to buy it as a souvenir and I highly recommend including it in Jaipur's local sightseeing list.
Please Note : There are No Entry fee charges and you can visit from 09.00 AM to 6.00 PM, but I bought souvenirs in return for clicking Photos and learning about Pottery Making.
Cafe Palladio Jaipur: 07.00 PM
Jaipur is famous for its Colors and architecture- Cafe Palladio is no exception. This is one of the new places to visit in Jaipur or you can say hangout places in Jaipur with friends.
Cafe Palladio Jaipur is a restaurant whose architecture and colors are an ode to Italy and Italian style with a blend of Mughal style. The restaurant is gaining popularity due to its most Photogenic interiors. It serves an Italian fusion menu and is must visit place when in Jaipur!
You can come for an early dinner at Cafe Palladio with the feel of Royalty during your Jaipur trip. You can also check out its Bar Palladio known for its outside beautiful gardens.
Day 3 of your 3 days Jaipur Itinerary
The third day of your Jaipur itinerary is about far away Places to visit in Jaipur. Hire an Auto/Car for this day as these Jaipur tourist attractions are scattered over 20-25 km but worth to visit them.
Patrika Gate–Birla Mandir – Albert Hall Museum- Galtaji Temple– Samode Palace- Shopping at Johari Bazar
Patrika Gate Jaipur: 07.00 AM- 08.00 AM
Your Jaipur visit is incomplete without having a Photo at Patrika Gate! This vibrant Place is one of the new places to visit in Jaipur. Patrika Gate is located 30 mins from Jaipur City Center and basically, the gate serves as an entrance to the Jawahar Circle Garden.
Completed in 2016 Patrika Gate has been made keeping in mind with other 7 Gates of the old walled city of Jaipur. Patrika Gate adorns 9 arches painted colorful with one huge door at the end. If you want to see the fine craftsmanship of Rajasthan, Patrika Gate won't disappoint you.
The colorful murals on the arches tell the story of the Royalty of Rajasthan and the entire history of Jaipur. Jawahar Garden and Patrika Gate are one of the must-include places in your 3-day Jaipur Itinerary, a good picnic spot in Jaipur for families and kids.
Entry Fees: Free, Visiting Hours: open 24 hrs, arrive early morning to beat the crowd, though you will find many Pre-wedding Photoshoots in the morning/ evening.
Birla Mandir: 08.00 AM – 8.30 AM
Another beautiful place to visit in Jaipur is Birla Mandir. Birla Temple is known as Lakshmi Narayan temple which is an architectural landmark of Jaipur. Unlike other famous temples in Jaipur, Birla Temple is built in Pure white Marble with a modern touch.
The intricate carvings of the temple walls adorn Hindu symbols, quotes, and writings from Bhagavad Geeta and Vedas. The temple is like a work of art and represents traditional and modern architecture making it an important place in Jaipur.
Albert Hall Museum: 09.00 AM – 10.30 AM
One of the top places to see in Jaipur is Albert Hall Museum which is Central Government Museum located in Masala Chowk. Albert Hall Museum is one of the oldest museums in Rajasthan and one of the best ways to see the culture of Jaipur is through this Museum. The Museum exhibits an exclusive collection of artifacts, objects, and other art forms with a total of 16 Galleries.
The Albert Hall Museum is built in Indo-Saracenic style with exclusive stone. Today also Museum is famous for its architectural beauty. The corridors of the museum hold numerous mural paintings, Persian paintings, and others.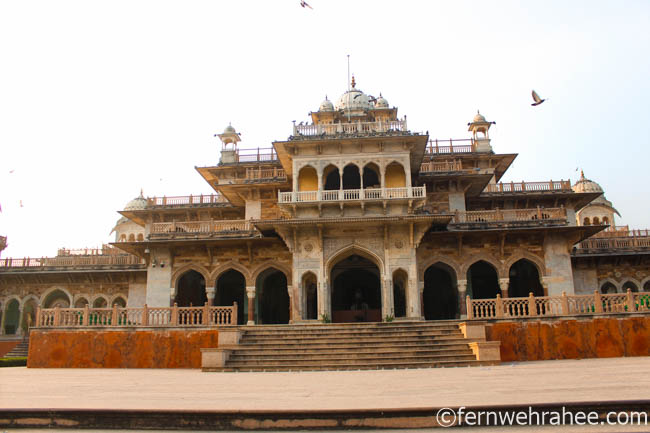 Apart from history, Museum is famous for the numerous Pigeons in the front. As famous with Photographers this Place remains always crowded even in the early morning at 7 AM!!! I reached here at 8 AM and almost 10 Pre-wedding Photoshoots were ongoing outside the museum, this shows how it is the most beautiful place in Jaipur. So arrive early and take photos then enter the museum!
Entry Fees: Indian Nationals: INR 40 Foreign Nationals: INR 300
Visiting Hours: 9.00 AM to 5.00 PM, 7.00 PM-10.00 PM for a Night Visit
Galtaji Temple(Galta Peeth) Jaipur: 11.00 AM- 12.00 PM
After your early morning Jaipur city tour, head to Galtaji. Though the temple is not visited by many tourists, Jaipur sightseeing is incomplete without mentioning famous temples near Jaipur.
Galtaji has located 10 Km from Old city. It is a Large temple complex known as Galta Peeth in the foothills of Aravalli hills. The Galtaji is a functional temple and one of the holy places for the Vaishnava tradition. Galtaji is famous for its holy spring which is never dry.
The architecture here is also adorned by Rajputana style with colorful murals. Galtaji Temple is always surrounded by Monkeys so it names 'Monkey Temple' among visitors. so beware of Monkeys here!! You can climb higher up to get the best views and photos.
Entry Fee: INR 50 for the Camera
Lunch at Samode Palace: 1.30 PM- 3.00 PM
If you are looking for the best lunch places in Jaipur while being a Royal for a moment, head to Samode Palace near Jaipur. Located 1 hr from Jaipur, in the foothills of Samode village you will find Samode Palace, a luxury 475 years old Mansion which is now turned into a hotel.
If you can't afford to stay in a luxury hotel, still you can visit Samode Palace as a day guest. The entry fees are 1000 INR and can be used as credit towards Lunch at their restaurant.
Samode Palace has beautifully decorated Indo-Saracenic architecture with ancient murals, a mosaic swimming pool, and mirrored halls, it gives you a luxurious stopover from your 3 days packed Jaipur itinerary. Definitely, I would love to stay here someday.
After your sumptuous lunch, head back to Jaipur city. Day-3 of your 3 days Jaipur itinerary remains packed with famous attractions in Jaipur and the last few hours you can reserve for Shopping in Jaipur.
Shopping Places in Jaipur
Whether you love chaos or not, Indian cities are famous for their streetside shopping. As you walk around famous tourist spots in Jaipur, you will come across the unparalleled beauty of colorful Markets.
You would love to buy anything and everything, like Love at first Glance!! There are numerous places for shopping, but the best Shopping places in Jaipur are Johari Bazar, MI Road, Hawa Mahal Road, and Bapu Bazar are naming a few.
You will find textiles, silver jewelry, colorful cotton dress material and Jaipuri rugs(Jaipur's most famous), hand block printing materials, famous Maharani Sari, Jooti, handicraft items, and so on.
Here you can buy souvenirs to take home to gift your relatives at home. I spent a lot of money on shopping during my trip! Also, don't forget to Bargain before the Pay!
Where To Eat in Jaipur on 3-Day Jaipur Itinerary
No trip to Jaipur is complete without gorging on sumptuous Rajasthani food while sitting at traditional restaurants or at any cafe. There are numerous places to eat in Jaipur City but I visited a few during my Jaipur trip and I devoured famous street food in Jaipur.
Natraj Restaurant on MI Road for authentic Rajasthani Thali with Daal Bati churma.
Tapri The Tea House – for the best classy Lunch & Tea
Tattoo Cafe and Wind view Cafe – Best at sunset with Hawamahal view
Rawat Misthan Bahndar and Lakshmi Misthan Bhandar(LMB) for Ghever, Samosa, Aloo tikki and Mawa Kachori.
Indian Coffee house at MI road, also don't miss Curious Coffee Roasters
Pandit ji ki Kulfi at Hawa Mahal Road
Kishanlal Govindlal Lassiwala at MI Road (opp Natraj) for yummy Lassi (Jaipur's famous)
Ice cream at Indian Ice cream in Bapu Bazaar
Masala Chowk for South Indian dishes, chats, and everything you want.
Don't forget to try typical Rajasthani cuisines: Dal bati churma, Ghewar, Pyaz ki kachori(onion kachori), ker sangari, and Gatte ki sabzi during your 3 days in Jaipur.
If you are not an adventurous soul, then Book this History Street Food Tour with a Local Guide for a better experience. royal delicacies of Jaipur on a food walk served up on the streets of the Pink City
Where to Stay in Jaipur
Hostels in Jaipur:
During my 3 days trip to Jaipur, I stayed at Zostel Jaipur in a private deluxe room. It's a walkable distance from popular tourist places in Jaipur's old city. They also provide a Jaipur sightseeing map and two-wheeler rent options to get around Jaipur. Another option is Hosteller which is also in the old city.
Also, I would suggest staying in traditional Havelis if you can afford it. Also, keep in mind traveling distance as Jaipur traffic is crazy. Choose your stay near the old city where most of the sightseeing places are located.
Here is a list of best properties to stay in Jaipur:
Jaipur Travel Tips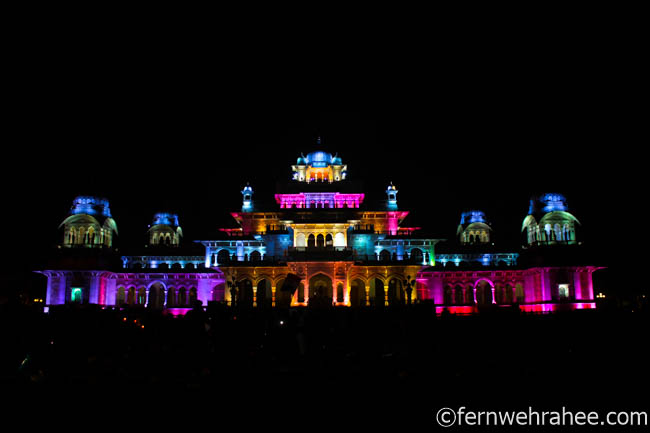 Buy a Composite ticket for all the attractions in Jaipur, it costs you less than individual tickets and remains valid for 2 days. you can buy it online, this way you can skip the lines at ticket counters. You can book it for 8 major attractions.
Wear comfortable shoes as you need to walk a lot and wear good sunscreen to keep you safe from the harsh sun.
The best time to visit Jaipur is from October- to March, avoiding the monsoon and Summer season in Rajasthan.
Most of the monuments and forts are lit up with lights every day in Jaipur, you can attend a Light and sound show at Night.
The list of places to visit in Jaipur at night: Hawa Mahal, Nahargarh fort, Amber fort, Raj Mandir cinema(the most beautiful architecture inside there), and Albert Hall Museum.
Among all Albert Hall and Hawa Mahal are the Best Places to visit at Night as the facades of Hawa Mahal look stunning with lights focused on them.
If you ask me how many days requires to visit Jaipur, I must say 3 days is still not enough to cover all the Top Places to visit in Jaipur; you may require 4 days or more in Jaipur with old city walk to get a real feel of the city!
Hope you enjoyed reading my ultimate Jaipur travel Guide with 3 days Jaipur itinerary in which I tried to cover all the information related to the best places to visit in Jaipur.
And If you like my post Pin it for later!!!