Top Things to Buy in Jaipur : Best Shopping Places
Jaipur – city famous for its magnificent forts, architecture, temples, history and colors which attract millions of tourists from around the world. Apart from the historical Places , Jaipur is famous for its gems, jewelry, textiles,vibrant hand loom items,Bangles and colorful crafts. I have already written a Post on Places to visit in Jaipur in 3 days which include famous must see places of Jaipur like Amber fort, Nahargarh fort, City Palace, Jal Mahal which you shouldn't miss. As Jaipur is famous for its vibrant colors and abundance of textiles, in this Post I am including top things to buy in Jaipur + Best Shopping Places in Jaipur.We Purchase souvenirs as a cultural heritage of Particular Country and as a memoir of our trip.
Jaipur is home to many traditional arts, so when you go out for shopping, you may come with bag full items with vibrant colors and tradition. There are many famous markets in Jaipur and I am sharing the list of Best Shopping Places in Jaipur.
Gemstones and Kundan Jewelry:
Jaipur – famous for Gem stones and jewelry. It offers most attractive jewelry designs. Jaipur is hub for jewelry and tourists visiting Jaipur are seen buying the precious stones and jewelry.
If you walk around the Hawa Mahal road through the lanes of Johari Bazaar, you can find many Gemstone Stores. You can purchase stone, kundan,silver or any kind of jewelry here.
As Jaipur is touristy Place, Purchase gemstones and Jwellery in Jaipur from reputable sellers only, check their reviews online and get the knowledge about semi precious/precious stones. You can easily be fooled in identifying real Gemstones. Also bargain hard because you may be quoted higher Price than the actual price.
Where to Buy: Johari Bazar, MI Road ,GEM Palace Jaipur on MI Road.
Jaipur Rugs and Carpets:
One of the famous things of Jaipur is its Rugs and Carpets. The royal charms of Havelis and Mansions are incomplete without flamboyant Rugs and Carpets on the floor. Carpet weaving is done in Jaipur since Mughal era and today hand woven wide variety of carpets are made with wool, silk, jute and several synthetic fibers. Today Jaipur's colorful fabric fascinates people from all over the world!
Carpets made of cotton are commonly known as 'dhurries'. These are the most popular in the category of carpets as they are easy to maintain and exported worldwide. The multi color carpets remain in demand which is available in various sizes, styles and designs.
Where to Buy: Suruchi Carpet Amber Road, Jaipur Rugs Chaura Rasta, Vimla International Amber Road
Jaipuri Razai:
One of the Jaipur Shopping specialty is Jaipuri Razai. Jaipuri Razai is lightweight and soft cotton quilts that can be folded in a very small bundle and is the best thing to buy in Jaipur as a souvenir.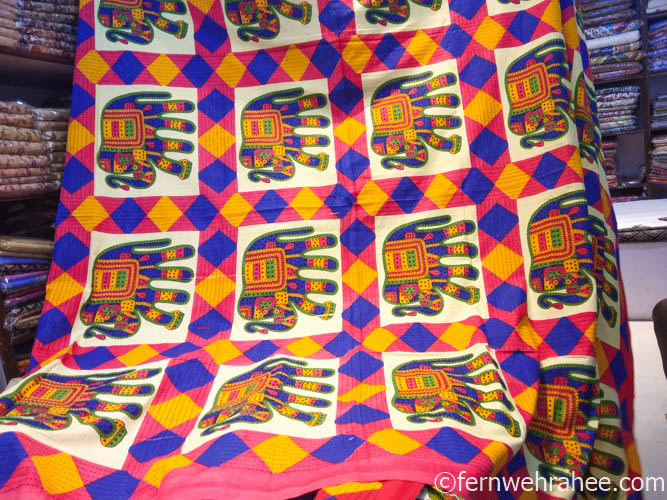 They come in colorful cotton fabric with cover and you can use it in Winter as well as summer. I loved their colors which are combination of blue,white and Pink.
Where to Buy: MI Road, Bapu Bazaar,Nehru Bazaar, Badi Chauper Market are best places to buy Jaipuri Razai in Jaipur.
Block Print Textiles:
Jaipur is famous for its best quality of fabrics. The fabrics are colorful in excellent quality. Block Printing is an art done on hand woven fabrics. The hand made wooden blocks with different designs are dipped in mineral based dyes and it is impressed on the fabric. Different colors and Patterns of blocks are used for it.
The block prints you can find on outfits, dresses, bed sheets ,duvets, cushions etc. Please beware of Machine Prints while you Purchase Block Print clothes – hand block Print stuff will show small imperfections and ink will bleed through the back which you can easily check.
Where to Buy: Sanganer and Bagru near Jaipur are hubs for Hand Block Printing in Jaipur and they are best places to visit in Jaipur for shopping . They also offer workshops on Block Prints.But if you wish to do shopping in Jaipur city, Bapu Bazaar offers good variety at reasonable rates .
Jaipur Blue Pottery:
Jaipur Blue Pottery is actually an art form of Persia which was brought here many years ago. There are few Blue Pottery workshops in Jaipur where you can find high quality Jaipur Blue Pottery. The eye catching Cobalt blue dye is used to color the pottery. No clay is used but dough is prepared using quartz Powder,fuller's earth and powdered glass etc and then low fired; which makes it fragile.
You can buy the magnets, vases,coasters, Plates, jars, jewelry, pots, knobs, soap cases etc in combination of Blue, white and yellow colors. I bought earring and magnets as Jaipur special items from Jaipur Blue Pottery center.
Where to Buy: Jaipur Blue Pottery Center Amber Road, Neerja Blue Pottery Center Gopalpura Road, Kripal Kumbh are few of Shopping Places in Jaipur City for exclusive Jaipur Pottery Purchase.
Leheriya Saree/Duppatta:
Jaipur offers best colorful fabric and designs with intricate Patterns. Lehriya means 'Lehar(wave)'. You can easily spot women wearing Leheriya saree in Rajasthan and parts of Gujarat. Leheriya Pattern is widely used in Sarees and dupattas in Jaipur. This wavy pattern is made with bright colors which is one of the best things to buy in Jaipur.
The layering and patterns of Leheriya makes it everyday wear and being lightweight makes it vibrant in any season of the year. If you are visiting Jaipur, flaunt yourself with Leheriya Patterns which come in all forms ranging from saree,dupatta, Scarfs, safas, paghadi, suits, Puppets and what not.
Where to Buy: You can buy at famous Shopping Places in Jaipur like Johari Bazaar, Bapu Bazaar and Kishanpole Bazaar.
Bandhej/Bandhani :
Jaipur Shopping guide is incomplete without mentioning about 'Bandhej' for which Rajasthan and Jaipur famous for. Bandhej is made with tie and die art. A number of knots are made with thread on the clothes to be dyed.The knots are opened after dying results into beautiful Pattern.
Variety of Patterns of circles, dots, waves are achieved by tying the threads in different ways on the fabric. You will love the colorful and attractive designed dupattas, scarfs and sarees. Pick you choice of Colors and Patterns of Bandhej as one of the best things to buy in Jaipur.
Where to Buy: You can find it at any of best shops in Baapu Bazaar, Johari Bazaar.
Maharani Saree and Gottapatti work Lehanga:
One of the special characteristics of Rajasthani saree is its multi colored fabric and vibrant colors which are perfect for all occasions.Jaipur is famous for its unique and traditional saree type – Maharani Saree. It is mostly kind of silk saree but it is said to be worn by Royal women.The Patterns include elephants,horses and incidents from the Rajputana culture of bygone era.
If you are visiting Rajasthan and confused what to wear during your Jaipur trip, must buy GottaPatti work Lehanga from Jaipur. Gota patti work is a type of Indian embroidery that originated in Rajasthan. The work involves the applique technique, small pieces of zari ribbon are applied onto the fabric with the edges sewn down to create elaborate patterns. You can find Lehangas, Sarees and Dupattas of many colors with this unique work and it is must buy things in Jaipur. I bought both of these as souvenirs from Jaipur.
Colorful footwear/ Mojaris:
One thing which you can't resist to buy is Jaipur Special Mojaris. Rajasthan foot wear is also colorful apart from its textiles and crafts.The colorful Mojaris in Jaipur are full of colors and embroidered. The colorful Mojaris wear buy both men and women in Rajasthan and it is very comfortable footwear.
Mojari is traditional Rajasthani footwear and comes in many designs and colors, sometimes you may be confused which one to choose from many. A wide variety of Colors and designs of Mojaris and footwear are available in Jaipur, one of the biggest Jaipur shopping experiences.
Where to Buy: MI Road, Bapu Bazaar, Neharu Bazaar are top market Places in Jaipur to buy footwear.
Lac Bangles: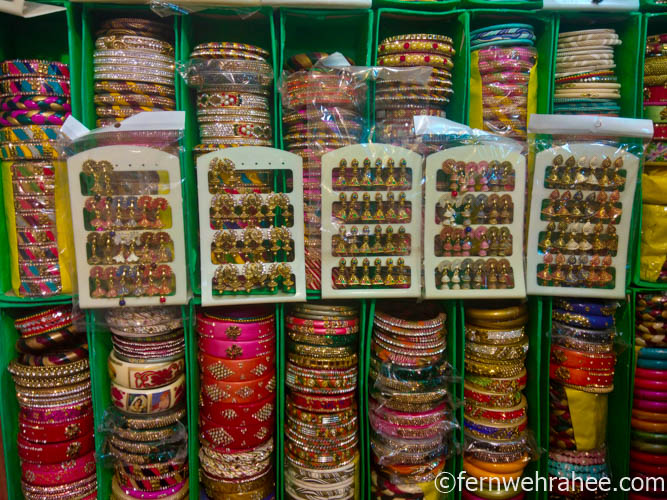 Bangles are integral Part of Indian girls and women accessories. India's every state has unique method of traditional style of Bangles Making. Hyderabad has ornate Lac Bangles while Jaipur has Kundan work on them which makes it specialty of Jaipur in Shopping.
Lac is natural Rasin and considered auspicious wearing for married women in India.You can get various colors, designs and sizes with works on them. Colorful beads, mirrors and decorative items are used to make it colorful and attractive. One can buy according to their choice. You can see many artisans making Lac Bangles at Maniharon ka Rasta in Jaipur.
Where to Buy: You can find Lac Bangles at any Jaipur Market. But for wide variety of ranges, visit Bapu Bazaar and Tripolia Bazaar.
Hand Made Paper Stationaries:
If you don't know, Jaipur is famous for its Hand made Paper. You can find wide variety of Papers and books at affordable Prices. If you are stationary lover like me, hand made stationary items are best things to buy in Jaipur. I purchased diary as a souvenir.
Where to Buy: Chaura Rasta near Jantar Mantar which is one of the cheap shopping Places in Jaipur.
Miniature Paintings:
Rajasthan is one of the Pioneer of Miniature Paintings in India and that flourished in the Royal courts of Rajputanas. These Paintings mainly depict scenes from Mahabharat, Ramayana, Hindu mythology, deities and incidents of life of Royals.
These Paintings were done on the walls of Palaces, inner chambers of forts, Havelis and in the Havelis of Shekhawati. You can buy small Painting to beautify your home. These Paintings are available at affordable rates, so don't forget to buy as one of the Jaipur famous things.
Where to Buy: You can buy beautiful Paintings at most of the markets in Jaipur.
Imitation Jewelry:
Jaipur Shopping is incomplete without mentioning about its scenes of Imitation Jewelry. Everyone don't like to splurge on real Gold OR Precious gemstone jewelry! The better option is to go for cheapest use and throw kind jewelry.
In Jaipur, you can find Meenakari, Kundan, Pearls and any kind of Jewelry you can think of! Most of the famous Shopping Places in Jaipur sells Bangles, Bridal jewelry, earrings, Pandent sets, anklets, hair accessories etc.
Where to Buy: One of the Best Places to Shop imitation jewelry is Bapu Bazaar and Gourav Tower Market.
Jaipuri Handicraft Items:
As I said Shopping in Jaipur is like walking through arrays of colors, there are many handicraft items are available in Jaipur to take home as a souvenir. You can buy Hand loom items, Purses, Bed sheets, Clothes, Cushion Covers or anything which are adorned with embroideries,mirror work, Patch work ,thread work or bead work. It serves as a best souvenir from Jaipur.
Where to Buy: You can get it at best Market in Jaipur – Bapu Bazaar and ChandPole Bazaar which are cheap shopping Places in Jaipur.
Wherever you go in Jaipur, you will come across only colors! This may make you confused to choose not only one but so many things to buy in Jaipur from many shopping Places in Jaipur!
Jaipur Shopping Tips: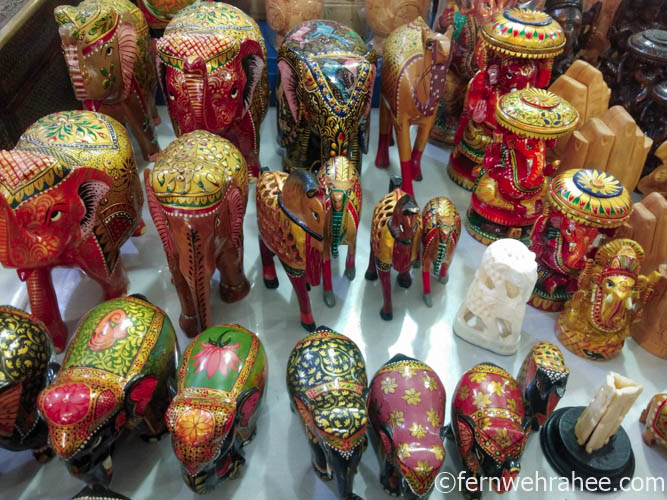 Jaipur is tourist hub and you may be quoted higher Prices than its normal Price, so Bargain hard before you buy anything.
If you are a foreigner, it may be difficult for you to ask the Prices in Hindi but most of the shop owners understand English very well.
Go for shopping in early Morning when Markets are just about to stir with some actions, this time many shop owners will give you discount as you are the first customer to them. It makes a good start of the day for shop owners.
Jaipur is famous for touts and Scams. If your driver, Rickshaw driver or guide may take you at any Particular shop, you can Politely deny for that. Use your own preferred Shopping Places in Jaipur.
There are many duplicate items that sell in Jaipur and if you don't want to fall in any trap, still want to buy authentic items, head to any Government authorized shops in Jaipur. Few of them are Rajasthali Handicraft Emporium near Ajmeri Gate, MI Road and other one Rajasthali Textile Development Corporation on Amber Road.
If you Like this Post, Pin it!!