Best Places to Visit in Hyderabad in 3 days
Just like any other city, Hyderabad is the capital of the Indian State of Telangana. The city is famously known for the rulers 'Nizams' and historically known as 'City of Pearls'.Nowadays it's a popular IT hub and one of the most popular tourist destination too. The city enchanted me for a long and finally, I could visit for so good reason!. As a traveler, I love visiting cities with rich architecture grandeur with diverse cultures and Hyderabad has it all. Here is my pick for the Best Places to visit in Hyderabad in 3 days+ Hyderabad 3 days itinerary.
Charminar:
First thing first in your 3 days Hyderabad itinerary, Visit the most popular  Hyderabad attractions- Char Minar. As the name suggests, the structure has 'Char'(four) 'Minar' (Pillars). Charminar is a sheer combination of engineering and religion standing tall for almost 400 years with a mosque on its top floor. The structure is known for its profusion of stucco decorations. It is known for surrounding local markets and celebrating festivals like 'Ramzan'.One can find most of the famous food spots around its vicinity.
One can climb the stairs to the top floor, but not recommended for faint hearted people as it is narrow and dark. It will give you views of the Char Kaman, Laad bazaar, and Makkah Masjid.
Timings: 9 AM to 5.30 PM daily (close on holidays) , Entry fees: INR 25 for Indian Nationals, INR 100 for foreign Nationals
Macca Masjid:
This is one of the oldest mosques of Hyderabad and of the largest Mosque in India. It is considered one of the heritage buildings of the old Hyderabad built during the Qutub dynasty. So must visit this Mosque as part of your Hyderabad sightseeing list.
Entry Fees: Free, you need to cover your head and legs to enter the mosque.
Laad Bazaar:
Hyderabad visiting Places list is incomplete without mentioning colorful Laad Bazaar. The area beside Charminar is famously known for its Bazaars (markets) and the most famous is Laad Bazaar. Here you can see the artisans at work; who are busy making bangles and streets have tons of shops for bangles and jewelry. Hyderabad is also famous for its pearls in the landmark area Pathar ghatti near Charminar.
Travel Tip: If you are buying pearls, go at some iconic places like Gulzar House, Modi Pearls at Pathar ghatti.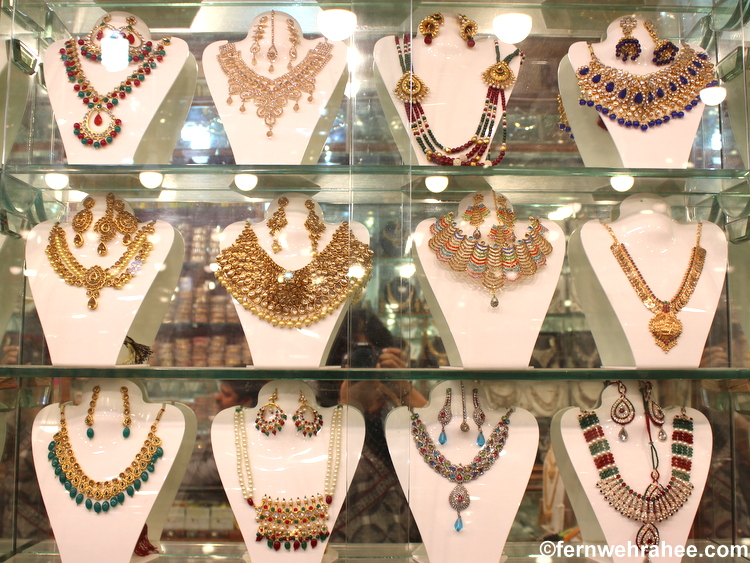 Chowmahalla Palace:
on your 2nd day in Hyderabad, visit the iconic Chowmahalla Palace, one of the best places to visit in Hyderabad. The Palace is located near the Charminar area, the Chowmahalla Palace was the official residence of Nizams of Hyderabad during their ruling of the state. The name chow means Char (four) and Mahalla means Mahal (Palace) i.e. four palaces. The four Palaces are Afzal Mahal, Mahtab Mahal, Tahniyat Mahal, and Aftab Mahal which is built in neo-classical style, so must include this Best Places to visit in Hyderabad in 3 days.
As you enter the Palace, you will notice the huge Garden, Pool with fountains, and an identical corridor on both sides. The Palace is unique for its style and elegance and considered as architecture marvel.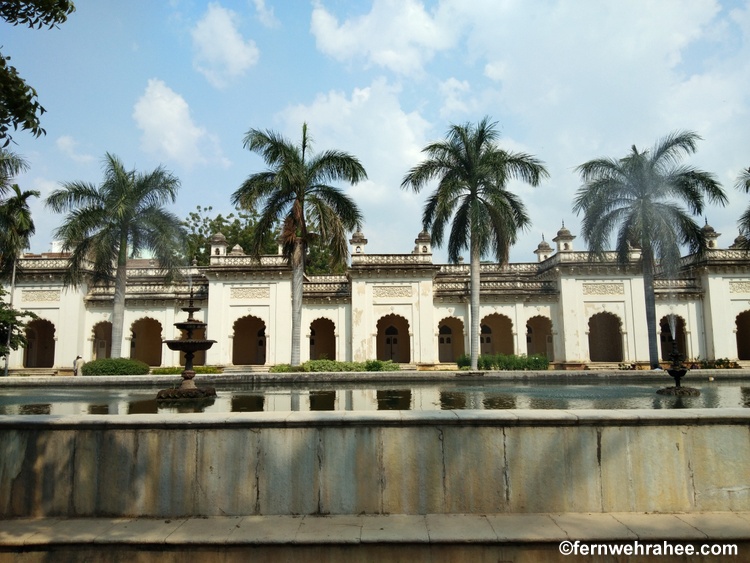 As you walk from the courtyard, you will enter the Darbar Hall at the end. It is the heart of Chowmahalla Palace popularly known as Khilawat Mubarak. The grand pillared Darbar Hall has a pure marble platform on which the royal seat was laid where the Nizams held their Darbar and other religious and symbolic ceremonies.Besides the main gate, there is a Clock Tower known as Khilawat Clock which is ticking away for 251 years.
Presently, the Chowmahalla Palace was renovated and opened to the public in 2005. The Palace also has a collection of vintage cars like the Rolls Royce, which were used by the Nizam Kings. Don't miss these famous places to see in Hyderabad, though it's not as big as Mysore Palace it is worth the visit.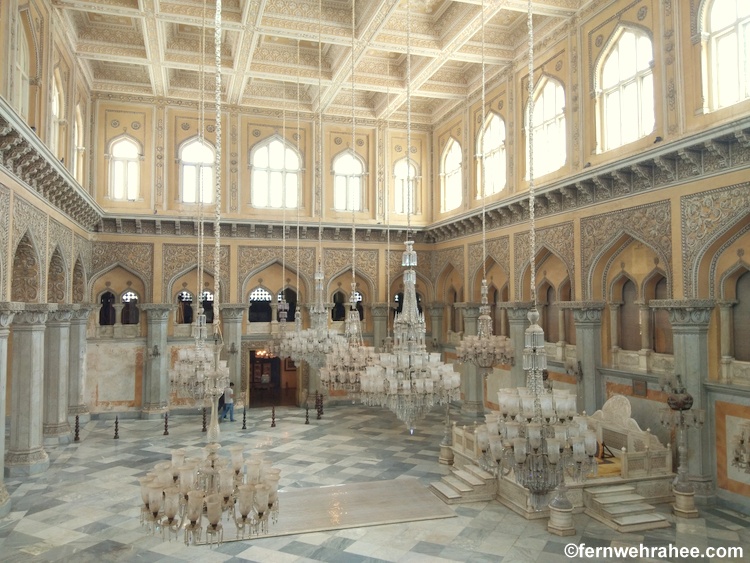 Timings: 10 AM to 5 PM (Friday Closed), Entry Fee: INR 60 for Indians, INR 200 for Foreign Nationals
Camera Fee: INR 50 for Still Camera, Videography and tripods are not allowed.
Travel Tip: It takes 3-4 hours to visit the Palace, so wear comfortable walking shoes and carry a water bottle. There is a small café at the courtyard entrance.
Salar Jung Museum:
One of the largest museums in the country, the Salar Jung Museum is located on the banks of river Musi in the city Hyderabad. It is one of the three national museums of India and one of the top attractions in Hyderabad.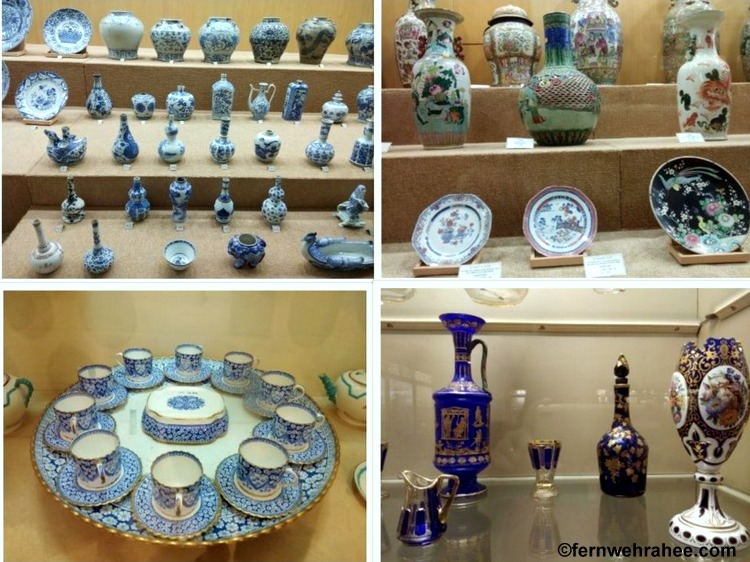 The museum has a collection of art, sculptures, paintings, carvings, textiles, manuscripts, ceramics, metallic artifacts, carpets, clocks, and furniture from Japan, China, Burma,  Nepal, India,  Persia, Egypt,  Europe, and North America. The museum's collection was sourced from the property of the Salar Jung family, after whom it is named. It is one of the largest museums in the world. The museum has three blocks and it takes almost 4-5 hours to cover everything.
One of the most significant possessions of the museum is the sculpture of Veiled Rebecca by Italian Sculptor Giovanni Maria Benzoni. It is one of four copies made by the sculptor. The other attractions of the museum are the double-figure wooden statue of man and woman. I loved the collection of glass-ceramics from all over the world. If you are in Hyderabad and not a fan of museums like me; must visit this place. It is one of the best well-preserved museums which offers the world's largest collection of antiques.
Timings: 10 AM to 5 PM (Friday closed)
Entry Fees: INR 20 for Indians, INR 500 for Foreign Nationals, Camera Fee: INR 50 for Still Camera
Travel Tip: There is strict security at the entrance and self sticks, tripods are not allowed to carry inside the museum. You can avail of an audio guide to understand the details of artifacts well. Also, you will receive the brochure with a map along with the ticket; follow the navigation from one hall to another, otherwise, you might have lost in the museum.
The Best Places to visit in Hyderabad in 3 days – on day 2,Start your day by visiting some far away sites.
Golkonda Fort: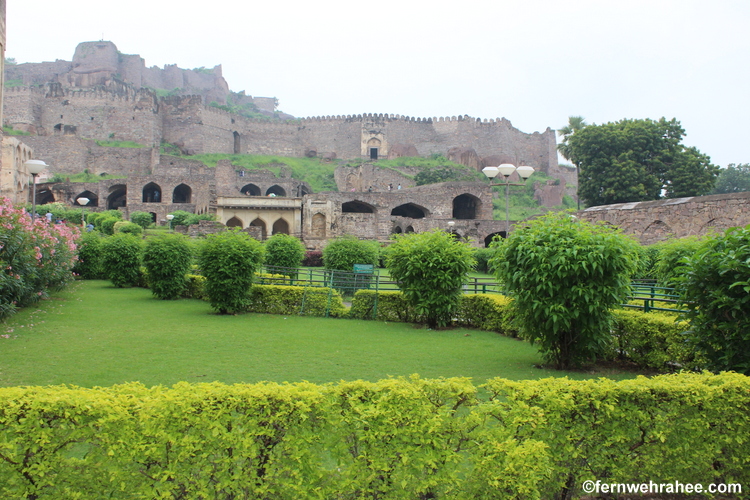 One of the most beautiful places in Hyderabad and my Favorite – Golconda Fort (Round shaped hill) popularly known as Golkonda Quilla is a citadel and once it was the capital of the Qutb Shahi dynasty. The surrounding region is popular for mines that have produced precious gems like Koh-I-Noor, Hope diamond, Nasaak Diamond. The fort complex comprises another small four forts, mosques, temples, and even stables. A visit to the fort reveals the architectural beauty in many of the pavilions, gates, entrances, and domes.
The fort is in the ruins today but it is one of the important monuments of Hyderabad considered as an outstanding example of brilliant engineering and magical architecture. The light and sound show conducted at the Golconda fort in the evening is one of the major attractive places to visit in Hyderabad at Night too.
Timings: 8 AM to 5.30 PM
Entry Fees: INR 25 for Indians, INR 200 for Foreign Nationals, INR 80 for Light & Sound Show (6.30 PM to 8 PM)
Camera Fee: INR 50 for Still Camera
Travel Tip: You have to climb a lot of steps to be up at the top of the fort, hence wear comfortable shoes and carry a water bottle with you. The climb is worth as you will get the views of the city and surrounding area.
Qutub Shahi Tombs:
The Qutb Shahi Tombs are located very close to the Golconda fort.They contain the tombs and mosques built by the various kings of the Qutb Shahi dynasty. It has tombs of seven Qutb Shahi rulers. One can see the influences of Hindu, Islam, Deccan as well as Persian styles in the structure of tombs. These seven Qutb Shahi tombs are of varying sizes. Smaller tombs have a single storey while the bigger tombs have two storeys. It is considered to be few of the oldest monuments of Hyderabad; these tombs present a beautiful blend of Persian and Indian architectural styles and captivate tourists with architecture marvel. Don't miss this Place during these Places while your 3 days in Hyderabad.
Timings: 10 AM to 4.30 PM (closed on Friday/Holidays) , Entry Fees: INR 10 for Indians
Camera Fee: INR 20 for Still Camera
Taramati Biradari:
Taramati Baradari has located some 2 km from the Golconda fort. Taramati Baradari has a music hall with 12 entrances to it. It was used as an auditorium. Taramati has been situated on the top of the hill, which was done so as to avoid any disturbance to the sound from the population of the surrounding area.
This place has great acoustics and because of its association with Taramati, who had dedicated her entire life to dance and music, it is now used for performances on classical music and other folk art forms. Presently, this complex is run by TSTDC where various events, performances, and exhibitions are conducted. Also, it is popular for shooting purposes by photographers and the best locations in Hyderabad to get the views.
Timings: 11 AM to 6 PM daily, Entry Fees: free, Camera is not allowed but you can click with your mobile phone camera.
Travel Tip: Must have lunch/dinner at Haritha restaurant in Taramati Complex which serves good North Indian as well as international cuisines.
Hussain Sagar:
If you are looking for Hyderabad Picnic Spots, head to Hussain Sagar Lake. Hussain Sagar Lake was built across the Musi river during the Qutb shah dynasty to supply water in Hyderabad city. It separates Secunderabad from Hyderabad. Due to its heart shape, Hussain Sagar Lake is considered as one of the largest world's heart-shaped mark.
The Lake is surrounded by multiplexes, shopping malls, eateries, and Parks which makes a good hangout place for locals. There is a large tall statue of Lord Buddha in the middle of the lake which is a major tourist attraction in Hyderabad. The Lake has Lumbini Park; where there is a jetty point that takes you to the center of the lake near the statue. The Buddha statue is illuminated at the night and I highly recommend visiting it due to the serenity it offers from bustling city life.
Entry Fees: INR 20 for Lumbini Park and INR 55 for boating
Birla Temple:
Another top place to see in Hyderabad is the Birla Temple. It is similar to other Birla temples built across India by Birla foundation in white marble. The temple is located on the hilltop and dedicated to Lord Venkateshwara of Tirupati Temple. The architectural style of the Birla temple is a blend of North Indian and South Indian styles of temple architecture. It also has shrines for other Hindu Gods and Goddesses namely, Shiva, Hanuman, Brahma, Ganesh, Saraswati, Shakti, Lakshmi, and Sai Baba.
Birla mandir is situated on the hilltop makes it one of the highest spots in the city. You need to climb a few steps to enter the temple but the view of the city from the temple is worth all the efforts. It overlooks the waters of Hussain Sagar providing a panoramic view of the twin cities of Hyderabad and Secunderabad.
Timings: 7 AM to 12 PM, 3 PM to 9 PM, Entry fee: Free
Travel Tip: You are not allowed to carry your camera, mobile phones, wallet, handbags inside the temple; you can deposit it at the free locker facility available in the complex.
Related Read: Stone Carved Temples of Mahabalipuram
Places to Eat in Hyderabad:
Nimrah Café & Bakery – one of the most famous cafes in Hyderabad which is located near the Charminar. The place is famous for its Irani Chai and Osmania Biscuits. If you are visiting Charminar, must visit this place.
Matwale Doodh Ghar – This place is famous for its Lassi and Faluda. I tried Lassi and it was one of the best I ever had.
Biryani –One of the iconic foods of Hyderabad is Biryani and one should not leave the city without having it. However, you can have biryani at every nook and corner, the most famous is the Paradise hotel and Shadab Hotel.
Govind Ki Bandi – If you are in the Charminar area from Noon (6 AM to 1 PM), must visit this little street-side stall.It serves delicious fluffy soft idlis and Dhosas with tangy coconut chutney. Must try their Tawa Idlies which I had two Plates. 🙂
If you are vegetarian, must-visit Tiffin Centers throughout the city which serves delicious Idli Sambhar and Dhosas at the cheapest price. The Chutney's outlets are also famous for it.
Karachi Bakery- It is considered as one of the most popular bakeries in Hyderabad, I highly recommend trying some fruit biscuits, plum cake, and other variety of biscuits. You can bring it back home to gifting one to your family members. The main branch is located in the Mozamjahi market and they have several outlets throughout the city.
Famous Ice Cream: As you leave the Charminar area, at the Mozamjahi market in Nampally, you can have a famous fruit ice-cream at a famous ice-cream shop. I tried their fruit ice-cream which was good.
Must try few deserts – Qubani ka meetha, Shahi tukada and double ka meetha.
If you have more than 3 days in Hyderabad, you can visit Places near Hyderabad:
Pochampally – This town is famous for traditional Double Ikkat textile weaving. It is 50 Kms from Hyderabad and can visit a day trip. I couldn't visit here this time, maybe next time.
Paigah Tombs – It is a resting place for Paigah family members; a stunning combination of architectural styles and opulence.You can read more about Paigah tombs by Rashmi.
How to Reach Hyderabad:
Being the capital of Telangana State, Hyderabad is well connected by air, train, and bus from all major cities of the country. There are numerous trains available from Mumbai, Bangalore, and Chennai as an overnight journey.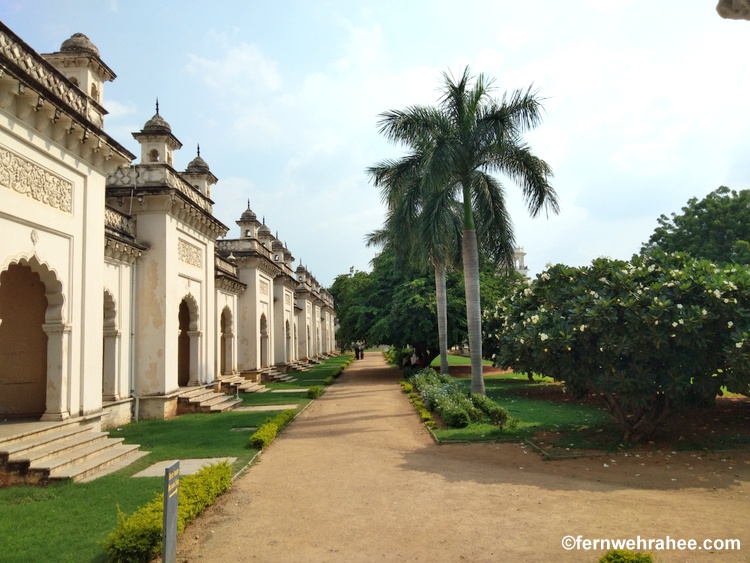 Where to Stay in Hyderabad:
Hyderabad is one of the prominent IT City of the country and it offers a plethora of options to stay in the old city (Secunderabad) as well as in a Hi-Tech city. I was there with my family and stayed at OYO Property which was near to all sightseeing attractions. If you want to avoid the commute, stay near the Nampally area.
Internal Transport in Hyderabad:
As being a busy city, Hyderabad has a lot of traffic in every area. We used a mix of Local City Buses in Hyderabad with Uber Taxi/OLA Taxi and Local autos for sightseeing in Hyderabad. OLA and UBER services are good in the city.
If you like this Post, Pin it!