Top 12 Things to Do in Mahabalipuram
If you are traveling to Chennai or Pondicherry in Tamilnadu, 60 Kms from Chennai lies a small town called Mahabalipuram or Mamallapuram. It is located along the ECR coast and known to be an ancient historical place. Hence if you are transiting from here, give it a must-visit place. In this blog, I am sharing all the top things to do in Mahabalipuram with all the information.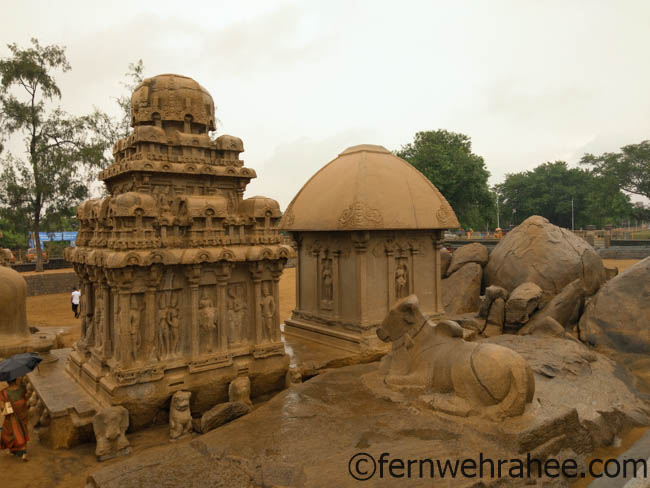 Recently our very own Prime Minister Shri Narendra Modiji visited this place and now may be there will be some tourism boost here. This very ancient seaport town is known to be named after Pallava king Narsimhavarman-I who was known as Mahamalla(wrestler). Along with economic prosperity, it became a center of a group of battle monuments carved out of rock and now it is a major tourism spot with monuments declared as UNESCO World Heritage Site. This town is a perfect day trip from Chennai with a rich history and beach experience.
Top Things to Do in Mahabalipuram:
Visit Panch Rathas[Five Rathas]:
The first place I visited was Panch Rathas which means Five Rathas or Chariots.They are monolithic temples each created in a different style. Out of five, four Rathas are said to be shaped out of single long stone. The structures are named after the Pancha Pandavas and their common wife Draupadi of  Mahabharata. In order of their size, they include the Dharmraja Ratha, Bhima Ratha, Arjuna Ratha, Nakula Ratha, Sahdev Ratha, Draupadi Ratha.
All the chariots are richly carved with Art motifs and walls depicting many Hindu God & Goddesses and dedicated to Lord Shiva. These are truly architecture masterpieces that I ever came across. and it is one of the best places to visit in Mahabalipuram.
Arjuna's Penance:
The one place I liked most in Mahabalipuram was- Arjuna's Penance.Popularly known as Descents of the Ganges is the world's largest bas-relief measuring 96 by 43 feet [27m X 9 m] which is giant open-air rock relief carved on two monolithic boulders which dates back to the period of King Narsimhavarman-I.
The rocks are carved with figures of gods, demigods, men, beasts, birds, and animals. Arjuna's Penance' depicts how he performed severe austerities in order to obtain Shiva's weapon. But The 'Descent of Ganges' story narrates the penance of Bhagirathi who performed austerities in order to bring Goddess Ganges down to earth. Lord Shiva consented to break the force of the descent of the river by his hair because otherwise, the force would be too great for the earth to contain. It is considered as one of the top things to see in Mahabalipuram.
MaharshiMardani Cave Mandapa:
This cave temple is dated to the period of king Narasimhavarman Mahamalla of the Pallava dynasty. According to legend, Durga killed the demon Mahishasura who was considered unconquerable hence she was named as Mahishamardini. The cave's interior relief depicts this battle. The goddess is shown riding a lion, her several arms holding a bow and arrow, pursuing the retreating Mahisha with his followers.
The Mandapa is one of the important caves in Mahabalipuram. The front part of the cave temple is adorned with four columns.It has an oblong facade and a row of three cells at the back. Both beautifully sculpted panels are placed at opposite sidewalls of the shrine.
One relief depicts eight-armed Goddess Durga defeating the demon-king Mahishasura fighting with demons and other depicts Lord Vishnu as Anantasayi e.g. Vishnu reclining on the snake-like king of nagas – Ananta Shesha. Below Vishnu, there is Bhu-Devi, Mother Earth. Above the God and below him there are shown four flying ayudh-purushas – divine weapons of Vishnu. This panel is considered to be one of the highest achievements in Indian ancient art. his cave is remarkable for its beauty, grace, and victory.
Light House & Olakaneeswara Temple:
If you walk ahead from Mahishamardini Temple, there you will find Lighthouse.It is a circular masonry tower made of stone, became functional in 1904. Originally Pallava King built it in 640 AD and that structure also lies beside today's modern structure. The Britishers used the temple atop Mahishamardini Cave known as Olakaneeswara temple as a Lighthouse. This temple is dedicated to Lord Shiva and Granite roof is built over the temple.
Today you can climb the tower of Lighthouse and temple too; both give spectacular views of Mahabalipuram town and the surrounding beach. There is a small entry fee of INR 20 and INR 50 for the Camera.
Ganesh Ratha: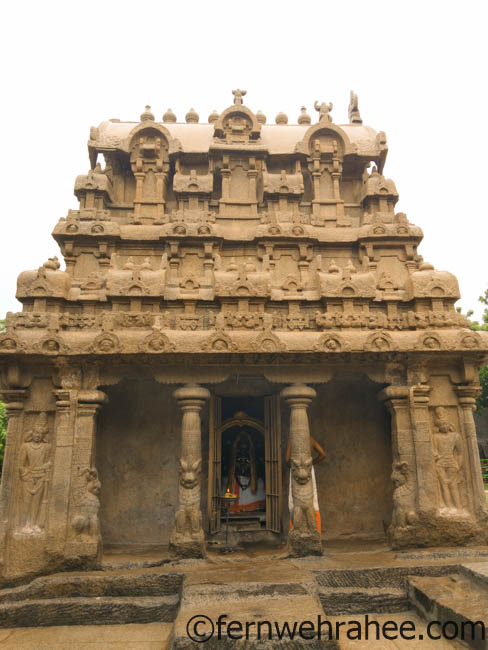 This monument is located beside the Arjun's Penance. The Ratha is also carved out of monolith rock which dates back to the late 7th century during the reign of Pallava King Mahendravarman and Narsimhavarman-I.
It is a full rock-cut structure whereas others are incomplete. The temple was originally dedicated to Lord Shiva with Linga but later it was replaced with the idol of Lord Ganesha.
Krishna's Butterball:
Krishna's Butterball is a gigantic granite boulder measuring approximately 6 meters high and 5 meters wide which is resting on a short incline that too since 1200 years at the same place. Isn't it fascinating?? Due to its unusual placement, it is a major tourist attraction.
It is said that Pallava King tried to move the boulder with the help of elephants but the efforts were in vain and it didn't move. According to Hindu mythology, Lord Krishna often stole butter from his mother's handi and this ball also resembles to butterball that may lead to its name. This place definitely gave goosebumps to me. Don't miss this Popular tourist attraction of Mahabalipuram and one of the top things to do in Mahabalipuram.
Krishna Mandapam:
This temple is dedicated to Lord Krishna and dates back to 7th century. It was originally constructed as open-air bas -relief structure which later enclosed within a Mandapa during the Vijaynagara empire. Inside it, you can find carvings that are relating to stories of Lord Krishna like Krishna lifting the Govardhan Hill on his finger and scenes of Krishna frolicking with milkmaids and village scenes etc. This simply depicts the life of Lord Krishna and how he lived.
Varaha Cave:
Above Arjuna's Penance, there is a two lion pillers and two Pilasters structure guarded by Lions as Dwarpal. The walls have four panels and are carved with sculptures of God and Goddesses.
The side walls have carved sculpture panels and the most prominent one is Vishnu's incarnation form of Varha lifting goddess Bhudevi [mother earth] from the ocean. The other panels are the Gajalakshmi panel which represents Lakshmi, Gangadhara depicted with four hands, and is in standing tribhanga pose.
Rayar Gopuram:
Beside the Varha Cave, there is unfinished structure called Rayar Gopuram. There is no Gopuram here but you can see only pillars remained in the structure.
Shore Temple Mahabalipuram:
I have kept best for the last- The Shore Temple. This temple is built of cut stones rather than carved out of caves in the hillock. There are two structural temples built with granite rock-one dedicated to Lord Shiva and one dedicated to Lord Vishnu. This structural temple complex was the culmination of the architectural creations that were initiated by King Narsimhavarman in the 7th century starting with the Cave temples and the monolithic Rathas.
The main Shore Temple faces east so that the sun rays shine on the main deity of Lord Shiv Linga, so it is a famous sunrise Point in Mahabalipuram. In the garbhagriha (sanctum), an image of Shivalinga embraces the site. At the rear end, one can find two shrines facing each other. Here, one shrine is dedicated to Ksatriyasimnesvara and others to Lord Vishnu. The Lord Vishnu is imaged reclining on the 'Seshanag', which is a symbol of consciousness in Hinduism.
The exterior and interior walls of the temple are elaborately carved and sculptured. The images on the sculpted panels depict scenes from everyday life. Also, this is not a living temple but the sculptures are incredibly real and artistic. The temple is awe-inspiring and shows work of art. This place remains always crowded due to its close proximity to the beach and owing to the famous Mahabalipuram attraction, I would recommend visiting it at Sunrise.
Visit the Beaches in Mahabalipuram:
Mahabalipuram has a stunning shoreline and so many resorts also dotted along with it. You can visit the local beach next to the shore temple which is a favorite among tourists and locals. If you go ECR to Mahabalipuram, you can visit covelong beach and wide beach with the spectacular shore.
Tiger Cave:
This site is located a few km away from other Group of Monuments in Mahabalipuram. As it names, there is No real tiger at Tiger's cave. It is a rock-cut cave that was built by the Pallava king. The site earned its name from its crown of 11 tiger heads carved around the entrance and hence names it as Tiger cave.
The place is maintained by ASI and is surrounded by Park and beach, hence it is a popular place among locals for picnics.
The Madras Crocodile Park:
Do you have seen so many Crocodiles of different species together and that too not in ZOO?? At first, I was somewhat hesitant to go at this place, but later I was thrilled to see so many crocodiles and knowing about their habitant.
The Madras Crocodile Bank was established in 1976 to increase breeding populations of three species of crocodiles: the mugger, the saltwater crocodile, and the rarest of all, the Gharial. The Crocodile Park was originally designed to be a living genetic repository of crocodiles for safekeeping, to protect and multiply until such time when they could be returned to their original wild habitats. But today, release into the wild has stopped due to shrinking wilderness areas and the lack of suitable habitat. This is one of the Best Places to visit on ECR route Chennai.
Entry Fees:
You don't need a separate ticket to visit all the monuments. All Group of Monuments are covered in one ticket which costs INR 40 per person.
How to Reach:
Chennai is the nearest airport to reach Mahabalipuram. Once you are in Chennai, you can easily get taxis to Mahabalipuram. I took a one-way taxi at INR 1300 from Chennai airport. Also, local buses are available, you can take buses which run via ECR road.
Getting around:
You can hire a bicycle to get around as all monuments are nearby, else you can hire an auto at INR 400-500 to get around. Taxis are a bit expensive which may cost you 1000-1200 INR.
Places to Eat in Mahabalipuram:
Mahabalipuram is famous among hippies and foreigners, hence you will get all the continental and local dishes here. My take is Adyar Ananda Bhavan for local South Indian dishes and you can visit any cafe for western delicacies. If you are a lover of seafood, this place won't disappoint you.
Where to Stay:
Mahabalipuram houses accommodations which fits into all ranges of budget from Luxury resorts to Budget local guesthouses, it has everything. Also Chennai is just 60 Kms away from Mahabalipuram, you can visit as a day trip from there. If you are planning to stay, would recommend to book your stay in advance as it gets crowded in holidays and weekends.
If you like this post on top things to do in Mahabalipuram,Pin it for Later!!