Places to Visit in Mysore in 2 Days: Complete Travel Guide
Mysore or Mysuru – City located in the foothills of Chamundi Hills in the state of Karnataka has stolen my heart. I have visited so many other cities but Mysore gave me all kinds of different vibes. It is one of the well-organized cities offering the best public transportation, amazing food, relaxed vibes, and culturally rich, making one feel at home. I visited Mysore in January and I am sharing Post with Top Places to visit in Mysore in 2 days, Places to Visit near Mysore, and Best restaurants and places to eat in Mysore.
Before coming here I only knew, Mysore being famous for Silk Sarees and Mysore Dosa but the city has more than that to offer to every kind of travelers. From the stunning architecture of Mysore Palace, silk weaving artists, local crafts to eating local delicacies; you will have everything to experience.
History of Mysore:
The name Mysore is an anglicized version of the word Mahishuru. According to Hindu mythology demon Mahishasur was residing in this region which was known as Mahishapura. Later he was killed by goddess Chamundeshwari whose temple is atop the Chamundeshwari hill. Later the name becomes Mahishuru and then Mysuru. The government of India changed it to Mysore in 2014.
The Kingdom of Mysore was ruled by the Wadiyar family from 1399 to 1950. The kingdom was expanded in south Karnataka and parts of Tamilnadu. For a brief period of time, Tipu Sultan and Hyder Ali ruled the kingdom. After Tipu Sultan being killed by Britishers, they returned the Kingdom to Wadiyars and even today they retain the identity. The present King of Mysore is Yaduveer Krishnadatta Chamraja Wadiyar.
I had only 2 days in Mysore and tried to visit as many places as I can, Here is my Mysore travel Guide and Best Places to visit in Mysore in 2 days.
Stunning Mysore Palace: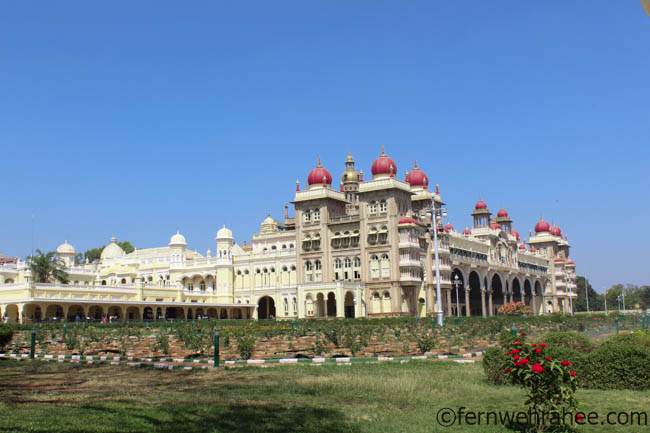 Mysore Palace History:
There are dearths of Places to visit in Mysore, but One of the famous places to visit in Mysore is Mysore Palace and truly deserves every reason for fame. It is also known as Amba Vilas, the official residence of Wadiyar's and the top tourist attractions in Mysore. The Indo- Saracenic style of architecture of this sprawling palace is a replacement of the old wooden building destroyed by the fire in the late 19th century during the Dussera festival. The present structure was commissioned by King Krishnarajendra Wadiyar IV with the help of British architecture Henry Irwin.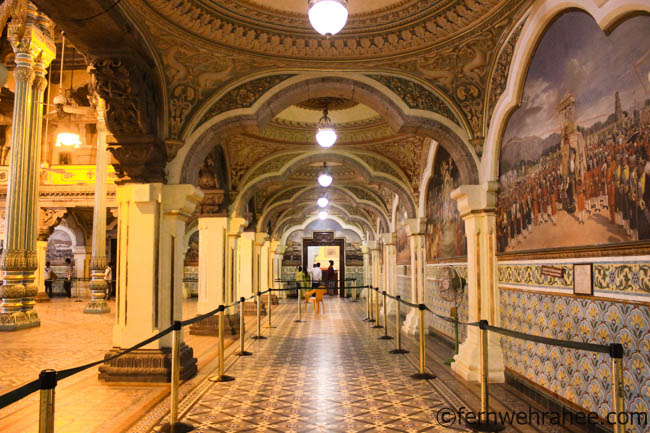 The palace houses two Darbar halls[royal court rooms], a number of courtyards, strikingly beautiful Gardens, temples, and official residence. The palace has three gates to get entry. The Palace is visited by millions of people every year and it claims to be the second most visited place after the Taj Mahal in Agra. I reached the Gates early at 10 AM to beat the crowd.
The Mysore Palace is strikingly beautiful inside and is most attractive place I have ever been to.The rich colors of walls,intricately carved pillars,colorful paintings, wooden carved doors and everything was straight out of dream like bollywood movie.This probably says the prosperity of king Wadiyar's. From the tinted glasses on the roofs, colorful tiles on the floor and the abundance of Gold used took my attention and I was just hooked at it.
The most famous places to visit in Mysore Palace are – The Darbar Hall, The Amba Villas, The Royal seat, The Kalyan Mantapa, the Portrait gallery, and other many items on display. As you enter, first you will see grand Kalyan Mantapa also known as Marriage hall on the ground floor. The hall is Octagonal in shape decorated with beautiful tiles, amazing colors, and beautiful chandeliers that made me speechless. As you walk through ahead, you will come across many paintings depicting the Mysore Dussera festival, king and his kingdom, etc.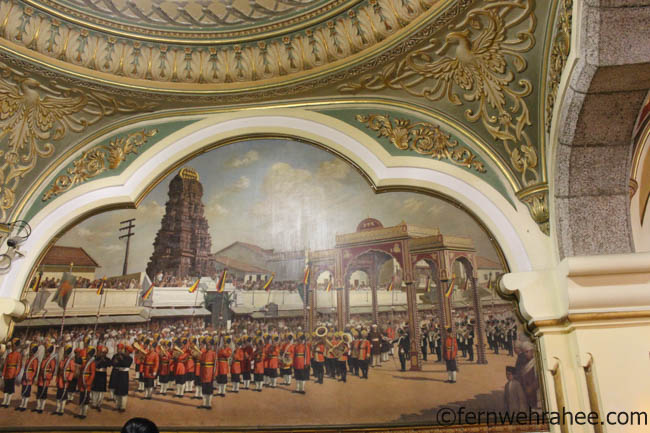 On the first floor, there are two Halls where King used to address the Public. The one which is shared on the internet many times also known as Durbar Halls or Reception Hall is a very massive hall colored with pink, yellow, and turquoise with intricately carved Pillars and gold-tinted roofs which makes you feel awe. It faces the garden area and the king used it to see their people, festivals, and celebrations from the balcony.
The other is known as Amba Vilas which was used as a private hall. It is far more beautiful than the Durbar hall.It is beautifully decorated with stained glasses, wooden roofs and used more amount of Gold in walls and Pillars and adorned with beautiful chandeliers. You can say it as one of the masterpieces of the Palace. It is really royal and regal room that shows the royalty of Wadiyar kings.
The Mysore palace is truly master piece and blend of Hindu, Muslim, European and all kind of architecture.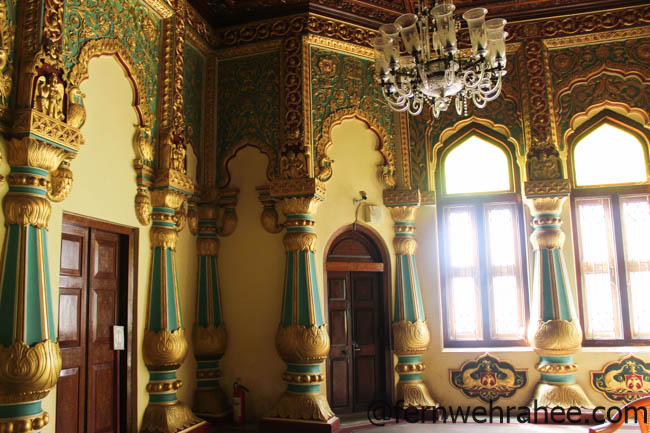 As you step out from the Mysore Palace, you will come across Old Mysore Palace originally built as a wooden structure that caught in a fire during the Dussehra festival. A portion of the palace still remains today. I would highly recommend this touristy attraction to visit in Mysore. Definitely, Mysore Palace is one of the Top Places to visit in Mysore in 2 days.
Mysore Palace Travel Tips:
Mysore Palace entry fee is INR 50 per person.There is a separate ticket to visit Old Palace. It is 200 INR for foreign Nationals.
Shoes are not allowed to wear inside the Palace, you can keep it outside in the shoe racks.
On the Sunday and holidays the Mysore Palace is lit up with 97000 bulbs at night from 7 PM to 8 PM which is certainly not to miss the sight.
Mysore Dussera is very famous festival when many people flock in the city to witness it.The Goddess Chamundeshwari is placed in Golden howdah and taken to Chamundeshwari temple atop the hill for further procession.During those days Palace and Mysore is lit up and festival is celebrated with great zeal.
Mobile and Camera Photography allowed inside the Palace.
You need at least 3-4 hours to completely visit it.
On weekends crowd would be more,if possible visit on weekdays.
Art Gallary-Jagmohan Palace:
As Mysore is known as City of Palaces; most of them now converted to hotels or as art galleries.The Jagmohan Palace is also converted to art Gallery.When original wooden Palace was caught in fire, royal family stayed at Jagmohan Palace when Amba Vilas aka Mysore Palace was under construction.The Gallery is rich with beautiful artifacts with one of the largest collection in south india. Most of the artifacts are Paintings and other exhibits are weapons of war, musical instruments, sculptures, brass ware, antique coins, and currencies.It is certainly not to miss places to visit in Mysore in your 2 days.
St. Philomena Church: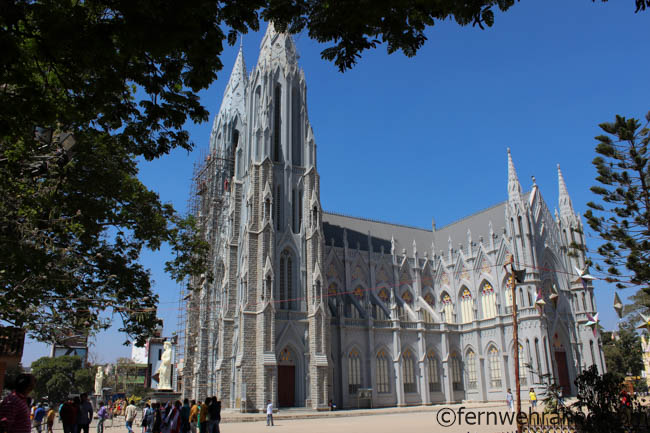 The St. Philomena's church was originally built in 1840, during the reign of King Krishanaraja Wadiyar IV to cater to the need of European people in Mysore. But as the number of European people increased, it aroused the need of a bigger church and its construction completed in 1941 and since then it is functional. The remnants of St. Philomena's are still preserved in this church.
The church was constructed in the Neo-Gothic style and is considered as second biggest Church in Asia. The main attraction of the church is its twin spires which can be spotted even from a mile away. The original brick mortar structure is renovated and replaced with cement and plaster building. The hall of the church has stained glass windows, displaying exquisitely drawn paintings from various stages of Christ's life. You can visit the church every day from morning from 6 AM to 6 PM in the evening.
Chamundeshwari Temple & Chamundi Hills: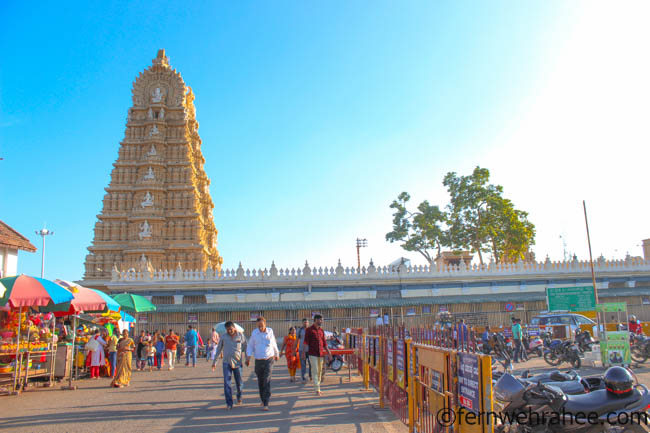 The Chamundeshwari Devi is known as the Protector of Mysore and revered goddess of the town. The chamundeshwari temple is located 13 Kms from Mysore main town and built on a hillock known as Chamundi Hills. The temple is considered as one of the Shaktipeetha among 18 Maha Shakti Peetha and hence you will see it always crowded. The goddess is known as fierce as she slayed demons Chanda, Munda and Mahishashura but the idol is pretty and calm. The temple is also equally beautiful in sight.
Also Read: Temple town Rameswaram Travel Guide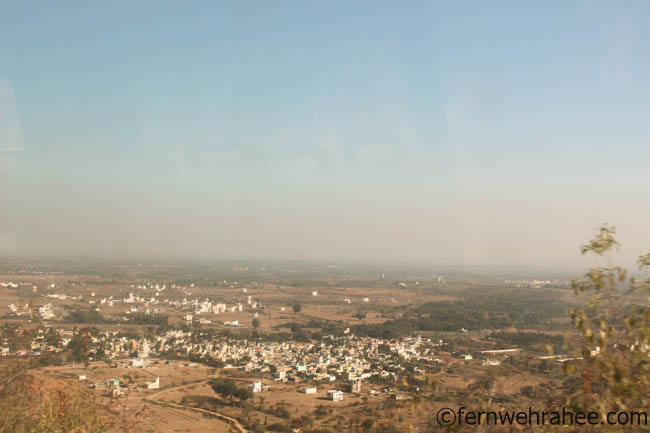 As you leave Mysore's main town and drive uphill till the temple, the scenery will start change and it will become more greener as you reach atop. From the hill, you can have spectacular views of Mysore city. I must say, don't miss this temple even though its outskirts of Mysore as it is one of the must-see and famous sightseeing Places to visit in Mysore in 2 days.
The temple timings are morning 7.30 AM to 2 PM and evening 3.30 PM to 9 PM.
Offer worship at Big Nandi Statue:
As you climb down the Chamundeshwari temple, you will come across the Big Nandi temple. It is considered to be more than 350 years old and the third-largest Nandi Statue in India. According to Hindu mythology Nandi is considered as the vehicle (mount) of Lord Shiva. In front of every Shiva temple, on the court facing the shrine, you can see the image of a Nandi. It is carved out of a single boulder. Don't miss this place and offer worship here.
Also Read: Coorg weekend trip from Banglore
Government Silk Factory:
The trip to Mysore is incomplete without mentioning famous Mysore silk. Though I come from a textile city surat, I couldn't resist myself from visiting the silk factory. If you want to know how Mysore Silk Sarees are made just from cocoon to fabric, you can witness the entire process here.
Nowadays, all the process is mostly automated in the looms with less human intervention, still, you can see step by step process of silk weaving of saree's from thread making, dying, gold threads weaving and lastly packing. Even though this is not the famous place to visit in Mysore, but if you are a saree lover like me, give it a visit on your 2 days Mysore trip.
Related Read: Most expensive Saree- Patolas of Patan
Note: Camera and Cellphone are not allowed inside the factory. One of the factory employees will show you around and will explain the entire process. There is a showroom in the complex to buy Silk sarees, dresses, etc. I would recommend buying the authentic stuff from here instead of anywhere else for original silk products.
Government Oil Sadalwood factory:
When I was staying at a homestay in Coorg, I came across fragrant small 'Mysore Sandalwood' soap with a green colored box that took my attention. As I was heading to Mysore, somehow I could manage to visit this place during my short stay. The factory is located near to Silk factory with a narrow road leading to it.
The sandalwood factory was initially set up by King Krishnaraja Wadiyar in Bangalore. During the 1st World war, excessive sandalwood oil couldn't be exported to Europe, and to make good use of excessive sandalwood, the factory was set up. Today, Only oil extraction and distillation of oil from sandalwood are done at the Mysore factory whereas the Soap factory is in Bangalore.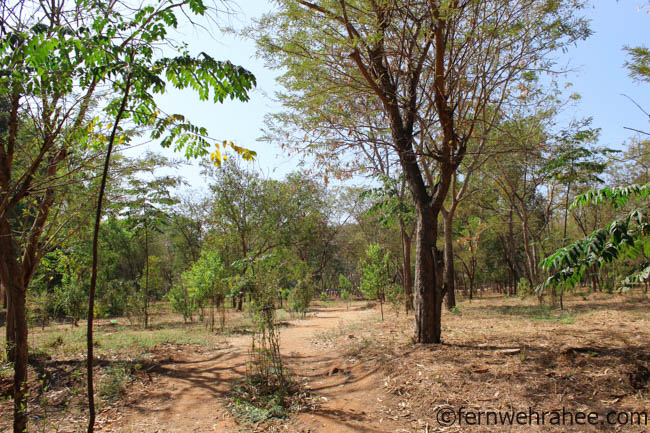 As you enter the complex, you will be greeted with green sandalwood trees and the fragrance of sandalwood. At the entrance gate, you have to deposit all your bags, cameras, phones, and bags and the guide will show you around. As Guide explained, Mysore sandalwood soap is the only soap in the world with 100% Pure Sandalwood oil. OMG glad to know na??
As he took a group of us further through the stacks of sandalwood, he explained that first, we identify the wood is good for the extraction or not from the Lot. Then it goes for cutting, chopping, disintegrating wood, powdering, boiling, distilling the oil, filtering, and on. He explained that only the inner part of the wood is used and the rest is used for funeral and temple use. As a curious engineer in me, I was happy to know about the entire process that goes into making soap. Again, this factory is also not so popular sightseeing place of Mysore, but I would say visit it to know some technology behind the soap.
Note: As you exit, at the entrance road, you will come across a small souvenir shop in the factory. I would recommend buying soap, oil, talcum powder, incense sticks, etc from here. You can visit the factory from 9.30 AM to 1 PM and 2 PM to 5.30 PM.
Colorful Devraja Market:
One of the top things to do in Mysore is a visit to 100 years old colorful Devraja Market. This market runs along Sayaji Rao Road and I entered South Gate from Dhanvantri Road. There are two gates to enter- North and South[from clock tower side].
As I entered the market, first came across fruit stalls, then household stalls, vegetables, and so many Banana stalls. I was amazed seeing so many different kinds of Bananas here and they were happy to sell it to me :-). In the end, I visited the Flower section which was my favorite part as I know South Indians adorns flowers most.
The visit to the market was vibrant and colorful yet some kind of chaotic with local flavor. If you are photography enthusiastic, must visit this place. The market remains open from 8 AM to 9 PM every day. I visited in the evening and it was not much crowded at that time. This market is not visited by tourists and hence it was one of my best places to visit in Mysore.
Stay in Heritage Hotel:
You can full fill your dream of being King for a few days by staying at one of those heritage Palaces now turned into hotels. One of them is Lalitha Mahal Palace.
Lalitha Mahal Palace is one of the elegant palaces located close to Chamundi Hill Road which is second largest palace in Mysore after Mysore Palace. The corridors and the hall have lovely paintings of Mysore rulers and historical events of Mysore Kingdom. The restaurant block is the alluring part with the curved roof and the glass dome at the center follow spectacular architectural interest of the Mysore rulers.
Visit as many Museums you want: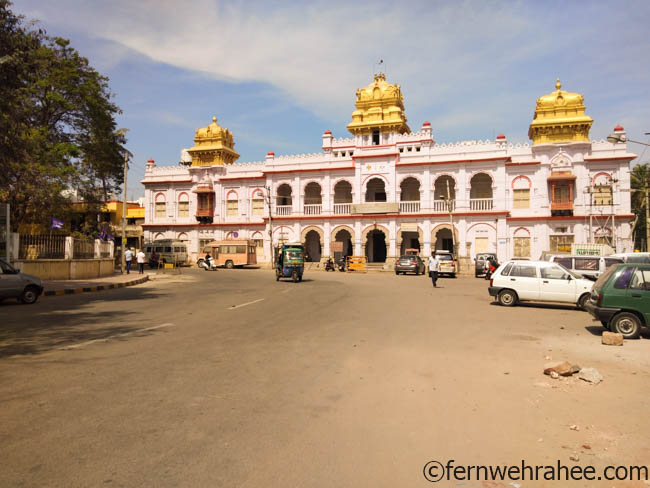 Mysore houses many fine art galleries and Museums, you can visit few important of them like:
Folk Lore Museum
Mysore Railway Museum
Sand and Sculpture Museum
Take Day trip to Srirangpatna and Brindavan Gardens:
If you are in Mysore for more than a day, you must visit Places near to Mysore like Srirangpatana and Brindavan Gardens in Mandya. You can reach here via public transport too. Alternately, If you are traveling by car, then you can visit these places on the way to Mysore from Bangalore with a stop at Chhanapatna town.
Many Bollywood movies have been shot in Brindavan Gardens and are famous for its fountains. The highlight of the Park is a musical fountain show which takes place at night. So plan it accordingly. The Park is so huge and it may take 3-4 hours to see visit it. Don't miss Srirangapatana if you are Planning Best Places to visit near Mysore.
Read: Best Places to visit in Srirangpatana in a day
Places to Visit around Mysore:
*If you have more than 3 days, you can visit several other prominent places around Mysore like Melkote,Shivasamudra Falls, Somnathpura Temples, Talakadu, Ranganathittu Bird sanctuary, etc.
*Mysore is famous for Yoga schools and known as the capital of Ashtang Yoga Capital of India among foreigners. You can learn and get trained here
This was all about the places to visit in Mysore in 2 days and things to do in Mysore which you can experience in 2 days Mysore trip.
Where to Stay in Mysore:
Mysore has plenty of hotels from Luxury to budget and hostels for the backpacker's budget. Lalitha Mahal and hotel Park Lane are famous among foreigners.If you want to stay in the center of the city, try to stay near the Mysore Palace area.
Places to Eat in Mysore:
Mysore trip is incomplete without testing typical Mysore Masala Dosa with filter coffee which you can get anywhere in the city and it tasted good at every place. I am a big fan of dosa and I devoured many different varieties of it like neer dosa, set dosa, etc in Mysore. Apart from it, Vinayak Mylari is a small shop, famous for its Mysore Dosa among locals and tourists. You can eat vegetable meals and Biryani at hotel RRR. If you are looking for western food with good music and ambiance head to hotel Park Lane.
When you are in Mysore, make sure to taste Mysore Pak at the famous Guru Sweet Mart near Devraja Market. The founders of this shop supposedly have served in the Palace kitchen and had come up with the dish when the king had asked to prepare a unique and special dish for him. So if you want to try Mysuru Pak from the place it was created then this is the Right Place.
Getting Around Mysore:
Mysore has very well organized transport with AC and NON AC city buses running throughout the city and in the outskirts too. You can purchase a day pass at INR 100 for a city bus and visit all the places you want in a day.All the attractions are accessible by city bus in Mysore. Another option is to travel by Auto and taxi. I also came across few-cycle stands in the city, which means you can hire it to get around Mysore city.
How to Reach Mysore: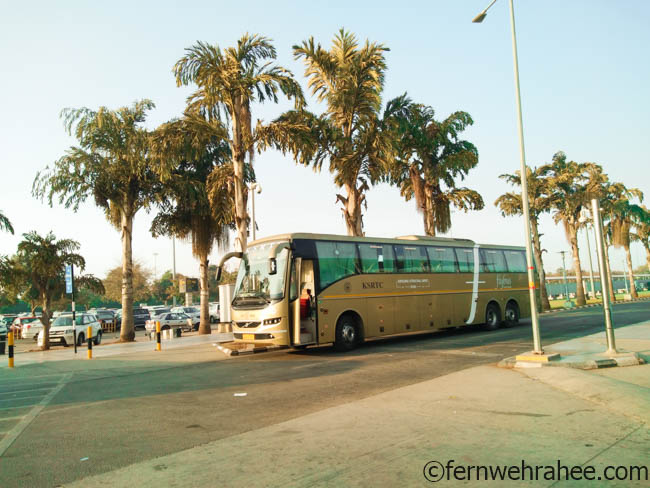 The nearest airport to Mysore is Banglore. If you are planning a trip to Mysore from Bangalore, a good option is to take direct KSRTC VOLVO Bus to Mysore from the airport itself as you will not enter the Banglore city and can beat the major traffic jams. Also, KSRTC has a good network of Buses from Banglore and other parts of Karnataka to reach by road. Mysore is also well connected by train from major cities of India.
Happy travelling folks!!