Ooty Mountain Train: All About Nilgiri Toy Train Ride
Ooty- a Popular Hill station of Tamilnadu, South India is famous for its tea Gardens. But one of the major tourist attractions in Ooty Mountain Train known as 'Nilgiri Mountain Railway'. Whether you are traveling solo or with family, the highlight of your Ooty trip can be riding the famous Nilgiri toy Train. In this post, I am covering all the detailed information about Nilgiri Mountain Railway, Ooty.
What is the Nilgiri Mountain Railway?
Nilgiri Mountain Railway was established in the 19th Century by Britishers as Ooty was the Summer headquarters of the Chennai Government to beat the summer heat of India. The unique thing about the toy train is one of the steepest in whole in Asia. The railway is running since 1908 and it is declared as UNESCO WORLD HERITAGE SITE in 2005. The engines that running today are more than 80 years old!  Initially, the Toy Train was pulled by a steam locomotive, but now this is sometimes replaced by a diesel one to give the train more pull. Nilgiri Mountain Railway is the only rack railway in India.
The Blue and Cream wooden carriages with windows will surely draw your attention when you spot the Ooty Toy Train! This heritage toy train ride is one of the must-do activity which should be included in Ooty sightseeing. The Landscape on both the side of the tracks is beautiful that keeps you engage in the beauty of the Ooty toy train.
The Nilgiri Mountain Railway runs from Mettupalayam to Ooty (Udagamandalam) Via Coonoor. The Nilgiri Mountain toy train track is 46 Kms long that passes through the picturesque Nilgiri rainforest. The Ooty toy train Passes through 16 tunnels, 250 Big and small Bridges via 108 curves in the journey. The train starts at Mettupalayam being at 325 meters and ascends to 2203 meters at Ooty. But the most beautiful views and scenery are situated along the Mettupalayam to Coonoor route.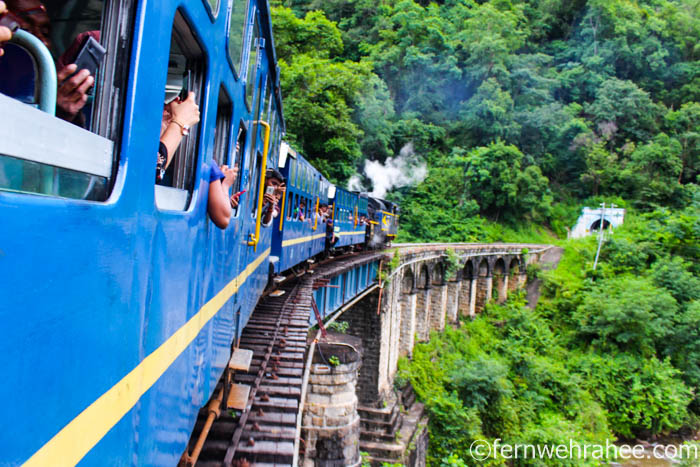 The journey from Mettupalayam to Ooty takes 4 hours 50 minutes due to the steep climb but the return journey takes 3 hours 30 minutes only. There is a total of 10 Passenger Stations on the toy train route named Mettupalayam, Kallar, Hillgrove, Runnymede, Coonoor, Wellington, Aravankadu, Ketti, Lovedale, and Ooty. Apart from these, the toy train will have water stoppages between Mettupalayam and Ooty.
Ooty Mountain Train Bookings:
I booked my Ooty toy train tickets from Mettupalayam to Coonoor toy train in advance during my trip. It was in my bucket list to ride the Nilgiri mountain railway, so I booked my ticket two months in advance online. During the summer season from April-June and during festival days, the train fills up in advance and train tickets will not be available at the last minute, so I highly recommend to Ooty toy train advance booking for a better ride.
You can book the Ooty Mountain train tickets from IRCTC Website in advance. The station code for Mettupalayam is MTP and Ooty (Udgamandalam) is UAM. There are two types of coaches: First Class(FC) and Second Class(2C) for a comfortable journey and third is General Class unreserved if you are not lucky to book tickets in advance. I traveled from Mettupalayam to Coonoor in Second Class with confirmed booking and General Class from Ooty to Coonoor. The Ooty toy train unreserved tickets can get from the ticket counters at the railway station from where you start your journey. It is usually First Come First Basis, so reach 45 minutes- 1 hour before the train journey to get the seat for a comfortable ride.
Also you can book Tatkal Train tickets 24 hrs before the start of the train journey, which may be expensive.
The Mettupalayam to Ooty First Class ticket fare is 545 INR and the Second Class ticket Costs 270 INR. The First-class has cushions while the second class is more cramped.
Ooty Train Timings:
There is a total of 2 trains run between Mettupalayam and Ooty in a day. Here is detailed information on Mettupalayam to Udagamandalam(Ooty) toy train and Coonoor to Ooty Toy Train Time Table to book in advance.
| | | | |
| --- | --- | --- | --- |
| Train Name | Departure | Arrival | Duration |
| Mettupalayam Passenger (MTP UAM Pass) No.56136 | 07:10 (MTP) | 12:00 (UAM) | 04:50 |
| Mettupalayam Passenger (MTP UAM Pass) No.56137 | 14:00 (UAM) | 17.25 (MTP) | 03:35 |
| Coonoor to Ooty No.56136 | 10:40 | 12:00 | 01:20 |
| Coonoor to Ooty No.56138 | 16:00 | 17:15 | 01: 15 |
| Ooty to Coonoor No. 56139 | 09:15 | 10:25 | 01:10 |
| Ooty to Coonoor No. 56137 | 14:00 | 15:05 | 01:05 |
Mettupalayam to Ooty and Coonoor to Ooty Toy Train Timetable
My Experience from Mettupalayam to Coonoor Nilgiri Mountain Train Ride:
I reached to Mettupalayam from Chennai early morning at 06:00 AM via Nilgiri Express Train. The train was on time and the Ooty Passenger train waits for its connection to Nilgiri Express.
When I reached Mettupalayam, People were in the queue for getting on unreserved Class. Mettupalayam railway station is not big, has 3 Platforms, and a small snack stall that sells south Indian food. There were boards on the Platform that indicates FC or General Class of Carriages to board the train.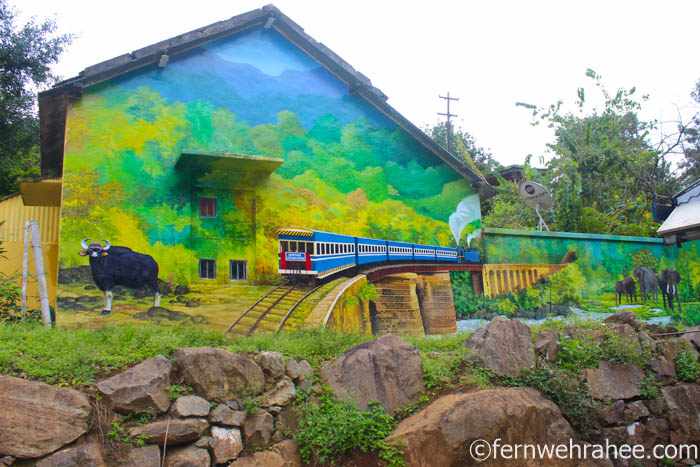 Nilgiri Mountain Railway has No Toilets on board, so better you use the waiting room's toilet before boarding the train. Also being a toy train, keep your expectations low with services and food onboard. The ticket Checker will check everyone's ticket with ID before the departure. The train carriages were Blue and cream that were looking beautiful with surrounding greenery. Everyone was clicking Pictures before the train departure and I too clicked a few.
The train started on time and left behind the Mettupalayam. The scenery was changing to beautiful lush green tea estates, mountains, and lush green valleys. The train was stopped for 2 water stoppages before arriving at Coonoor. As it was an early morning train ride, the sun was rising from the valley, which I could see at one of the water stoppages. At every stoppage, People start to get out to click the surrounding and the train itself.
As the train reaches to Hill Grove station, you will come across beautiful tea estates, waterfalls, even train stations are so picture-perfect to click them! The most of scenery is located from Mettupalayam to Coonoor stretch of the Ooty toy train journey that Passes through Bridges and tunnels, so this is a must-do activity when you ride the Ooty toy train. As I reached Coonoor, the engine was changed to more Powerful diesel engine. The steep climb between Coonoor to Ooty OR descend between Coonoor to Mettupalayam requires greater traction, so train halts at Coonoor for more duration of time.
The Coonoor is midway between Mettupalayam and Ooty, I reached Coonoor by 10 AM. Coonoor railway station is small, built-in colonial-style Blue building and there was a small snack shop on the station. People take snacks and tea from there while engine was changed. During my 3 Days in Ooty, I stayed at Coonoor for 2 nights and I took a ride from Ooty to Coonoor one evening.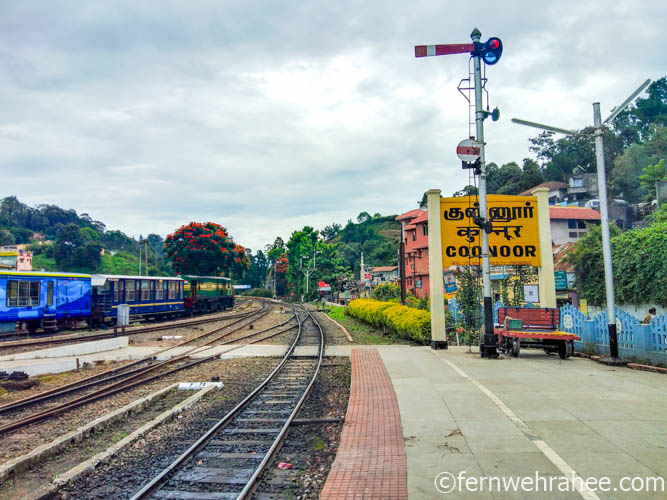 The Ooty Railway station is also very small and located near the Ooty Bus stand. This time I bought a General Class ticket at the last moment, I was lucky enough to get the seat. Many people were in line to board the train and station operators were allowing people on first come first basis in carriages. The toy train from Ooty to Coonoor, famously known as joy ride also has First Class and Second Class carriages. On that day, maybe First Class tickets were not full, I got a seat in First Class, lucky me! The first-class carriage has more space than Second Class.
The route from Coonoor to Ooty is filled with tea estates and Valley Views. You will come across colonial Lovedale Station, charming sunset and amazing Ketti Valley views during your ride from Ooty to Coonoor.
The total of 46 Kms journey from Mettupalayam to Ooty is very beautiful. The train traveled through tunnels, bridges, waterfalls, curves, tea estates, and beautiful valleys. The Ooty Mountain train, Niligiri Mountain railway ride from Mettupalayam to Ooty is one of the beautiful memory stored in my travel journeys.
Based on my experiences, I am trying to Answer few General FAQs:
Ooty By Train:
I reached Ooty by train only. But keep in mind, there is No direct Train to Ooty. Mettupalayam is the nearest railways station for Ooty. The nearest airport to Mettupalayam is Coimbatore. Here is Guide to How to reach Ooty by Train from Coimbatore, Chennai, and Bangalore.
How to Reach Ooty From Coimbatore:
There is no direct train from Coimbatore to Ooty, but you can catch a Nilgiri Blue Mountain Express(Train No.12671) from Coimbatore to Mettupalayam which is the nearest railway station connected with major south Indian cities. From here, you can ride the Mettupalayam to Ooty toy train. Alternatively, you can reach via Bus or Cab from Coimbatore to Ooty.
How to Reach Ooty From Chennai:
There is no direct train from Chennai. But You can take a direct train (Nilgiri Express Train) from Chennai Central to Mettupalayam Station. From here, you can book Ooty Toy Train from Mettupalayam to Ooty/ Coonoor. The Ooty Passenger train departs after the arrival of Nilgiri Express.
How to Reach Ooty From Bangalore:
There is No Direct train from Bangalore to Ooty. However, you can take a direct train from Bangalore to Coimbatore which takes 7 hrs. From Coimbatore, you can reach Mettupalayam easily via Bus or Cab which is 40 km. There are also trains from Coimbatore to Mettupalayam which connects you with Ooty Passenger Train. From, Mettupalayam you can book Ooty Toy Train to reach Ooty or Coonoor.
If you liked reading my Ooty Mountain Railway Post, Pin it for Later!