Best Islands in Maldives for Honeymoon in 2023
Looking for the Best Islands in the Maldives for Honeymoon?? Look no further and read it here!
Maldives- One of the most beautiful tropical countries in Asia and one of the Best Places to have a honeymoon in the World! A Maldives Honeymoon is everything you dream of honeymoon- Crystal Clear Blue Waters, White Sandy Beaches, Colorful Marine Life, and World-Class Resorts with Overwater Bungalows.
For Planning a trip to the Maldives for a honeymoon, we need to plan where to stay in the Maldives, where to go, and what to do at this fairy tale destination. I have put together this ultimate Guide for Maldives Honeymoon.
In this post, I am including Best Islands in Maldives for Honeymoon, Maldive's Best Resorts for the Honeymoon, How to get to the Maldives, and everything you need to know about Maldives Honeymoon!
There are many more than 1100 islands in Maldives and it's hard to choose one island for Maldives Honeymoon. I spent one week in the Maldives and experienced Maldives Budget travel.
I did local island hopping, visited resort islands, and spent time at Capital Male also. So in this post, I am including more Islands recommendations from other travel bloggers for the Best Maldive Island for Honeymoon. I am including all the relevant information to Plan your dreamy Maldives honeymoon which may make your Maldives honeymoon Planning process easier.
How to get to the Maldives
Getting to the Maldives is a fairly easy Process. The Maldives Capital Male is well connected with other countries from around the world from Asia, Europe, the UK, UAE, and the USA. The flights aren't expensive if you are flying from Asia and takes 3-4 hours to reach Maldives. Sri Lanka is one of the cheapest destinations to fly to the Maldives.
But if you are flying from the USA, it Probably takes 16-24 hours to get to the Maldives. Flights aren't that expensive and take a 1-2 hour layover depending on where you coming from. All the major airlines fly to Maldives and flights are good.
How to Get to Maldives Islands/Resorts
The Maldives is a tropical country and surrounded by 99% water, getting around Maldives is very easy. All the flights land at Male international airport in Maldives and from here you have to board your Sea Plane or Speed Boat/ferry to Maldives Resort Island.
As Maldives' Geography is sparse, few islands are only accessible via Seaplane while few offer both Sea Plane and Speedboat options. As you are having the best Maldivian honeymoon, I recommend the Sea Plane ride for having the best views for one way to reach Maldives resort Island.
While Sea Plane offers an incredible experience, do remember its most expensive option to get to resorts which may add expenses to your already expensive resort and ultimately the cost of Maldives honeymoon!
There are Public ferries in the Maldives but they only go to the Public Local Islands of Maldives and Not for Private Resort Islands. Public ferries are mostly preferred by travelers who are visiting Maldives on a Budget. You can Book Speedboat or Sea Plane flight transfer with your Resort, they will book everything on your behalf of you.
Keep in Mind with the timings of transfer, if you are arriving by late flight, you may have to stay at Male before catching a transfer for your Maldives Honeymoon.
The Best Resort Islands in Maldives for Honeymoon
From the 1100 Islands of Maldives, it is most important to choose the best place to stay in Maldives for a honeymoon as you are going to spend your vacation and amazing time with your better half here. The Private islands are mostly atolls and sticking to one island is better than doing island hopping. As you are on honeymoon, it's good that you don't prefer different Places to visit in Maldives for the honeymoon as you will move around a lot! But if you are here for more than a week, must check out other resorts and a few local islands to get a glimpse of Maldivian life!
There are tonnes of resorts in Maldives to choose from as per one's budget and style. Most of these Private Resorts offer Maldives Honeymoon Packages at affordable rates and you can choose one as per your budget. Here is a list of the Best resorts in the Maldives for a Honeymoon:
Baros Island Resort :Best Islands in Maldives for Honeymoon
By Angela Price from whereangiewanders
Baros is the most romantic resort in the Maldives and has won regular awards for maintaining its number-one spot for honeymooners and guests looking for a 5-star luxury island experience.
But what is it that makes Baros stand out amongst the many other resorts in the Maldives? Could it be the overwater villas that stand gazing out onto the Indian Ocean and come with or without a private plunge pool?  Or is it the level of service and attention to quality that comes as standard in a resort of this status?
It is all of that and more – beach villas are hidden under the palm trees, fine dining restaurants, and chill-out bars where you can enjoy a cocktail or two while watching the mesmerizing sunset over the ocean. Spend a romantic vacation at the water pool villas which are the highlight of the Maldives Water Villas experience!
For those that love the water then the infinity pool will be at your disposal whenever you fancy a change from the turquoise sea or how about a spot of snorkeling around the house reef where all kinds of colorful fish can be seen. For the more advanced, Baros offers daily diving to see the bigger creatures that live in this ocean. When on a Honeymoon to the Maldives, Prefer resorts with infinity pools!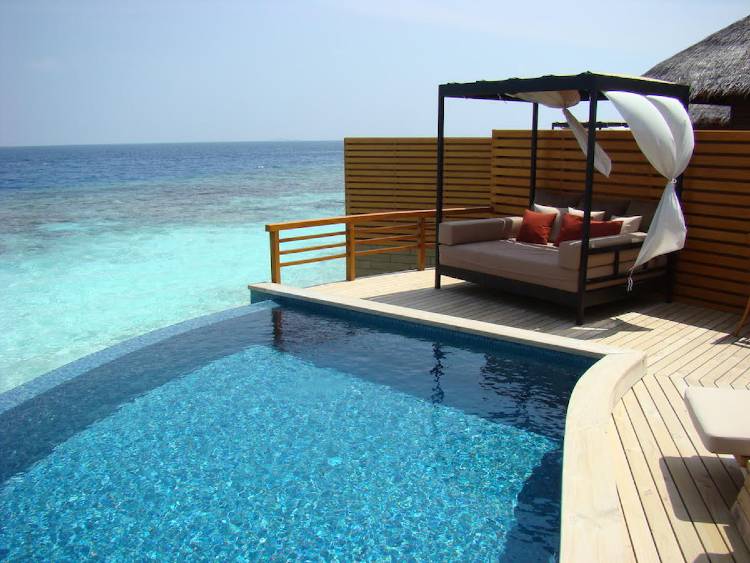 Back on dry land, the spa will allow you and your loved one to be pampered with a massage or maybe a rose bath for two. A whole list of treatments will make you feel like you are floating on cloud nine. If you are looking for the Most Romantic resort to book for a honeymoon, choose Baros Island in the Maldives.
How to Reach:
The island is in the North Atoll and so a 25-minute transfer by speedboat from Male airport will have you in your villa and sipping on a cold glass of champagne all within the hour.
Sun Island Resort and Spa
By Arnav Mathur from theETLRblog
If you want to have a honeymoon in Maldives, that everyone feels jealous about, Sun Island Resort and Spa – Maldives, is the place to be. With over 462 rooms, including the photogenic water bungalows, over 13 restaurants and bars, and a Spa spread over 4500 sq.m of area, Sun Island Resort and Spa is the largest Island Resort in the Maldives.
The best way to explore Sun Island Resort and Spa is on a bicycle that you can rent near the reception area. And guess what, they have got some really amazing honeymoon packages, which can be customized to include the activities of your choice, including scuba diving, snorkeling, sunset cruising, whale shark excursions, and spa sessions among others. 
There is a Sting Ray feeding area at one end of the island and a Shark Feeding area near the water bungalows, that you can add to the list of things to experience in Maldives. The helpful people at the resort might also plan a private romantic dinner by the ocean, for you during your stay, apart from doing a nice couple photoshoot for you, at different Instagrammable backdrops around the resort. This is one of the best islands in the Maldives.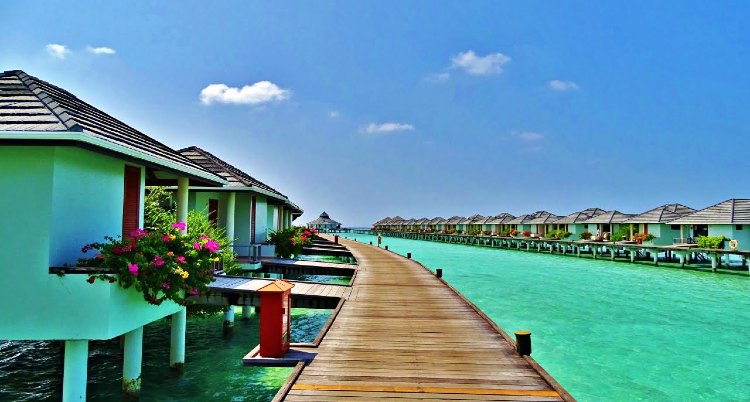 How to Reach:
The best way to reach Sun Island Resort and Spa is via flight from Male to Maamigilli and then a 5-minute speed boat ride, which is automatically added to your booking. The flight carrier Fly Me is also owned by the Villa group itself.
The 35-minute flight will reward you with mind-blowing mesmerizing views of the atoll formations which are unique to the Maldives. The views are something that can only be enjoyed from up in the air and not by a speedboat. I would recommend taking a seaplane while on Honeymoon in the Maldives.
Fihalhohi Island Resort
Editor's Choice
Located in South Male Atoll is a 4-star resort surrounded by crystal clear water, powdery white sandy beaches, and lush greenery. The island is an absolute Paradise to enjoy the Honeymoon in the Maldives on a Budget.
The resort features Palm thatched roofs Rooms and Overwater Bunglows, and a Private terrace overlooking the Indian Ocean. Each room comes with air-conditioning, a mini-bar, private shower facilities, and free WiFi access. You can indulge in water activities like PADI Scuba Diving, a local island visit or you can just relax on the powdery white sandy beaches OR you can take a relaxing massage at their Spa center.
The in-house Palm Groove restaurant serves mouthwatering Maldivian and international cuisines. The Fisherman's Bar and Blue Lagoon Bar offers a wide variety of drinks and beverages. You can walk the entire island in just 15-20 minutes which is the best Ocean Therapy! If you are looking for a quiet escapade, Fihalhohi Island resort is the Best islands for Maldives Honeymoon.
How to Reach: It is just 40 minutes speedboat ride from Male airport and it's one of the last islands of South Male atoll. You can book the transfer with the hotel itself.
Movenpick Kuredhivaru Resort
By Divyakshi Gupta from quirkywanderer
Haven't we all wanted to be marooned on an island at some point in our lives? A picturesque island fringed with coconut trees, powdery beaches, and surrounded by crystal clear waters? Mövenpick Kuredhivaru Maldives, is one such private island resort in Noonu Atoll, which offers this and a lot more.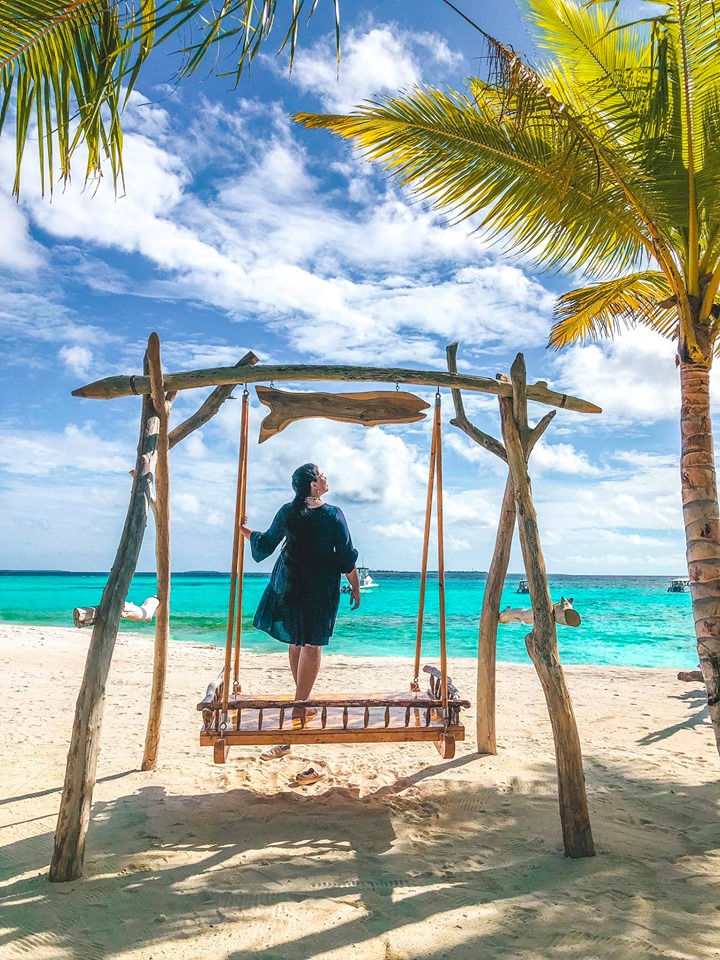 Mövenpick Kuredhivaru is a property, where you can stay in one place and truly relish it which makes it one of the best islands in the Maldives for Honeymoon. One of my top things to do on the island is to swing on the beach and gaze at the crystal clear waters of the lagoon and the Indian Ocean. Sometimes doing nothing is fulfilling too.
Few Reasons to Love Mövenpick Kuredhivaru: The continuous, uninterrupted interaction with the Indian Ocean and its inmates. Just do walk around the resort endlessly on over-water ramps (even though Buggies are available readily). Inside the ocean villas, you could see the house reef clearly through the glass bottom floor.
You can easily see Blacktip reef sharks whizzing past. Each and every moment spent can be cherished in the company of the ocean. Either with spectacular views of the turquoise waters or by the sound of the lilting waves or the smell of sea spray! Movenpick Kuredhivaru will be truly a special Place to stay in the Maldives for Honeymoon.
How to Reach: You can reach via a 45-minute Sea Plane flight from Male airport. It is better to opt for the all-inclusive package of the hotel for hassle-free transfers via Trans Maldivian Airways.
Paradise Island Resort
By Juliet Dreamhunter from Live Your Dream Today
Who doesn't want a honeymoon in Paradise? The name alone sells a memorable experience, and they live up to it. You can choose the Paradise Island Resort for a number of reasons.
First, it's super close to the international airport in Male, just a little bit to the north, which means that it only took a short boat ride to bring us to the island. There are hundreds of other Maldives islands that are located quite far and you need either spend hours to get to your accommodation after you land in Male or pay for an expensive luxury flight on a private plane.
The Beach villa of Paradise Island can be your own home for yourself! The resort feature Beach Villas and Overwater Villas with 4 restaurants and a Spa. As Paradise Island is a Private island, there are no other people on the territory, so you will not find the beach as like overcrowded Turkish and Ukrainian beaches! The Overwater Villas comes with a hot tub overlooking to the ocean and it's one of the most romantic things on Maldives Honeymoon. This is why Paradise Island is one of the best islands in the Maldives for a honeymoon!
There are all kinds of water sports and romantic activities you can choose to attend. They offer different packages to satisfy your needs and make the most of your honeymoon vacation. You can choose snorkeling, spent some alone time on a tiny sandbank in the middle of the ocean, indulged in refreshing coconut punch cocktails, paddled a tandem canoe, learn a bit of scuba diving, and much more.
Every night just come to the pier to watch feeding sharks and stingrays, and have a seafood dinner in the Lagoon Restaurant can be the best experience of your life! Your honeymoon couldn't possibly get any better than the marvelous Paradise Island Resort, the best Maldives resort for honeymoon!
How to Reach: The Paradise Island Resort & Spa is a 20-minute speedboat ride from Male International Airport. A mandatory transfer is provided by the resort, and you can book it with the resort and pay it upon arrival.
Taj Exotica, Maldives
By Priya Vin from Outside Suburbia
There is no doubt that the Maldives is a Magical Place for a honeymoon – the water is crystal clear, the overwater villas are romantic, there is abundant marine life and the food is fresh and delicious. And there is no denying fact that many islands to choose from for a Maldives honeymoon but the reasons to choose the Taj Exotica is warm hospitality, friendly staff, exotic location, and ease to get here making it one of the best islands in Maldives for a honeymoon.
Located in what used to be called 'Three Coconut Island' the resort is located on one of the largest lagoons in the Maldives. The beach is perfect to watch sunsets with cocktails in hand. The resort has many cozy spots with swings and hammocks, and they have a swing out in the water that you can walk up to.
While you can spend most of your time lounging by the pool and ocean, there are plenty of water activities you can pursue. There are kayaks, stand-up paddleboards, and banana boats that you can try.  The best is a sunset cruise on a traditional Maldivian boat – the best spot to catch a pink and purple sunset while enjoying your honeymoon. You can visit the Maldives from November to April, although anytime is a good time to visit the Maldives!
How to Reach: Taj Maldives resort is located not too far from the Malé airport and was just a 20-minute boat ride away. There is No need for seaplanes to get there, although you can take one just to see the scenic view of these tiny islands strung up like pearls.
Amaya Kud Rah Resort, Maldives
By G.Nivedith from Macrotraveller
What would you dream to visit on your honeymoon, a luxurious resort located on the beach side, a place that connects with nature and can spend time in peace and tranquility and a Place in itself which is full of luscious white sand beaches, amazing ocean views and luxurious resorts Amaya Kud Rah is one of the luxury resorts located here.
South Air Atoll in the Maldives is the best place to visit as it has some mesmerizing sea views, sea creatures, and nature surrounding the Islands. The top things to do at Amaya Kud Rah are a few amazing excursions, and adventures and include some exhilarating water sports activities such as Diving, Jet Ski, Kayaking, Paddle boating, Tubing, etc which one can enjoy in their pristine waters. One of the best diving spots is called Kud Rah Thila where you get to witness beautiful corals, Napoleon fish, great reef sharks, etc.
If you want to experience a day-wise excursion, the resort also offers day-wise excursions such as a Cultural island experience, island hopping, Snorkeling which includes whale shark snorkeling, Turtle quest, dolphin watching Sunset cruise, and many more. Experience an ultimate and fun-filled day with the excursions that Amaya Kud Rah provides.
Amaya Kud Rah offers the best Villas in the Maldives for a honeymoon with no compromise on luxury. The accommodation has suites and villas where you have Beach Villas, a Family duplex beach villa, and a water Villa. The only difference is the location wherein beach villa you get to stay on land beside the water and in the water villa, you get to stay right above the ocean where you will be greeted by sea creatures every morning.
The suites are a little bit more luxurious than villas where there are 2 suites namely the Beach Suite and Presidential Suite. The presidential suite is an overwater suite with private access to the sea, Amaya Kudah is the Best Maldives honeymoon resort.
I recommend a stay at Amaya Kud Rah due to the fact of its pristine location and also the luxury and comfort it offers. If you want privacy, nature, and an amazing location with a white sand beach, then Amaya Kud Rah is one of the luxury resorts and best resort islands to stay in the Maldives for a perfect honeymoon.
How to Reach:
To reach South Ari Atoll, there are 2 major ways which includes Seaplane transfer and domestic flight + Speed boat transfer. A costlier yet fastest means of reaching South Ari Atoll is via Seaplane transfer which may cost you 480-500 US$.
You can reach the atoll within 25 minutes from Male International Airport. Another option is to take a Domestic Flight to Maamigili Domestic Airport in the Maldives, then a Private Speedboat transfer to reach South Ari Atoll, Together with the journey costs around 380-400 US$.
Faarafushi, Maldives
By Amandine Hach from Les berlinettes
In 2019 opened the latest resort of the Maldivian brand Universal Resort is Faarafushi. Situated in the Raa Atoll on a lush island. I went to several islands in the Maldives, but I think Faarafushi was my favorite of them all. I stayed in one of the Ocean Retreats with Pool Villa.
The villas are a mix of great Scandinavian design elements and local designs such as handmade pillows with Maldivian prints. Even though you have a pool and direct access to the ocean from your villa, there are still plenty of things to do on the island so a honeymoon doesn't feel long at some point.
Although the island is very small, there are a total of four different restaurants and a bar on Faarufushi. One of the most favorite bars and restaurants are "Eclipse" and "Boli" as they are located directly on the ocean. It is the BEST place for a drink while watching the sunset or for the most romantic dinner. The food is of very high quality at the resort. Especially at Eclipse, the dishes are worthy of a gourmet restaurant.
For even more relaxing moments for two, you will be seduced by the most beautiful spa I have been to: Nika Spa. Nestled in the island's green, you can enjoy spa treatments for two and yoga practice every morning! This makes Faraafushi the best place in Maldives for honeymoon! What would one need more on a honeymoon?!
Kandolhu, Maldives
By Alexander Waltner from Gourmandtrotter
Kandolhu is one of the smallest resort islands but it's also the most flexible, compared to the size and activities available on the Island. You can walk across the Island in just 10 minutes, but there are still several restaurants to choose from and lots of fun activities for the whole family.
The reef outside Kandolhu is full of life and you can see several types of fish swimming by. If you're lucky, you can also spot turtles who are often hanging around Kandolhu island. As for accommodation, you can choose between a standard villa on land or one of the water bungalow villas. Either choice is great, but if you're looking for that iconic Maldives experience with overwater bungalows, choose a water villa at Kandolhu, it's well worth the extra price, one of the best Overwater Villa in the Maldives for a Honeymoon.
The privacy is really nice and it's a lovely place to go on a honeymoon. Most guests are couples who are coming here to enjoy the romantic vibes or sip on some tiki drinks while enjoying the endless white beaches and turquoise water. I recommend staying for at least one week and trying each of the different restaurants that are included if you're choosing a package where meals are included.
How to Reach: To reach Kandolhu, you can take a seaplane from Male Airport, which is the most convenient way to get here. Some packages include the seaplane transfer, and then the resort will also help guests to book the seaplane transfer with their arrival and departure at the international airport in Male.
Maagau Island- Baglioni Resort Maldives
By Abi King from Inside the travel lab
Maagu Island rounds up some of the best things to do in the Maldives into one, glistening teardrop island. It's home to the gorgeous Baglioni Resort Maldives, a luxury hotel of Italian origin and a keen commitment to local, authentic tourism practices.
And so, you'll find a cool combination there. Italian cooking classes, Frette handmade bedlinen, and Indium in the spa. But also, great diving, Maldivian food, and local excursions along with the 96 beach and over-water villas.
Speaking of that dive club, you can take beginner PADI lessons or turn up and hire a boat if you already have the right qualifications. Non-divers can snorkel and swim near the shore or ride by motorboat for half an hour to a great coral reef. Also, you can kayak and paddleboard, play tennis, swim in the infinity pool, and take yoga classes at dawn.
The closest local island is Rinbudhoo Island where many staff and their families live. It's around a twenty-minute boat ride to stroll among the palms and get a taste of real island life in the Maldives. Legend has it that a jewel thief was banished here centuries ago by the Sultan at the time. He brought his skills with him and now the island of Rinbudhoo has a reputation for silverware that's fascinating to watch.
How to Reach: You need to take a seaplane to reach Maagu Island. The journey takes around 40 minutes and the transfers are arranged by the resort.
Best Local Islands in the Maldives for Honeymoon on Budget:
Gulhi
By Alissa & Mark from Mount Adventure Club
Maldives honeymoon brings to mind expensive resorts with overwater bungalows and many-starred restaurants. The price of entry is steep to one of the world's most amazing atoll groups. But it doesn't have to be – We found a little piece of Maldives heaven where the water is impossibly blue, the people are warm and friendly and your honeymoon can be as active (or not!) as you want it to be.
Gulhi is not a typical Resort Island in the Maldives but a local island, only open to tourists for the last 10 years, still keeping to its authentic Maldivian working island roots. While the prices are much (MUCH) lower than your average resort, it's still totally possible to have the classic Maldivian, tropical paradise honeymoon.
Gulhi's bikini beach is a gorgeous long stretch of sand with loungers and umbrellas freely available. Shallow, clear water extends out from here, a little further out and you'll find some incredible snorkeling straight off the beach. It's up there with the best we found in all the Maldives. You could easily spend 10 days here without leaving this beautiful beach (ask us how we know).
But if you're after something a bit faster paced, diving, jet skis, wakeboards, surfing, it's all here. Plus your guest house can organize day trips to nearby, slightly busier Maafushi, the affectionately named booze boat (local islands are alcohol-free), or even one of the nearby resorts for a day. I would recommend the day trip to swim with whale sharks for that mind-blowing once-in-a-lifetime experience.
If you're after that Classical beautiful Maldivian Beach Honeymoon coupled with the opportunity to experience true local culture, Gulhi is the best island in Maldives for a honeymoon.
Where to Stay: You'll find a number of private guesthouses ($70-$130 USD per night). Also, there are many hotels in the Maldives for honeymoon, like The Hotel String Wave will give you an intimate feel and super attentive staff that will ensure that your stay could be amazing, or alternatively Tropic Tree Hotel- their in-house chef creates the best food on the island. (come eat here even if you don't stay here, just don't be in a hurry anywhere in the Maldives!
How to Reach: Gulhi is near Male and takes 25 minutes via Speedboat, charges could be $25 USD  from Male for the speedboat.
Thulusdhoo
By Ruben Arribas from Gamin Traveler
Thulusdhoo is one of the most beautiful islands in the Maldives if you are opting for Maldives Honeymoon on a budget.
There are many things to do in Thulusdhoo Island but the main activity remains Surfing. There are a few spots for surfing and you can also take lessons if you are a beginner. Apart from surfing, there are amazing day trips to visit the sandbank and snorkeling. It's only 15 minutes by speed boat from Thulusdhoo which can give you a Private Maldives honeymoon feeling that too on Budget. You can also go fishing.
On the island, you will find two bikini beaches where you can swim, relax, snorkel, and practice water sports too. There are a few local restaurants on the island where you will find Western food. Alcohol isn't allowed on the island but there is a floating bar boat just 5 minutes ride where alcohol is allowed to drink. If you are looking for a Maldives honeymoon on a budget, consider Thulusdhoo Island as one of the best local islands in the Maldives for a honeymoon.
Where to Stay: Hotel Akiri Surf Retreat is a budget hotel that will make you feel like a local. If you prefer luxury the best place to stay is Season Paradise.
How to Reach: It will take 25 minutes and $30 USD to reach Thulusdhoo from Male airport by speed boat or 3 hours and $3 USD if you prefer to take a local ferry.
Maafushi Island
One of the nearest and most famous local islands of Maldives is Maafushi Island in the Maldives, famous among backpackers and budget travelers. Maafushi island is one of the biggest local islands of South Male is surrounded by white sandy beaches and is famous for water sports activities.
The Maafushi is a hub for many beautiful beachside hotels and you can choose the one according to your Budget starting from 50$ per night. I would recommend staying at Arena Beach Hotel for the perfect Maldives Honeymoon experience! Maafushi has one of the highest numbers of guesthouses which makes it one of the best islands to stay in the Maldives.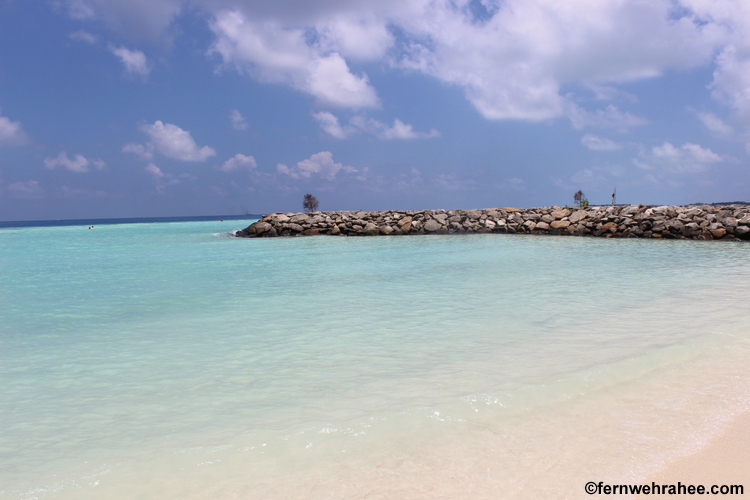 For a honeymoon, you can go snorkeling, dive, and indulge in water sports activities. Also, you can go for an island-hopping trip to nearby local islands. The most famous is the day trip to Sandbank which is perfect to spend time with your loved one on Maldives Honeymoon. You can take a day trip to resort islands without splurging on Private resort islands in the Maldives.
How to Reach: Maafushi is just an hour's speedboat ride away from Male International Airport and it may cost you 30$ for a one-way ride. You can also opt for a local ferry that is available from the Villingli ferry terminal for 5$-7$.
Cost of Maldives Honeymoon
The cost of a Maldives Honeymoon can vary depending on the islands you choose to stay in the Maldives. Another factor is, the Package you choose Half Board or Full Board. If you aren't an avid drinker, choose the Breakfast and Dinner Options.
If you want to do Maldives Honeymoon on a Budget, still you can do under 2000$ if you choose the right time of the year, you can get amazing discount deals. Try to reach the resorts themselves instead of Booing via travel agents. The cost of a Maldives honeymoon also depends on which country you are flying from as flying from the USA will be more expensive.
The Maldives Honeymoon cost can be divided into Flights Cost+ Transportation to the resort Island+ activities and accommodation costs. This is doable from 2000$-5000$ depending on the Maldives island you are visiting, far away islands will cost more due added cost of a seaplane ride.
Best time to Visit Maldives for Honeymoon
There are two seasons in the Maldives – Wet Season and Dry Season. The dry season runs from January to March and Wet Season runs from May to November.
The Maldives is a tropical country and rain can come anytime, so there is no chosen time to Be in Maldives for Honeymoon. But November to March is the highest season in Maldives and if you want to save money, choose a low season to be in the Maldives.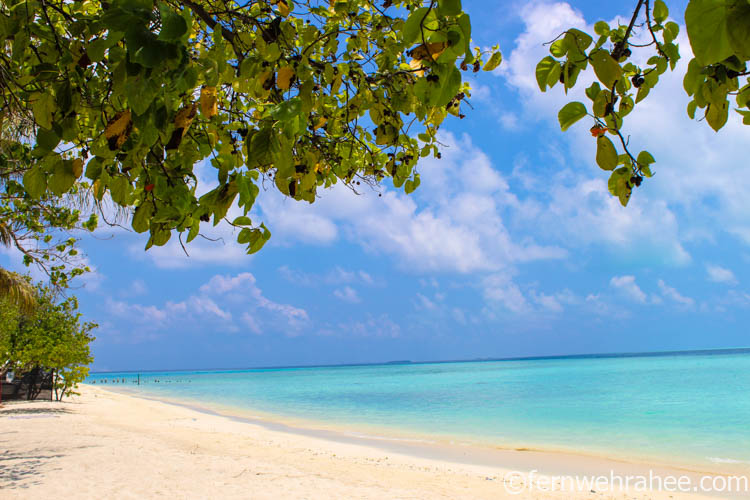 Maldives Visa
Maldives offers Visa-free OR Visa on arrival to ALL the countries for a 30-day stay except Indians who get 90 days stay without Visa. Just a confirmed booking and enough Bank Balance are required to secure Visa on Arrival in the Maldives.
Other Maldives Honeymoon Tips
All the Private resorts and Local Guesthouses Provides Free Wifi for the whole duration of your stay. But if you want to be connected all the time, you can get a LOCAL SIM CARD at the Male airport from Dhiraagu Shop at the exit.
The Maldives Currency is Maldivian Rufiyaa and the conversion rate is $1 USD =15 MVR. You can exchange the money at Male airport. However, USD is widely accepted everywhere. Also during your Maldives Honeymoon, you will stay at Private Resorts which accepts Credit Cards, and your daily expenses will be added to your Room charges.
Maldives is Paradise Place for Honeymoon and you would love to stay here for more than a week. If you are flying from the USA or Europe, I will recommend staying for more than a week as you will need a day to just relax and recover from jet lag.
If you have more than a week, go for island hopping in Maldives as every island is different and offers breathtaking beauty. Choose between Local islands and resort islands to experience both sides of Maldives.
In final words, Maldives is one of the best places in the world to take a honeymoon. Wherever you go, you will be surrounded by crystal clear Blue water, white powdery sandy beaches, and beautiful marine life which makes the Maldives a perfect Place for honeymoon.
If you like this Post of Best Islands in Maldives for Honeymoon, Pin it!!