Top Things to do in Rameswaram-Temple Town of Tamilnadu
Rameswaram OR Rameswaram Island – One of the ancient town in the state of Tamilnadu in India. If you don't know Rameswaram is an island connected with mainland India via Sea Bridge. I was Planning my South India trip since last many years, but it couldn't figure out in the end due to one or other reason. But this time I could visit so many south Indian destinations from my bucket list. Rameswaram is famous tourist Place due to ancient Ramnathswamy Temple which has religious significance. Though Rameswaram is famous for temples but there are many things to do in Rameswaram even though you are here just for a day.
If you are in Rameswaram for religious Purpose, you can visit the famous temples in Rameswaram but if you are here for scenic beauty of Rameswaram Sightseeing- head to Dhanushkodi – a beach Town. In this blog I am sharing the list of Places to visit in Rameswaram and famous temples in Rameswaram.
Rameswaram History:
Rameswaram means an abode of 'Lord Rama' according to Hindu Mythology Scriptures Ramayana. According to puranas, upon advising by sages, Rama along with his wife Sita and Brother Lakshman installed and worshiped Lingum of Lord Shiva to expiate the sin of killing Ravana by Ram. The Lingum made by sand of the shores and this Lingum is still believed to be in the sanctum of the temple. Also, this is the place where Ram Setu was built by Vanar Sena to mainland Lanka(today's Srilanka). They built it by floating stones to reach Mainland Srilanka. If you see the map, Srilanka is just 48 kms from Rameswaram. There are important Places in Rameswaram which are giving look into the journey of Lord Rama while he marched with his army towards Srilanka. Now a days, Large part of history is contained in this stones and temples. This is the reason, Rameswaram is considered to be the holiest Places to visit in India for Hindus and part of Chardham Pilgrimage.
Before my trip to South Indian state of Tamilnadu, my mind was flooded with so many questions like language barrier, No proper Meals unlike Dosa,Idlis and mostly about transportation issues. But after visiting Chennai, Kodaikanal etc, I can proudly say that adding Rameswaram in my itinerary was good decision. Even though it's a temple town; my heart wanted to visit colorful Ramnathswamy temple of Rameswaram. My sole purpose of visiting Rameswaram was to visit Dhanushkodi and Ramnathswmy Temple.
How to Reach Rameswaram:
By Air: Madurai is nearest airport which is 150 Kms from Rameswaram. You can take Taxis from outside the airport which takes 3-3.5 hrs reach Rameswaram from the airport. The roads are in excellent conditions.
By Road: Rameswaram is well connected by road with major cities of South India.There are plenty of Buses which run between Madurai and Rameswaram from Arappalayam and Mattuthavani Bus stand of Madurai, You can book Madurai to Rameswaram bus via TNSTC or vice versa. Apart from this, there are many Private buses you can book online via redbus,Goibibo,Makemytrip etc. Also you can book overnight Luxury buses that runs between major cities like Bangalore,Chennai,Trichy etc.
By Train: Rameswaram being important Pilgrim Place;it is well connected by train network from all major cities of India. There are 3 direct trains that run from Madurai to Rameswaram. You can book trains in advance via IRCTC.
As Rameswaram is not a Big Town, it is Popular weekend Gateway from Chennai,Bangalore and other Parts of Karnataka and Tamilnadu. As I reached Rameswaram in the afternoon while Passing through Palm fringes, small villages dotted along the highway and then I came across cool sea Breezes where Rameswaram Town starts – I instantly fell in Love with the small town!
Also Read: Stunning Architecture of Modhera Sun Temple Gujarat
Here I am taking you to the famous Places to visit in Rameswaram and things to do in Rameswaram in a day.
Pamban Bridge – Manmade Wonder:
If you are coming to Rameswaram by Car or by Bus – then only way to access the Rameswaram island is via Pamban Road Bridge known as Annai Indira Bridge. If you are coming to Rameswaram via train, then you will cross iconic Pamban Bridge while sitting in the train.
Earlier, the Pamban Bridge was one of its kind ,the longest sea bridge in India. In the end of 90's, new Sea Bridge was constructed parallel to Pamban Bridge known as Indira Gandhi Road Bridge. From the Road bridge, you can get Best Views of the Pamban Bridge. Pamban Bridge is a Railway Bridge that connects town of Mandapam in mainland India to Pamban island and Rameswaram.
Pamban Bridge was built by Britishers and normally looks like conventional Rail bridge but there is a bascule in midway which can be raised to pass through the ships and barges. Rameswaram Pamban Bridge is one of the famous Places in Rameswaram. As you reach National highway, where road bridge starts; you will see many tourists on both the side of the bridge clicking Photographs.
The traffic on the Indira Bridge seems crazy at any time of the day due to National Highway and you may see Police officials who tries to control it. You will always see tourists clicking photographs with iconic man made wonder Pamban Bridge in the Backdrop while ignoring the Officials. Vehicles are not allowed to Park on the bridge, so you need to walk the the whole Bridge while your Car/Bus will wait at the topmost point of the Bridge.
If you are adventurous soul, you can ride a train from mainland Mandapam to Pamban/Rameswaram. The train literally moves over the water level of the sea and you can feel the gushing waves in the train compartment! The train ride from Mandapam to Rameswaram is kind of once in lifetime experience! Due to restricted time, sadly I couldn't ride the train. But I admire the beautiful sea views, stunning man made wonder Pamban Bridge and stunning sunset while standing on the Road bridge !! I was lucky enough to capture the shots of train moving over the Sea; perfect timings!
A.P.J. Abdul Kalam Memorial, Rameswaram:
The Late President and renowned scientist of India, Abdul Kalam Azad was born and raised in Rameswaram. The memorial is recently built around the grave of the former president. This place is located on Rameswaram-Dhanushkodi Road, few kms from Pamban Bridge. This Place serves as a historical museum in the memory of late President. Beloved President's teachings live through this Place. You can see here Dr. Kalam's life how he imerged as a sceintist,his achievements and his journey of Being President including the Pokhran nuclear test as a scientist. There is a display of replicas of rockets and missiles that our late President worked on.
The APJ Kalam Memorial remains open from 10 AM- 7 PM everyday. Photography is not allowed inside the museum. You need to walk barefoot inside the monument. As our beloved President was famous among everyone, one should not miss this important Place in Rameswaram sightseeing during your trip.
Vivekanand Memorial & Kunthukal Beach Rameswaram:
Another memorial in Rameswaram of Great Leader and Social Reformer- Swami Vivekanada known for his historic speech delivered in Chicago,USA in 1893. The Memorial is stunning Orange Colored structure just beside the Sea. The memorial is more kind of Museum which depicts life of Swami Vivekanada and his connection with Rameswaram. There is a statue of Swami Vivekanada, a photo gallery showcasing his life history and small Meditation hall.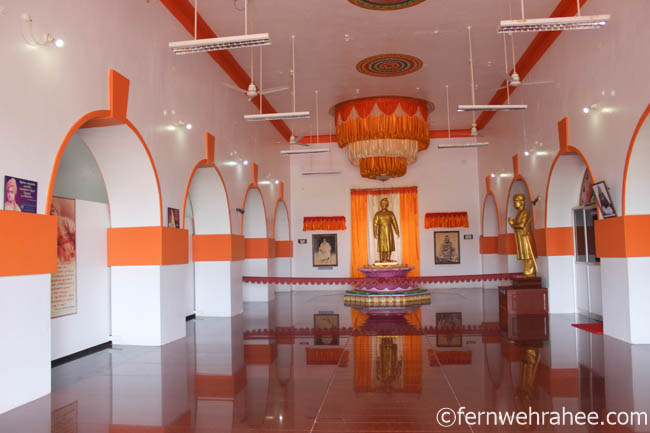 The best Part about the Memorial is stunning beach known as Kunthukal beach which is located beside the Memorial. Perhaps the location of this Place made Swami Vivekanada to stay here and to meditate. This is kind of secret and offbeat places to visit in Rameswaram. The serenity of this place makes it surreal.
APJ Abdul Kalam House Rameswaram:
I arrived to Rameswaram late afternoon and I ad one full day to visit famous Places to visit in Rameswaram. So next day afternoon, before visiting Dhanushkodi, I first stopped by APJ Kalam House- former President's House. As President was Born in Rameswaram; his house is now Prime attention for tourists in their Rameswaram sightseeing itinerary. The house of great Missile Man is located at Mosque street which is now restored and converted into the Museum. The multi storied house is maintained by his relatives. Here you can see precious awards he received as an honor by serving in the defense of India including Bharat Ratna and Padma Bhushan.
Take a bath in Agni Theertham:
Rameswaram is home to many Prominent theerthams and temples. The word Agni means 'Fire' and Theertham means 'Holy Water'. According to Hindu Mythology, it is said that if you take a bath in holy water, you can atone your sins; this may be true or Not … But so there is a tradition among Hindu's for scattering their loved one's ashes into the holy water.
Agni Theertham is one such Place in Rameswaram which is most important theerthams for devotees located by the Bay of Bengal. As Rameswaram has No River, this is the theertham that is stretched by the Sea. Agni Theertham is located on East Side Gate of Ramnathswamy temple and it is only theertham that is outside of the temple complex!
As Legends say; Rama along with wife Sita visited this Place after conquering Ravana while returning from Sri Lanka. The interesting Part about this stretch of beach is that it is relatively calm here! This makes it ideal to take holy dip for devotees. There is a popular tradition to take bath in Agni Theertham before visiting Ramnathswamy temple; it remains crowded throughout the day due to one of the important places in Rameswaram for devotees. I have stayed near Agni Theertham, I casually walked here 2-3 times just for good vibes; sunset and sunrise is good time to capture it.
Visit Colorful & ancient Ramnathswamy Temple, Rameswaram:
Ramnathswamy temple stands just a short walk from Agni Theertham which is a Shiva Temple and most revered Jyortilingas Shrine for Hindus. The road to the temple is full of Sadhus, vendors and shops. There are plenty of Lockers available near the temple to secure your shoes,Purse, camera and other valuables as you are not allowed to enter with them.
As per Hindu mythology, Lord Rama Prayed here to Lord Shiva for forgiveness of his killing Ravana. Rama sent Hanuman to bring Linga from the himalayas but hanuman delayed it and in meantime Sita built a shivlinga from beach sand. Thus this temple has Two Shivlingas.
According to history, present temple is built around 17th century. The temple has two Gopurams – one in the East and other in West;there are four entrances but East gate remains crowded as devotees enter the temple after taking a dip into the Agni theertham. The Ramnathswamy Temple is famous for its Longest Corridor in the World with 1000 Pillars; yes you heard it right!! This is why it is one of the famous temples in Rameswaram or one can say famous temples in India.
As you enter the temple Complex, you will first directed towards sacred 22 temple Wells. There is a small fee of INR 25 needs to pay at the counter.These are sacred wells and devotees take bath with holy water from all these wells. It is to note that you can not enter the main temple area with wet clothes; it is advisable to carry fresh dry clothes with you in a small Bag.
After bathing ritual, you will cross famed 1000 Pillared Hall of Ramnathswamy temple which is recently colorfully Painted. My only Purpose to visit the temple was to witness these colored Pillars! How those amazing architecture existed hundreds of years ago!!
After the darshan of Main Shiva Shrine, you can just roam inside the huge temple complex.You can find many shops inside the temple who sells Conches,fridemagnets,beads etc.
You don't need any Guide/Pujari to book Darshan or anything. Please beware of the scams for Darshanam. But if you want special Pooja, you can book it inside the Shrine.
Visit Holy Theerthams/ Holy Wells in Rameswaram:
There are total 64 Holy wells known as Theethams in Rameswaram spanned across the Town while 22 of them are inside the Rameswaram Temple. Few of them are well maintained and others are in dilapidated condition. As taking Bath in holy water considered as stairway to moksha OR it stops your entry to the Hell!
Also few of these theerthams are connected with the life of Rama and they are important Places in Rameswaram- Rama Theertham, Lakshman Theertham, Villoondi Theertham. You can easily navigate these places on GPS. All these temples has history connected with Ramayana.
Rama Theertham- It is said that Rama had stopped at this spot during his march towards Srilanka. He took his bath here in the tank that existed today.
Lakshman Theertham– As its name suggests it is believed that Lakshman took bath here before offering Prayers to Lord Shiva(lingum). The temple is built around this Shivlingum.
Villoondi Theertham: One top things to do in Rameswaram was visiting Villoondi Theertham; not because I am religious but this place has an interesting story! Legend has it that when Sita was thirsty; Ram took his bow and pierced the ground with the arrows and sweet water emerged from the ground right next to the Salty water of the sea! Today also you can see a well at the same spot where water had sprung up.
The beach at the Villoondi Theertham is beautiful with clean waters. The water here is very calm and perfect for swim. This is the reason it is one of the best places to visit in Rameswaram.
See the Floating Stones at Panchmukhi Hanuman Temple:
Panchmuki Hanuman temple has black stoned big Statue of Lord Hanuman with five faces. Legends says that to kill Mahiravana[Ravana's brother]; he was supposed to extinguish all the five lamps at the same time which were burning in different directions. So to kill Mahiravana and save Lord Rama and Lord Lakshman; Lord Hanuman took the form of Panchmukhi Hanuman and put out all the lamps at the same time.
Another major attraction of this temple are 'Floating Stones' that kept at the temple. These stones were used to built Ram Setu to reach Srilanka from Rameswaram to rescue Goddess Sita. Due to its connection with Ramayana, this is one of the famous places in Rameswaram. I don't know about those facts, but floating stones made me amused- possibly one of the wonder by God or may be some scientific reason behind it!!
Visit the Ghost Town – Dhanushkodi :
Don't be scared hearing the name 'ghost town' , there are No ghost stories of Dhanushkodi. One of the most famous Places to visit near Rameswaram is Dhanushkodi apart from visiting Rameswaram Pamban Bridge. Dhanushkodi is located 20 Kms from Rameswaram main town and considered as most breathtakingly beautiful town. It is tip of Rameswaram island ; and just 24 Kms from Talaimannar of Srilanka! Technically it is possible to reach dhanushkodi to Srilanka, but sadly No transport options available!!
Bordered by the Bay of Bengal on one side and the Indian Ocean on the other, once Dhanushkodi served as an important Port for traders and Pilgrims due to its close Proximity with Srilanka. This shows Dhanushkodi's rich history but everything is ruined now, the cyclone in 1964 destroyed everything! What remains now is just ruins of bygone era and sandy shoreline with flooding tourists who come to visit Rameswaram.
You can see now a days fishermen's huts who stays for a living; they sell fresh sea food items. Also you will come across few stalls on the road side where locals sells souvenirs. After 5 PM nobody is allowed to stay in the town, all the tourists have to leave the town due to the safety measure. This is the reason it is named 'GHOSTTOWN'. Even there are ruins of Dhanushkodi railway station, churches too!!
Apart from this coastal charm, Dhanushkodi is unique Place to visit is due to 'RAMSETU'. Dhanushkodi is believed to be a place where Rama ordered Hanuman to built a Bridge(Setu) to reach Srilanka where demon Ravana kept Sita. As per his order, Hanumana built Ramsetu by floating stones with name of 'Ram' on each of them. On the way to Dhanushkodi, there is a Dhanushkodi Temple named as Kothandaramar Temple dedicated to Lord Rama; despite everything destroyed in 1964 cyclone, this temple was only structure to survive the cyclone. Due to its historical importance, it is one of the important places to visit in Dhanushkodi.
If you are leisure traveller, you can visit the long stretch of bluish Dhanushkodi beach. It is paradise for nature lover and sunset is surreal.I don't know much about the truths but certainly Dhanushkodi is the Place with history,mystery and unparalleled beauty.
So, if you are in Rameswaram for a day or two; you can easily cover all above important places to visit in Rameswaram easily.
Practical Tips Before Visiting Ramnathswamy Temple:
Here is the step by step rituals & Rameswaram Temple Guide to keep in mind before visiting Rameswaram Temple:
** Rameswaram Temple Timings: Morning 5 AM to 12.30 PM and Afternoon 3 PM to 8 PM
1. first take holy bath at Agni Theertham.
2. After bathing, enter the Rameswaram temple from one of the four gates. East gate would be always crowded as its near to Agni Theertham. I would suggest via Main West entry gate else North gate.
3. You are not allowed to take along any cameras,mobile etc.Bags will be checked at the entry.
4. After passing through beautiful corridors, walk towards 22 Wells bath.Take one pair of Clothes with you in plastic bag so it won't get wet when they pour water on you. Clothes changing facility is available inside the temple.After kund Snan, you can visit temple in dry clothes.Wet clothes aren't allowed.
5. There is a ticket of 25 rs per head for Wells.
6. There is No need of going along with Pujari but if the queue is long then opt for VIP ticket.
7. My ideal time was to visit by 7 PM and morning 8 AM when most of the morning crowd was out.I went 3 times during my visit and I was lucky enough for above mentioned time.
8. Sphatic mani darshan opens everyday morning 5 AM to 6 Am and it is crowded hours, try to avoid this timings for darshan.
9. If you don't want to go for bathing rituals of 22 Wells you can straightly go for Darshan. But I recommend to go ahead with it due to its religious importace else just for good vibes!
Where to Stay in Rameswaram:
Being a Pilgrim Place, Rameswaram offers all kind of Stay from cheap,budget to Luxury stay. There are Hotels,Ashrams, hostels and luxury hotels available in Rameswaram which you can choose according to your preference. I stayed at Hotel Sara near Agni Theertham which was neat and clean, near to the temple. If you have higher budget, opt for Park Plaza Rameswaram.
Getting Around Rameswaram:
There are local Buses that runs at 30 mins interval from Rameswaram to Dhanushkodi. For Rameswaram Local Sightseeing, you can hire an auto for a day at INR 1000- INR 1200 per day. If you have higher budget, opt for a Taxi , but don't forget to bargain before you pay.
This was all about exploring Rameswaram from Spiritual as well historical side!