Weekend Resort near Mumbai- Forest Escapes Koyana
Forest Escapes Holiday Homes,Koyananagar was my one of the best offbeat and weekend resort near Mumbai in Maharshtra. It is easy weekend getaway to beat the crowd of Mumbai. Koyana Nagar is one of the lesser known area of Maharashtra without touching of modernity of the cities. It is full of wilderness and abundant flora and fauna. Koyana OR Koyananagar is hidden Paradise which left untouched by travelers and tourists, yet full of beauty all around. In this Post I am sharing my review about Forest Escape Koyana- Weekend Resort near Mumbai and showing you why it is best weekend resort near Mumbai.
The resort itself is in the middle of forest and atop hill, which gives you quiet peaceful stay.
Where is FOREST ESCAPE HOLIDAY HOME, KOYANA ?
The forest Escapes Holiday Homes is just 7 KM from Koyananagar ,located at Chiplun-Sangli Highway in Satara district of Maharshtra State,India. It is situated on the banks of river Koyana and famous for largest Koyana Dam.The town is nestled in western ghats at 2,448 ft. above sea level surrounded by hills and forest giving pleasant climate through-out the year.
Koyananagar is 340 K.M from Mumbai and 200 K.M from Pune, hence it is easily reachable by road and train.The town is in buffer zone of Koyana wildlife sanctuary which is recognized as Natural UNESCO World Heritage Site. The sanctuary has dense forest with rich flora and fauna. It is home to many species of birds, plants and mammals like bears,leopard etc. Apart from rich biodiversity, it also has 215 windmills atop the hills and many tourist sites with surreal landscapes and breathtaking views.
In monsoon, Koyana offers lovely backdrops of rolling hills with lush green vistas,gushing river on which locals are dependent and adding on to these are milky waterfalls.This can be perfect hideaway from city life and weekend resort .
About FOREST ESCAPE HOLIDAY HOME, KOYANA – Weekend Resort Near Mumbai
As its name suggests, it is really a place where one's mind,body and soul will relax and become one with the nature. My first impression on reaching the property was finding a luxury with all modern amenities in the small town Koyana and that too in the middle of forest.It is perched on the hill top which offers spell bounding views.
I stayed here for 2 days and had the stunning views from different side of property; like from my room balcony, from the other side of the resort and from the restaurant.The property is amidst forest and hence it is perfect retreat for animal lovers and bird watchers. Also it is very near to all sight-seeing places near Koyananagar in the silence of small town.
About My Stay: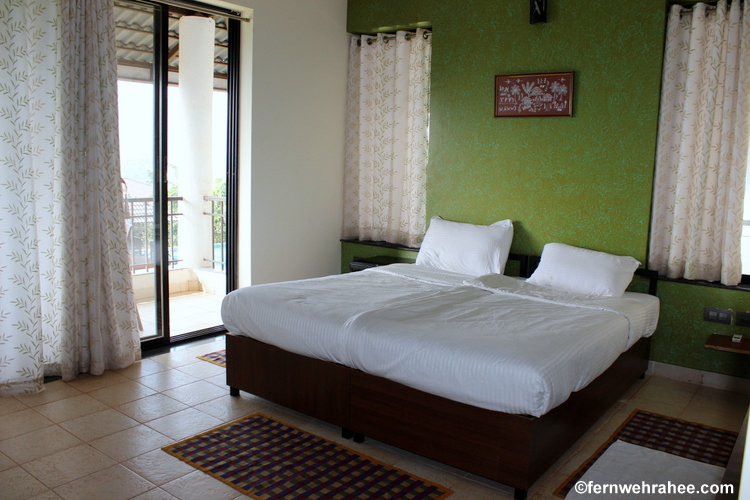 I stayed at Deluxe room with large sq.ft. area and large balcony. The room had comfortable twin bed with LED TV. The room was spacious enough to accommodate one extra bed too. There was enough space for storage with racks. The interiors of the room was elegant too. The rooms are at uphill, so it gives the best views of the surroundings. The room also had good air conditioning.
There was 24 hrs hot water facility and bathroom of deluxe room was also spacious. My favorite place in the room was Balcony.It offers scenic views of running windmills and river koyana. I spent my mornings and evenings in the balcony with changing colors of the sky with hot cup of tea. The mornings were misty and sunset was with surreal colors of dusk.
The Deluxe Room has an added advantage – View of an infinity Pool from the Balcony. The infinity Pool offers the views of the hills and mountains to die for!
During my stay at the resort, I witnesses the changing seasons from a clear sky and sunny day to rainfall and cloudy sky…But from all above, what I loved was reconnecting with nature and experiencing serenity and peace.There was ubiquitous silence in the air with cool breeze. I woke up with clouds and mists surrounding the place, there was soulful music in the form of chirping of birds and humming of insects; this is the enough reason to be back with the circle of life and nature.I can proudly say, Forest escape is perfect Nature Resorts near Mumbai.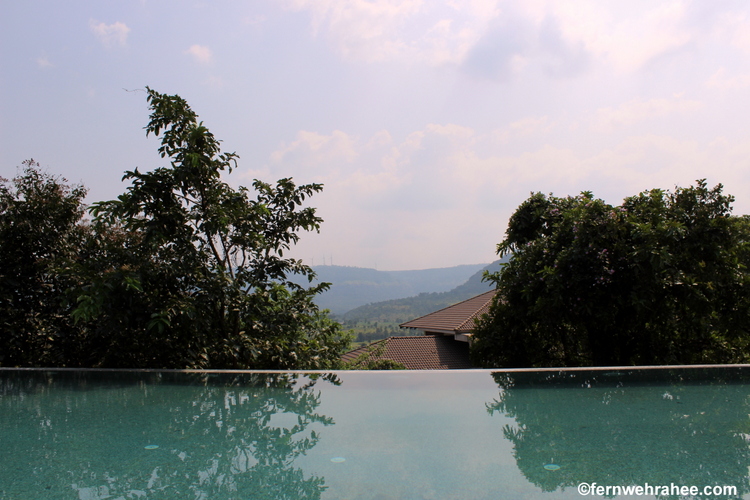 Also, this place has No internet connectivity which means you are completely off from Mobile data and it serves as perfect digital detox. The place is absolutely enchanting….! It gave me time to reconnect with myself. If you are looking for good resort near Mumbai for family stay, Koyana Forest Escape is perfect weekend getaways from Mumbai.
Also Read: Monsoon Places to visit in Maharashtra
The resort has rooms ranging from Standard Room(Non AC Rooms),Deluxe Rooms(Large AC Room with Balcony which opens to infinity Pool), Luxury suits( comes with Living Room and huge sit out overlooking nature and the swimming Pool) , Jacuzzi Villa(2 BHK Villa with Private Pool which is under open sky), Pool Villas(2 BHK Villas with Kitchen, dining area and Personal swimming area which is perfect for 4 people's stay) and Forest Villas (3 BHK Villa which comes with living area, dining area and huge sit out and big Swimming area which is perfect for family of 6). I must say Jacuzzi Villa is perfect for couples and Koyana resort seems Perfect weekend Getaway near Mumbai for couples.
All the rooms are very clean, spic and spanned across huge area of the resort. It took more than an hour for me to have a look at the property. I checked different categories rooms and all the rooms have classy interiors. They also kept in mind of using local products like teak wood and stones for designing furniture and interiors. You can choose one according to your style and budget. For me , This Place was one of the good budget resort near Mumbai.
Dining and Food:
Apart from spell bounding views and comfort the resort offers, there is one good reason to stay is – incredible yummy food. The dining area was spacious enough to accommodate so many people at a time.The restaurant of the resort "KOKAM" offers romantic setting overlooking river Koyana and mountains. It serves lavish continental and Indian dishes with buffet spread for breakfast, lunch and dinner.
The dishes they served come with local flavors and with local maharshtrian ingredients. I enjoyed my vegetarian spread – from Mataki Usal, Paneer dishes to local bhajis and Jowar Rotis. The desserts also excited me from Halwa, Savaiya to pudding and ice creams. I loved buffet breakfast at my room which came with so many options to choose from like Bread Butter,Aloo Paratha,Poha, Omlette, fruits and sweets too.
The dinner was also tummy filling with soup, curry and sweets to choose from. I also had local drink 'Solkadhi' which is mix of 'Kokam and coconut milk' and tastes like buttermilk. I was impressed from the chef- Sushilaben who is one of the local and who knows how to satisfy the taste of the guests with modern and local cuisines. Above all, I was amazed that at the resort – in a small village amidst forest in Koyana was offering this luxury of eating.
They also offers 'Barbecue' in your room with music. There are many options for Non Vegetarians too from chicken,mutton, fresh fish and fresh crab.
The Hospitality and Staff:
The Forest Escapes Holiday Homes offers amazing hospitality. The people were incredibly warm and welcoming. I had few conversations with them and they seemed responsible and very attentive. It was nice experience to know about their culture and knowing about their simple lifestyle.
Ayurveda SPA :
The resort offers relaxing environment and it houses Spa center. After exploring nearby sights, you can take body spa here to relax your mind and body. I had back massage therapy here which was good that too at nominal rate.
Things to Do at Forest Escapes Koyana:
Though Koyananagar is small town, it offers so many sight nearby.On first day, I did sight-seeing around Koyananagar.
My first stop was viewing Koyana Dam. It is 5 kms from the forest escapes and is one of the largest hydroelectric projects of India. It forms reservoir named Shivsagar Lake. It offers one of the amazing visas of surrounding hills.
My next stop was Humbarli waterfall. The Koyananagar is the best place to visit in monsoon as so many small and big waterfalls get formed around. It is located at height which offers views of hills and koyana dam.
After that we reached at one of the view point named India Point View. It offers the Koyana reservoirs map like India and offers views of the village and hills surrounding it. It was one of the spectacular sites.
The next stop was Ozarde WaterFall – One of the must visit place in Koyana. The waterfall is one of the tallest and has tremendous water flow. It requires half an hour trek to reach at the base of the waterfall. It is good activity for trekkers.
After admiring the beauty of Ozarde, I reached at Koyana River. The river water was calm. It is one of the cleanest river of Maharashtra. I spent few hours between serenity at the banks of Koyana. As water was so crystal clear, I walked inside the river and experienced some pebble therapy. After having such amazing experience by the river, my whole stress of the pending work and travel gone away. One can also enjoy fishing and river camping.
The next day was all about experiencing the Forest. I woke up early and got ready for Bird Watching. The resort is bird watcher's paradise. The guide from resort took me along other guests to a forest trail. We spotted so many species of birds like Red Whiskered Bulbul, Green Barbet, Wild Mena, wild sparrow, Golden oriole among so many others. You can also spot wild animals like bison, tiger, and leopards by taking safari through Koyana Sanctuary.
One of my favorite activities here was Chasing Butterflies. I saw many species of butterflies in the resort campus, tempted me to capture them on my camera. I highly recommend taking a walk around the resort campus. This will feel your lungs with oxygen and will enhance your experience. My mornings spent in chasing butterflies and walking around the forest which was enough for a day exercise and being fit without gym. I can proudly say, Forest escape is Perfect getaways near Mumbai.
Other recreational activities:
The Forest Escapes Holiday Homes spanned across huge area and it has so many activities to choose from for everyone like:
Huge Children Play Area
Library
Indoor Games
Walking tracks in the forest
Camp Fire at the Koyana River
Extras:
Visit Grannary – the local product store at Forest Escapes Koyana is an exclusive boutique of local products that supports the rural communities. The Products featured here are mainly from local farmers, women self help groups etc. They also showcase local artisans work. One of the best products is Forest Honey which is collected by certified beekeepers from the lush forest of koyana and bears medicinal properties. The purchase from here will help in promoting rural products of Local People. I bought few products as souvenir to help the locals. Also the resort has small nursery where you can buy Plants for your house garden.
Verdict:
I had wonderful stay experience at Forest Escapes Koyana. This was one of the best offbeat experiences till date which is undiscovered by many travelers. It is best weekend Gateway to experience serenity from bustling city life of Mumbai and Pune. The serene ambiance, cool and fresh air rejuvenates your soul and senses. It is one of the pollution free Place and perfect retreat for being one with our mind and body.I highly recommend to stay here for 2-3 nights to give justice. I can say it is not one of the 5 stars resort near Mumbai but I can proudly say it is Best Holiday resorts near Mumbai.
How to Reach:
Koyananagar is well connected by Road. MSRTC Non AC buses ply from Mumbai,Pune,Karad and Chiplun to Koyana. The other option is to take a train to Chiplun/Karad and then Bus to Koyananagar.
Best time to visit:
Koyana , located at the height of 1200 meters above sea level amidst dense forest creates a pleasant climate throughout the year. However, June to March is best time to visit with max temperature 28 ºC. Winters are pleasant and it offers wildlife spotting, summer is best for camping and monsoon is the best time to unwind with lush green nature.
If you are looking for best weekend resort near Mumbai, Book here: Forest Escapes Holiday Homes Koyana
P.S. As a travel blogger, I was invited by Forest Escapes Holiday Homes Koyana to experience their hospitality. However, all opines are my own.