Holiday Inn Express Ahmedabad Prahlad Nagar Review – Luxury on Budget
Ahmadabad is the largest city of Gujarat and seventh most populous City of India. The city itself is "UNESCO World Heritage City" whose history is dates to 11th Century. The charm of Ahmadabad is in its 'Pols', street food culture and famous for its textile business. For travelers like me it is treasure trove of history and architecture. Being Gujarati and residing in Surat (4 hrs. away from Ahmadabad), it happened many a times that I transited through Ahmadabad but never had a chance upon visiting through the eyes of traveler. The People of Gujarat are famous for their kind and peace-loving nature and Ahmadabad is no exception.
Ahmadabad is well connected by air, train and road with other parts of India. It was former capital of Gujarat and therefore it is a popular business hub too. I wanted to visit Ahmadabad since long but couldn't travel it through the eyes of traveler; but this time I took chance and went for my stay cation. There are many hotels spread across the city and I stayed at Holiday Inn Express Prahlad Nagar for two nights and I am writing review about my stay. Its located near the popular S.G. Road known to be heart of the city. The entire crew at Holiday Inn filled my heart with so much joy and care that I would like to stay again with them.It is also near to old city and Ahmedabad railway station too.
The Location:
The Holiday Inn Express Prahlad Nagar is located approximately 18 Kms from Ahmadabad International airport and 11 Kms from Kalupur Railway Station. The airport is in outskirts of the city, but you will not find much traffic due to excellent road condition in the city. You can reach to the Holiday Inn within half an hour from railway station and approx. 45 minutes from the airport. As I said it is located off S.G. Highway which is prime attraction of the city. The hotel is well surrounded by small tech companies, malls, shops and famous food joints on both the sides. It is near popular business parks which are into textiles and IT. This can be the best location for business travelers. The location is easily accessible, and one can reach to city center and old city conveniently.
The Hotel:
The Holiday Inn Express Prahladnagar has beautifully designed 132 well-appointed rooms. Be it business, solo traveler OR family vacation they will fulfill all your needs with express services. The hotel has deluxe and twin rooms which are perfect for family too. They also have two business conference rooms in theater style setting with 24-28 Pax capacity and it can be utilized 24*7 hrs. for your meetings. Hence, you won't need to wait for your meetings!
The Rooms:
The rooms at Holiday Inn Express Prahladnagar are divided in the categories as, basic double room, superior double and twin room. They also have a queen room with mobility access. Each room has a Big TV and complimentary access to high speed internet throughout the hotel premises. The rooms are designed such that space is effectively utilized to create luxurious ambiance. I loved the classic decor and elegant design of the rooms. The hotel has 10 floors and you can have views of surrounding area and tall buildings. It gives immense visual treat to see them during night when area is lit up. What I most loved about the rooms are choice of 'soft' and 'firm' pillows which are not available in most affordable hotels.
I stayed at queen room which was nicely done with a queen size bed. As you see, in the room you are greeted with complimentary tea/coffee. The rooms are well equipped with minibar to stock as per your choice. It has safety Locker facility to store valuables when you travel around. Though it is an express hotel, they designed rooms in a way that can accommodate every travelers need and one such facility is desk space to work with charging facility. The work space is comfortable with efficient utilization of one's need.
The rooms had separate bathroom and toilets, which I never find in any budget category hotels, but holiday Inn Express stands out exceptional here. The washroom and bathroom were tidy and clean with all modern amenities and complementary toiletries. The comfortable bed with controlled room temperature made my stay experience here make more memorable one.
The Services:
The holiday Inn Express can be good stop for your business and solo travel needs. It is the best suitable place to reside in, if you are in the city for more than 2-3 days. Apart from providing business meeting space; they provide self-laundry facility for guests who are travelling on budget. It's kind of home away from home. You can easily do your chores without paying extra and they have separate areas for washing and drying the clothes. Also, the area is equipped with TV and AC. If you don't have time to do self-laundry, worry not they provide laundry and ironing on request with minimum charges.
While the hotel has separate sections for all different needs; it also has small Gym area to keep you fit while you are away from your routine fitness schedule. The Gym can be utilized 24*7; Sounds good isn't it?? The hotel managing all these with express services, is commendable.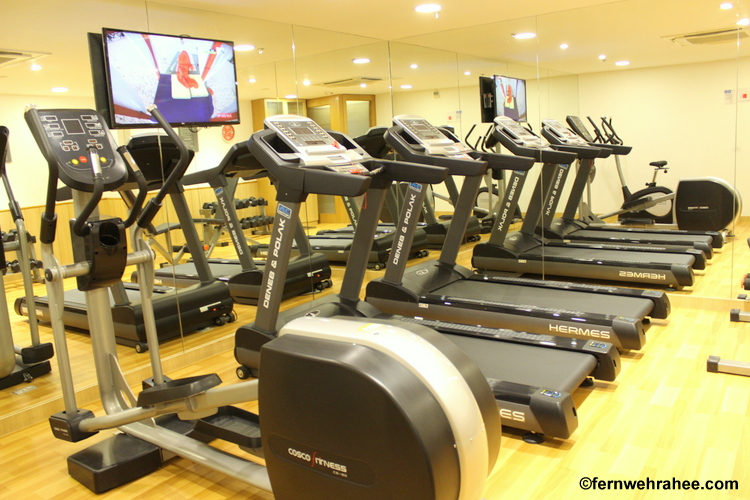 The Food and Dine area: 
Food remains always integral part of my travels and while staying at HIEX; you will spoil by choices. They have dining area which serves Indian and Continental food. The ambiance and decor of restaurant was simple yet classy. The restaurant has quick bite and refreshment facility 24*7 hrs. The room rates include complimentary breakfast while Lunch/Dinner is available on request.
As it is an express hotel; the dining is al carte menu with in room dining concept. They serve you till late at night in your room. If you are busy in sightseeing or in meetings; just a call to restaurant can fill your tummy with your choices of food.
During my stay at Holiday Inn Prahlad Nagar, I had breakfast and dinner at the hotel. I loved mix of Gujarati, North and south Indian spread with fruits in breakfast along with continental breads and sweet cakes.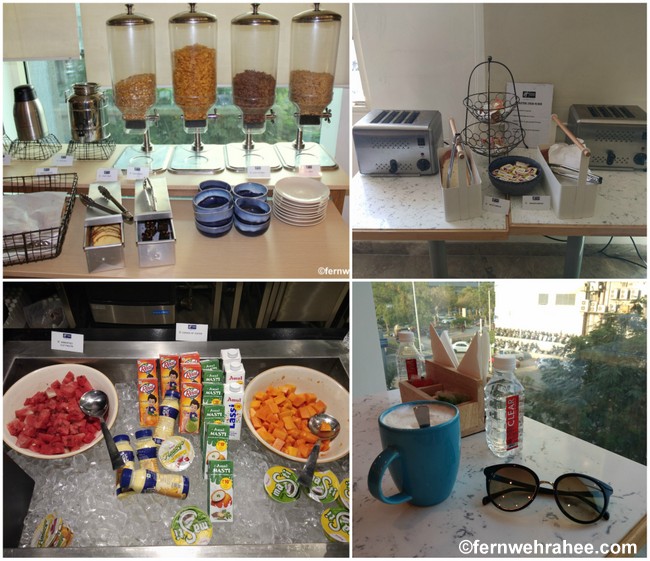 The counter also had ample non-veg/egg items if you are non-veg food lover. They also serve Masala tea and coffee to their guests which I badly need every morning and evening.
One thing about the hotel that goes extra mile in serving is about 'GRAB n GO' option in breakfast. On the day of my check out, I had an early morning train at 5 AM and kind folks at Holiday Inn Express handed me packed delicious breakfast to fill my yummy soul.
The Staff:
The staff at Holiday Inn Express Prahlad Nagar is professional, friendly and always ready to help. They always welcome you with smile and ready to ask your need. They will take care of all your needs with care and affection. I had good conversations with Managers, restaurant in charge, receptionist and in-house staff. The staff helped me to explain everything about the hotel and food. I must say the staff at the hotel made my stay more experiential.
Services:
The hotel provides Pick up and drop facility to and from airport/railway station. For business travelers, they offer taxi service to reach your office. Also, HIEX being located at prime location, you can conveniently access Auto/Cabs to reach nearby places which can be arranged by hotel for you.
My Experience:
My experience of staying at Holiday Inn Express Prahladnagar was amazing. It is truly a perfect place to relax and rejoice. I enjoyed my best stay cation here to reconnect and recharge myself. I enjoyed it to the core of my heart. They provided one day city tour around; the driver was professional with good knowledge of surroundings and routes of popular places. Day started with good breakfast, good Wi-Fi, choices of food and comfortable bed with goodnight sleep, offering perfect place to be refreshed and energized every day. It is smart choice for solo and business travelers who are looking for smart and hassle-free stay. It won't fail to impress you. I highly recommend this hotel if you are visiting Ahmadabad either for business or on weekends.If you are looking for budget hotel near railway station with Luxury feeling ,this is best hotel to stay in Ahmedabad.
How the hotel is sustainable??:
Also, the hotel uses Green Engage system, an innovative online environmental sustainability system that gives hotels the means to measure and manage their impact on the environment. It's makes sure they are protecting the surroundings for our guests today, and tomorrow.
How to Book:
Address: Plot No.38/1, Besides Venus Atlantis Prahladnagar, Ahmedabad-Gujarat-380015
P.S  As travel blogger, my stay was sponsored by Holiday Inn Ahmadabad Prahladnagar, however, the views expressed in the post are solely mine and have not been influenced by the brand in any way.