15 Places To Visit In Udaipur In 2 Days: Ultimate Travel Guide itinerary
This post consists of the best places to visit in Udaipur in 2 days along with all the travel information in form of a Udaipur travel guide.
Udaipur, popularly known as the 'City of Lakes' is a favorite tourist destination in Rajasthan and has an array of options to visit for all kinds of travelers. The city has a lot to offer such as lakes, gardens, palaces, shopping bazaars, and delicious street food.
Depending upon the time availability, Udaipur can be explored within a day or the trip can be extended up to a week to explore nearby destinations. It is difficult to narrow down the best places to visit in Udaipur in 2 days but hopefully, this Udaipur travel guide will help you to plan your trip!
This Udaipur itinerary is based on the best places to visit in Udaipur in 2 days, with the old city of Udaipur on day 1 and farther places on day 2. I have divided this itinerary in this manner as the old city area is a no-vehicle zone and it is best to cover the Udaipur highlights in one day as all are within walking distance from each other. However, expect to walk a lot! so, read on best Udaipur travel guide here.
Before I highlight the best places to visit in Udaipur in 2 days itinerary, here's how to travel locally in the city.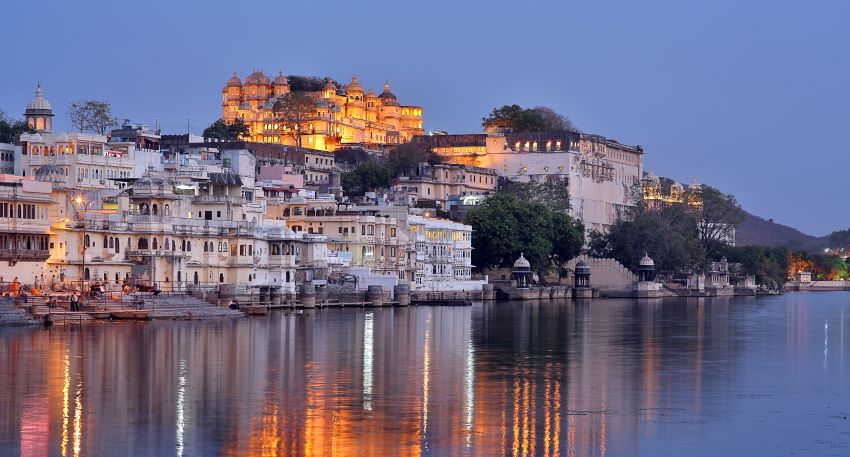 Getting around Udaipur:
Uber and Ola: Both are available in Udaipur and can be booked through an app from a smartphone. This is the best option so as to avoid bargaining and the fear of being charged more for short distances. Taxis are the best for going out of the city and one can keep track on a map.
Auto-Rickshaw or E-Rickshaw: Similar to taxis, these are open on both sides and need to be hailed manually. Though autos are now available on Uber and Ola as well, there are places with no network or internet connectivity and one has to depend on the good old manual hailing that requires negotiations.
2-wheelers on rent – You can easily rent 2-wheelers or bikes in Udaipur. There are shops in many places offering these services. Gearless and with-gear vehicles can be rented after giving a security deposit. The rent varies from Rs.300 – 500 per day.
Udaipur Heritage Walk – Heritage walk is a great way to explore the city with local guides who show tourists the offbeat places and explain the history behind them. It is a no-brainer where the visitor simply joins a heritage tour from a specified location for a specified duration. Generally, these tours are walking tours.
2 Days in Udaipur- Best Itinerary:
now let's take you to the best places to visit in Udaipur in 2 days along with a complete travel guide. I know, 2 days in Udaipur isn't enough or it can be a bit hectic to cover all of them, but you can surely maximize your time in Udaipur to cover all the best places in Udaipur.
Day 1 of Best Places to Visit in Udaipur in 2 days
Jagdish Temple
Start your 2 days in Udaipur by first visiting the beautiful temple. Jagdish Temple Udaipur is one of the most popular tourist spots in Udaipur. Situated right in the middle of the old city area, one has to pass the temple to reach the City Palace.
This 16th-century temple is a 3 storey temple and is one of the largest temples in Udaipur. It is dedicated to Lord Vishnu and was earlier known as the temple of Jagannath Rai.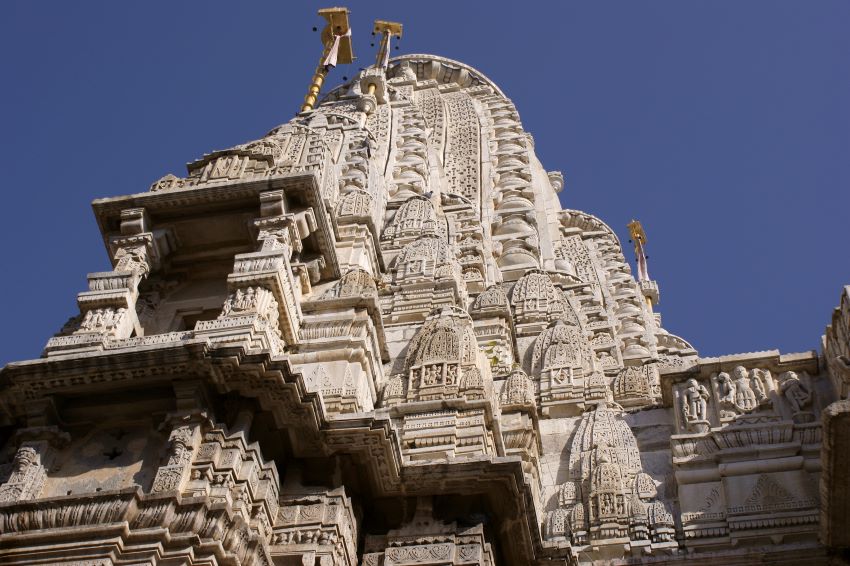 With stunning architecture, one cannot help but climb those steps to pay respects to the Lord. The temple has stunningly carved pillars, huge halls, decorated ceilings, and painted walls.
Note: The temple is open from 4:30 am to 1 pm and 5 pm to 8 pm. Entry is free for visitors of all faiths. Photography is prohibited inside the temple.
Udaipur City Palace: Best Places to visit in Udaipur in 2 days
Whether it is a first trip or a fourth, Udaipur City Palace is one of the main attractions of Udaipur and one of the best places to visit in Udaipur in 2 days. While the opulence of the Maharajas is overwhelming, the architecture is mind-blowing.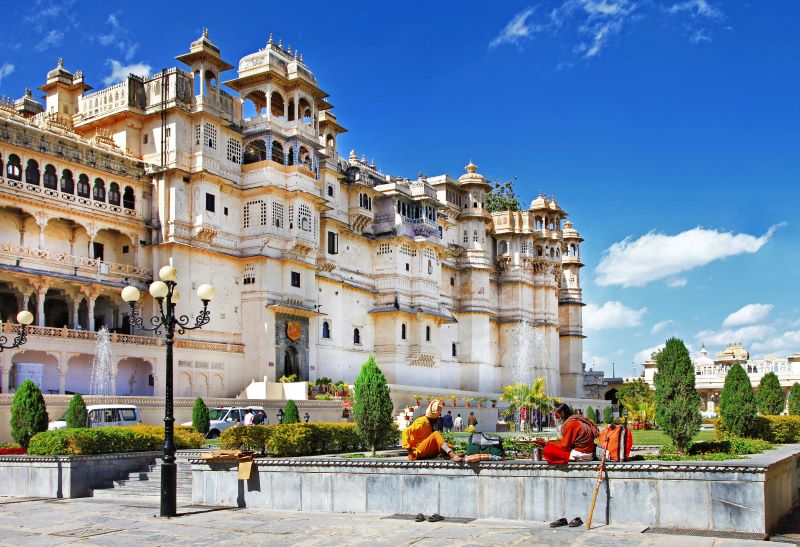 No wonder it took over 400 years to create this masterpiece. Located on the banks of Pichola lake, the views of the lake from the palace are mesmerizing and vice versa.
A part of the palace still serves as a private residence but visitors are allowed to visit other areas of the palace. There are sit-outs, cafes, exhibitions, paintings, jharokhas and so much more to explore in the palace.
The palace timings are 9:30 am – 5:30 pm. The palace is rented out for marriage functions or private parties so some areas may be shut. It can get super busy, but if you go super early you might be able to beat the crowds.
The palace complex itself is beautiful and there is a restaurant that serves actual gold coffee, yes you heard it right, and it's kind of expensive! but you can have snacks and coffee with the best views of Udaipur city Palace. Also, I recommend hiring a guide to know more about the history of the Palace.
After sunset, the palace hosts a sound and light show called 'The Legacy of Honor', which takes place at the Manek Chowk inside the palace complex between 7 pm – 8 pm. It is an amazing way to know the history of Rajasthan.
Cost: INR 300 (for foreigners)
Pichola Lake
While Udaipur is surrounded by over 7 major lakes, Pichola lake is the most popular one as it is on the banks of City Palace, in the old city area. It is one of the largest and oldest lakes in Udaipur and it is famous for its beautiful scenery around it.
Basically, it has so many dining options overlooking the Udaipur city palace and offers beautiful views of the lake, While some people feel that a boat ride on Pichola is a waste of money or kind of touristy stuff but I disagree.
While the boat ride from the jetty may seem like a short ride and not worth it, the Pichola boat ride can be combined for reaching Jagmandir Palace.
Alternatively, you can dine at one of the restaurants near the lake for sunset dinner and drinks. It offers good food, cocktails, plus beautiful views. I think the lake is best appreciated in the evening, so make sure you include it in your Udaipur 2-day itinerary considering it is one of the best things to do in Udaipur in 2 days.
Tour Option: Private Sunset Cruise of Lake Pichola
Jagmandir Palace
The boat ride fees to Jagmandir Palace deter many people from hopping in the boat and dropping this from their itinerary. But only when you go here, you know what you are missing! Built on Jagmandir Island in the Pichola lake, it is a magnificent place.
The medieval architecture and luxurious and royal surroundings make it a dream place to be in. This palace is a favorite venue for royal weddings with a huge garden and 15 luxurious rooms. The rooms, gardens, and dining area are open to the public.
Since the Jagmandir Palace is in the middle of Pichola lake, the 360-degree views are breathtaking. On one side is the City Palace and on the other is the Oberoi Udaivilas – a luxury hotel.
The best way to spend time here is to walk around the palace gardens and fountains or just chill till sunset at the cafe for a chilled beer overlooking Pichola lake and the city palace.
Since Jagmandir Palace is a private area, the entry is from the City Palace jetty and a separate ticket needs to be purchased to reach here. The boat takes a maximum of 12 riders on the boat through Pichola lake overlooking the spectacular Udaipur City Palace and drops at the Jag Mandir Palace.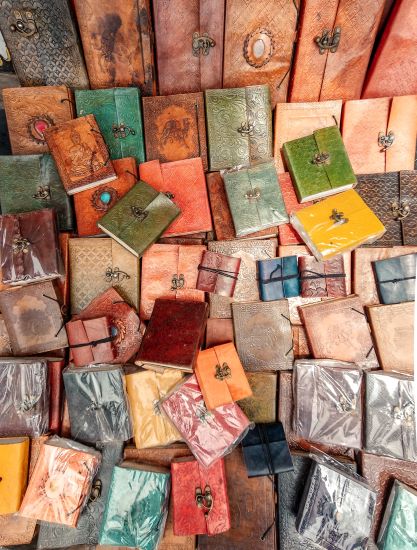 Stroll Marekts of Udaipur for Shopping in Udaipur
Going empty-handed from Udaipur in 2 days trip is a strict no-no. Just like the rest of Rajasthan, Udaipur has vibrant bazaars and streets lined with shops selling local handicrafts, silver jewelry, leather items, textiles, etc. So much so that it is possible to get lost in the lanes and by lanes and forget your purpose for the Udaipur trip!
While there are many shops outside of Udaipur City Palace, one of the favorite shopping bazaars for tourists and locals is Hathi Pol. This shopping street starts from Jagdish temple and is full of shops selling silver jewelry, paintings, souvenirs, batik, and bandhani clothing as well as camel leather goods.
There are stores selling brass jewelry and customized painted t-shirts that deserve a look.
Gangaur Ghat
Located near the Jagdish temple, the Gangaur ghat is just outside the Bagore ki Haveli. Considered to be the many ghats of Udaipur, it is located on the banks of Pichola lake. The locals celebrate festivals such as Gangaur Festival and Jal-Jhulni Ekadashi which is when it is extremely crowded.
While there is not much to see and do, it's nice to hang out here for some time capturing some fleeting moments like sunset, local kids bathing or tourists enjoying a stroll on this ghat. But I loved watching the action over the ghat and it is one of the best places to visit in Udaipur in 2 days.
Bagore ki Haveli
Bagore ki Haveli is an old haveli that has been restored into a museum. It is right on the banks of Pichola lake. The Haveli is very beautiful with courtyards, jharokhas, decorative archways, fountains, and exceptionally decorated 138 rooms with mirror work.
The walls of the Haveli have glasswork and mural paintings. It definitely portrays the luxurious life experienced by people back in the era. Bagore ki Haveli also has four museums – The Puppet museum, the Turban museum, the Weapon Museum, and the Wedding Depiction Section.
All of this can be easily seen before the haveli is closed at 5:30 pm and the entire place turns into a cultural spectacle.
Every day the haveli hosts a cultural dance program called Dharohar Dance Show which spans one hour. 4 Rajasthani dance styles are showcased by the local women, overlooking the haveli.
Daily there are 2 shows from 7 pm to 8 pm and 8 pm to 9 pm. An additional show from 9 pm to 10 pm takes place on weekends. Don't miss this cultural experience from your 2 days Udaipur itinerary.
Day 2 of Best Places to Visit in Udaipur in 2 Days
Day 2 of 2 days Udaipur itinerary is planned to explore the main sites around Udaipur.
Eklingji Temple
Eklingji Temple is one of the most important pilgrimage sites in Rajasthan. Located around 22km outside of the city, it is worth the visit! Eklingji Temple Complex houses 108 magnificent temples, the main one being the two-storied Shiva Temple, which houses the four-faced idol of Lord Shiva.
This 1000-year-old temple is completely made out of marble, a local stone available in plenty, and has intrinsically carved walls. I would suggest don't miss this being one of the best places to visit in Udaipur in 2 days!
Eklingji temple timings are 4:15 am to 6:45 am, 10:30 am to 1:30 pm, and 5:15 pm to 7:45 pm.
Saas Bahu Temple
Saas Bahu Temple is an 11th-century temple dedicated to Lord Vishnu. It is located very near Eklingji temples and can be easily covered together. The temple, located on the banks of Bagela lake was originally called Sahastra-Bahu.
The temple does not host a deity and a major portion of the temple is in ruins, but due to its architectural magnificence, visitors are still interested to visit this temple. Every inch of this temple including walls, ceiling, and pillars has unique and intricate carvings on them.
Badi Lake
Since this day is all about places around Udaipur, I had to include Badi lake in this list of Udaipur in 2 days. Badi lake is away from the town which is why it is still pristine and offers unparalleled views of the Aravalli mountains.
As the name suggests, Badi lake also known as Jiyan Sagar is an extremely big lake.
Over the last few years, many trekking trails have been developed here where nature enthusiasts can enjoy fresh and tranquil views. Although the sunset is the best time to visit, Badi lake offers splendid views, all day and all year round.
It's quiet, beautiful, and peaceful and you might want to spend all your time there.
Shilpgram
Shilpgram Udaipur is a one-stop shop for things handmade, handcrafted, and local. While Shilpgram comes alive during its annual festival, it has a plethora of things to do, view, and enjoy.
Spread over 70 acres of land, Shilpgram translates to 'village of artisans' and it is designed exactly like that – it feels as though one is walking through rural markets.
There are small huts built using mud and natural building material to give the real picture of the ethnic diversity of the western states of India. Shilpgram also has a huge open-air amphitheater with a seating capacity of 8000 people at a time.
There are many shops selling souvenirs that include paintings, ceramics, wooden handicrafts, clothes, etc.
Sajjangarh Biological Park
Located at the foothills of Sajjangarh Monsoon Palace, the zoo is a big attraction for tourists of all ages. The zoo features over 20 endemic species of animals such as the Asiatic lion, Bengal tiger, elephants, and others.
The zoo does not have typical enclosures but a huge space for animals to roam around. This makes for a surreal experience for the tourists. This park offers golf carts with drivers for those who can't walk across the park.
Sajjangarh Fort a.k.a Monsoon Palace: Best places to visit in Udaipur in 2 days
We can only imagine the royal and luxurious lives of Maharajas in the yesteryears. A palace was built simply to enjoy the Indian monsoons overlooking Udaipur city and the Aravalli hills. I can say one of the most beautiful places to visit in Udaipur in 2 days, especially during the monsoon.
Sajjangarh fort also known as the monsoon palace is located on the top of a hill and offers beautiful views of Udaipur from above. Built in the 19th century, the fort has a small exhibition on the top floor and viewing galleries all over the complex. One of the most striking features of the fort is the presence of a rainwater harvesting system which is functional even now.
You can get an organized tour package from the Udaipur city area from any tour agency or you can rent an auto rickshaw or taxi. Also, bikes will also go up there. It's open from 8 am to 6 pm.
Udaipur Two-Day Itinerary
so, Here I am listing the best places to visit in Udaipur in 2 days for you.
Places To Visit In Udaipur in 2 days: Day 1
Jagadish Temple
Udaipur City Palace
Lake Pichola
Jagmandir Palace
Markets
Gangaur Ghat
Bagore ki Haveli
Places To Visit In Udaipur in 2 days: Day 2
Eklingji Temple
Saas Bahu Temple
Badi Lake
Shilpgram
Sajjangarh Biological Park
Monsoon Palace- Sajjangarh fort
Udaipur Itinerary 3 Days
If you've got more than 2 days in Udaipur, then you can easily cover the above best places to visit in Udaipur along with other places to visit in Udaipur in 3 days. But, if you start your day early, then you can easily see all these awesome places to visit in Udaipur in 2 days.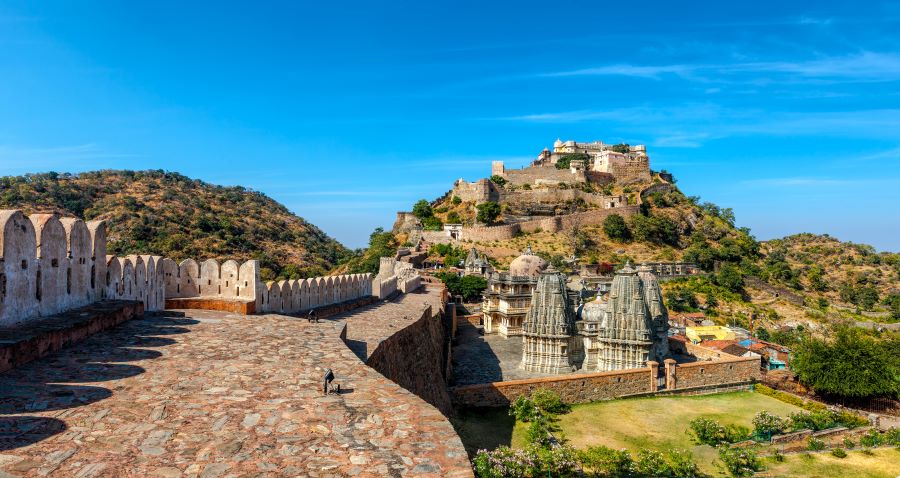 3 days Itinerary Udaipur:-
Day Trip from Udaipur:
Some of the must-visit places for one day trip from Udaipur are Kumbhalgarh, Haldighati, Nathdwara, Ranakpur temple, Chhitorgarh, Jaisamand Lake, Mount Abu, and many more. Kumbhalgarh fort is beautiful and worth the visit being a UNESCO World Heritage Site as a day trip from Udaipur.
You can book this Kumbhalgarh and Ranakpur Jain Temple Private Day tour from Udaipur.
Alternatively, you can also explore other Udaipur destinations worth visiting once you are in the city. Since your time is limited, here is a list of some of them you may visit as per personal interests.
Saheliyon ki Badi
Vintage Car Museum
Gulab Bagh
Dudh Talai
Mansapurna Karni Mata Ropeway
Fatehsagar Lake
Ahar Cenotaphs Udaipu
Purohito ka talab
Solar Observatory
Where to eat in Udaipur in 2 days
There is no dearth of places to eat in Udaipur. The question is whether you are looking for delicious food or amazing views or both. There are many rooftop restaurants around Pichola lake that offer splendid views of the lake.
Here are some of the cafes and restaurants in Udaipur that have great food and views! Beware that most of these are high-end luxurious cafes.
Upre Restaurant
Upre is one of the most popular rooftop restaurants in Udaipur offering panoramic views of Gangaur Ghat and Bagore ki Haveli. Upre means "upstairs". The restaurant has a vast selection of vegetarian and non-vegetarian dishes and cuisines that range from Indian, Continental, and Chinese cuisines, to Rajasthani dishes. This restaurant looks even more beautiful at night from the Gangaur ghat.
Thanks to its popularity, getting a table here is difficult which is why reservations are strongly recommended. However they do not book a table over weekends – it is first come, first serve.
Address: Hotel Lake Pichola, Outside ChandPole.
Rainbow Restaurant
Rainbow Restaurant is a great find, especially around sunset. The views of Pichola lake overlooking the Aravalli mountains and a delicious pizza in hand are a great match. The restaurant has cute decor, with candlelight set up and live music on weekends.
Address: Near Lal Ghat, Next to Jaiwana Haveli.
Jheel Cafe
The breakfast at Jheel Cafe is a steal because of the good weather, great views, no crowds, and the perfect breakfast spread! The cafe has indoor and outdoor seating and is spread over two floors. Weekends are extremely busy, so a reservation is recommended.
Address: 52, 56, Top Floor, Gangaur Ghat, Near Bagore Ki Haveli, Chandpole.
Jagat Niwas Restaurant
Housed in Jagat Niwas Haveli, Pichola lake views from their jharokhas are Instagram-worthy! Try to reach early and bag a table near the window and enjoy the views throughout the delicious meal. The delicacies range from Indian, Continental to Chinese.
Address: Jagat Niwas Haveli, Lal Ghat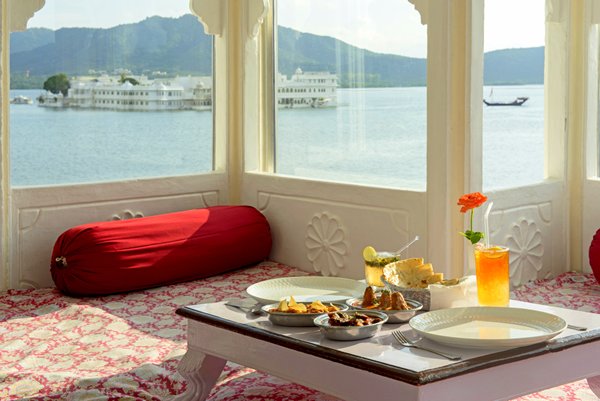 Cafe Ambrai
The second best place to have a meal after Upre is Cafe Ambrai. Based in the Amet Haveli, Café Ambrai offers views of the splendid Taj Lake Palace, Gangaur Ghat, and City Palace over the lake. The menu ranges from Indian, Chinese, and Continental cuisines.
Address: Amet Haveli, Outside Chandpole
Street food places in Udaipur
Paliwal Restaurant
Famous for its range of Kachoris, Paliwal Restaurant is a must-visit to gorge on the Pyaaz, Moong Dal, or Masala Kachori. Due to its popularity, the restaurant is thronged throughout the day but especially for breakfast as it opens at 7 am!
Address: Jagdish Temple Rd, Old City
Food vans at Gulab Bagh
Just outside the Gulab Bagh, there is an entire street offering lip-smacking yummy street food. Maggi, aloo paratha, Indian Chinese dishes, and egg items are famous here.
Address: Behind Museum Road, Gulab Baugh
Where to stay In Udaipur
It is always a debate whether to stay in the city near all the happening places or stay on the outskirts by choosing a resort or boutique hotel which gives the best of both worlds. Whichever you choose, there is no dearth of hostels, luxury hotels, guesthouses, airBnBs, and resorts in Udaipur.
Hostels in Udaipur
Hostel Mantra
Located in Udaipur's Old City, this hostel is within walking distance of happening places and restaurants. There is an option to choose from dorm rooms and private rooms.
Zostel Udaipur
Due to its chain of hostels across India, Zostel Udaipur is a preferable and safe choice for solo travelers, especially women. Not only is it budget friendly but it is located at a great location overlooking Pichola lake. It is decorated beautifully and has a common dining area where travelers can meet up with fellow mates.
Mid-Range Hotels
Trident Udaipur
Located very close to the city center, Trident has the perfect location for escaping the main city crowds, but still being close enough to catch a taxi ride in. Being a chain of hotels, even this is a trusted hotel that offers gorgeous views and has a swimming pool and a restaurant.
Kankarwa Haveli
It is one of many heritage hotels in Udaipur, that belonged to the Kankarwa family. It was renovated to welcome guests giving them the experience of staying in an original Rajasthani Haveli. The location is great as it is close to City Palace and there is a rooftop restaurant to enjoy the Pichola lake views.
Luxury Hotels
Jagmandir Island Palace Udaipur
If you wish to splurge, then one option is to spend the night at the Jagmandir Island Palace. It is a grand Heritage Palace built in the 17th century. Although popular for weddings, there are rooms available to stay.
There is a Darikhana Restaurant, Picholi Bar, Panghat Spa and Salon, and all-day café where visitors can leisurely spend hours gazing across Lake Pichola and the City Palace. There is also Jagriti, a heritage museum on site to give a feel for how Jagmandir Island Palace was built and developed over the centuries.
How to reach Udaipur
Flights: You can get flights to Udaipur from all major airports, such as Mumbai and Delhi. From the airport, you can get an Uber to your hotel in Udaipur. Check Skyscanner for the best deals.
Train: You can get a train from all over the country to Udaipur. I recommend traveling in AC Class as it is more comfortable. You can book it via the IRCTC website or reserve it at the station in advance.
Bus: Buses are frequent around India and you can easily book a bus online with the red bus. Also, you will get an SMS once you reserve the seat and you can track your bus which is quite convenient. Buses will be a bit expensive if you prefer AC Sleeper.
Alternatively, you can book Private transfers from Delhi, Jaipur, or Pushkar too.
Best time to visit Udaipur
The best time to visit Udaipur is during the winter season. Although keep in mind that most tourists – local and foreign visit Udaipur then which makes it quite crowded and the hotel prices go up.
Where To Go After Udaipur
Rajasthan has so many beautiful destinations to explore. If you are visiting prime destinations of Rajasthan, I recommend visiting Jodhpur or Jaipur next. I suggest not missing Jaisalmer during your India trip. You can read about all these destinations here:
I hope you have enjoyed reading my Post on the 15 Best Places to visit in Udaipur in 2 days. If you like this Post, save it for later!!