Shopping in Varanasi: Famous Things to Buy in Varanasi
Varanasi being the oldest city of India and most sacred destination for Indian Pilgrims. As it is most famous Places of India among Hindus, you can find many traditional items related to Hinduism and other religious items in the Varanasi markets. The list of famous Places in Varanasi is incomplete without mentioning its bustling Shopping Markets. Here is Guide to Shopping in Varanasi and famous things to buy,where to buy in Varanasi.
Best Souvenirs to Buy in Varanasi:
The Holy water of Ganga/Ganga Jal:
The Ganges is considered as Holy among Hindus. The Pilgrims takes dips in Ganga to wash away their sins. But apart from this, People wants to carry this water with them to Home. If you beleive it or not, the holy Ganga Water is biggest export from Varanasi! As you walk on the Ghats, you will see hawkers selling Plastic Canes available in different Sizes. You can carry it in this bottles.Also sealed Copper bottles are available to prevent any leakage. I bought myself one copper Bottle from the Ghats and it is perfect souvenirs to bring home from Banaras.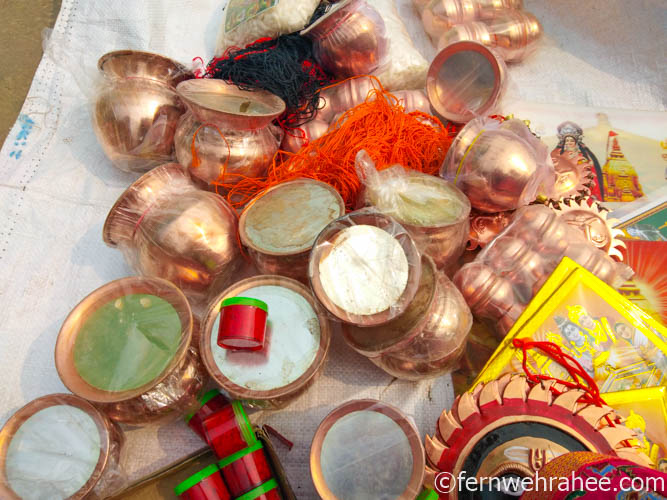 The water of Gangs may seem unclean to you but as the shopkeepers say, they fills these bottles by going in the middle of the river. The water is clean in the canes and it can be stored for long time.
Banarasi Silk Saris – Most famous things to buy in Varanasi
Most famous things of Varanasi- Banarasi Silk Saris and most of the People know about it. Banarasi Sari is every Indian Women's dream to have one in their Closet. I am not sari lover but still you should buy it one for yourself or for your wife,mother or sister.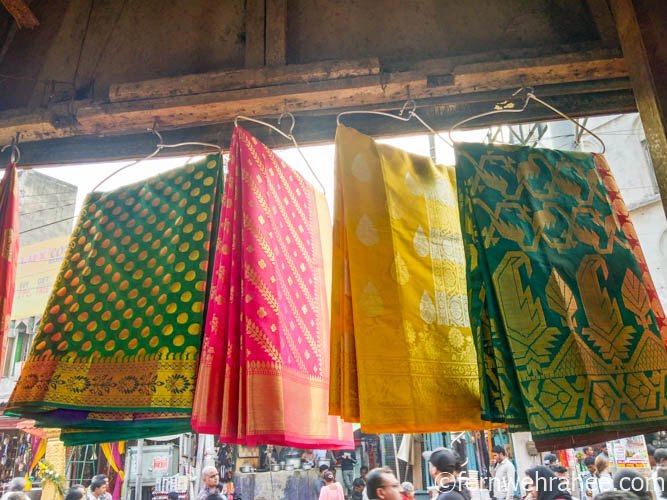 You can buy Banarasi Silk Sari anywhere in the City, close to the ghats and nearby Shops to Kashi Vishwanath Temple. But I would recommend to visit Popular areas in the city where you can buy Best Silk Saris. One such area is Peeli Kothi area where you can see weavers at work and you can buy directly from them. Here you need to walk past narrow streets but you can pay the skilled workers for their hard work.
Other Best Place to buy Banarasi Saris in Varanasi is wholesale shops in Thatheri Bazaar and Bansphatak in Gowdolia area. The lanes are narrow here but you will get wide varieties and better rates.
If you want to have exclusive Banarasi Saree Collection, go for JDS(Jagdis Das &Company), SND[Shah Narayan Das] and Neelambari in Chowk area and The Taj Estate in Bhelpur in Varanasi. They are bit expensive but you will get exclusive pieces of famed Banarasi Silk Saris and considered as best banarasi saree shop in Varanasi.
Rudraksh Mala:
Rudrakash is a Polished seed of Rudraksh tree. Rudraksh literally means preceding form of Lord Shiva, and hence it is most Popular jewelry worn buy Hindu Saints and devotees from ancient time to till today.
The Rudraksh trees doesn't grow in and around Varanasi, but Varanasi is Perfect Place to get Rudraksh and Rudraksh Mala. You just need to thread the seed and use the Rudrakash. In Varanasi, you will find any type of Rudraksh, even the rare Panch Mukhi Rudraksh(5 faces Rudraksh). You can also pick Coins engraved with famous temples of Varanasi on both the side. Rudraksh Mala is one of the best things to buy in Varanasi as souvenir as devotee to Lord Shiva.
Shivlingas: Crystal/Stone one
Varanasi Land of Lord Shiva and buying Shivlinga is must when in Varanasi. They are available in Stone and white Crystal forms. When I visited Ramnathswamy temple in Rameshwaram, I bought Crystal Shivlinga from there, but this time I bought Stone Shivlingas to gift my family members.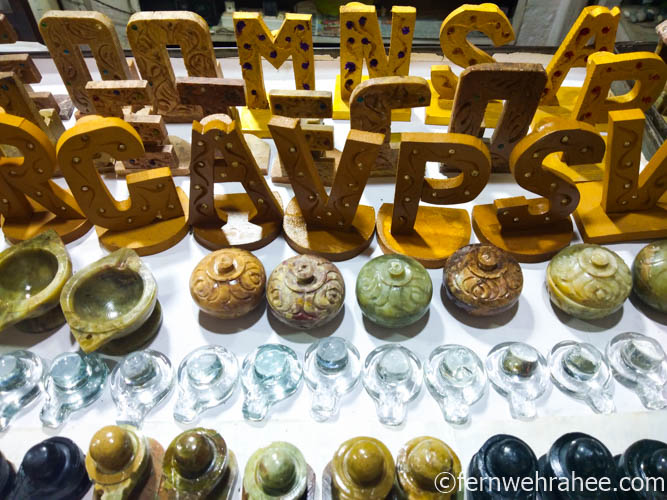 The Shivlingas are used for worship and kept in temples inside the Indian Houses.The small Shivlingas people keep in their Bags to bring good luck.These Shivlingas can be Purchased from Kashi Vishwanath Temple Lane or any shops near the Ghats in Varanasi.They comes in different sizes from few mm to few inches tall in size and Prices depends on its Size. This is quite famous things to buy in Varanasi.
Wooden Toys:
If you are looking for toys shopping in Varanasi as souvenirs to get for your kids, then you will easily find the street shops,lanes with colored wooden toys in Varanasi. Even you can see wood craters working in the Khojwa area of Varanasi. Mostly you will find colorful elephants, birds and dolls using bright colors. These toys come mostly in set and looks so beautiful. You can also pick wooden creation of Shiva family among the toys. These toys are also available in key chain forms.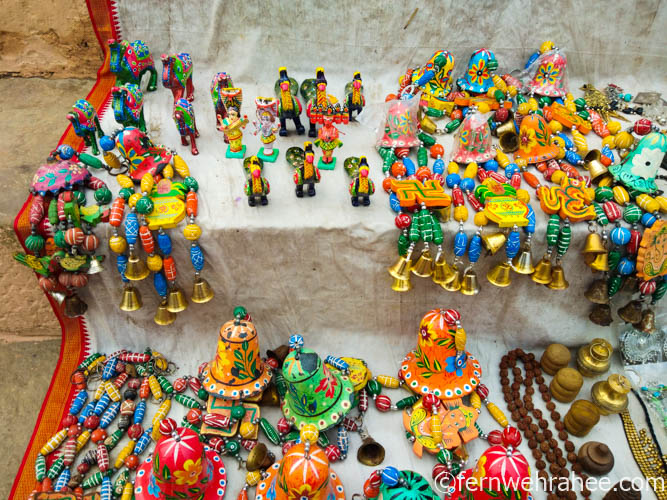 In Varanasi, you will get these toys anywhere but if you want wide varieties, reasonable rates and want to purchase in bulk to gift at home, head to Sharma Toys Emporium near Dashashwamedh Ghat Varanasi. I bought one wooden piece as decoration for my home.
Glass Beads:
If you don't know, Varanasi is one of the largest manufacturer of Glass Beads and they make it in all colors. The Glass beads made by hand are very unique and beautiful.You can buy Glass Beads from local Markets.These Glass Beads are widely used in making artificial jewelry. The Glass Bead Jewelry seems perfect as souvenirs from Varanasi.
Stone Carved Curios:
If you walk the streets near Kashi Vishwanath temple or any temple, you can see wide variety of Stone Carved items like animals,birds,boxes etc. Varanasi is famous for its stone Carving tradition which flourished during the reign of King Ashoka. It is also well known that most of the stones for Pillars of Ashoka came from Chunar region of the city.
You can buy carved animals and birds in different sizes, also perforated boxes are best for aromatherapy. The best stone carving shops you can see in Sarnath than the main Varanasi city.
Gulabi Minakari:
Gulabi Minakari is one of rarest craft of India that is practiced in the by lanes of Gai Ghat in Varanasi.The art is said to be bought in Varanasi from Persia during Mughal era. Minakari on Silver is mostly done in Gujarat and Rajasthan but Gulabi-Pink Minakari you can find in Varanasi only.
You can buy small souvenirs like birds and elephants decorated with Gulabi Minakari to take home as souvenirs from Varanasi. You can also shop Products with Minakari work on them like jewelry boxes, idols, sculptures, key chains, dining sets, trays, cupboards etc. If you can afford silver Gulabi Minakari, must buy earrings during your shopping in Varanasi.
Ramnami Cloth:
Being a Siritual destination of India, when you walk around the Ghats of Varanasi, you will see many Sadhus and People wearing yellow/orange/ white clothes with Ram Nam/OM written on it. It is known as Ramnami Cloth and you can see various patterns of Hindu mythology on it.
You can buy Shirt,Kurtis,Scarfs or Stole as a souvenirs as remembrance of Spirituality of Varanasi.
Flutes: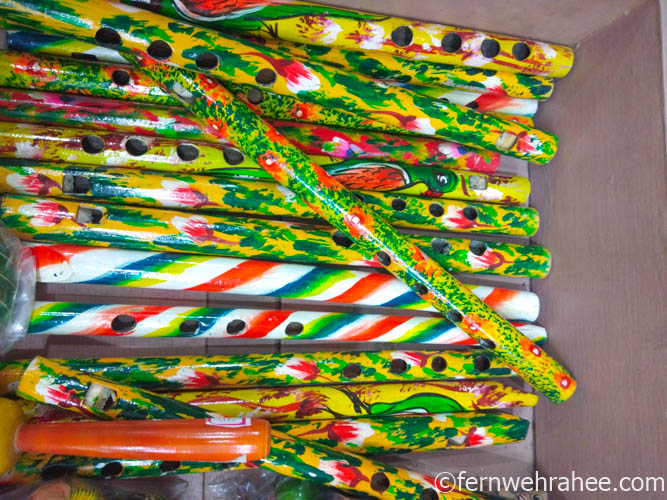 Banaras is famous for its Music Schools. Varanasi is home to many famous Musicians such as Pandit Ravishankar or Girija Devi. Music is another identity of Varanasi and you can see many Music Schools in Varanasi. This is why there is no wonder if you see many Musical instrument shops in Varanasi. Most of us aren't pro at playing Sitar,Tabla but we can always buy Flute of any size from Varanasi. It is also best gift to connect with Lord Krishna and the city which is connected with Music.
Vedic Literature: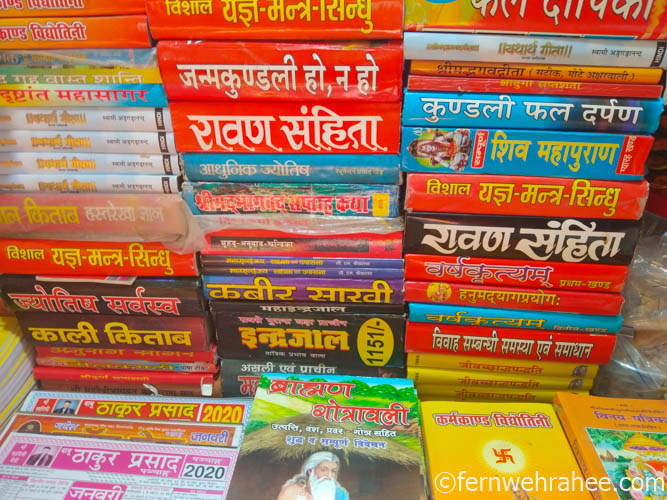 Shopping in Varanasi is incomplete without buying any Vedic Literature Books. Varanasi is home to many Indian Publishers, especially books related to Hindu mythology and ideology. You will love ancient Bookstores in Varanasi and book lovers will return with Bag full of Books. I didn't buy any books but bought few postcards from one Bookstore.
Pickles:
One of the most famous things of Banaras is its Pickles. When I was wondering around the streets of Kachori Gali in Varanasi, I came across exclusive Pickle Shop. Upon, inquiring I came to know that famous things of Varanasi are Pickles and Aloo ke Papad. You will get Indian Achaar in wide varieties,famed Baans ka Murabba, Red Chilli Achaar,Garlic Pickle and other 30+ varieties of different Pickles! I picked Bharwa Mirchi Achaar to take home. You can buy Pickles Jar at Sardar ji Papadwale in Kachori Gali or at any shop in Chowk area of Varanasi.
Varanasi Sweets:
The beautiful and Spiritual Varanasi is famous for its Sweets along with famous Silk Saris. If you have sweet tooth, Varanasi is heaven for you! When it comes to sweet, Lal Peda is specialty of Varanasi. When you walk the streets and ghats, you can enjoy these sweets. The shops will give you samples to taste the sweets to have idea about it. You can carry small boxes of Varanasi Sweets with you to gift to family members. You can buy sweets from Shree Rajbandhu Sweets OR Ksheer Sagar in Varanasi.
These was all about Shopping in Varanasi and famous things of Varanasi, you should buy any of items when visiting Varanasi. Whatever you will buy, it will be memory of this place.