Delhi in 2 Days: Complete Travel Guide to Visit Delhi
Delhi, the current capital of India is a very vibrant and colorful city. It has also been the historic capital of India. Delhi is a vibe and it evokes emotions, which may range from excitement to happiness, and anxiety for some. While you will barely scratch the surface of Delhi in 2 days, visitors can experience the highlights of Delhi and the few best experiences in Delhi.
Delhi is a perfect mix of historic places of Old Delhi and the modern hangout Places of New Delhi. While some may enjoy the ancient majestic monuments, some enjoy the mouth-watering food, for some, it is a shopping heaven, while for others the modern contrast is alluring. I have a Perfect 2 days Delhi itinerary which is a mix of Old Delhi's charm and New Delhi's gorgeousness.
Please note: This post may contain affiliate links which means I may earn a commission if you make a purchase by clicking a link on this post. This will be at no additional cost to you. Affiliate links help me keep this website up and running. Thanks for your support!
Delhi in 2 Days: Why Visit Delhi??
Most of the tourists who arrive in India, land mostly in Mumbai or Delhi-the Capital. Delhi was the capital of seven empires and today is one of the longest-serving capital cities and top historical destinations in the world. Delhi can be chaotic for first-timers but it also has Green boulevard and quiet areas. It is the cultural and political center of India.
The various styles of architecture used during different periods of history make Delhi's architecture rich and unique I have visited Delhi while in transit or stayed for shopping and sometimes for my work. Here are must-visit attractions in Delhi in 2 days. If you want the highlight of Indian cities, Delhi is must visit!
New Delhi Guided Tours
If you are new to India and arriving for the first time to India, probably you will get a big cultural shock! Maybe you are not well prepared for the chaos and electric atmosphere. so I recommend booking guided tours of Delhi which can save you time and money!
You can consider booking this New and Old Delhi tour for the perfect introduction to the city!
Delhi in 2 days: Complete 2 Days Itinerary
Day 1: Old Delhi of Delhi in 2 days
Jama Masjid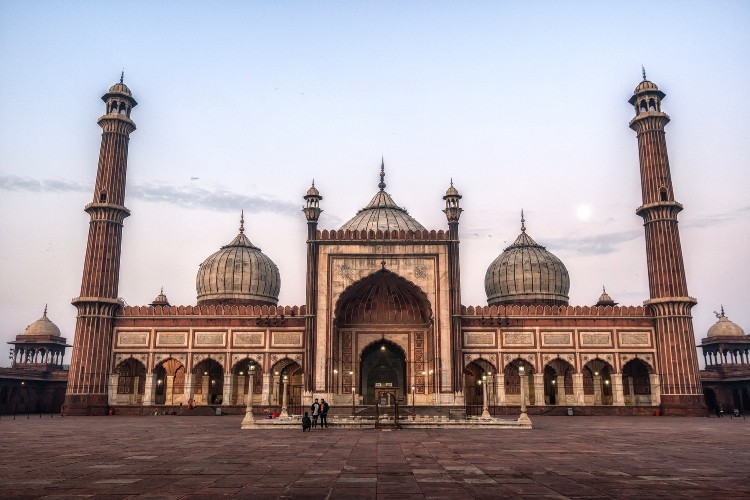 Jama Masjid also known as Masjid-i-Jahan-Numa is right in the center of Old Delhi and is the perfect showcase of the rustic charm that the city. Jama Masjid is one of the largest mosques in India constructed by Shah Jahan, the Mughal Emperor. Jama Masjid has many replicas with the same names across the country but none so grand.
Jama Masjid is an architecture to behold when over 25000 people pray together on the occasion of Eid. A courtyard this huge took the efforts of over 5000 workers to construct the monument.
The mosque comprises three highly decorated gates, two 40-meter-high minarets, and four towers. The mosque is constructed of white marble and red sandstone. One should definitely head to the top of the minaret for amazing views of Delhi. Visitors have to wear a robe before entering the mosque.
Timings: 7 am to Noon,1:30 pm to 6:30 pm. Note: Tourists are not allowed during prayer hours
Entry fees: INR 35 for Indian nationals and INR 300 for foreigners (Photography charges are an extra INR 300)
The ideal time to spend: 1 hour
Related Read: The Perfect 3 days Jaipur Itinerary
Red Fort
After visiting Jama Masjid, head to the Red Fort, the place from which India's Prime Minister addresses the nation on Independence Day. Also known as Lal Qila locally, Red Fort is a UNESCO World Heritage Site and one of the must-visit tourist places in Delhi, which was also built by Shah Jahan in 1639 and housed Mughal rulers for 200 years until the British took over.
The fort served as the residence of the erstwhile Mughal emperor. Red Fort is a huge complex flaunting a design of intricate Mughal and Islamic architecture and has a large number of museums too. If you are a history and architecture lover, don't miss this must-visit Place in Delhi.
Timings: 9:30 am to 4:30 pm.
Entry fees: INR 35 for Indian nationals and INR 500 for foreigners
The ideal time to spend: 1 hour
Jantar Mantar
Jantar Mantar also called the Delhi Observatory, is one of the most prominent astronomical observatories in the country. The same kind of Jantar Mantar is also constructed in Jaipur, on a similar concept.
A UNESCO World Heritage Site, the monument houses 14 astronomical instruments used for accumulating astronomical tables to help predict the time and movement of various celestial bodies like the sun, planets and the moon.
This was a scientific concept used in the 17th century which was built by Maharaja Sawai Jai Singh II. The sundial found here, is one of the largest in the world and is used to tell the time accurately to half a second. Don't miss this scientific Place during your 2 days in Delhi.
Timings: 6:00 am to 6:00 pm
Entry fees: INR 15 for Indian nationals and INR 200 for foreigners
The ideal time to spend: 1 hour
Birla Temple
Also known as the Lakshmi Narayan Temple, Birla Temple is located only 2.5 km away from Jantar Mantar. The Birla Mandir was built under the guidance of architects Sri Chandra Chatterjee and Pandit Vishwanath Shastri between 1933 and 1939.
It was inaugurated by Mahatma Gandhi, who insisted that people of all castes must be allowed to enter the temple. The architecture is the same as other Birla Temples like Mysore. Dedicated to Goddess Lakshmi and Lord Vishnu, the temple which is built in marble is one of the most popular tourist attractions in Delhi. Birla temples are also present in many cities in India.
Timings: 4:30 AM to 1:30 PM and 2:30 PM to 9:00 PM, Entry fees: INR 30 for Indian nationals and INR 500 for foreigners
The ideal time to spend: 30 minutes
Raj Ghat
Raj Ghat is Mahatma Gandhi's memorial which is decorated with well-manicured gardens. Gandhiji is known as the Father of the Nation who was assassinated on 31st January 1948. The monument, located on M G Road was designed by Vanu G. Bhuta with a vision to reflect the simplicity of Gandhi's life. The memorial stone reads 'Hey Ram', his last words. An eternal flame burns at one end of the platform.
Timings: 6:30 am to 6:00 pm, Entry fees: Free, Ideal time to spend: 45 minutes
Qutub Minar Complex
Qutub Minar is a must-visit destination to cover Delhi in 2 days. Delhi is a kind of Rome of Asia and there are so many places to visit in Delhi this complex can be compared to a coliseum of Rome.
Built-in 1199 AD by Qutub-ud-Din Aibak, Qutub Minar is India's highest tower, the tallest brick minaret in the world, and an important World Heritage Site in Delhi. The total height of the minaret is 73 feet which is almost 5-storeys high. The First 3 story of the Qutub Minar is made using red sandstone whereas the top 2 story is made up of marble.
It was one of the first big architectural projects the Muslim invaders built in India and it is said that they used materials from 27 destroyed Jain and Hindu temples in its construction.
You can spend a couple of hours wandering around the Complex and the ruins. There is the nearest metro to Qutub Minar and a short walk will lead you to the complex.
Timings: 7:00 AM to 5:00 PM Entry fees: INR 30 for Indian nationals and INR 500 for foreigners
The ideal time to spend: 1 hour
Humayun's Tomb
Spending an hour or two OR 2 days in Delhi visit is important at Humayun's Tomb. It is a mausoleum constructed in white marble and red sandstone and is nothing less than a masterpiece.
The Mausoleum holds the graves of Humayun Kabri & Haji Begum and is known for its mesmerizing architecture. Isa Khan Niyazi's Tomb, a smaller White tomb is an attraction in its own right, and there are some grand gates throughout the complex.
It is a huge complex so it is best to come with time on hand. If you are a photography enthusiast, it is a visual treat with the garden landscape in the background. If you have two days in Delhi, this complex must be at the top of the list.
Timings: 6:00 AM to 6:00 PM, Entry fees: INR 30 for Indian nationals and INR 500 for foreigners
The ideal time to spend: 1-2 hours
Day 2: New Delhi of Delhi in 2 days
Morning walk at Lodhi Gardens
Start your day early with a morning walk in a beautifully manicured public park called Lodhi Gardens. Situated in the posh locality of New Delhi, the garden has a huge walkway, garden, and architecturally beautiful complexes from the 14th and 15th Century such as Mohammed Shah's Tomb, Sikandar Lodi's Tomb, Shisha Gumbad, and Bara Gumbad.
With over 90 acres, the gardens enjoy appreciation from architectural enthusiasts, local joggers, morning walkers, yoga enthusiasts, and families who want to spend quality picnic time.
There are over 50 documented species of butterflies and birds and 100 species of trees in the garden. For the same reason, many heritage walks are conducted in this garden.t's one of the top ancient sights in the city and should be on everyone's 2 days Delhi itinerary.
Timings: 5:00 AM to 8:00 PM Entry fees: Free, Ideal time to spend: 1-2 hours
Must Book this highly recommended Photography tour that includes Safdarjung Tomb and Lodhi Gardens at sunrise.
India Gate
Move 2.5 km from Lodhi Garden to India Gate. India Gate is the largest war memorial in India and will give the Parisian feel as its design is very similar to Arc de Triomphe.
The memorial is dedicated to 70 thousand of soldiers of the British Indian Army who lost their lives between 1914 and 1921 during the Anglo-Afghan War and the First World War and has the names of over 13 thousand soldiers inscribed in the structure.
The gate is surrounded by a garden and is always full of selfie-clicking crowds. If you want to avoid the crowds, you can go super early.
Timings: Always Open, Entry fees: Free, Ideal time to spend: 30 minutes
Rashtrapati Bhavan
Rashtrapati Bhavan is translated into Presidential Palace. It was initially constructed for the British Viceroy, but now is the official residence of the President of India. For the same reason, visitors are not allowed to enter the complex. But viewing from outside is allowed. The palace is spread over 5 acres of land and has 340 rooms, 190 acres of garden, and 2.5 km of corridors.
Timings: Always Open, Entry fees: Free
The ideal time to spend is 15-20 minutes
Agrasen Ki Baoli
The Agrasen ki Baoli is a monument protected by the Archaeological Survey of India and is shrouded in mystery because no one really knows who built this step well.
There are no historical records to prove this and this stepwell has a unique architecture as it is 60 m long and 15 m wide making it very narrow. Earlier, it was filled with black water which has dried up today but according to legend, many people who came here were often led to the water and felt like drowning in it.
Connaught Place
After the morning in Lodhi garden and 2 sightseeing places later, make a pit stop at Connaught Place, commonly called CP which is an uptown shopping center, and a food hub, and provides a great option for vibrant nightlife.
The whitewashed complex is home to numerous national and international food chains, chain stores, bars, and restaurants. However, Agrasen ki Baoli is dry and it is a great Photography spot in Delhi. So don't miss this Place in your 2 days Delhi itinerary.
Timings: 10:00 AM to 8:30 PM, Entry fees: Free, Ideal time to spend: 2-3 hours
Lotus Temple
Delhi in 2 days visit is incomplete without a visit to the Lotus temple. Lotus temple welcomes visitors of all faiths and religions and is sheer architectural brilliance. Constructed in the shape of a blooming lotus flower, it has well-manicured gardens all around giving the feeling of a white lotus blooming in a green pond.
The shrine was conceptualized and completed in 1986 by the Canadian architect Fariborz Sahba.
Timings: 9:00 AM to 5:00 PM, Entry fees: Free, Ideal time to spend: 1 hour
Akshardham Temple
Inaugurated in 2005 by the late President of India Dr. APJ Abdul Kala, Akshardham is dedicated to Lord Swaminarayan. The temple is a great example of exceptional Hindu architecture, traditions, and spiritual messages and is listed as one of the largest Hindu temples in the world, back in 2009.
This is one of the most intricately beautiful temples of India and is definitely worth a visit but remember that you're not allowed to bring a camera, phones, umbrellas, toys, food, or drinks inside the complex.
While this one is spread over 100 acres, a smaller version of Akshardham temple is present in Gandhinagar, Gujarat.
Timings: 9:30 AM to 6:30 PM, Entry fees: While the temple entry is free, the exhibition costs INR 170
The ideal time to spend: 2 hours
Hauz Khas Village
Hauz Khas village is a popular place amongst the locals for the best nightlife as it offers retro clubs, pubs, and fine dining restaurants which you will be spoilt for! It also boasts various boutiques and art galleries. If time permits, visitors can visit the Hauz Khas fort which has many domed structures from the 14th century.
Timings: 10:30 AM to 8:30 PM, Entry fees: Free, Ideal time to spend: 3 hours
Also Read: Complete Travel Guide to Visit Varanasi in 2 days
Must Eat in 2 days in Delhi
Your trip to Delhi or even India is incomplete without trying the street food. The most famous Places in India- Varanasi, and Delhi both are famous for their food. Delhi has the best European-style cafes, posh restaurants, and hotels but it feels injustice without give try to street food.
When you visit the Jama Masjid, you can visit the famous Chandani Chowk Market which is right in front of the mosque. Chandni Chowk has similar vibes as Thailand's Chatuchak market with bustling crowds selling accessories, souvenirs, clothes, and many other things! Here are a few of the famous and Best Places to eat in Delhi:
Old Delhi: One of the most iconic places for the best food in Delhi, Old Delhi is the place where you can have Chaat, Dahi Bhallas, Jalebi, Daulat ki Chaat, and so on. It is a paradise for food lovers- Best street food, authentic Mughlai cuisine, and sweets lovers, Old Delhi still retains its glorious charm and culinary delights of the past. For someone who likes experiential binging, this is the place to be!
North Campus: One of the best places to eat in Delhi, the North Campus is one area where you won't be disappointed when it comes to street food, snacking joints, fast food, and multi-cuisine diners. It is a famous place among students as they come to study from all over India and have a limited budget. some of the famous joints are Momo's Point, Bille Di Hatti, Chache Di Hatti, Shagun Asian Eatery, Bamboo Hut, and South Indian Cafe.
Hudson Lane, GTB Nagar: Not far from the North Campus area, you will find the finest cafes and best restaurants in Delhi, which also offer international cuisine. Some of the best places are Mad Monkey, QD's, Woodbox Café, Indus Flavours, Big Yellow Door, and Rico's.
Connaught Place: Home to some of the best restaurants in Delhi and also iconic dhabas, one can relish all kinds of cuisines here – be it local, regional, or international. CP is among the best places to eat in Delhi for you if you're looking for budget-friendly local cuisine. The few Best are Kake Da Hotel, Parikrama, Jain Chawal Wale, Minar.
Fine dining: Pandara Road and Safdarjung Enclave offer some excellent fine dining options.
Ideally, one needs half a day to explore these lanes and by-lanes which are divided into various sections and also have a dedicated lane for food specifically chaats. You can not leave Delhi without trying Samosa, Chhole Bhature, Parathas, Kebabs, Chaat, Biryani, and Paneer Butter Masala. You need to plan your day to eat at all the famous places in Delhi!
How to reach Delhi
Being the capital of India, Delhi is well-connected through air, rail, and roads.
By Air: Delhi is connected to all international destinations with direct flights as well as domestic destinations. The airport is also connected through a special section of the Delhi Metro – Airport Express which will take visitors directly to the center of the city.
By Railway: Delhi is a major junction covering Northern India and it has more than 6 railway stations. Out of these the New Delhi Railway station and Old Delhi railway station are the most used. Travel agents will try and sell you tours and tickets at inflated prices. Every Station has a booking office at the train station where foreigners can reserve tickets. Make sure you bring your passport when booking a ticket.
By Bus: Delhi has 2 major bus terminals – Kashmiri Gate and Anand Vihar. Comfortable Volvo buses are available for nearby states.
Delhi in 2 Days: FAQ Practical Information
Best Ways to Get around Delhi
If you are visiting Delhi for the first time, it may be overwhelming for you to get around. While thankfully the travel-based apps – Uber and Ola are a blessing to move from one place to another, it could be a pain if you want to cover multiple places in a day.
Although Delhi has an excellent Metro train system, just like most big cities in the world, getting to the visitor places from the metro train station could be a hassle while on a short trip. Here is the Metro Travel Guide of Delhi, which may help you to master metro travel in a short time!
If you're not on a strict budget, you can hire an auto for a day but beware and fix the price before starting your tour and bargain hard. Alternatively, the best way is to hire a car and driver for the duration of your stay to get around Delhi. Keep in mind the heavy traffic timings and avoid them if possible. Heavy traffic timings are from 9 AM to 11 AM and from 5.30 PM to 7 PM.
Delhi Travel Guide: Where to Stay in Delhi
The North/Old Delhi: Paharganj, also known as the Main Bazaar, is one of the most popular budget/backpacker areas in Delhi due to its central location. I also have stayed in this area quite a few times and didn't face any issues. Here there are many hostels, budget hotels, and markets, restaurants nearby. Madpackers Hostel is famous among travelers. Other affordable areas close by are Karol Bagh and crazy busy Chandni Chowk.
Central Delhi: Connaught Place- Located in the heart of the city, Connaught Place is one of the best places to stay in Delhi for tourists. Boasting all things cultural, historical, and religious, Connaught Place gives you a glimpse of Delhi. It is well connected by numerous Metro stations, taxis, and auto-rickshaws making it easy for travelers. The hotels near Janpath Markets are good to stay in this area.
South Delhi: While North Delhi is chaotic, south Delhi is quiet and offers a peaceful atmosphere. It is the best neighborhood in Delhi for families. If you stay here, you can easily access highlights like the Lodhi Gardens, Humayun's tomb, and Mehrauli Archaeological Park. The neighborhood is leafy, and visitors feel safer here than they might elsewhere.
Shopping in Delhi
Delhi is a shopper's paradise, it has modern air-conditioned shopping Malls where you will get branded stuff but it is also known for its Local Markets. Indian markets are full of people, smells, colors, and sounds and are definitely an experience not to be missed.
The prices can be very low as soon as you learn how to bargain. Even your entire 2 days in Delhi can be spent Shopping. You can buy pretty much everything you can imagine – tons of fresh vegetables and fruit, wonderful home decorations and fabrics, handicrafts, vintage goods, tea, spices, jewelry, clothes, and much more.
Just make sure to bring patience, bargaining skills, and endurance. You will return with bags of wonderful goods. Here is the list of the Best Places for Shopping in Delhi:
Khari Baoli –

Asia's biggest spice market ( Photographer's Paradise)

Dilli Haat –

traditional weekly village handicrafts market run by Delhi Tourism

Khan Market:

One-stop shopping center in central Delhi

Sarojini Market-

Best for clothes, Janpath Market for souvenirs, and Lajpat Market for housewares.

Chandani Chowk-

Shopper's and foodie's Paradise

Palika Bazar-

You will get everything you need at reasonable rates.
If you are not good at roaming around on your own book this Private Street Shopping Tour
Related Read: Jaipur Shopping Guide
Is Delhi Safe?
If you are traveling to India for the first time, it's not easy for you! Even as an Indian, I always stay alert and watch my surrounding whenever I travel. Delhi has a bad reputation for rap, Scams, and fraud despite the kindness of locals.
There are many people who migrate from rural areas in search of a job or occupation and that apparently increases the crime scene in Delhi. However, if you are staying in popular tourist areas it's very unlikely you experience any such problems.
My top tip as a female traveler, my top safety travel tip is to stay in central Delhi where the big hotels are, or in South Delhi, the most upscale residential area. Also always be very careful about travel at night and take a reputable taxi OLA or UBER and be always alert. If you want to explore the Old Delhi area, go with the tour guide or take a guided group tour from your hotel or hostel. Always keep an eye on your money and beware of fake money or fake things while you shop.
Be aware that Pickpocketing is extremely common in Delhi. So don't carry all the valuables around. Keep them at the hotel or make sure you carry them safely in an anti-theft backpack or a bag you can lock.
What to Wear when in Delhi?
India is a religious country and you need to cover your shoulders and knees when you visit the temple and mosques. Try to avoid wearing shorts and sleeveless clothes while getting around in Delhi as it will result in unwanted stares and it may be uncomfortable for you.
If you are living in a cold destination and arriving in India, pack loose cotton clothes that absorb the heat and keep you cool at the same time. If possible wear maxi dresses and long skirts with t-shirts. I would suggest packing scarves and kimonos which look stylish and at the same time you can cover your shoulders.
Delhi is like emotion and you will always fall in love with the city again n again! If you like Delhi in 2 Days Post, Pin it for later!