Best Places to Visit in Shillong : The Scotland of East
I always wanted to visit  Meghalaya since long as it has everything to offer for traveler.I couldn't visit all the Places but visited Shillong for two days.Shillong is the capital of Meghalaya and home to Khasis. It is said that the rolling hills around the town reminded the European settlers of Scotland. Hence it is known as 'Scotland of the East'. Any ways I haven't been to Scotland yet, but recently  explored Shillong and here is list of best Places to visit in Shillong travel guide.The city is so enacting.
'Abode of Clouds'
Meghalaya and the city has perpetual love affair with clouds during monsoon and it receives fair amount of rainfall throughout the year. When it rains the clouds descends; you can have clouds everywhere you see around. 'Shillong – Meghalaya' is 'abode of clouds'. Meghalaya has everything which nature has to offer from green landscapes, numerous valleys, lush green hills surrounded with waterfalls. This is why one can't deny that there are many Places to visit in Shillong which includes valleys and waterfalls.
Shillong remained the capital of undivided Assam until the creation of the new state of Meghalaya. Shillong is situated at 4905 ft above the sea level and it is home to countless waterfalls, dense forest areas and lakes. It is such tiny quaint hill station developed in colonial style.
I  explored Guwahati in a day before celebrating spring at Manas National Park; from there I took chance to visit Shillong for spending some 'Me' time there. It took 2.5 hours to reach Shillong from Guwahati. The route from Guwahati to Shillong was just like other hill stations in India covered with rolling hills, mountains and forests.
As I reached Shillong, felt that it is like other tourist place but I must believe in not judging the place and enjoying at my own pace.
The air was crisp, spring flowers were in bloom, locals were smiling, and there was unique freshness in the atmosphere. I felt this is the Place I always wanted to be and this is what it is to be happy.
As shillong is a tiny hill station, you can cover most of the places in a Day. But if you want to experience more of the north east and about the culture, food and lifestyle of people, I recommend staying for 2-3 days here.
Here is the map of Places I covered in a day during my visit from Elephant waterfalls to Umiam lake.
Elephant Falls
There are so many waterfalls in Meghalaya and in Shillong too, elephant falls is one of my favourite. It is located 12 Kms from shillong, it is a three step water fall. The history behind its name is also interesting. There are no elephants in this region but the original Khasi name as mentioned earlier is 'Ka Kshaid lai pateng Khohsiew' or the 'three stepped waterfalls'. There was a Signboard near the falls which details the explanation of the name elephant falls. There was a curious looking elephant shaped stone near the fall but incidentally an 1897 earthquake destroyed the stone but the name hasn't yet changed.
The lush green area, gushing water flow and enacting beauty of it can't stop you from being there. Even our PM Narendra Modi couldn't resisit visiting the place. This is also one of the amazing Picnic Spot in Shillong.
Shillong Peak:
It is on the way to elephant falls, located at a distance of 10 km from the main city. Shillong Peak is the highest point of Shillong and offers panoramic views of the city, the waterfalls and the lush green surroundings as well as the Bangladesh plains. The peak has an impressive height of 1962 m above the sea level.
It is said that Shillong gets its name from this peak itself. Regional tales tell that the patron deity 'Leishyllong' resides in the hills and protects the city from all evils. The U Shulong site at the top of the peak is sacred and every spring, a ritual is organised there.
I visited the shillong peak on rainy and foggy day. When clouds got cleared, I could have the lovely view of the shillong city. If it is rainy day, still you can absorb the view from here – in between the abode of clouds which it names.
The Shillong peak is situated at the air force base and features a radar station of the Indian Air Force. Due to security reasons, heavy checking is done at the gates, and tourists are asked to deposit their ID cards and scanning of extra luggage. If you are interested, you can visit air force museum too.
Cathedral of Mary Help of Christians
In Shillong majority of the people follows Christianity and you can visit as many lovely churches you can. I clicked photos of many of buildings and churches; they were pretty and beautiful. I was staying in Laitumkhrah locality and visited nearest Cathedral of Mary Help. It is one of the beautiful churches in shillong with colourful building. It has high arches and stained glass windows which add to its grandeur.
Lady Hydari Park
The Lady Hydari Park is named after the erstwhile first lady – wife of Governor of Assam when Shillong was under the administration of Assam and when the British ruled India. There are numerous round shapes of hedges, willow trees and small pods in the park which makes it a perfect place to stroll in the refreshing atmosphere. There is a small children play area and zoo inside it that makes it a perfect place for the people who are travelling with kids.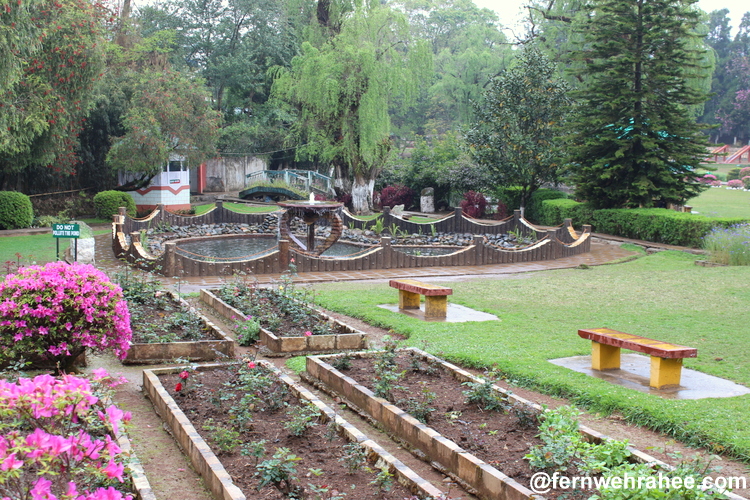 The park has paved walkways that which makes it easy for visitors to stroll amongst the manicured lawns and admire the vast variety of flora including an impressive collection of rhodendrons and orchids. In the winters and spring season, you can spend a lazy afternoon in the Hyadari Park lawns are the perfect way to relax.
Ward's Lake:
One of the most pristine Places in Shillong is Ward's lake built by Sir William Ward during British rule. It is man made Park surrounded with extensive lush gardens. You can take a walk around the cobble stoned pathways and can simply admire the simple beauty of the floral garden. It is a perfect place to click photos of beautiful flowers for social media lovers. It is also popular among locals for leisure walks.
In the middle of the lake, there is a wooden bridge from which you can admire the lovely views of the lake. One can also enjoy boating here on the placid waters of the Lake. Be it leisure walk or the boating on the lake; it is a gorgeous place for some "Me" time and If you happen to visit Shillong in winter season, you are treated with the Pink Cherry Blossoms in the Park.This is one of top places of tourist interests in Shillong.
Also read : Top reasons to visit Meghalaya
Shillong Golf Course:
Shillong Golf Course is one of the oldest, largest and finest natural golf circuits across the world. It is located in a beautiful valley that is dotted with thick pine and rhododendron forestation.
Owing to its greenery and scenic beauty, the United States Golf Association and Museum has given it the title of 'Gleneagle of the East'. I was not intended to play the Golf there, but the beauty was captivating and giving me the reason to breathe the fresh air and clicking impressive pictures. 
Don Bosco museum:
One of the best Places to visit in Shillong is – Don Bosco museum . Don Bosco Museum in Shillong is popularly known as Don Bosco Centre of Indigenous cultures. It is seven storey building and requires at least half day to explore it properly. The design of the building is marvelous and it's referred to as Shillong's architectural pride.
The Museum is dedicated to the lives of North eastern tribes and gives insight in to the lifestyle, culture, food and festivals of this region. The Don Bosco centre is more of a holistic educational resource than a viewing forum.
Each floor of the museum is dedicated to different information. Don't miss the top floor of the Museum; there is an open air Skywalk which gives bird's eye view of the Shillong city. This Museum should be one of  Top Places of interest in Shillong.
Visiting Time:  Open from Monday to Saturday, Closed on Sundays and during Public holidays. 9.00 a.m. to 5.30 p.m. (February to November), 9.00 a.m. to 4.30 p.m. (December and January)
Entry Fees: INR 100 per person.
Umiam Lake:
Umiam lake is known as localy 'Barapani lake'. If you are travelling from Guwahati to Shillong, it is located 15 Kms before shillong. The Lake is a part of a dam, constructed on Umiam River. It is now popular place  in Shillong among tourists for water sports activities and day picnics. As it is on the roadside, this is one of the top tourist places around shillong.
It is at picturesque location with panoramic views, surrounded by lush green east khasi hills. For a photographer, it is an ideal place for capturing captivating photographs while enjoying boating and indulging in other water sports. Due to its beautiful Location, it makes best Places to visit in Shillong. 
Police Bazar:
For me, getting the idea of any place is visiting local markets/Bazars. The police Bazar in shillong is bustling place with plenty of shopping options. It can be best enjoyed while walking down the streets and one can buy anything from local handicrafts, winter wears, shoes and local fruits and the list is endless. It was equally amazing to observe and interact with the locals.
Other Top Things to do in Shillong:
Explore local Market Bara Bazaar

Have lunch at Heritage Hotel Tripura Castle

Explore beautiful Buildings and churches like All Saint Church, St. Joseph Church and Grotto Church.

Visit Offbeat waterfalls like Spread falls, Sweet falls,Beadan falls in shillong.
Best time to Visit Shillong:
October(just after Monsoon) to May (Late Summer) is the best time to visit Shillong. Months of June- Sep is monsoon season and it should be avoided as heavy rain can affect your trip.
How to Reach Shillong:
Shillong doesn't have an airport; Guwahati is the nearest airport 130 Kms from Shillong. It is well connected to the other parts of India with regular flights. The shared cabs available outside the airport connecting to shillong at INR 500 which drops you at Police Bazaar.
If you don't get cab from the airport itself, go to the main road and take shared sumo till Khanapara and from there to Shillong. Also Meghalaya tourism buses ply between Guwahati airport and Shillong twice a day at 2 PM and 4 PM (fares start from INR 250); just ask at MTDC counter at the airport.
All the sumos/cabs stop at Nongpoh for the refreshments and snacks. Don't forget to taste the delicious Pineapples on the way to Shillong.
Where to Stay:
Shillong is the capital and entry gateway to other cities of Meghalaya; it offers variety of accommodation options. The most of hotels are located in Police Bazaar area and you can get accommodation ranging from INR 500 onwards.
Getting around:
Shillong is small city and you can best experience it by walk or by City Bus. The places at distance can be visited by taking shared taxi. The yellow and black Maruti 800 used as shared taxi by locals for point to point transport which charges INR 10 to INR 50 per person shared with other 4 people. If you want more flexibility, you can hire private car INR 1200-1500 per day for sightseeing.
Food Options:
There is ample choice available for food both for vegetarian and Non Vegetarians. Police Bazaar has many restaurants/hotels which offer Veg, Non Veg and local Khasi cuisines. Try local roadside momos, Chinese from roadside stalls and Jalebi from Delhi Misthan Bhandar. If you want to have fine dine experience, try Cafe Shillong and Dylan cafe.
Places to Visit Near Shillong:
There are several Places to visit around  Shillong which can be explored as a day trip with Shillong as a base in Meghalaya. 
Cherrapunji/Sohra – Located 54 Kms from Shillong, Cherrapunji has so many waterfalls and caves to explore. Visit Mawsmai Caves, Arwah Caves, Nohkalikhai falls, Eco Park and Seven sisters falls.
Laitlum Canyon – Located 15 Kms from Shillong has deep Canyons with beautiful hills.
Mawsynram – Located 60 Kms from Shillong is the wettest Place on the earth with beautiful landscapes.
Mawphlang– Located 25 kms from Shillong is famous for sacred forest with an amazing life form of plants, flowering trees, orchids and butterflies. It is an ideal destination for nature lovers.
Mawlynnong – Located 90 Kms from Shillong, it is Asia's Cleanest Village where local community has made collective effort to maintain the ambience of a clean village. The village offers picturesque natural beauty, a trek to the living root bridge at a neighbouring village Riwai.
Dawki –   Located 80 Kms from Shillong, Dawki is Last Border Town in India which is famous for crystal clear water of Umngot River. You can visit India-Bangladesh Tamabil border,Krang suri waterfalls and Shnongpdeng.
There are many Places to visit in Shillong, 2 days aren't enough to cover all the Places to visit near Shillong.
I was short on time and sadly cannot cover any other places in Meghalaya. I would love to return to Meghalaya soon.
Like this post?? Pin it!