Manas National Park Assam- Complete Travel Guide Heritage Site
updated on 21st October 2020
India itself is like a continent with so many communities living together who have their own distinct cultures, festivals, and food habits. In general, I love festivals as it breaks the monotonous life. Bihu is the chief festival of Assam State of India. Rongali Bihu/Bohag Bihu which is observed in April is an important festival of Assam celebrating the Assamese New Year and springtime which spans for 7 days with each day having its own significance. Bihu is associated with agriculture and rice in particular. I got a chance to witness this festival at Manas National park Assam and here I am sharing my travel guide to Visit Manas National Park.
"Think about waking up to the sound of chirping of birds, among the vast expanse of tea gardens, spotting wildlife in their natural habitat, devouring delicious local food, embracing local life and culture, cutting off from the  technology and just surrounded by nature and simplicity of rural life." – Manas Spring festival was all about it.
The event was hosted by the Local Bodo Community who lives in fringe villages of Manas in association with Indian Weaver's Alliance, Swankar Mithinga Onsai Afat – an association of reformed poachers in Manas who are now engaged in wildlife conservation and preservation and other institutions. It was all about food, culture, traditions, and handicrafts by local artisans at Manas National Park and going insight into the life of the local Bodo community.
Also Read: Popular Cultural festivals of India to experience once
The journey started from Guwahati in the early morning at 6.30 am by meeting and gathering with all other fellow bloggers. There was so much excitement about the festival among us. It is well saying that journey is more important than the destination; we group of people made an amazing bond together though we were meeting for the first time. After driving for 2.5-3 hours, we reached to Manas National Park by early Noon. The arrangements were already done by organizers for celebrations with culture extravaganza and food.
The aim of the festival was to help the local 'Bodo' tribes by creating alternate livelihood by sustainable tourism. The event was placed in the central area Bansbari range of Manas during 7-8 April 2018. The setup was done like a small village with a camping facility.
About Manas National Park:
Manas National Park situated in the Assam state in the Northeast part of India is located in the Himalayan foothills covering an area of 360 sq km. The National Park which is also a tiger reserve, an elephant reserve, and a biosphere reserve covers five districts of Assam. It comprises of 3 ranges- Bahbari, Panbari, and Bhuyapara. It became a UNESCO World Heritage Site (Natural) in 1985 and a national park in 1990. It is considered to be the pride of Assam and gives so many reasons to visit , marked by the richness in terms of both flora and fauna. It is home to 34 rhinos, 1000 elephants and 24 tigers and so many other species of birds and wildlife.
About Bodo People:
North East India is home to over 200 tribes and each tribe has its own distinct culture, religion, language, food habits. The Manas National Park is inhabited by the oldest tribes of Assam – 'The Bodo' tribes who are the earliest immigrants in Assam and are said to be the most culturally rich community. They generally have known as 'Bodosa' among locals.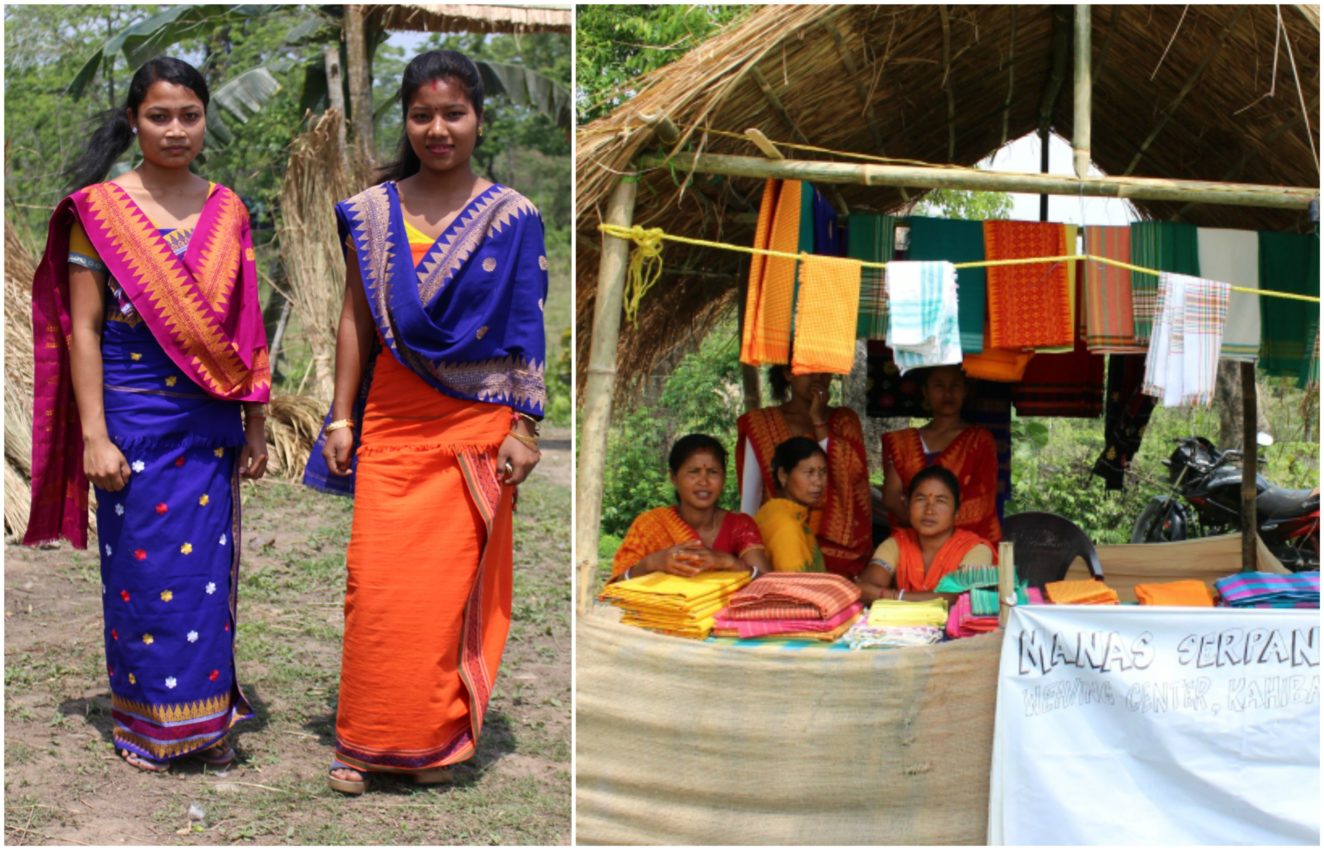 These people living around Manas are dependent on its forest for their livelihood. Few groups/NGOs have started a novel project to provide alternative means of livelihood to the people in the fringe areas of Manas National Park who have been dependent on the jungle for their daily necessities. The plan is to reduce people's dependency on the jungle and forest and to encourage community participation in the conservation of Manas National Park through self-reliant economic activities in fringe villages.
The festival was inaugurated by the Kampa Borgoyary along with celebrity chef Gautam Mehrishi and Musician Jay Barua. The festival was followed by different activities and performances.
On the festival site, the looms were demonstrated with the stalls by local artisans to showcase their handicraft products like 'Mekhela Chador'[skirt and shawl] and 'Dhokhonas' [the traditional dress of Bodo Women]. Weaving is an integral part of the Bodo culture and they are one of the finest weavers in the entire North East Region. Since a very early age, these Bodo girls learn the art of weaving, and thus loom is an inseparable object in the courtyard of a Bodo house. Most women weave their own 'Dokhonas' and shawls. Handing over an 'arnoi' (scarf) or a 'dokhona' to a visitor is an honor. The traditional motifs used in weaving are inspired by nature – water, flower, peacock etc.
The Bodos are also excellent bamboo craftsmen and have developed craftsmanship in creating several products from things like bamboo. Their income mostly depends on such crafts and arts only.
The inauguration ceremony was followed by cultural performances. The Bodo tribe is famous for its colourful folk dances. Bagurumba, Jhumur, and Bihu dance are some of their traditional dances.
I was amazed by the enthusiasm of the dancers and their beautiful attire. It was a colorful sight to behold with the tune of music. The twists and turns in dance were like one can never get rid of clicking so many photographs of them.
Related Read: Guwahati sightseeing in a day
Any festival is incomplete without mentioning food. Rice is a staple food of Bodo's and is often accompanied by a non-vegetarian dish such as fish or pork. The traditional Bodo Cuisines cooked traditionally by locally grown produces which includes mostly leafy plants. The food preparation was done in front of us with a traditional open wood fire system.
The Bodo People love their conventional drink- 'zu mai' where 'zu' means beer and 'mai' means rice. They gave an insight into the making of Zu mai. I tasted a bit but didn't like the taste. The locals were extremely happy to show us their traditional way of cooking.
Post Lunch, we interacted with Kampa Borgoyari- the deputy chief of the Bodoland Territorial Council(BTC), and told us more about the local Bodo community and the history of Manas Park. He told us how Manas national Park revived from the '80s and '90s from poaching and terrorist activities and how poachers became Protectors.
In the afternoon, Chef Gautam Mehrshi prepared a dish named 'Onla'- one of the traditional Bodo dish with all available local ingredients to boost enthusiasm among the people.
An evening at Manas National Park was about to catch up with sunset at Beki River. On the way to our ride, we spotted Rhino grazing in the far away grassland. It was a surreal experience to watch the animals in their natural habitat.
When we reached the river bank, it was about to sunset; we happily soaked our feet into the water and witnessed the amazing sunset by the river. The pebbles and cold water were enough to give us a natural Spa treatment at that moment.
After returning, we were served light dinner followed by a few folk performances. But I had no energy for it, so returned to my tent. It was my first time in staying tents but overall it was a quite a good experience.
On the 2nd day, Manas National Park safari was arranged for us to witness the wildlife at Manas National Park. We started early in the morning to spot one horn Rhino and other wildlife and birds. But luck was not in favor and rain shower had spoiled the mood. We started from Bansbari swaying past Tea plantations and forests. After driving for a few hours, we ended up spotting only elephants in wild, a few deer and birds.
Despite drizzling weather, we managed to click a few photographs. The weather couldn't disappoint us and we enjoyed the green pasture of nature. After all, it is only about being with the nature.
After spending good six hours on safari, we reached Mathanguri on the banks of Manas River. The Manas River serves as a border between Manas Park in India and Royal Manas National park in Bhutan. The Rain has stopped by the time and we had enough time to soak into the beauty of the place with cloudy backdrops.
Post lunch we were taken to the site of elephant bathing at Smiling Tusker Elephant Camp. Unfortunately, we were too late to witness it. We could spot the elephants that were getting ready for safari.
Two days ended in no time. We stayed at tents without electricity and mobile connectivity ate delicious local food and experienced the hospitality of Bodo people at Manas Spring Festival. Apparently, this festival was organized to give a try to boost the confidence of locals to create income through alternative resources of livelihood by promoting food, handicrafts, and culture.
If you are visiting Assam, stop by Manas National Park 'Gungzema' to have a rustic experience ultimately to help the local community.
How to reach Guwahati to Manas National Park:
The nearest railway station is Barpeta Road (30 km) from Bansbari which is the Nearest Entry Point. The nearest Airport is Guwahati Airport (165 km). The easiest way to reach Manas National park from Barpeta is by Car/taxi.
Best Time to Visit Manas National Park:
The best time to visit Manas National Park in winter and summer season i.e from October to May mostly.It remains closed during Monsoons.
Disclaimer: I was invited and hosted at Manas Spring Festival, however, all opines are my own.
Like this Post about Manas National Park Assam, Pin it for later!