Travel during the Pandemic- My India to USA Vande Bharat Flight Experience
The Pandemic that started to hit the world in March in 2020 has halt the whole world and life of everyone upside down. Everyone is waiting to travel again,want the Normal life as Pre-COVID time.When will it be safe to travel again? But this is not right time to take non essential flight, I don't encourage anyone to travel during this situation. I traveled during Pandemic, that too my first Long haul flight- Vande Bharat repatriation Flight from India to USA. Here I am sharing my Safe Air travel during the Pandemic travel tips and experiences.
I had my flight booked for March 2020 just when Lock down imposed in India, I couldn't go as international flights suspended for uncertain duration. I had booked tickets in Feb 2020, but I didn't know Corona Virus will hit the world so hard like this!! The Borders closed in India, international and domestic travel suspended, WHO declared it as a Worldwide Pandemic and Nothing was in my hand to reach USA to meet my husband.
I was Panicked, India sealed Borders, Cases in USA were increasing and I was feeling depressed because I was not with my husband during such time. Further, India extended its lock down till May-2020, I started loosing my Patience. In India and USA, the conditions were not improving to control the situation. India declared Lock down suddenly, given 4-5 days to return citizens from Out of Country and many Indian Citizens stranded outside but Government was not doing anything to bring back stranded citizens.But In May-2020, Government declared 'Repatriation Flights' for stranded Citizens to bring back to India from different Parts of the World named it as 'Vande Bharat Mission' of Air India.
At this Point in life, I am feeling Proud of Myself being a travel blogger and Part of this Community. With the help of Soumya Nambiar from travelbooksfood blog, I came across Facebook Group 'SOS Global Indians', run by Michael Khanna, a lifeline for many People who are stranded out of India. From this Group, I joined other related Groups on Facebook,few on Telegram. I was getting information on who can travel on Vande Bharat Flights, how to book tickets etc. I was ready to book my flights,then the President of USA, Mr. Donald Trump declared Visa Stamping Ban for H1B,L1 and L2 etc. Hopefully, My visa was stamped back in May-2019, I was good to travel anytime. I hold dependent Visa to USA, there was No Visa issue for me.
In the Group, I read so many stories of Stranded Citizens, Senior Citizens, Pregnant ladies, People who faces death in family and so on, it melt my heart – all wanted to come back to India OR want to go back to USA to reunite with their family. Due to Visa stamping Ban till December 2020 by USA, so many spouses got separated, many people laid off, few children separated from their Parents, and so many such compelling cases who just want to be with their family or to meet their ailing Parents.
As Repatriation Flights started in May-2020 by Government of India, I was feeling a bit hopeful to meet my Husband in USA. It was more than a year, hadn't see him and I was desperate to just see him!! I know, its not good time to travel but I took a leap of faith and started gathering relevant information. Initially, only USA to India travel was allowed, but later on they started allowing Valid Visa holders to go back from India to USA. There was mad rush to book the flights, complicated Procedure and so many Rules to travel internationally! You need to be prepared mentally and Physically to travel during such time.
How Safe is Air travel during the Pandemic?
Well, I haven't thought I will travel during the Pandemic, that too my first Long Haul Flight! Due to Corona Virus restriction, air travel is not the same anymore. There are many safety Protocols and Procedures which you need to follow to keep yourself and others safe during air travel. Once I booked my tickets to USA in July first week, I started having second thoughts, considering the increased cases in my hometown Surat and in India. I had flight from Delhi to Washington Dulles(IAD). I was bit apprehensive but then I decided to stick to my decision to travel. I had my essential services Job, so actually I was not completely at Home but still it was different scenario to get in touch with many People from all around India! I was worried getting infected but I kept myself Positive and started Preparing my mind to travel. Still I would say, avoid all Non-essential travel for now and if you need to then follow all the safety precautions. Here is My experience of Traveling from India to USA:
COVID Test & Domestic Flight: Ahmedabad – Delhi 15th July,2020
I live in Surat, Gujarat which is major textile hub of India and 4 hours away from UNSECO World Heritage City-Ahmedabad. In Past, I had taken many domestic flights from Ahmedabad, but this time it is completely different scenario. I booked 7.45 AM Ahmedabad to Delhi by Air India as only Air India allows through check in of Luggage for international leg of travel. Other domestic carriers are not allowing two check in bags and I had my baggage as per international leg.I started taking extreme precautions before few days of flights- limited outings even though I had to Purchase so many things for USA travel. I started wearing double masks, Practicing not to touch anything around me, even not my eyes and nose. I kept wearing Mask whole day to prepare my mind for international travel.
My Brother-in-law and Sister-In-law decided to drop me at the airport. We started at 10 PM from Surat even though I had flight in the Morning 7.45 AM. Also We got the news that we had to Pass through Corona virus antibody test on the highway before entering the Ahmedabad as Surat was facing increased numbers of cases, Ahmedabad Municipal Corporation(AMC) decided to sent back COVID Positive People back to Surat to stop spreading the infection in Ahmedabad to curb virus effectively. News and resources said, there might be a long queue on the highway for the testing and we couldn't take a risk of missing my flight. I was again in depression what if Antigen testing give false results or, what if I couldn't travel?? But with the hope and confidence, at around 2 AM we reached testing center at Ahmadabad Expressway. One Policeman saw our GJ-5 Number Plate Car and asked us to go for testing. Miraculously, we were only People for the testing at that time, took 10 minutes to take Nasal Swab and giving us the result. The result was Negative for all of us and it was big sign of relief as I can now travel with that testing Proof. I took the Picture of my result if anyone at the airport demands for it!
At 2.30 AM, 15th July, reached at Ahmadabad international airport. I waited for 3 hours in the Car to get inside the airport. At that time, only Air India flight was scheduled from International terminal, so there were not many Passengers. At 5.30 AM, they called for my Flight Number and I entered inside the airport terminal. They asked all the Passengers to wait with Proper Social distance sitting arrangements,distributed one undertaking form for health declaration to fill up by us. Then Doctor came, he took temperature via thermal screening and I submitted undertaking to him. After that, security checked my ID Card and tickets via Glass shield Chamber and let me entered inside the the terminal. Here is Safety and Air Travel Protocols for Domestic Flight in India and My suggestions for Domestic flight travel:
Your Bags will be disinfected before you enter inside the terminal. You can wrap Plastic around your bags , so that you can Protect it from touching by others. But I didn't prefer it looking to the wastage COVID-19 is creating!! I preferred disinfectant wipes to clean my Bags after reaching to the USA.

Web Check in is Mandatory to take domestic flight. Also you need to Provide Health Declaration form.

Downloading Aarogya Setu app is Mandatory and they will check 'Safe' Green signal before you enter the terminal.

The sitting arrangements are done with one chair blocked with 'Social Distance' Mark and you can't sit near to any other Passenger. The social distance need to maintain at every step.

ID Proof is checked with a glass shield between you and the staff. You have to show them by holding it in your Hand to show it to the staff.

You are allowed only one carry on and one check in Bag for Domestic Travel. But as I had international Flight, I got checked in all my Bags till USA. Check your airline Baggage Policy before you book the Flight.They are strict with weight restrictions.

Don't open your Bag frequently at the airport, Keep your essentials handy, weigh your Bags according to restrictions before international travel.

I got stamped 'Security Check' on my Boarding Pass before security Check with the Staff being inside the Glass Shield Chamber.

Carry disinfectant Spray and disinfectant wipes to wipe down trays during Security check and before sitting on the chairs while you are waiting to board your flight.

Security People will not touch your bags, they are using stick to move your Bags during the security check.

Use sanitizer whenever you touch anything, train your mind before few days of travel.

If possible, avoid using trolleys, but I had loads of

Luggage, I used it with wearing Gloves.

Arrive 3-4 hours in advance at an airport considering the all Procedures.
During the Flight- Precautions I took:
I had 2 hours flight from Ahmadabad to Delhi. After thermal screening,Baggage drop, Security Check etc I had little time to board my Flight. Here is My observations and tips during the flight:
Maintain enough Social distance while boarding your flight, there is No hurry to board, you won't left behind ! Also during de-boarding wait and don't make it crowded.
I used toilets before my boarding, so that I can avoid it during the Flight.
Most airlines are using high HEPA filters which enable the cabin air flow vertically from ceiling to floor and get absorbed for purification. Also aircraft is sanitized after every flight.
They will scan your Boarding Pass before entering in the Flight, Provides you PPE Kit set which included Sachets of Sanitizers, Face Shield and Mask. Mask and shield is Mandatory to wear during the entire duration of your flight.
The Middle seat Passengers have to wear gown like PPE suit. The Middle seat will not be empty! keep this in mind.
The Cabin Crew will be in Protective Gear- with PPE Gown, Gloves, Mask and Shield.
There is No On Board Service or entertainment in the flight. Also food will not be served.
I used disinfectant Spray on seat handles,seat belt before settling on my seat and wore Gloves till I reached Delhi.
I wore double Masks and face shield during the flight, initially it was bit uncomfortable but not that much tough to handle. I slept throughout 2 hours flight till the Plane landed in Delhi. I was carrying only carry on (1 trolley Bag+Laptop Bag) as my bags were checked in till USA. I had 10+ hours Layover in Delhi before my International Flight. I stayed at Holiday Inn Express Hotel inside the terminal 3, Delhi International airport. They allows stay for transit, not more than 24 hours. I Paid INR 9000 with taxes but it was worth the money for comfortable stay.I called their representative and reached their counter near Plaza Premium Lounge. They will take you through various security check Points and it will take 60-90 minutes to reach the Hotel. The check in at hotel was smooth and I got single Bed Room for my Stay with complementary Hot Drinks facility.
I was deadly tired due to Previous Night's travel by road to reach Ahmedabad. After entering my Room, I wiped all my Bags, Shoes and everything I wanted to use in the Hotel Room including door knobs,tables etc. I Placed my own dupatta on the Bed, slept for 6 hours straight to get some rest. Then took hot shower, had coffee and checked out from the Room at 7 PM for my international flight. I didn't left the airport, so there is No Quarantine in Delhi! If you go outside the Airport, again you are required to stand in the queue to enter the terminal. I wanted to avoid that hustle. Apart from the Holiday Inn Express Hotel, you can check the Plaza Premium Lounge with Private stay. The Lounge on Domestic arrival and International departure side is working for Private stay and Lounge chair resting.
International Flight: 16th July,2020
The Holiday Inn Express Hotel representative dropped me near the Thermal Screening Table inside the terminal(at the entrance of terminal). He was collecting Health Declaration form and checking the temperature. You need to carry two copies of Health Declaration form- One to submit and other to show at the Baggage counter. The Counter Person will stamp it for checked. Then My carry on baggage was screened by security. After that, I went towards Air India Counter where there was small queue, I had waited for just 5 minutes. The Air India representative checked my Passport,ticket,health declaration form and sent me to the Baggage drop counter. At Baggage drop counter, they didn't check my carry on weight, just asked for Passport,ticket and health declaration form. I requested the agent to give me window seat and He issued my boarding Pass for Washington Dulles. I avoided Middle seat and Aisle seats for safety reasons. He guided me towards Immigration counters and I was all set to be at immigration. I started my all procedures 5 hours before the flight as I wanted to avoid hassle and crowd, because so many international flights operates during Night time.
Immigration Experience at Delhi Airport:
Due to recent Visa stamping Ban and being my first time entry to USA I was bit worried whether they will allow my travel or not. I was standing in a queue, had 4-5 People ahead of me. Then agent declared you can stand in any queue including Wheelchair assistant. I looked around and shifted myself to another queue, only one old age couple was ahead me. The immigration Official was one old age Person and called me as 'Beta', Why you want to go to USA? I replied my Purpose and then he questioned about my Passport Photo. The Photo is 10 years back in my Passport which is not recognizable now, I am changed totally! I said yes, its me and he stamped 'departure stamp'. This was huge sign of Happiness for me! Then I was looking for way to security check, He again appeared outside of his chamber and guided me 'Beta, this way'. First time in my life, I had such pleasant experience during such Pandemic time.
I found one table, took trays from nearby Security Table and disinfected all the trays before placing my all the stuff for Security Check. During security, they allowed Hot water Bottle,my Food and snacks and all the disinfectant stuff (I carried 1 disinfectant spray, 3 disinfectant wipes packets, 10 Masks, 15 Pairs of Gloves, 1 no's 200 ml sanitizer bottle, 2 small 50 ml sanitizer bottle,small sachets of Paper towel). If you are boarding any domestic flight within USA after your first Port of Entry, I would suggest to carry Sanitizers as per TSA limit(12 oz).
After security Check, I waited in a separate area before my assigned Boarding Gate, so that I can avoid crowd/People sitting in the same area. In meanwhile, I called back home to my family members and ate my home made food. Before 1.5 hour of my flight, I moved towards my Boarding Gate as it involves long walk. Be prepared to walk a lot while you are at Delhi International airport. If you are sending elder People for international travel, Book wheelchair Assistance from the start.
As I reached my Boarding Gate, thought to charge my Mobile but Mobile charging ports were not working at the airport. Enough social distance was maintained by everyone while sitting. And at 12.30 AM, Air India started Boarding Procedure. I used toilet before Boarding. The Security check was done once again for the luggage and officials distributed PPE Kit to everyone, gown for Middle Seat Person. Soon, they started Boarding and finally, I was excited to fly my first Long Haul Flight!!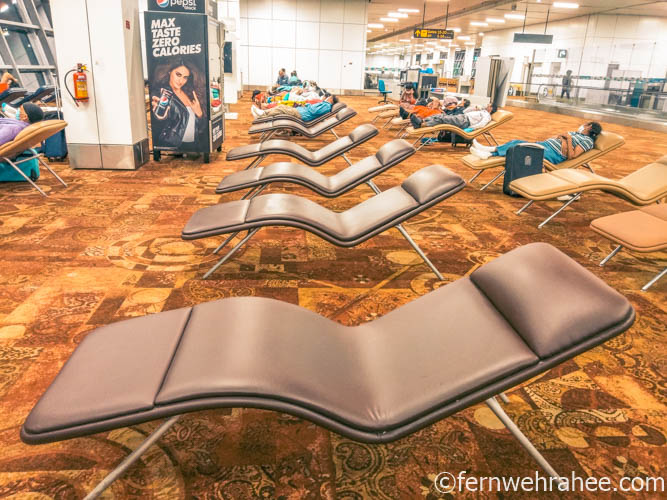 Inside the Flight, People had maintained Social distance to reach their respective seats. I reached towards my Seat, placed my Trolley Bag and Laptop Bag in the overhead Bins. Please remember to keep all your Sanitizing stuff handy in handbag with you. Here is my tips for Safe International flight travel during the Pandemic:
Wear Jeans- carry Sanitizer Bottle and disinfectant Spray in Pockets, it will be handy anytime.
Disinfect seat belt, seat handles,tray table and your sitting area before you settle down on your seat. I carried my old Bed sheet to put on the seat.
Food Bags were kept on the seat including snacks and two water Bottles. There will be No in flight services. I suggest to carry your own Home Made food. I had just snacks from the flight meal. If you need anything, you can go to the Pantry section.
There will be No In flight entertainment, Carry your own Books OR download Movies on your Mobile to Pass your time. I slept for 10-11 hours during my whole journey!
The Charging Ports were not available, so carry Power Bank as a backup, you need to call your family once you reach your destination.
Avoid using toilets as much as Possible, if you need to use it – use as early as Possible because later on it will be very dirty. Toilets weren't cleaned by staff. Alternately carry disposable Toilet Seat Covers and use disinfectant spray.
Wear your Mask and Face Shield for entire duration of your journey except eating. Change your Mask after every 4-5 hours.
Don't forget t Sanitize your hands before eating and wearing your Mask.
Carry extra trash Bags with you to collect trash and disposing used Masks.
Don't touch anything inside the airport and flight.
I wore Gloves and kept sanitizing it whenever I touch anything. I changed it after using toilet and when I ate my food.
Overall, it was smooth Journey of 15 hours straight without any turbulence which I hate it. It was beautiful Morning sunrise when flight Landed at Washington Dulles airport at 5.30 AM in Morning. My flight landed one hour early at Washington. Everyone de-boarded the flight with proper social distance which was good. We were taken via Bus to the terminal and then I was in a queue at the immigration. They were assigning the counters one by one so Proper social distance can be maintained.
Washington Dulles,USA Immigration 16th July,2020:
It was my first entry to the USA that too in this Pandemic time but I was not afraid after hearing other Person's experiences. I walked into the one of the counters with confidence because that all matters! The official in the Glass Shield asked me, " where you heading to? Your address?? Did you travel anywhere in last 15 days? What you do in India? and Are you carrying any food? " That's all he asked, and He stamped my Passport for entire duration of my Visa. I was so much relieved and happy.
Then I headed to collect my Baggage which was already kept near to the Belt. The Washington Dulles airport was not crowded at that time, I Paid $5 for trolley. I signed up for free airport Wi-Fi and informed my husband that I am ready to go out of the terminal.There is No quarantine Procedures in USA unlike India, but I suggest to observe quarantine for 14 days looking to the safety of our family.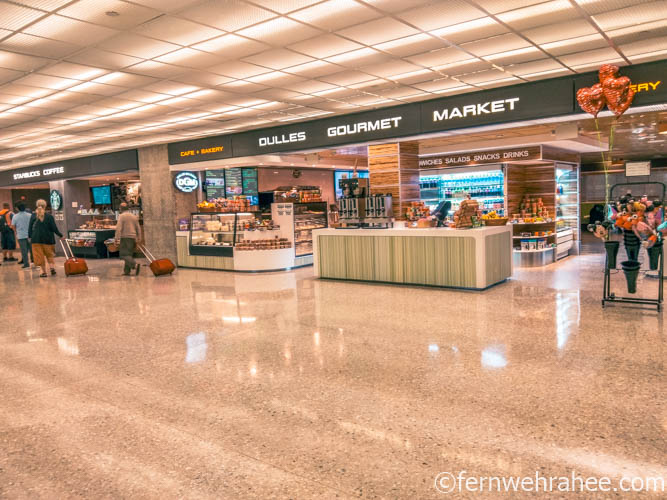 Finally after 1 year and 15 days, I seen my Husband!! This was one of the memorable experience of my life and so I wanted to pen down my entire journey. The time is tough for everyone and I traveled during this Pandemic for my better mental health. I still, not recommend any Non-essential travel. This was all about my My India to USA Vande Bharat Flight Experience and safe air travel during the Pandemic time. After few days, we both had COVID test at one of the drive through testing center in USA for our safety. I suggest to Buy insurance which Covers COVID expenses if anyone get infected during the journey.
If you have any questions, please let me know in the comment box, I will happy to help you guys.