Vadodara Sightseeing Places: Best of Baroda in 2 Days
Vadodara– situated on the Banks of VIshwamitri River, known originally as Baroda. Ahmedabad is known for its textiles and old Pol system, whereas Vadodara is popularly known as the Cultural City of Gujarat, famous as an industrial as well as an education hub. The City got its Name Vadodara because of the copious amount of 'Vad'- in Gujarati means 'Banyan tree' Presents here. The city is also famous as Sanskari Nagari and Kala Nagari (the City of art) of India. In this Post, Read about well structured Vadodara City and Must visit Vadodara Sightseeing Places in 2 days.
History and Introduction to Vadodara:
Baroda was a princely state and was the Royal residence of Gaekwad notably from 1716-1949. The Gaekwad rule of Vadodara begins in 1731 after conquering Mughals. The Gaekwads ruled the Kingdom and the Peshwas were the ruling leaders of the Maratha Empire. After the defeat of Peshwa's in the battle of Panipat in 1761, the Kingdom of Maratha was weakened. Later at the beginning of the 19th century, Britisher's intervened to defend Gaekwads in exchange for accepting British suzerainty.
Baroda is one of the well Planned cities of India. Be it the Majestic Kingdom, rich traditions, and magnificent Past- Vadodara is famous for its architecture Brilliance! Maharaja Sayajirao Gaekwad III ruled the state for ten years and introduced compulsory and free education till Primary. His Grandson, King Pratapsinh Rao established well known Maharaja Sayajirao University of Baroda. Also, Pratapsing Gaekwad was once considered as the 8th richest man in the world!
Also the Past residence of Maharaja, NazarBaugh Palace, the residence of Royal Family is replaced by Shopping Mall with the name Nazar Baugh. The Palace was opulent and was used for ceremonial occassions by Gaekwads. Today, the Royal Family lives at grand Laxmi Villas Palace.
Vadodara Sightseeing: Must Visit Attractions
Laxmi Vilas Palace: Epitome of Grand Architecture
Laxmi Vilas Palace is spread across an area of approximately 700 acres, is home to the Royal Family of Vadodara, the Gaekwads. The Home to Royals of Baroda is built in the Indo-Saracenic style of architecture design. The Palace is surrounded by a Green Garden, a Golf Course, and a beautiful setting with the chirping of Birds. The Palace was built by Maharaja Sayaji Rao III in 1890 at the cost of 1,80,000 GBP(source: Wikipedia), imagine a century ago!!. The construction was started in 1878 and completed in 1890 and Major Charles Mant was the architecture behind it.
If you don't know, Laxmi Vilas Palace is reputed to have been the largest Private residence building to date and four times the size in Buckingham Palace. Pretty Impressive, right??
Some interesting facts about Laxmi Vilas Palace:
It was constructed with modern amenities like Elevators before 130 years ago like a European house!
The Palace was built just for two People with 170 Rooms!!
Lakshmi Vilas Palace has more number of stained glasses than any other palace in the world.
The palace was built by Maharaja Sayaji Rao III. He named it after his third wife, Rani Laxmibai from Tanjore. Today, Palace is served as the Royal residence of the Gaekwads of Vadodara.
The design of the Palace is an amalgamation of different religions: Mughal style domes, Church like a tower, Gothic elements, and Hindu motifs in entire Palace.
The Palace is built with local and international resources like Red Sandstone shipped from Agra, Marbles from Rajasthan, and Italy!
The architect of Palace Charles Mant, known for Indo-Saracenic architecture hung himself before the Palace could be completed! He thought due to his inaccuracies Palace would collapse, but it is still standing Proudly after 130 years.
The Maharaja constructed a miniature railway line within the palace compound, to take his children from the school to the main Lakshmi Vilas Palace which is now housed in Fatehsingh Museum.
Entry Fees: INR 250 Rs includes an Audio tour. Being a Private residence,No DSLR Photography allowed(not even outside). You can click Photos outside the Palace with your Mobile Phone.
Visiting Hours: 10:00 AM to 05:00 PM
Inside the Laxmi Vilas Palace:
The Palace is the Royal Residence of Gaekwads, hence few sections are open for visitors. There are total 11 exhibits can be seen with the audio Guide. The highlight of the Palace tour includes the grand and ornate Darbar Hall which has a Venetian mosaic floor, Belgium stained glass windows, and walls with intricate mosaic decorations. This is also where cultural performances took place. Also, the Palace houses a remarkable collection of old armory including Aurangzeb's sword and sculptures in bronze, marble, and terracotta. The Palace houses a fabulous collection of the Paintings of Raja Ravi Varma, who was specially commissioned by the then Maharaja of Baroda. The collection includes portraits of the Royal family and the paintings based on Hindu mythology for which Raja Ravi Varma was famous.
The Laxmi Vilas Palace Compound houses a number of buildings, particularly the LVP Banquets & Conventions, Moti Baug Palace, and the Maharaja Fateh Singh Museum building. The Banquets Hall and Golf Course Garden are available on rent for elegant weddings and other special celebrations.
There is a small cafe in the Palace Premises and I highly recommend to have snacks here to feel Royal! I have samosa and tea after a tiring walk of Grand Palace and I was just astounded by the fat how they would be managing such long walks daily!! After devouring the snacks, I again went to the Golf side. I was just gazing at the beautiful views of the Palace by sitting in the Garden overlooking the Golf course. It takes 2-3 hours to complete the Palace tour. One can say, Vadodara is synonyms to Laxmi Vilas Palace and one should visit this grand Palace during the Vadodara sightseeing trip.
Maharaja Fatehsingh Museum:
Originally Schoool Building for Maharaja's Children formerly known as Motibaug School, now converted into Museum is Gaekwad family's Private art and artifacts collection.The museum is located near Laxmi Vilas Palace, you can combine visiting both.The collection includes Indian, Japanese,Chinese and European art and sculptures collected by Maharajas during his foreign trips.
There is a spectacular Gallery with Gaekwad family Portraits made by Raja Ravi Varma. The renowned artist spent several years in Baroda during his trips to paint commissioned works ordered by the Maharaja Sayajirao Gaekwad III. It also houses Paintings on Hindu mythology. Other interesting things includes fully functional toy train that the prince Ranjitsinh Gaekwad received on his fifth birthday and collection of Turbans(Headgear). You can also see the exquisite collection of prints that look like oil paintings. The Fatehsingh Museum is impressive tourist attractions of Vadodara for any art lovers.
Also Read: Architecture wonder of Gujarat- Modhera Sun Temple
Maharaja Sayajirao Gaekwad University (M S University):
If you are living in Gujarat or outside, you may have heard about famed M S University,the Maharaja Sayajirao University- known and respected Place of education and learning. My so many friends did Master's of Engineering from M.S University and I too have visited its campus several times for competitive exams during my early Engineering days. The university campus is huge and renowned for its construction started in 1879.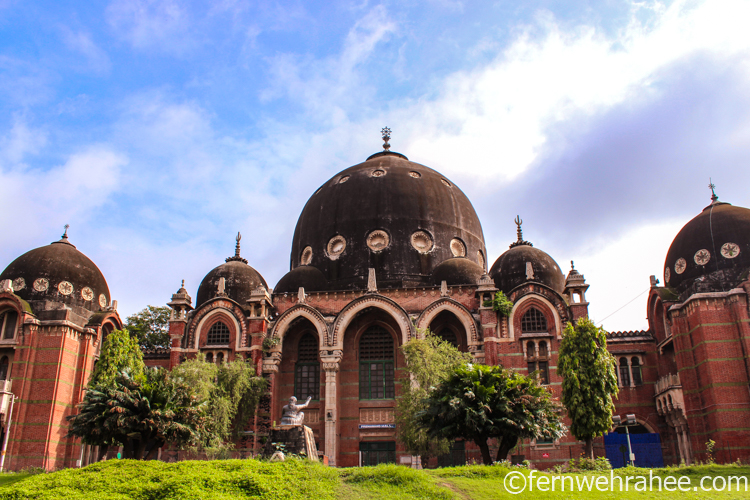 The M.S University is renowned for its Archaeological department and the faculty of fine arts.One of my friend from Iran also going to join the university here very soon. The most Prominent faculty and dome you should visit in M.S University is Art Dome– one of the second Largest Dome in entire India after Bijapur's Gol Gumbaz. I visited the campus with the permission from security and he allowed to wonder inside for as a photographer! I could have called my university friends, but they were busy on that day! I highly recommend to stroll around the university campus at leisurely to admire the architecture of one of the beautiful university in India and one of the top Vadodara attractions. And if you are lucky, you can join any cultural and Music programs at faculty of fine arts in evening, just check the dates online for it.
Vadodara Museum ( Baroda Museum & Picture Gallery):
Located very close to the Railway Station, Vadodara Museum & Picture Gallery is charming Red Building inside Sayaji Baugh (Sayaji Garden). It was constructed in 1894 in Indo-Saracenic style by Maharaja Sayajirao Gaekwad III. From the outside, one may expect it t be a Church or European Cathedral at first glance. The gallery is one of the top tourist places to visit in Vadoadara, you can see the huge crowd outside to click photographs with backdrop of building.
The Baroda Museum and Gallery preserves rich collection of art, sculpture and Personal collection by Maharaja Sayajirao Gaekwad III. The Museum has artifacts from all over the world as Sayajirao traveled widely and commissioned various dealers and scholars to find objects to build a wide-ranging collection! There are also exhibits on Earth Sciences, Natural History and Zoology. It also houses archaeological finds from different Parts of Gujarat. The Ethnography section has exhibits about tribes from Gujarat: the Rabaris, Gamits, Bhils, Chaudhuris and Wagharis. The museum library has nearly 23,000 books and periodicals on a range of subjects, some of them extremely rare. The Picture Gallery has collection of Paintings, textiles and Mughal miniatures.
This is a great Place to learn about history of Vadodara and Gujarat. If you are art, textile, history, heritage, architecture and culture lover, must visit this Prime Vadoadara sightseeing place before visiting other famous places in vadodara.
Visiting Hours: 10 AM to 5.30 PM, Entry Fees: INR 10
Kirti Mandir:
One of the historical places of Vadodara is Kirti Mandir. Basically, Mausoleum of Vadoadara's Rulers and his family members in glorious memory of his beloved ancestors. It was built by Sayajirao Gaekwad in 1936 as part of the Diamond Jubilee celebrations. The buildings are constructed in Perfect symmetry featuring balconies, domes and terraces. Located near Vishwamitri Bridge, today Kirti Mandir is renowned site among travelers who wish to admire amazing architecture!
The Kirti Mandir in Vadodara is actually a cluster of temples dedicated to Lord Shiva, known as Temple of Fame. The interior of Kirti Mandir is elegant structure with Marble finished, the walls of the Central Hall is Painted with colorful Murals of Gangavataran, battle of Mahabharat, Life of Meera and Natir Pooja, executed by the famous Bengali artist Nandalal Bose- whose work was declared as National treasure.
Hajira Maqbara (Tomb of Qutub-ud-din Muhammad Khan):
Hazira means the Mausoleum and contains the graves of Qutb-ud-din Muhammad Khan(Prince Salim's tutor, the son of great Akbar) and his son his son Naurang Khan. They both held important Positions in Gujarat during the reign of Emperor Akbar.The Mausoleum is situated in the Garden. The tomb structure from outside looks like other Mughal tomb architecture of Delhi.There is a intricate Jali work and beautiful calligraphy is done of Tomb walls. This site is an amalgamation of history, architecture and nature and must visit this offbeat Place in Vadodara.
Khanderao Market:
During any trip, I don't forget to visit Local Markets be Devraja Market of Mysore or Khanderao Market in Vadodara.So your Vadodara sightseeing trip will be incomplete without local flavors!! It is located in Palatial building, built by Maharaja Gaekwad III in 1906. The building architecture is amazing and houses the Vadodara Muncipal Corporation office. The backside of Building is famous for Fruits and Vegetables Market. It is perfect Place to capture the street Photography and often visited by Many Photographers.
Tambekar Wada:
You may haven't heard about the Maratha Mansion in Vadodara but located at Tambekar no Khancho(corner) in the Raopura area, Wada is one of the famous Places of Baroda. This was the former Mansion of Bhau Tambekar who was the Diwan of Baroda. This typical Maratha Mansion was built during the late 19th century. The Mansion's every door, walls, and ceilings are covered with frescoes and murals. The murals depict some Indian mythology from Mahabharat, Puran, Ramayana, and other historical events. The halls are a treasure trove of Paintings. Only two floors of the palace remain open for tourists. The fresco's rooms with wall paintings are protected by the Archaeological Survey of India. If you love the colors, this is must visit place in Vadodara.
Navlakhi Vav:
Gujarat is famous for its Vavs aka Stepwells, be it Adajan Stepwell or UNESCO site- Rani Ki Vav, Patan. At one point in time, there were hundreds Present in Vadodara, Ahmedabad, and around the city but unfortunately today most of them are in Poor condition or inaccessible. Located inside the Laxmi Vilas Palace, Navlakhi Vav is the only remaining Vav of Gujara rule of Gujarat. The Vav is/was called Navlakhi because 9 Lakh Gold Coins were Spent to Build it. It was also Refurbished in King Muzaffar Shah's time. If you love architecture, you must visit this remnant of the architecture of late Gujarat rulers.
Also Read: Colorful European Town in Gujarat- Siddhpur
Tapovan Temple:
I have been to this temple many times in Petrochemical Township- 7 kms from the city center. The Tapovan temple is a beautiful temple complex built by Indian Oil Corporation and now maintained by Reliance Petrochemical Industries. I love the architecture of these south Indian style temple and the walls are adorned with beautiful colors which is a delight to the eyes. The temple complex is surrounded by a Garden and it has shrines of Lord Shiva, Goddess Durga, Lakshmi-Narayana, Tirupati Balaji, Navgraha, and Satyanarayan. It also houses Meditation Hall. You can spend your evening here while admiring the art of the temple.
Aurbindo Ashram:
Due to my frequent visit to Vadodara for work, I have visited Aurbindo Ashram many times with my relatives who are frequent visitors here. Aurbindo Ghose was a Philosopher, Yogi and freedom fighter from Kolkatta who's famous Ashram is in Pondicherry. The ashram is famous as Auro Niwas and served as the residence of Aurbindo during his stay in Vadodara for 13 years. Aurbindo Ghose was a Private secretary to Maharaja SayajiRao Gaekwad III of Baroda and he also served as Professor of English at Baroda College. The AShram Premises is very calm and spiritual. The Ashram is open to all for meditation purposes. The Ashram houses library of Aurbindo's literature, a study room, and a shop.
Hathni Waterfall:
If you have more days for Vadodara sightseeing OR visiting Vadodara in Monsoon season, take a day trip from bustling City and escape to the green hills. Hathani Mata waterfall is located 80 Kms from Vadoadara and easily doable as a day trip. The Waterfall has a height of approximate 100 meters and is named a part of the mountain that resembles the shape of a seated elephant(Hathani in Gujarati). There is a temple dedicated to Goddess Kali built on top of the hill and is a popular place of worship for devotees. You can take a leisure amidst the forest and hills or indulge in birdwatching. There is also historical value of surrounding area of waterfall- The Jambughoda Sanctuary, located nearby is mentioned in the Mahabharata and is worth a visit while the Jhud Hanuman Temple is believed to be the place where the Pandavas Placed a statue of Lord Hanuman (the Monkey God) for worship. The admission to the waterfall is free of cost.
Where to Stay in Vadodara:
Vadodara is education and Business Hub for many, you can find the hotels in every Budget. Here are few good options:
Luxury: Grand Mercure Surya Palace, Four Points by Sheraton, Vivanta Vadodara, Welcome Hotel, Hampton by Hilton
Mid Range & Budget : Orchid Central, Lemon Tree, The Fern.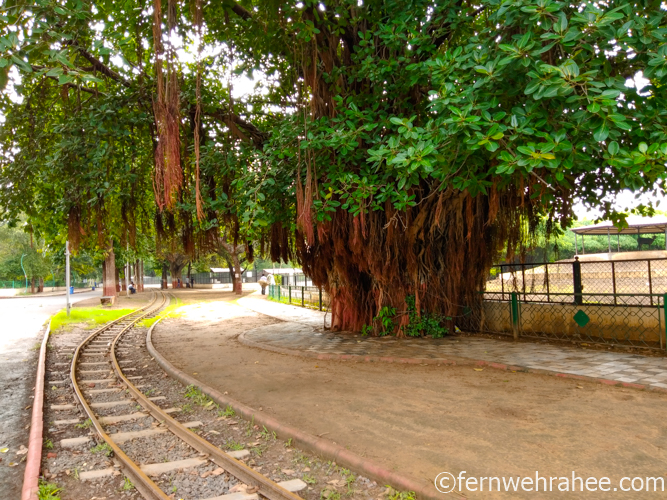 Getting around Vadodara:
Vadodara is an easier city to navigate around. The city has a well-developed city Bus service and it has good connectivity for Ola and Uber cab services.
Best Places to Eat in Vadodara:
Aah, The travel Guide is incomplete without mentioning the food in Vadodara. When you visit the city, make sure you are hungry!! Here is must include dishes to try in Vadodara:
Mahakali Sev Usal at Prathamesh Plaza on Laxmi Vilas Palace Road.

Make sure to try tasty snacks when in Gujarat. Visit Jagdish farsan to grab snacks like dhokla, khaman, Khandvi, and ganthiya. They have several outlets throughout the city. You can also visit Balubhai na Khaman for delicious dhokla and Khaman.

Have some Fafada and Jalebi at Payal Farsan or Jagdish Farsan.

Have a sandwich at Bombay Sandwich or Moneeez at Ambedkar circle.

If you have a sweet tooth, go for Duliram Na Peda and Malai Kulfi at Rajasthani Kulfi.

If you are a street food lover like me, in the evening visit the area near the station(opp Sequinz showroom)- have chatpata Papadi chaat, Khichu,Panipuri and live dhokala- all my favourite itemas here..
If you have more questions, drop it in the comments and If you like this Post about Vadodara Sightseeing Places in 2 days, show some love and Pin it for the Later!