Best Places to visit in Ahmedabad in 2 days- Complete Guide
I have passed through this Metro city many times in jiffy and never noticed what this city has to offer.Being Gujarati and living just four hours away from Ahmedabad, I always wanted to visit this city enriched with heritage and colors. Earlier the city used to be the capital of Gujarat and declared UNESCO World Heritage City in 2017, there are no dearths of places to visit in this city. I was here during my staycation at holiday inn express wherein I explored the city for two days and visited many Places, So I am sharing a list of places to visit in Ahmedabad in 2 days from touristy to offbeat ones.
Imagine – Passing through old lanes of the walled city with rich architecture, historical monuments, buzzing colorful markets, old bridges that connect the old and new city, old textile markets, handicrafts, and having traditional Gujarati cuisines – All these could be a delight to traveler and photographer inside you. Ahmedabad is the city for every type of traveler whether foodie or photographer.
There are so many old historical Places which are the most popular places to visit in Ahmedabad. But here is list Places to visit in Ahmedabad in 2 days for your weekend trip to Ahmedabad.
Here are my 2 days Ahmedabad itinerary; Start your Day-1 by exploring the old walled city and few far-off places.
Bhadra Fort:
Bhadra fort was established by the founder of Ahmedabad – King Ahmed Shah in 1411 AD and it houses a palace with decorated balconies and arches. The fort houses Bhadrakali temple devoted to goddess Lakshmi. Nowadays the place has a lush green garden and bustling market outside the fort. Also, many stories are associated with the fort and named this city 'Ahmedabad' by Ahmed shah.
Teen Darwaja:
Like any other old city of India, Ahmedabad was also built around a gate system. Teen Darwaza is the oldest gateway of the city built by king Ahmed Shah. It is close to Bhadra Fort and one of the finest examples of Indo-Islamic architectural designs. Presently, the place is popularly known for its roadside market known as the Teen Darwaza market. It is bustling with local street-side shoppers all day. You can buy traditional Gujarati dresses, footwear and jewelry, etc. at the cheapest rate here.
Siddi Saiyad Mosque (Siddi Saiyad ki Jali)
Siddi saiyad mosque popularly known as Siddi Saiyad ni Jali is one of the smallest and most famous mosques of Ahmedabad. Located near a busy traffic junction in the northwest of Bhadra fort, it doesn't draw attention in the first place.
As you enter the mosque complex, you will notice the exquisite stone windows upfront which is a superb example of delicate carvings that transform yellow sandstone into an intricate lattice. You can describe this masterwork as 'lace on the stone'. There are four sets of Jalis on the wall and one needs to look up the back walls of the mosque.
The mosque was built by Siddi Saiyad in 1572-73 AD who was from Yemen and named after Sultan Ahmed Shah. The mosque has been build with minarets and eight arched windows which are adorned by these stone-carved intricate jalis. The jali has two interwoven trees-Banyan tree (kalpvriksha) and a palm tree with lofty branches and detailed carvings of flora in the background. Kalpvriksha is an ancient design idiom in Hindu mythology known as wishing tree and palm tree is famous for Arabic connection; making this mosque the best example of Indi Saracenic architecture. 


The 'tree of life' is the most intricate lattice pattern of Siddi Saiyad ki jali becoming an inspiration, that the Indian Institute of Management Ahmedabad (IIM-A) derived its logo from it. Looking at its unique artwork, this Place makes one of the top Ahmedabad tourist attractions. You must include this Best attraction of Ahmedabad in your itinerary for places to visit in Ahmedabad in 2 days.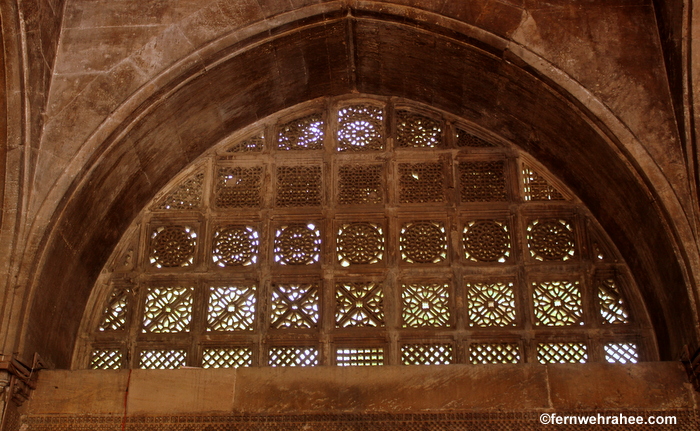 Rani Rupmati Mosque:
Located in old Ahmedabad city, Rani Rupmati Mosque was built by King Muhmad Beguda for his wife Rupmati. The mosque's stands with impressive structures with tall minarets and carved galleries. The mosque also has three domes supported by Pillars.
The mosque is the best example of blending Hindu and Muslim style architecture. The prayer hall and ceilings have exquisite carvings. It is also made in yellow sandstone like other monuments of Gujarat. But looking at the history of all monuments, it reminds the rich past of Ahmadabad.
Also Read: Places to Visit around Ahmedabad
Dada Harir Stepwell:
There were many step wells built in Gujarat during the Solanki dynasty and the architecture of step wells remained more or less in this style during the Mughal era too. It is said that the dada harir stepwell was built by lady Bai Harir Sultani during the reign of Muhamad Beguda. She was the household lady of the king and superintendent of royal harem. Initially, the stepwell was named after her, modified later as 'Dada Harir'.
The stepwell is 5 floors deep and has an octagonal opening at the top; built on intricately carved pillars. It was dug deep to access ground water at that level to provide permanent access to water at ground level. As you descend, you will find the motifs of flowers and graphics of Islamic architecture that blend very well with the symbols of Hindu and Jain gods carved at various levels of the step well. It is one of the finest pieces of architecture in Ahmedabad.
There is a Mosque in the stepwell complex, just opposite to the entrance. The mosque is known as Hazarat Harir Mosque where it is said that Bai Harir has been rested. Dada Harir stepwell is one of the famous places in Ahmedabad and you must include it in your list of places to visit in Ahmedabad in 2 days.
Visiting Hour: 09:00 am to 05:00 pm, Everyday
Rani Sipri's Mosque:
This place is near Astodia gate in the old walled city. Rani (queen) Sipri was the wife of Ahmad Shah Beguda. She was the daughter of the Hindu chief of that time. The mosque is one of the finest specimens of its kind in Ahmedabad. The mosque is harmoniously balanced, its tall minarets are in perfect harmony with its prayer hall. The carvings on pillars are showing feminine grace. The mosque has a tomb of Rani Sipri and with a separate prayer hall for women to worship.
Julta Minar -Siddi Bashir Mosque:
Julta Minar or popularly known as 'shacking Minarets' are full of mystery, which still remains wonder for engineers. What they cannot unravel is when one minaret is shaken the other begins to vibrate, though the connecting passage between the two remains vibration-free; what causes this vibration is unknown.
There are two well-known pairs of Shaking Minarets in Ahmedabad – one located opposite the Sarangpur Darwaja and the other near the Kalupur Railway Station Area. 
The one near Sarangpur Darwaja is within the vicinity of the Sidi Bashir Mosque, built by Siddi Bashir in the reign of Ahmed Shah. They are three storey's tall with carved balconies where visitors were once allowed to climb all the way up. The other set of minarets near the Railway Station is taller in height but they are now not in good condition. The shacking minarets are classic examples of superb craftsmanship.
Adalaj Stepwell:
After venturing into the walled city, head towards Adalaj stepwell which lies to the northwest of the city. The stepwell is located in a small and quiet village – Adalaj near Gandhinagar. It was built to supply water for the area and considered today one of the Popular Places in Ahmedabad.
The stepwell is five stories deep both vertically and horizontally. The stepwell is interactively carved with an octagonal opening, built on an intricately carved large number of pillars.If you look at the carvings of pillars, you will need a few hours to admire all the details on it!!
The top floors have more carvings than the lower ones which you will notice as you descend. As one descends towards the well, the temperature starts dropping making one feel cooler than the upper part of the well. Each floor has a large number of rooms that are well ventilated. The unique part of the stepwell architecture is the fact that the sunlight does not touch the flights of steps or landing.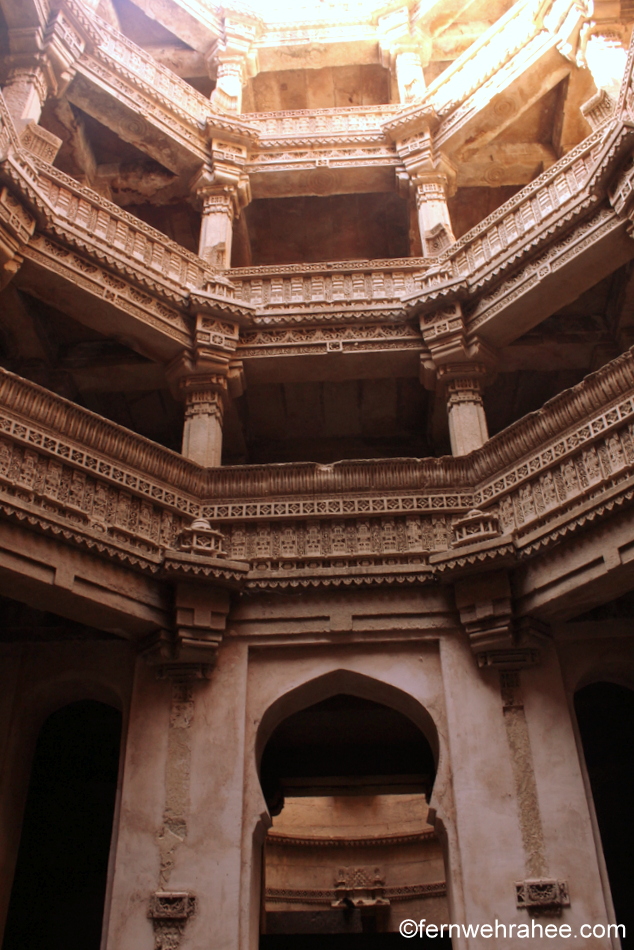 There is a circular well at the end of the steps. The well is now fenced off for protection. But one can feel the cold while sitting at the steps just as many travelers would have centuries ago.
Adalaj stepwell is a fine example of Indo-Islamic architecture. There are carvings of god and goddesses on the walls which indicates people of Adalaj and nearby villages visited to offer prayers and to interact with each other under the cool shades of the stepwell.
Looking at such intricate work done centuries ago in 1499 by queen Rudabai, this place could have been used by many pilgrims and caravans. This beautiful and cool stepwell could have been their resting place for escaping the heat along the trade route.
The stepwell is declared a monument of national importance by the Archaeological Survey of India(ASI) as it is one of the finest examples of Indian architecture. Looking at all this, Adalaj stepwell is one of the most Popular Places to visit near Ahmedabad, don't miss this Best Places to visit in Ahmedabad in 2 days.
Ambapur Stepwell:
If you are obsessed with Indian architecture, here is one more stepwell to visit located at Ambapur village – 4 Kms from Adalaj stepwell. It was built in the 15th century, although it doesn't have any inscription. It is also intricately carved and is five stories deep. All these step wells were once the integral source of drinking water for the people. If you are stepwell lover, Ahmedabad is heaven. It is one of the Best Places to visit in Ahmedabad.
Sarkhej Roja: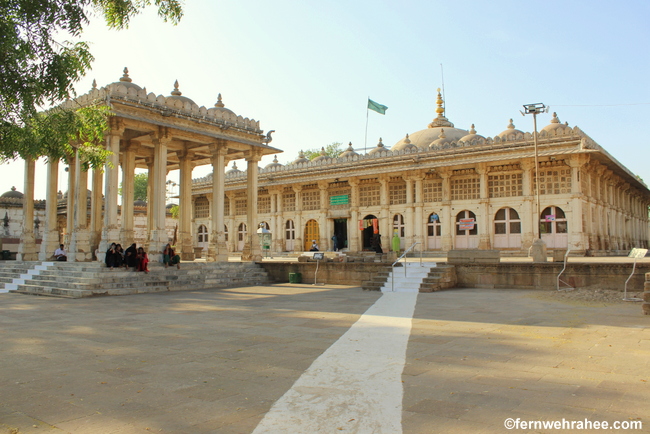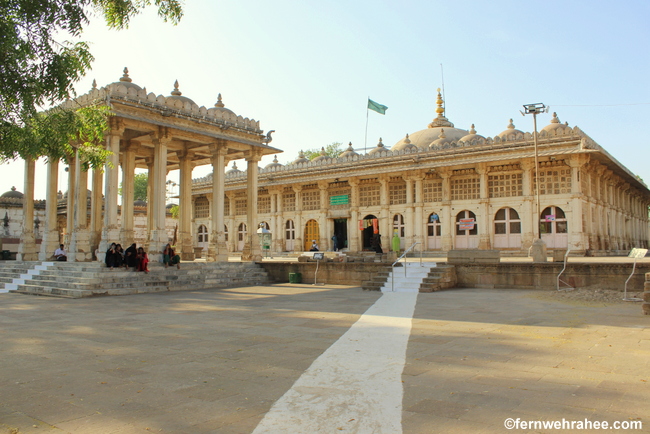 Located 10 km from the city center, Sarkhej Roza comprises Mosque and tomb complex. During the Mughal era, Sarkhej was a prominent place for Sufi culture in India where revered Sufi saint Shaikh Ahmed Ganj Baksh Khattu lived. Upon his death, the reigning monarch, Mohammed Shah ordered a mausoleum built in his honor, along with a mosque. The construction of these two monuments was completed in 1451 A.D by his successor Ahmed Shah. And then Sultan Mahmud Begada later built a lake and pavilions around it.
The architecture of Sarkhej Roza also influences Islamic, Hindu, and Jain features to composite Indo-Saracenic style. The architecture details make it one of the most elegant and unique architectural complexes of Ahmedabad.
The mosque, with its courtyard, creates a religious milieu; the royal connection is made through the tombs and palaces; the great tank, platforms, and pavilions were used by the common man. In the 20th Century, Le Corbusier compared the design of the Sarkhej Roza complex to the Acropolis of Athens; since then Sarkhej Roza has been famously known as 'Acropolis of Ahmedabad'. This Place is a must see place to include in your Ahmedabad sightseeing. It is a good place to rest and enjoy the sunset after exploring the city the whole day.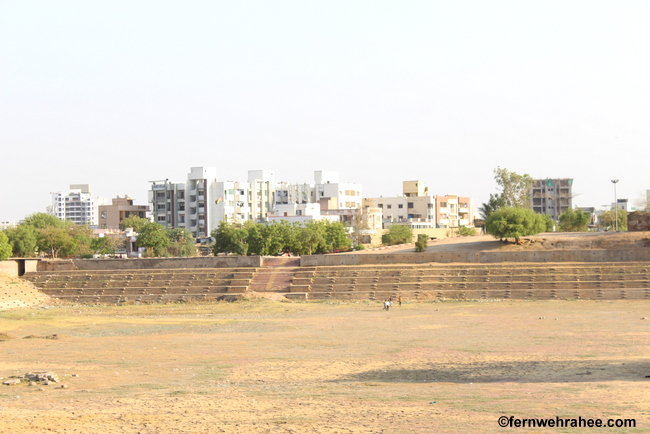 Day-2 of Ahmedabad:
After seeing famous monuments, start your day by exploring the most fascinated and famous Place of Ahmedabad- the Pols of Ahmedabad and Ahemdabad Heritage Walk. The narrow crisscross lanes known as Pols in Old city is the most favorite place to visit in Ahmedabad and a photographer's delight. Every Pol has sprawling Havelis which are hundreds of years old and it is home to locals who live there presently for many generations. Seeing those beautifully carved houses and facades was one of the highlights of my trip.
The pols are urban settlement that bears lineage of traditional architecture style of Gujarat.It comprises of many families of particular group like caste,religion,profession etc.This way you can say it is a world in itself as it comprises houses of 10 to 60 families with bird feeding area,temples,playing areas, chowks and so on.
The best way to explore the old city is to take the Ahmedabad Heritage walk route from Mandir (temple) to Masjid (Mosque). The heritage walk is organized by the Ahmedabad Municipal Corporation(AMC). The Heritage walk starts at 7 AM from Swaminarayan temple and ends at 10.30 hours at Jami Masjid. The walk involves in between these two places knowing many nuances of life in the Pols.
Swaminrayan Temple:
The walk commences from the swaminarayan temple,kalupur which was built in early 19th century.The temple has huge complex, walls and pillars intricately carved and colorfully painted.
As the walk progresses, you will notice the different styled architecture of the Pols. The pols are an exuberant riot of beautiful wooden facades, lovely wooden brackets, beautifully carved windows, magical balconies, Otlas(sitting area outside the home), carved wooden chabutaras (bird feeders) for feeding pigeons, khadkis (gate) and chowks, secret entrances, temple, playing areas, sculptured wooden doors, beams, pillars, and balconies.
The central open space is known as the chowk and the rest of the zones are built around it.  The carvings mainly reflect the Hindu, Jain, Islamic, Marathi style of architecture. This means so many communities are part of the old city for many generations. So if you are in Ahmedabad for short time too, don't forget this walk of Best Places to visit in Ahmedabad in 2 days.
Jami Masjid:
The heritage walk of Ahmedabad ends at Jami Masjid which is the main mosque in old walled city. The mosque is situated near the bustling Manek Chowk area. The area around the mosque is always busy with traffic, hustle and bustle of shops, street vendors etc; as you enter inside the mosque this urban chaos will fall away behind you.
As we step inside the mosque, there is a huge courtyard with a white marble floor and a tank for ritual ablutions in the center. The mosque and arcades are built of beautiful yellow sandstone and carved with the intricate detail that mosques of this period are known for. The main prayer hall has over 260 columns supporting the roof.
This place will profound your serenity; accompanied by people in quiet prayer and birds chirping on the columns.
Sabarmati Ashram:
The One Place that attracts all types of tourists in Ahmedabad and the best tourist places in Ahmedabad is Sabarmati Ashram that attracts domestic as well as international tourists. Sabarmati Ashram located on the banks of the river Sabarmati is a place of interest in Ahmedabad if you are curious to know about the life of Mahatma Gandhi. The campus is lush green and tranquil to spend a good time and feeling how it could be years ago.
The ashram was one of the many residence of Mahatma Gandhi when he was not traveling across India. Gandhi Ashram was originally established in the Kocharab area of Ahmedabad. Gandhiji started living with his wife Kasturba after his return from South Africa. However, he wanted to engage himself in several activities including animal husbandry, cow breeding, and farming as such Ashram then moved to an open area on the banks of river Sabarmati.
The Ashram holds significance as Gandhiji led the famed Dandi March(Salt Satyagrah) from here and later it led to the freedom of India. So it was known as Satyagrah Ashram. Owing to its significance the Ashram is now considered as a national monument.
The Ashram now has a museum- Gandhi Smarak Sangrahalaya. It throws light on the life and teachings of Mahatma Gandhi. The informative museum has three galleries including Gandhi in Ahmedabad Gallery, Painting Gallery, and My Life is My Message Gallery. Travelers gain an insight into the life and accomplishments of Mahatma Gandhi.
Opposite to Museum is Hriday Kunj which were the living quarters of Gandhiji and Kasturba. Outside, one can see volunteers working on Charkha to thread khadi from row cotton and one can even try their hands on it. Gandhiji started a movement to use 'swadeshi' and that leads to the Khadi movement and ultimate weapon for the independence of India. This destination one must include in Ahmedabad Sightseeing.
Entry fees and timings: 8.30 AM to 6.30 PM all days ; No entry fees
Hatheesinh Jain Temple: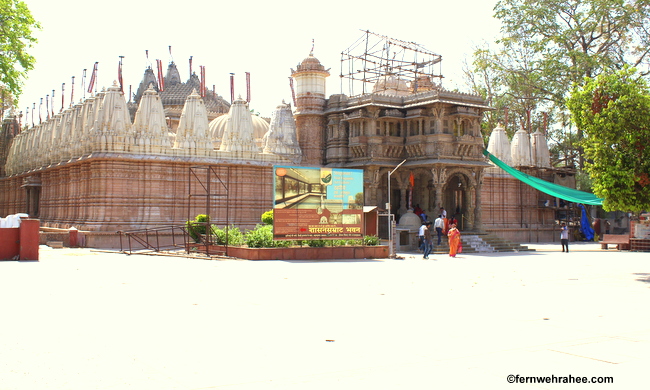 Another prominent architecture in Ahmedabad is the Hatheesing Jain Temple complex which is local tourist attractions in Ahmedabad. The temple was built in 1848 by Shetani Harkunvar in the memory of her husband Sheth Hatheesinh who was a wealthy trader. The temple is dedicated to Jain tirthankar and houses 11 deities.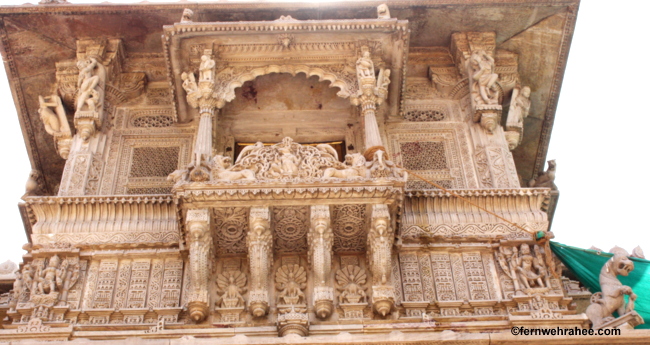 The temple has a dome-shaped structure at its front and back which are decorated with exquisite patterns and designs. Keerti Samba, the column of honor, is also built in the compound and attracts every tourist and devotee towards its structural beauty. This place is one of the top Ahmedabad tourist attractions that need to include in Places to visit in Ahmedabad in 2 days itinerary.
Sabarmati Riverfront:
If you are in Ahmedabad and looking for quiet time, head to Sabarmati Riverfront. As its name suggests, it is waterfront developed along the banks of river Sabarmati. The roads are constructed with footpaths, parking bays, carriageways and cycle tracks. There are many amenities like a promenade for walking, Parks, and Gardens to enjoy evenings at leisure. It is a popular place for Ahmadabadi to spent time with family on weekend.
List of Other Sightseeing Places in Ahmedabad:
Calico Museum of Textile
Auto World Vintage Car Museum
Kite Museum
Vichaar Utensil Museum
Kankaria Lake
Places to Eat in Ahmedabad:
Trip to Ahmadabad is incomplete without devouring its street food and visiting traditional restaurants.
Manek Chowk – This place is in old city which is bustling market during day and street food heaven at night.The place come alive as it gets dark and you will find every type of food to satiate your taste bud.Must try Gwalior Dhosa,tukda Pavbhaji,chocalate sandwich here.
Gujarat is famous for besan(gramflour) iteams – devour Khaman,thepla,Ganthiya,fafda and Jalebi at your heart's content. You will find many stalls across the city but must try Sabarmati Jail's Bhajiya which are sold by Jail Prisoners.
Must have Dal Wada at Ambika Dal wada. You will remember me surely for suggesting it !!
If you are keen to taste traditional Gujarati cuisines – go for Govardhan ,Vishala ,Rajwadu restaurants which serves Gujarati thali with so many cuisines in one dish.
Shopping in Ahmedabad:
Like every other city, there are many places for Shopping in Ahmedabad from street Markets to Malls. There are numerous street markets to shop for traditional items, clothes, junk jewelry etc. You can check out,
Lal Darwaja
Law Garden
Rani No Hajiro
Dhalgarwad Market for Sarees,cholis etc.
If you are more about brands, head to CG road. It has best Malls like CG Square Mall, Super Mall, Shail's Mall, and Iscon Arcad with many international and national brand showrooms.
Festivals to Enjoy in Ahmedabad:
People of Ahmedabad and Gujarat are fond of festivals and they celebrate it with so much zeal. As being Gujarati, I enjoy Makarsankranti (Kite flying) and Navratri festivals so much. If you are planning to visit Ahmedabad or Gujarat; I highly recommend experiencing the International Kite Flying Festival(Uttarayan) in Ahmedabad that held every year in January. It is the festival to experience a kaleidoscope of colors during the celebrations.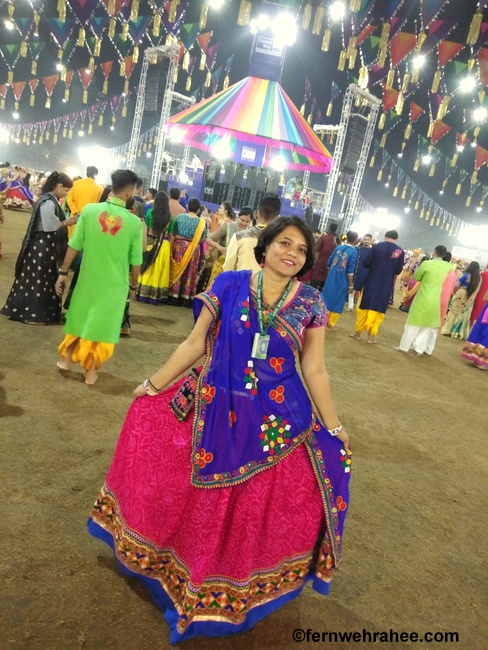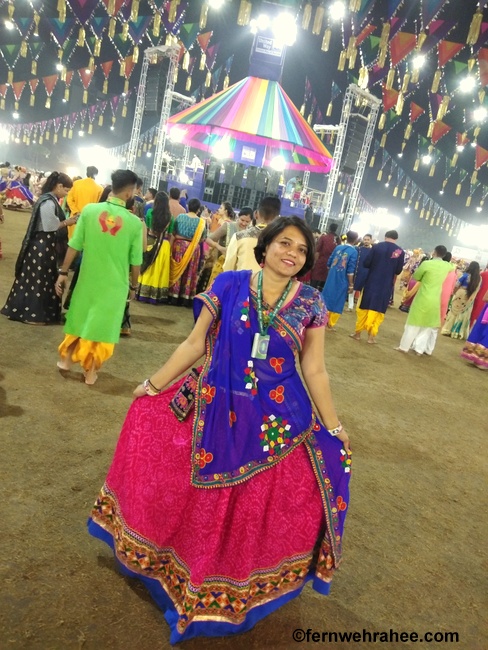 Best time to Visit Ahmedabad:
Ahmedabad is basically a hot city and it has pleasant winters. Monsoon season starts from July-Sep. Winters are the best time to visit from Oct-March with mild temperatures and sunny days. Summer starts from Apr-June and city remains quite hot. Best to avoid summer.
How to Reach Ahmedabad:
Ahmedabad is well connected by Air, train, and road with all major cities of India – Delhi, Mumbai, Banglore, Chennai etc. It has domestic as well as an international airport and railway station is known as Kalupur railway station.
Getting around Ahmedabad:
The city has well organized City Bus services and one can avail services of autos, taxis too. If you want to travel by taxi; ZOOM car, UBER, and OLA taxi are good options to travel in the city and surrounding areas.
Where to Stay in Ahmedabad:
Ahmedabad is one of the major cities of India and Ahmedabad offers so many amazing combinations of options to stay. If you want to experience the luxury of living in Haveli(Mansion) which is more than hundreds of years old OR any modern luxurious hotel with quieter surroundings, Ahmedabad will satisfy every traveler's desire. If you are a solo traveler, there are many budget hotels and Hostels in the city.
For staying at Old heritage Haveli you can consider- The House of MG at Lal Darwaja, Mangaldas Haveli II, Jethabhai Ni Haveli Deewanji ni Haveli and French Haveli which are few best places to stay in Ahmedabad. Most of these are located in Old Ahmedabad -Khadia area whereas modern hotels are a bit away from the city center. I stayed at the hotel Holiday Inn Express Prahlad Nagar which is a modern hotel with all the amenities for a budget traveler.
If you ask me, two days can't do justice for this beautiful UNESCO World Heritage City; isn't it??
If you like this post Places to visit in Ahmedabad in 2 days, Pin it!!!!