Top Things to Do in Goa: Travel Guide for first-time Travelers!
In this Post, you can read the top things to do in Goa and the ultimate travel guide for visiting Goa.
Goa is one of the smallest Indian states with a southwestern coastline located 400 Km from Mumbai. It is bounded by the states of Maharashtra on the north and Karnataka on the east and south and the Arabian Sea on the west. It is a very popular destination for Indian and International tourists due to the beach destination.
Goa has scenic beaches, splendid churches, World Heritage Portuguese architecture, lush spice plantations, amazing nightlife, and laid back atmosphere – all makes it one of the popular holiday destination in India. I traveled to Goa a few times but never thought of compiling a blog post as it was before my blogging journey. You can read in this post the top things to do in Goa from beaches, shopping, staying, and more. This guide is very useful for first times as well as repeat visitors.
Useful Goa Travel Information
Goa is divided into two parts: North Goa and South Goa. Panji is the state Capital and Vasco-da-Gama is its largest city.
Language: Konkani, Marathi,

English, and Hindi, largely understood- English.

It is one of the safest places for solo women traveling in India.

Goa is one of the most popular tourist destinations in India and the tiny state is rich in culture.

I

t is one of the safest places for solo women traveling in India.
How to Reach Goa(By Air/Train/Road)
Panaji – the state capital is well connected by land and air. Dabolim in Panji is the main airport to reach Goa by air. Most of the Domestic airlines fly to Panji from major cities in India.
If you want to reach by train, Madgaon(MGO) and Vasco Da Gama (VSG) are the nearest railheads, well connected with Mumbai and other parts of India. If you are traveling from Maharashtra or any southern part of India, I highly recommend taking a ride through the Konkan railway. You can also see the Dudhsagar falls and green jungle views during the ride. Monsoon is the best time to ride the Konkan railway. You can Book the Train tickets from the Indian Railway Website IRCTC.
Apart from this, you can take a direct Bus to Panji from nearby states or cities. The buses are easily available from Mumbai, Pune, Maharashtra, and the major cities of Karnataka. Overnight Sleeper and AC Coaches are available at reasonable rates. They drop you at the Central bus station in Panaji from where you can take the local buses to the North or south side of Goa. You can book via applications like Make My trip, Red bus, or Cleartrip.
Getting around in Goa
Kadamba Transport(KTCL) by the Government of Goa has recently started its services from Panji to Arambol and Calangute. This AC Bus service has hourly connectivity with Dabolim airport at a Price of INR 100. is the safest transport option. It is one of the safest options to travel around Goa.
Apart from it, you can hire a motorbike to explore Goa on your own. If the budget is not the concern, you can hire Private taxis to get around but keep in mind, drunken driving is a punishable offense.
Best Time to Visit
As being in a tropical zone, Goa has a hot and humid climate throughout the year. But months from October to March observe good weather with low temperatures and sunny days. It is the perfect time to enjoy water sports activities and relax on the beaches.
November-December is the Peak season owing to Diwali festival vacations and New Year celebrations in December and gets ready to pay 4-5X more on everything. If you want to avoid the crowd and high prices visit it during the late monsoon months – august and September with offseason prices and good weather.
Monsoon in Goa
The Monsoon in Goa has its own charm. The lush green paddy fields of the countryside and the overflowing Mandovi river make it more beautiful in Monsoon. If you think Goa is all about beaches, just visit during the Monsoon! The Arabian sea becomes dangerous to swim and beach shakes take a break in the Monsoon and all other water activities will be stopped during Monsoon. The sea can be very rough in Monsoon, don't ignore this fact.
If you love green nature and rain minus the crowd- head to Goa in Monsoon, but if you love Golden sandy beaches with perfect weather- visit in the winter months.
How many Days are good to Visit Goa??
Most of the tourists visit Goa for 3-4 days or on weekends combined with a few holidays. but I highly recommend visiting Goa at least for a week or 10 days, maybe more. You can't do justice to this place during your one visit! There are so many beautiful places to visit which are scattered from north to south.
Goa is heaven among digital nomads in India due to cheap prices for stay, friendly locals, and decent internet connectivity- all of these make life easy for digital nomads and long-term foreign travelers.
The list of Top Things to Do in Goa
Goa offers the best beaches, culture, and food. Here are the best experiences offered to tourists.
Hit the Beaches
The first thing first is hopping on to different beaches of Goa. Being the beach capital of India- more than 100 beaches with golden sands and shacks to just relax and chill. The North Goa beaches are for Party lovers and adventurous seekers; South Goa beaches offer more tranquillity and a relaxing stay by the beach.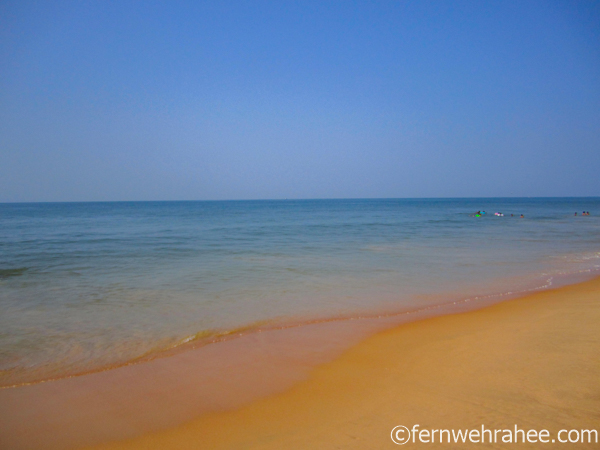 The most famous beaches in North Goa are– Arambol, Mandrem, Ashwem beach, Morjim, Querim, Chapora beach [famous for Chapora fort], Vagator, Anjuna, Candolim, Baga beach, Calangute, and Sinquerium beach.
The most famous beaches in South Goa are– Cansaulim, Palolem, Cola Beach, Colva, Betalbatim Beach, Cavelossim beach, Butterfly, and Agonda beach.
In Panji & around Donapola, and Miramar Beach.
There are so many beaches to choose from for the stay and visit. Anjuna and Palolem are popular beaches of North Goa, especially amongst foreigners. It is an infusion of the characteristically bohemian-style flea market, beach parties, and good music with quirky food joints. Among all, my favorites are Calangute, Candolim, Palolem, and Cavlossim beach which I enjoyed most. You will find many shops, cafes, beach shacks, bars, restaurants, yoga centers, and massage parlors at almost all the beaches.
Take a walk through Colorful Portuguese Colony in Panji
Goa is not just about the beaches, there are tonnes of unique places to visit in Goa. I highly recommend visiting Fontainhas' colorful neighborhood in Goa. Fontainhas- a heritage quarter in Panaji was earlier a Portuguese Colony and a heritage walkthrough is a must-do activity. It had been under the sway of several dynasties from India, the Mughals, and the Portuguese it reflects a blend of all the cultures.
Exploring a bit of Portugal in India is quite an experience in itself. Today most houses are converted into heritage hotels, cafes, and shops, and a few are occupied by Goans. The Portuguese-style old villas with hanging balconies and brightly painted colors make a cheerful and vibrant place to stay. You can stay at one of the Mansion OR villas to feel the past of the bygone era.
Visit UNESCO World Heritage Monuments in Old Goa
Old Goa is full of history and architecture which tells stories from the Past. It is always delightful to see this amazing geo-gothic style architecture. I highly recommend visiting Our Lady of Immaculate Conception Church in Panaji and the Basilica of Bom Jesus is a UNESCO World Heritage monument. The relics of St Francis Xavier are enshrined here. The Basilica is rich in architecture with shining facades inside it. Opposite to Basilica of Bom Jesus, there is St Cathedral which houses a large bell known to be one of the largest in India.
Visit Aguada Fort and Church of Mae de Deus in Saligao built in 1873 in gothic style with white colors making it a fairytale place in the countryside. You can spend half a day exploring Old Goa from a different perspective.
Have Fun with a few Water Sports activities
The stunning coastline of Goa is famous for water sports activities. Calangute, Baga Beach, and Anjuna Beach are famous for all their water activities. Head there and enjoy Parasailing, Windsurfing, Kayaking, and white water rafting. Palolem beach and Cavelossim beach are famous for Dolphin watching.
Dive in The Majestic Ambiance of Goan Nightlife
As the sun slides off the horizon, the mood in Goa rises high. Goa offers a blend of excitement and thrill and it is the best place to experience vibrant shades of nightlife. Goa has one of the best Party locations, and late-night partying is one of the best things to do in Goa.
The day spends at the beach and the city drizzles in dim lights, rustic music, and delectable dishes infusing the perfect atmosphere to fall in love with the city. No doubt nightlife in Goa offers an exceptional experience to every tourist with joy and happiness. Nearly all the beaches in Goa host night parties enthralling tourists and offering them a dynamic nightlife experience.
Walkthrough Fragrant Spice Plantation
India is famous for its Spices and just like that Spice Plantation tour is knowing about those spices in a natural way. One can see many different varieties of spices grown on the farm like Cardamom, Vanilla, Coffee beans, and other flora and faunas.
It is also a photographer's paradise if you visit it in the monsoon. Also visiting this place just not only to know about the spices but knowing about the Goan cuisines served here. It is one of the best places to visit with your family in Goa.
Explore the Forts of Goa
Goa has a myriad of architecture along with beaches. It also has alluring forts built by the Mughals and Portuguese which is now symbols of its rich heritage.
The best forts in Goa include- Aguda fort, Chapora Fort, Reis Magos Fort, and Cabo De Rama fort for their architecture with surrounding stunning landscapes. The forts are located on the cliff and you can have the best views of the beach from the forts. Chapora is famed and is where the famous Dil Chahta hai Movie was shot.
Visit Local Flea Markets
If you are Shopping Lover and love Street Shopping- the Flea Markets of Goa are a dream come true. Be it Beer, funky jewelry, handicrafts, Spices, and clothes, the Goa Flea Markets have it all. One of the famous is Anjuna Market held on every Wednesday from 9 AM to 9 PM.
Another is Friday Mapusa Bazaar which is a regular Baazar during the rest of the week and on Friday it turns into a Goan Flea Market which remains open from 8 AM to 6.30 PM. The Mapusa Market is 10 kilometers by road from Anjuna Beach in North Goa. Apart from these, there are Markets near every beach which are good for buying cheap clothes with good bargaining.
Trek to Dudhsagar WaterFall
One of the best things to do in Goa is to hike to Dudhsagar Waterfall. It requires passing through forests, railway tracks, and tunnels which creates such magic all the way. The gushing water from the streams creates an illusion of milk flowing through the mountains and so it's known as 'Dudhsagar'.
It is the 5th highest waterfall in India which is surrounded by lush green vegetation. Monsoon is a good time to visit it (Aug-Oct). If you are visiting Goa in Monsoon, don't forget to trek to one of the best attractions in Goa.
Visit Goa Museum
The top touristy thing to do in Goa is to visit Goa Museum. The Museum gives an idea about the rich heritage, culture, and architecture and the museum depicts the Goan lifestyle and culture through large size sculptures and statues. It houses traditional miniature Goan houses, handicrafts, and a Fenni distillery.
Other than this I recommend visiting Palacio do Deao which is 213 year old Mansion. The house faces the Church he built and is on the banks of the wildly beautiful Kushavati River.
Whilst exploring this house, you learn about the history of Goa through various exhibits such as paintings, artifacts, and general household items. You can top this experience with a culinary indulgence at the in-house restaurant serving delectable Goan cuisine. Photography is also allowed inside the place.
Go for Bird Watching
Goa has wildlife much more exciting than its nightlife! It is home to an abundance of lush vegetation and hence it is home to more than 420 species of birds, many of which are endangered.
Dr. Salim Ali Bird Sanctuary and Bhagwan Mahavir Sanctuary are famous bird-watching spots in Goa. These sanctuaries are home to a number of species that flock here to nest in the swampy mangroves. The peaceful sanctuary in the foothills of the Western Ghats can be visited from 8:30 am to 5:30 pm on all days. For a keen birder, it is a must-visit destination.
Try local Goan Cuisines and drink Local Beer Feni
An erstwhile Portuguese colony, Goa has managed to retain its vintage charm through its local customs and food. One such example is feni local Beer. Feni is a thrice distilled liquor derived from Cashew fruit and is available throughout the year. Feni has been a part of the Goan food tradition for over 400 years. So Next time, if you are in Goa, must try this Local fruit Beer.
The tropical climate of Goa has influenced the Goan food intensely in flavors and spices. The staple food of the People of Goa is rice and fish curry. Most of their dishes use coconuts, rice, fish, pork, meat, and local spices like kokum. 
Earlier being a Portuguese colony prior to 1961 and hence the Portuguese influenced most of their food and the three main communities of Goa — Hindus, Muslims, and Christians also contributed to the cuisine.
This blending of native cultures and foreign is reflected in the local cuisines. Goan Fish Curry, Fish Recheado, Pork Vindaloo, Chicken Cafreal, Feijoada, Samarachi Kodi, and Crab Xacuti are a few famous dishes.
Where to Eat in Goa
From Golden and white sandy beaches to lip-smacking food- Goa has everything to offer you for your perfect holiday. If you are a seafood lover, you will not be disappointed. Here is a list of the Best Cafes & Restaurants in Goa:
Thalassa Restaurant: Perched on a hilltop, overlooking the magnificent Arabian Sea and picturesque small Vagator beach lies the best Restaurant serving exquisite Greek food.
Cafe Chocolatti: Paradise for English breakfasts and homemade chocolate treats in a serene and beautiful setting.
Cafe Tato: One of the oldest vegetarian cafes in Goa- serves lip-smacking North and South Indian snacks.
Cafe Bodega: Best Place to have Breakfast & serves fresh-baked cakes, pancakes, waffles, sandwiches, fresh salad, and pizza.
Lila Cafe: Serves delicious American, European, and Continental cuisines.
Baba Au Rhum: Great for Burgers, Pizza, and Tarts.
Best Vegetarian Restaurants & Cafes in Goa
If you are vegetarian like me, here is a list of good vegetarian options:
Navtara: One of the best and ultimate Places for vegetarians in Goa that serves a wide range of South Indian, North Indian, and Continental cuisines with lip-smacking taste and awesome quality. I devoured almost all the items from this Place during my visit! You can find Navtara in many places of Goa and try out the best veg thalis.
Bhojan, Panjim: Severs Gujarati and Rajasthani cuisines
Jalsa, Arpora: They specialize in Gujarati, Rajasthani, and Jain thalis.
Blue Planet Cafe, Agonda: Their extensive menu has everything ranging from salads, soups, spreads, juices, etc.
Bean Me Up, Vagator: A vegan restaurant that serves vegan pizzas, ice creams, and innovative salads.
Sagar, Calangute Beach: A multi-cuisine vegetarian restaurant that serves North Indian, South Indian, and Chinese cuisines.
Souvenirs Shopping in Goa
Goa offers the best of sun, swimming, surf, and sand plus shopping! If you like colors like shopping in Jaipur, Goa also has flea markets to high-end stores! from the Anjuna flea market to the Arpora night market and MMC Market in Margao, you will get so many things at a decent price, and here are the best Souvenirs you can pick in Goa:
Azulejos Tiles – You can't leave Goa without Hand Painted tiles
A Bottle of Feni
Cashew Nuts- Goa is famous for this!
Indian Spices – especially Black Pepper and Goan Xacuti Masala
Bebinca Cake
Beach Wear & colorful clothing
Funky & Antique Jewelry
While Shopping in Goa can be quite fun, don't forget to haggle like a pro. You can quote the Prices in half and then you can negotiate your way to the middle range. The handmade stuff will be always Pricey, but it's worth the Price for every reason, and Pay to support local artisans.
Where to stay in Goa: For Beaches and Budget
Goa is a very tiny state but it has a 101 Km stretch of beaches each area/beach has a different vibe and it attracts a different types of travelers. There is a place to stay in Goa to suit every type of traveler- from Luxurious, Modern family-friendly Hotels, high-end beach resorts, Budget Hotels, Beach huts, fun Backpackers Hostels, Portuguese Mansions, and Heritage Villas- Goa has everything.
North Goa is a bit touristy while South Goa is famous for Offbeat stays, so North Goa or South Goa for your stay, check this:
If you want to experience the real touristy experience, choose Baga OR Calangute which are the most famous and busiest beaches in Goa, usually packed with Packaged holiday tourists.
They have everything you can ask for Bike rental, nearby Bus station, flea Markets, Car rentals, and Budget accommodation but they will be at higher prices and crowded. If you head to a bit of the South- Candolim and Sinquerim have high-end resorts and are less crowded than Baga or Calangute.
If you head further North- Anjuna, and Vagator are famous for hippie travelers, backpackers, and budget travelers. There are lots of backpacker hostels and basic guesthouses in Anjuna and Vagator but not much beachfront or luxury accommodation here.
And if you want to be at the extreme of North Goa– choose Ashwem and Arambol beach for your stay. The beaches are quiet and popular with the Yoga crowd. You will not find water sports activities here but perfect for long-term travelers as it is one of the best places to stay in Goa.
If you love the serenity and offbeat Places– choose South Goa for the Stay. South Goa is home to cleaner and most serene beaches in the entire Goa. Here you will find stunning and peaceful resorts with empty white sandy beaches. In south Goa, Colva, Benaulim, Varca, Cavelossim, and Palolem beaches have luxury resort options.
South Goa is offbeat and Best for the stay but at the same time, travel time will be longer from central Goa/Airport, and fewer water sports activities.
What to Wear in Goa
Goa has a relaxing dress code as compared to other Indian beaches. Keep in mind, Goa is not just about Beaches, it has temples, churches, waterfalls, and small villages. You can wear your Bikini/Tankini at Beaches without any unwanted attention. But Long Trousers or long dresses are recommended at churches and temples in Goa.
If you are staying at any beachside hotels/resorts- you can venture out to Sea in Bikini but keep Sarong or beach coverup with you when you leave the Beach. It is not acceptable if you wear Bikini while visiting Markets, restaurants, or walking in the city.
If you are using Public transportation, wear modest clothing that covers your knees and shoulders. You can always carry a stole to cover yourself when visiting Churches, temples, or venturing out.
Safety Tips for Solo Women in Goa
You may hear Drug-related stories or Violent crime but Goa is the Safest Place to travel in India if you take a few basic and common Precautions as you travel anywhere in India.
First and foremost, UBER or OLA don't work in Goa instead there is a local taxi named Goa Miles. It would be a great option if you are arriving in the late evening or at night. If it doesn't work, always choose to book a taxi with your hotel. And if you are booking a taxi from the airport, Always agree on the price of a taxi or autorickshaw before getting in.
Avoid walking along back lanes or beach areas alone at night. If you are staying in the extreme North or South, then call your day off early evening if traveling as a solo woman. If someone wants a selfie with you, and they come close to you- strictly deny it.
Always trust your instincts and don't accept drinks from strangers. When in doubt, head to the nearest shops or contact locals to seek help.
If you are going to swim at the beach alone- don't carry much electronics, Money, or a Passport with you, keep it safe at your accommodation OR you can ask the owner of the beach shakes to keep an eye on your stuff.
Always keep handy local Police numbers and emergency contact Numbers once you reach your destination. Once you are in India, always prefer having a local Sim card which can work in an emergency.
Useful Tips while visiting Goa
Most of the cafes and hotels Provide good WIFI but I highly recommend procuring a local sim card- Vodafone, Airtel, OR Reliance Jio (If you're a foreigner). You can recharge it whenever you need it. While taxis are the most expensive option to get around and explore Goa – a rented scooter is the best and most affordable option.
Certain areas are marked by red flags which means it's dangerous to swim there, so avoid those areas. The minute you step into Goa, you can see many people swarming around you and ready to offer so many services but beware and stay away from them as possible.
If you're planning to indulge in water sports activities like surfing or parasailing, make sure you get a professional instructor to help you go about it otherwise you will end up in the Hospital for not so good reason! Also, take care of your tummy- if you are not used to with Indian spicy food and use only filtered water bottles to drink water.
Due to a relaxed taxation Policy, Liquor is very cheap in Goa but don't overdrink when you are alone at the beach at night. You will find many people roaming on the street, roads, or at beach shacks, insisting you buy or consume drugs, but beware of them. Drug Consumption is a Punishable offense and it's illegal to consume.
Always follow the laws and rules and instructions written on the boards. If possible travel in Group at night to avoid the hassle.
There is no such place that can be one hundred percent safe. It hugely depends on us how we people make the Place- dirty, unsecured, beautiful, or safe. 
This was all about my top things to do in Goa with Travel Guide. Have you been to Goa, let me know your experiences in the comments. If you like this Post pin it for later.