Gangtok Attractions: Best Places to Visit in Two Days
Sikkim– a state in the Northeastern part of India offers nature at its best in the form of mountains, glacial lakes, forests, and waterfalls. Gangtok is located at an altitude of 5410 ft amidst the eastern Himalayan range. Gangtok is home to numerous Buddhist temples and ancient monasteries. It is a very beautiful and clean city with the most amazing friendly locals. The City has a mixture of Sikkimese, Nepalese, Tibetan ancestry. It was Sunday when I explored the City, so few of the sightseeing attractions were closed on Sunday. In this post I am including Top Gangtok Attractions with Best Places to Visit in Gangtok in 2 days:
#1. Visit to Rumtek Monastery
Located 23 Km from Gangtok, Rumtek Monastery is one of the top Gangtok attractions. It is one of the most significant and largest monasteries in Sikkim. The monastery was founded by Wangchuk Dorje, 9th Karmapa Lama in the 16th century as Dharma Chakra center. It was built by Gyalwa Karmapa in the 1960s, who was the 16th Karmapa of the monastery.
The main building of the Rumtek monastery is three-storeyed. The monastery houses some of the rarest Buddhist religious art objects found in the world and is also a world-renowned center for Kargyu teachings. The ground floor of the main monastery building has a large prayer hall. The hall has large hand-painted and intricate wall murals, thangkas, silk paintings, and statues. The first floor is where the 16th Karmapa lived. The top floor has a terrace and a small golden stupa. There is a large courtyard in front of the main monastery building. The courtyard has few other buildings surrounding it where the monks live and practices of the Karma Kagyu lineage.
Just outside and at the backside, a stairway leads to the Nalanda Institute of Higher Buddhist Studies. Just opposite to the Nalanda Institute is a building where you will find the Golden Stupa of 16th Karmapa which is made of pure gold.
On a clear day, you can get a lovely view of Gangtok town from the institute building. So If you are in Gangtok for a day or two, Rumtek is one of the top things to see in Gangtok.
Entry Fees: INR 10/Person
Visit Timings: 9 AM to 6 PM daily
#2. Visit to Do-Drul Chorten
My next stop was Do Drul Chorten located amidst forest on a hillock. The Chorten Stupa is marked by a golden top dome.
Do Drul Chorten is one of the top tourist attractions in Gangtok. It is believed that this entire place was once haunted by evil spirits and many people who wandered around this place became victims and died. Later a very respected and celebrated lama of Tibet Trulshig Rinpoche who followed the Nyingma Order of Buddhism came to this place for a hermitage. He built this stupa in 1946 to drive away from the spirits.
The stupa is surrounded by 108 prayer wheels all of which have mantras inscribed on them in Tibetan. If you rotate the prayer wheels, do it in a clockwise direction. Inside the Chorten Stupa are Kanjur holy books, relics, complete mantras, and several other religious objects. The stupa is surrounded by Chorten Lakahang and Guru Lakhang, where two statues of Guru Rinpoche are worshipped. There is a butter lamp room located beside the Chorten, where you can offer donation and light a butter lamp. If you are keen on knowing about Buddhism, must-visit best tourist Places in Gangtok.
Travel Tips:
It is a worship place and there is no entry fee.

Within walking distance you can visit Namgyal Institute of Tibetology that does research in the areas of Tibetan language and culture. It also houses a museum, a Tibetan library with rich collections and also a reference center about Tibet and Himalayas in general. It was Sunday when I was there,but couldn't make a visit. It is open from Monday to Saturday between 10 AM to 4 PM. It remains closed on Public holidays and Sundays.
#3. Hanuman Tok
Another Gangtok Local Sightseeing Places is Hanuman Tok. Tok means Temple. This place is dedicated to Lord Hanuman temple. This temple is popularly known as the wishing temple and offers a magnificent view of Kanchenjunga and surrounded by the serene ambiance. It is located atop 7200 ft and 11 Km from Gangtok city on the road that branch off the Gangtok- Nathula Highway. It is one of the top places to visit in Gangtok due to its views.
In 1968 this entire area was handed over to the Indian Army. It is now maintained and preserved by the Units of 17 Mountain Division of the Army. So inside the temple, clicking pictures is prohibitive. Do worship and admire the beauty of the place here.
Travel Tips: Admission is free.
#4. Ganesh Tok
Ganesh Tok is located at an altitude of 6,500 ft and at a hill adjacent to that of the huge TV Tower. Like Hanuman Tok, tourists come here not only to offer prayers to Lord Ganesh but also to soak in the views from the viewing lounge and the circular balcony around it. On a clear day, you can view the Gangtok town, rolling hill and the snow-capped mountains including Kanchenjunga. Ganesh Tok is only 6 km away from Gangtok Town.
Opposite the temple, there is a cafeteria that serves food and snacks at a reasonable price. Looking to the views, You must include Ganesh Tok in your sightseeing itinerary of Gangtok.
Travel Tips:
Entry is free here.

Opposite to Ganesh Tok, Himalayan Zoological Park is located; if you are travelling with the kids it is great place to enjoy with them.
#5. Tashi View Point
From the Ganesh Tok you can reach to Tashi View Point. It offers a spectacular view of the snow peaks of Mount Kanchanjanga on a clear day. You have to climb a few steps to reach over here. On the premises, there is a souvenir shop which sells items like crockery, handicrafts, etc at a reasonable price. It was a foggy day when I visited, so couldn't take any snaps.
#6. Flower Exhibition Centre.
It was springtime, so decided to visit the place. It is a paradise for flower lovers and a great place for photography. It houses different spices of flowers and orchids. The inside area is not very large but it has amazing collections of different types of flowers and orchids. The best time to visit is March-June when Orchids are in full bloom and put on display. If you are a flower lover, it is the place to be. It is one of the most tourist place in Gangtok.
Entry Fee: INR 20/Person.
Visit Timings: 10 AM to 6 PM daily
#7. Ranka Monastery
The most beautiful place I had been to Gangtok is Ranka Monastery. It is one of the famous Places of Gangtok, Popularly known as Lingdum Monastery. The monastery is spread out in vast areas and offers scenic views of Gangtok city. The monastery is not as famous as the Rumtek monastery.
The monastery follows the Zurmang Kagyud lineage of Buddhism and under the direction of the 12th successor of the lineage Zurmang Gharwang Rinpoche. It's surrounded by forested mountains on all sides. This monastery is one of the most picture-perfect monasteries in east Sikkim.
As you enter the prayer room you will see a huge golden statue of Buddha right ahead. There are low tables lying in rows where the lamas read their prayer books. The walls have intricate hand paintings and thangkas hanging on them. When we reached there, it was evening time and daily evening rituals were performed inside the prayer hall.
The monastery is two store buildings; the surrounding courtyard has classrooms where young lamas undergo training. It is wonderful to see them active, playing, and laughing. They seem extremely happy in their life without thinking about the materialistic world. If you want you can take pictures with them by asking for their permission.
Outside the Prayer hall, there is a terrace and you can soak into the magnificent views of the mountains. On a clear day, you can view the best sunset from here. I had spent one hour at this one of the beautiful Gangtok attractions.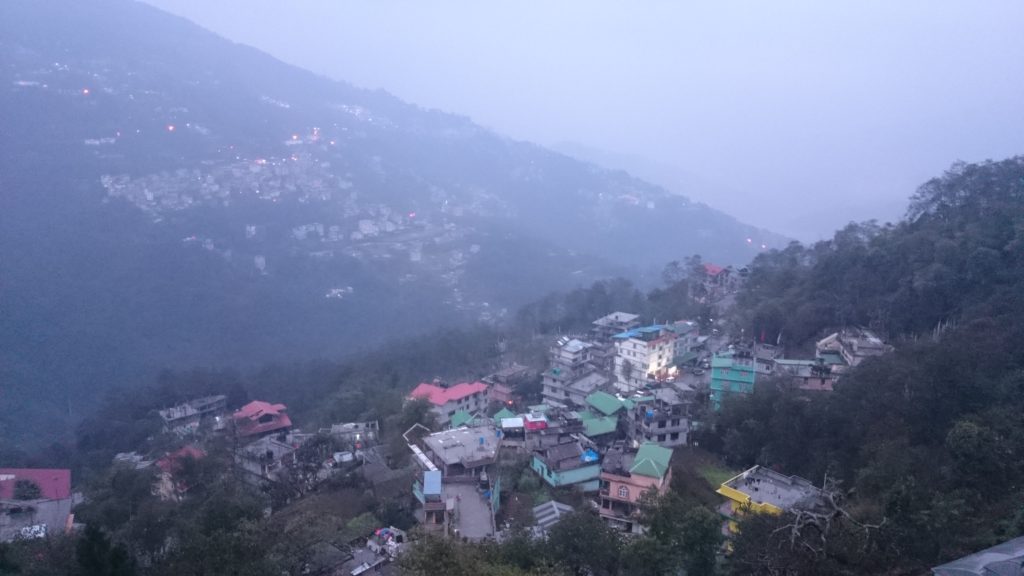 #8. Stroll on MG Marg.
Gangtok Attractions list incomplete without mentioning MG Road of Gangtok- long stretch of road where locals and tourists take leisure stroll or just relax and sit on one of the many benches laid in the middle and both the sides of the road to soak in the ambiance. This is the most happening area of Gangtok and lines with different shops, hotels, restaurants, bars on both sides. It is a good place to buy souvenirs and handicraft items. The entire area is free of litter, smoke, and vehicle. It is a pedestrian zone only. Vehicles are not allowed up to 1 KM of stretch of the road. Just sit or Stroll on the road and enjoy the activities around. So if you are in Gangtok for a day, it should be included in local sightseeing of yours.
Travel Tips:
Open from 8 AM to 7 PM, restaurants open up till late night. Market remains closed on Tuesdays.

At the end of the MG Marg is the Sikkim tourism information center. Further down on Tibet road/church road, you can get taxis for local sightseeing.

You can book day trips to Nathula, Baba Mandir,Tsomgo Lake etc from any of local tour operators on this road on sharing basis.
How to Reach:
Bagdogra airport, West Bengal is the nearest airport, 124 KM from Gangtok. The nearest railway station is New Jalpaiguri in Siliguri, 148 km away.
Private /Shared Taxis are available outside the airport. We had hired Innova at INR 2200 on drop only basis. If you are traveling on a backpacking budget, you can travel by shared Jeep/Sumo at INR 150-200/Person from Siliguri. It is a very scenic route that goes parallel with the Teesta river.
Where to Stay:
Gangtok is a budget-friendly destination and you can book lodges, homestays, hotels, and resorts as per your budget. we had stayed at Magpie Boutique hotel at INR 1700/Night for 3 people which was a budget hotel closed to MG Marg, taxi stand, and near to points of attractions. MG Marg was a few stairs up from the Hotel.
Getting around:
We had hired a local taxi for sightseeing from the taxi stand near Church road at INR 1500 for the day including Rumtek. You can hire taxis according to the number of sightseeing places you want to cover in a day. It is like a 7-point,10-point tour.
Note : Shared Jeep/Sumo is available at INR 150-200 for Darjeeling and Silliguri from Deorali taxi stand in Gangtok.
Other Sightseeing Places in Gangtok:
Visit Enchey Monastery.

Gangtok Ropeway ride. As rope way was under maintenance, couldn't go for rope way ride.It offers the best city view.
Places to Visit Near Gangtok:
Day trip to Tsomgo lake,Nathula Pass,Baba Mandir [In winter you cannot visit due to snowfall.
All the Places can be visited from March to May and October-November which is a Good time to visit Gangtok. I visited Gangtok in March and I could visit all the above Places in Gangtok.
If you liked my Post about Gangtok Attractions and Places to Visit in Gangtok in 2 days, Pin it for Later!