Delhi to Kedarnath Road trip: Complete Travel Guide
Nothing gives more happiness than taking my mother on a pilgrimage trail of Hindus; better known as 'Char Dham'. We didn't visit all the four pilgrims but visited Do Dham-Kedarnath and Badrinath in the Himalayan state of Uttarakhand in India. In this post, I am sharing my experiences of the Delhi to Kedarnath Road trip.
The plan happened as I wanted to visit Kedarnath temple as it is one of the sacred Jyortiling shrines and personally I have heard a lot about Badrinath too. I couldn't get more leaves on work and so ended up planning do Dham (holy shrines) in the summer month of May as summer and early winter months are the best time to visit Badrinath and Kedarnath.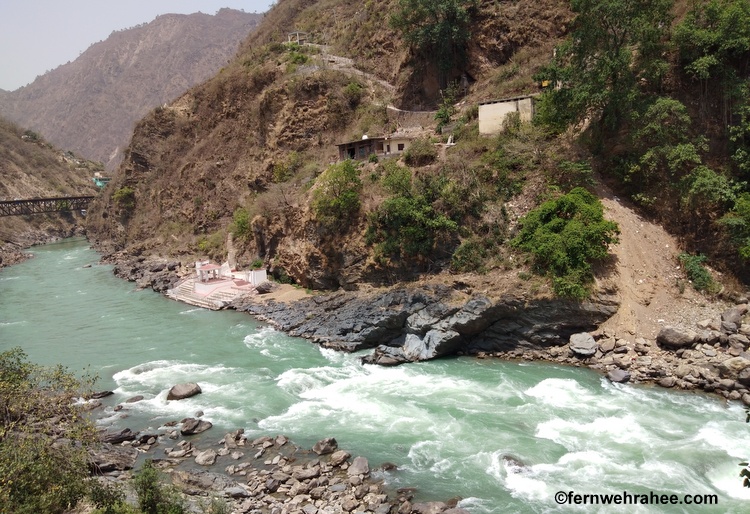 We planned a week-long road trip through the mountains, villages, and holy shrines. I wanted to do this by public transportation but my mother is in old age and we decided to traverse through the roads of Uttarakhand by car; after all, Uttarakhand is popularly known as 'devbhoomi'.
Route we followed:
Many people don't know the char Dham yatra follows a Particular route. One should first visit Yamunotri then Gangotri, Kedarnath, and Badrinath. The trip ends at Badrinath. We visited do Dham among it and below is our route to visit Kedarnath as Part of the Delhi to Kedarnath Road trip.
Delhi-Haridwar-Rudraprayag-Guptkashi-Phata-Kedarnath-Phata-Guptkashi- Chamoli-Joshimath-Badrinath-Chamoli-Karnaprayag-Srinagar-Rishikesh-Delhi.
If you follow this route, you can cover Panch Prayag too. The driving distance between all the places is approx 8-12 hrs. One should start the journey early and reach early – we followed this rule during our trip. If you see all the sites on the map; they are located pretty close to each other and its aerial distance is not much but mountains make it impossible to reach and one has to take a longer route.
Even my driver informed me that the 2013 flood affected the other side of the mountains & river of Kedarnath which is on the route to Badrinath and debris were found in the river near Joshimath.
Best Time to Visit Kedarnath:
It is to note that temples of four Dham remain open six months in a year; for the period from April to Oct/Nov with different opening and closing dates as decided by the temple committee. You can check the dates on the Uttarakhand tourism website.
Temple remains closed during winter and one cannot find transportation options as the yatra discontinued for the season. Also keep in mind about hilly region travel and spare 1-2 days extra for any unseen events like landslides, traffic jams, and other calamities. I would suggest avoiding visiting it in the monsoon season from late June-mid to September due to heavy rainfall in the state. The best time to visit is from April-Early June summer months and from mid-September-October with lush green valleys and crystal clear sky gives you perfect backdrops.
How to Reach Kedarnath:
Kedarnath is not directly connected by Road. You need to trek to reach Kedarnath which is 10 km long. First, you need to reach Guptkashi before the starting of the trek. There are buses and shared taxis available from Rishikesh (leaves at 4.0 AM) during the Chardham yatra time. There is one direct bus to Guptkashi from Delhi (leaves at 9 PM) which is available from ISBT Kashmiri Gate. you can book it online on the Uttarakhand Transport website.
Also, private taxis are available from Haridwar and Rishikesh. If you are using Public transportation, keep in mind the waiting hours, and plan it accordingly. It is advisable to avoid traveling and driving after 5 PM in the hilly region.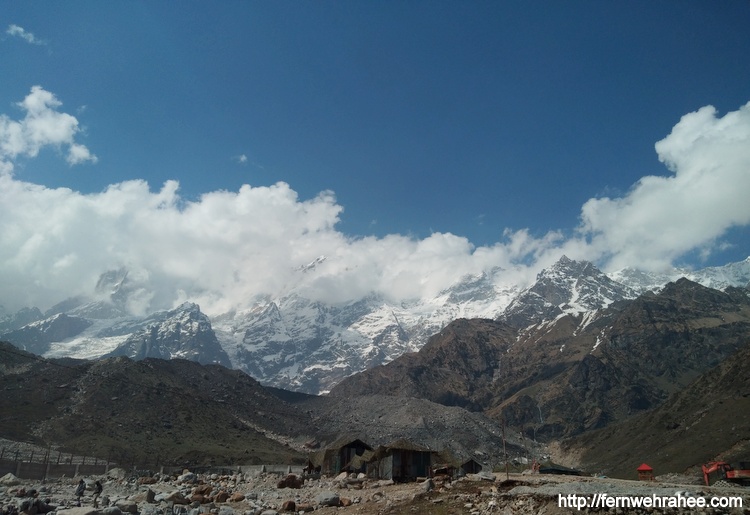 Kedarnath Yatra Registration:
For your Delhi to Kedarnath Road trip, you need to do registration for Chardham Yatra as per Uttarakhand Government and they issue Yatra Pass. The registration can be done at various biometric Registration counters at many destinations on char dham route by paying INR 50 per person.Also, visitors can be tracked with a GPS-based monitoring system so that tourist flow can be check for a particular Dham and this will help to make their journey safe as regular updates will be recorded for their location. Pilgrims can also avail special facilities by the government such as food and lodging using a Registration Card. If you want to do registration online, you can apply here.
Here is my one week itinerary and route to visit Badrinath and Kedarnath- Perfect Delhi to Kedarnath Road trip.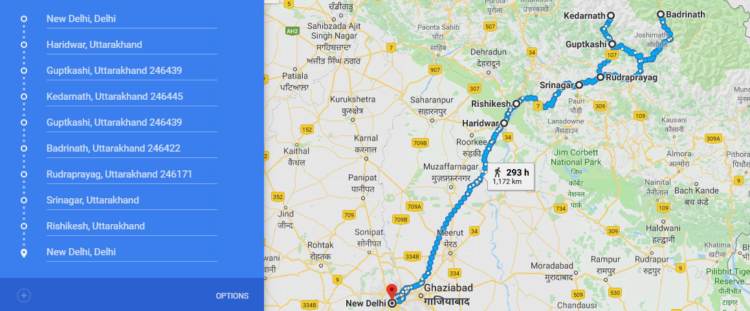 Day-1: Delhi to Haridwar.
We reached Delhi by early Noon on a hot summer day of the Month of May. It was freaking hot outside and we left for ISBT Delhi. We decided to take a bus from Delhi to Haridwar. In no time, we got the Bus from Uttarpradesh transport. I have already been to Haridwar and Rishikesh many times but still, these places attract me with its spiritual vibes.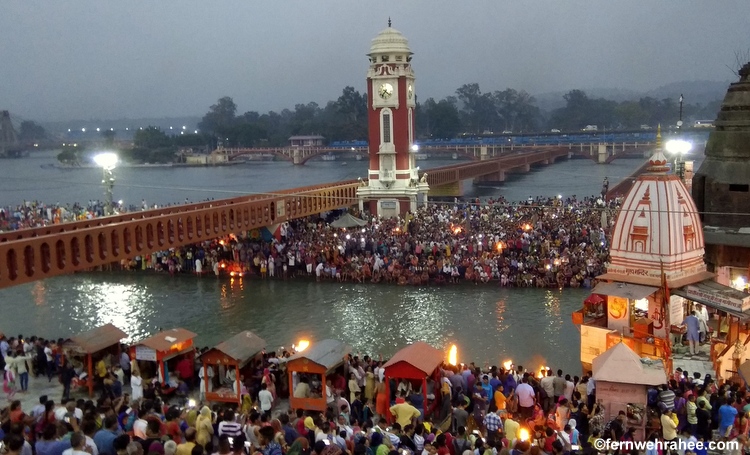 The bus took 5-6 hours to reach Haridwar. After checking into the hotel and dropping the luggage we rushed to attend the Aarti at 'Har Ki Pauri'. The ghat was overcrowded and we couldn't even find a proper place to stand. But somehow we managed to have a glimpse of it. When Aarti was over, the whole rush got cleared and we stroll through the place and soaked into the vibes of the river Ganges.
We were so tired due to journey and decided to wake up early for next day travel to Guptkashi.
Day-2: Haridwar- Rudraprayag- Guptkashi
The route starts with 'Yoga Capital' – Rishikesh and it follows along the river Ganges till Devprayag– one of the Panch Prayag of Alaknanda River. At devprayag, Bhagirathi River merges with Alaknanda River and becomes 'Ganges'. Here at Sangam (confluence), you can literally see the difference in the watercolor of two rivers.
After Devprayag, the road follows along with quaintly flowing Alaknanda River, small villages, stepped paddy fields; green dense forests which were enhancing the beauty of the region. I was just hooked on the river and colorful houses of the tiny Himalayan villages.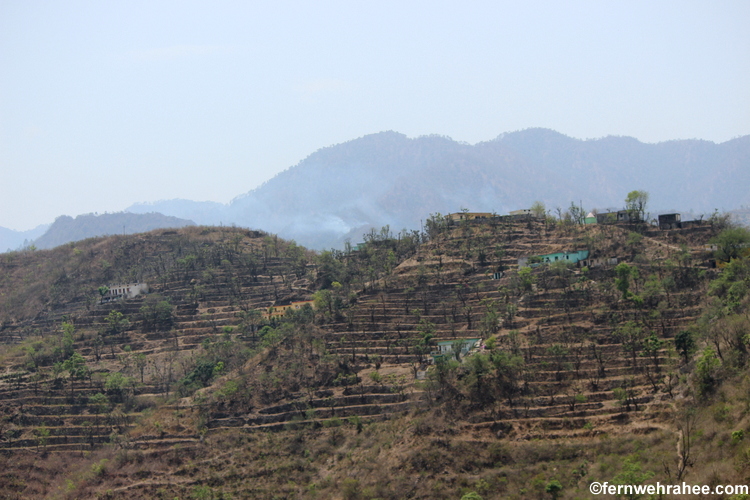 After driving for a few hours, we hauled at Rudraprayag- one of the holy Panchprayag of Alaknanda River. It is the point of confluence of rivers Alaknanda and Mandakini. The source of the Alaknanda River is the confluence of the Satopanth and Bhagirath Kharak glaciers in Uttarakhand and meets the Mandakini at Rudraprayag. We walked down to the bridge until the confluence and thought about how Mandakini's monstrous nature destroyed the Kedarnath town. Don't miss this Beautiful town Rudraprayag during your Delhi to Kedarnath Road trip.
After Rudraprayag, the journey started to reach Guptkashi via Augstmuni and other small towns. We reached Guptkashi by 5.30 PM in the evening. Guptkashi is located at 4,327 ft in Rudraprayag district of Uttarakhand and it is known for its ancient Vishwanath Temple dedicated to Lord Shiva, which is similar to the one in Varanasi (Kashi). The other well-known temple is dedicated to Ardhanareshvara, a half man half woman form of Shiva and Parvati. It was sunset time and before it got dark, we decided to visit both the temples at Guptkashi.
Guptkashi/Phata (15 km from Guptkashi) serves as a base to reach Kedarnath. If you are going to trek to the temple; you have to start from Gaurikund(30 kms from Guptkashi,1 hr journey) where you can reach by shared jeep from Guptkashi. If you don't get a direct jeep; take it till sonprayag and then to Gaurikund. No vehicles are allowed after Gaurikund.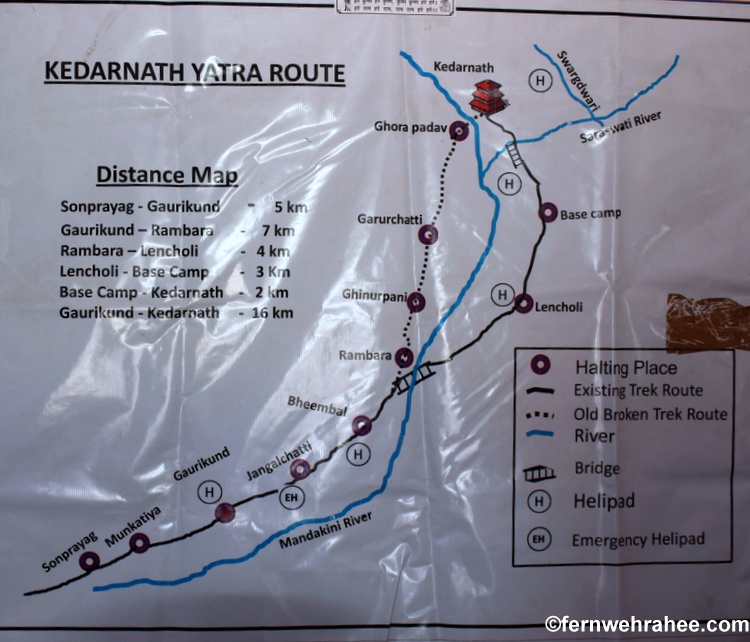 After the devasted flood of 2013, people are keener on helicopter rides to visit the kedarnath shrine. Most of the helicopter service providers are based at Phata/Guptkashi/sersi. Check online for the rates as only few companies are in this sector. We had booked our helicopter ride online in advance from Pawanhans to reach Kedarnath.
Day-3 : Kedarnath
After checking out from the hotel in Guptkashi, we started to reach Phata where Pawanahans helipad is located. Phata is a small beautiful town at a distance of 15 km ahead of Guptkashi. Helicopter ride takes 10 minutes to reach Kedarnath. It is one of the expensive ways to reach Kedarnath but it will give you enough time for Darshan. Initially, we decided to take a ride for reaching the Kedarnath and trekking down to Gaurikund in return, but we couldn't book a one-way ticket for Phata-Kedarnath. The helipad at Kedarnath is located within walking distance from the temple; hence you can ride back to Phata within 3-4 hours.
As we reached the Helipad, we first gave the Printout of our tickets for Boarding Pass. They issued boarding Pass according to the time slot chosen at the time of bookings. If you haven't pre-booked the tickets, you can book it on the spot at one of the counters. In the season time, make sure to book in advance as there will be a heavy rush.
Note: The helicopter ride Price is decided by Uttarakhand tourism when the Shrine opens i.e in April/May and service is offered to few helicopter service operators. If any helicopter service provider is not approved by Uttarakhand tourism for that particular year; then you have to cancel the tickets which you booked in advance. Hence if any tour operator books it in advance for you, make sure you pay the right amount and confirm the service which is available from Helicopter company for that year.
We waited for 3 hours as Pawanhans had only 2 helicopters in operation. There is a limit of 80 Kgs weight per person and above it, you have to pay INR 150/Kg extra. Also, make sure you don't carry extra luggage with you whether you are trekking or riding. The check-in process was smooth just like we travel in flight.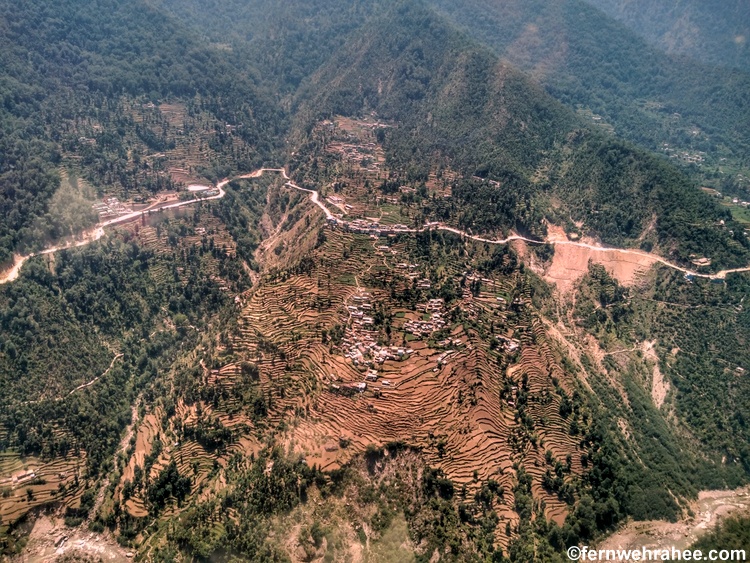 I was thrilled with joy as it was the first time I was traveling by helicopter. We boarded the helicopter at 12.30 PM and reached within 10 minutes to Kedarnath passing the views of the valley and trek to Kedarnath below. It was a joyous ride followed by walking to reach the Kedarnath Shrine.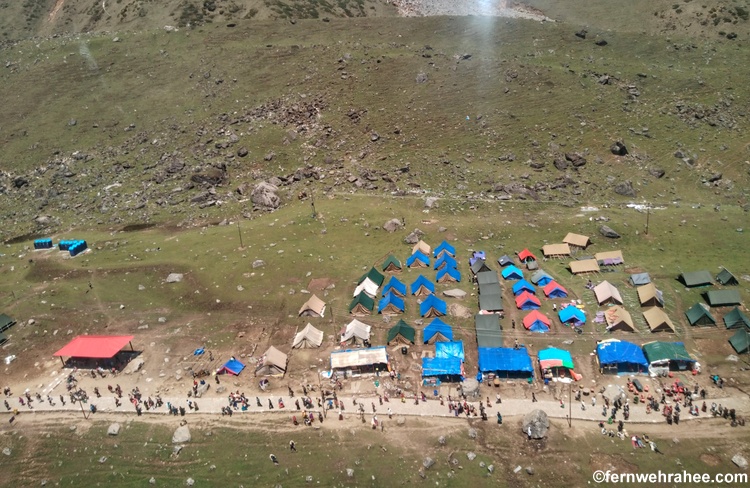 With my first footstep, I just took glance at the entire area and the surrounding mountains. The place reminded me of the flood disaster of 2013 which shook the entire nation. Read more about my first glimpse of the Kedarnath town.
Kedarnath is a sacred shrine dedicated to Lord Shiva and one of the Chardham site among Hindu pilgrims; located in the Himalayas at 11,755 ft near chorabari glacier –the head of Mandakini and surrounded by snow capped peaks.
We first settled into the lodge at Kedarnath as we didn't want to be in rush for darshan. There was a long queue almost 1 km long for the darshan. We were not in the mood to stand in the queue and decided to stroll around the new settlement. We walked through all the areas and talked with a few locals. It is saddening that such beautiful place was destroyed by the flood. Now everything seems to be normal here. The summer sun was shining, air was crisp, and the clear blue sky was giving moments of a lifetime. We looked at the boulder which saved the temple from the flood water of Gandhi Sarovar. The large boulder diverted the path of water and kept the temple safe.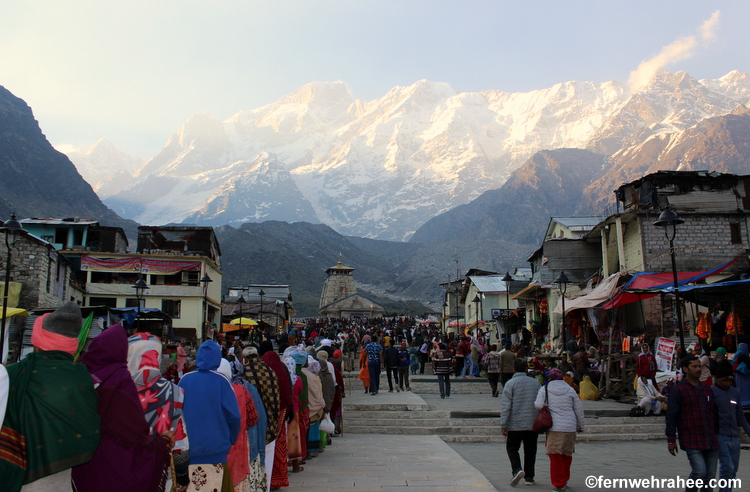 When it got dark by evening, we visited the temple when there was no queue and offered our prayers. The night was very cold, the air was chilled and we called it for a day! Next-day Morning we flew to Phata and started a further journey for onward destination.
This was all about my visit to one of the twelve jyotirlinga shrine in Kedarnath. The place has a horrible past of the flood but now life seems normal here. I personally felt after visiting such a place, you can generate small revenue for the livelihood of locals who are struggling to recover stories from the past.
Some useful information for Kedarnath:
Where to Stay in Kedarnath:
Accommodation is available at Sonprayag, Gaurikund, and Kedarnath. GMVN has guest houses which are available at all the places. Tents/dormitories are available at Kedarnath ranging from INR 400-600 per night.
Guptkashi has hotels and guesthouses ranging from INR 1000-2000 per night. There is no need to book in advance. The stay comes with basic amenities and doesn't expect any luxurious amenities here as the life of people is tough here.
Medical Facility at Kedarnath:
Kedarnath is located at a high altitude and many people face breathing problems. The medical facility is available at Sonprayag and Kedarnath.
Food in Kedarnath: There are many shops for food near helipad and in temple complex.
Mobile Network:
I highly recommend carrying BSNL Simcard if you are on char Dham yatra. Reliance Jio and Vodafone work but it gives occasional signaling.
Kedarnath Travel Tips:
Kedarnath temple darshan time is morning 5 AM to 8 PM in evening.
Get your health check up done before starting the journey (if you have any health problems) as the shrine is located at 11700 ft.
Always avoid carrying heavy luggage along with you and make sure to carry only the most necessitated items during the trek.
It is always advisable to carry the prescribed medicines along with some general ailments needed for common pains,fever etc.
Carry comfortably warm and heavy woollen clothes along with you as the season is always cold there, and at high altitude it is impossible to survive in lighter clothes.
As you are travelling in the hilly region; always start early and reach early. Avoid travelling in night.
You are not allowed to cross Gaurikund by 5 PM for the trek and you are not allowed to go down after 5 PM from Kedarnath.
You can reach to kedarnath by foot OR by mules/palanquins/ Kandi. The charges are according to the weight of the person and it is fixed.
This was all about my Delhi to Kedarnath Road trip, If you like this Post, Pin it for later!!