4 Days Washington DC Itinerary: Best Things to Do in 2023
If you are visiting Washington DC for the first time and confused about what to see in Washington DC in 4 Days?? In this post, you'll read about the best 4 Days Washington DC Itinerary including must-visit attractions, top things to do in DC, famous museums, and best things to do in Washington DC.
You probably know Washington, DC as the capital city of the United States. It was named after our first President, George Washington, and it's the current seat of our federal government.
I have visited DC two times for the sights and a few day trips from home when I was living in West Virginia. It's always worth visiting it!
It has so many monuments, memorials, museums, and beautiful gardens. It is Popular with tourists for a good reason! Probably you may have heard about the Washington DC Cherry Blossom Festival too, which is famous during the spring!
I have included everything to plan your 4 days Washington DC trip conveniently including getting to DC, getting around DC, popular restaurants, and the best hotels to stay.
This Washington DC 4 days Itinerary includes all the famous sightseeing attractions and top sites in the city, You can cover almost all the sites during your 4 days Washington DC trip.
Practical Information for your 4-day Washington DC Travel Itinerary
Is 4 Days Enough in Washington DC?
Yes, Practically it's an ideal time to spend in Washington DC if you're visiting it for the first time! There are so many activities to do but you can't always visit everything! But it's enough time to visit major sightseeing attractions, museums, and tours, as well as great eating all the good food!
Getting to Washington DC
Washington DC is the capital of the United States of America, it's incredibly easy to get to. There are an endless amount of options for traveling to the city.
The most common is of course flying. The closest airport to DC is Washington Dulles International Airport(IAD). All major airlines fly into the airport pretty frequently.
If you're traveling from outside of Maryland or Virginia, you can catch Amtrak or the Metro depending on your choice. You can also take a Greyhound bus into the city from nearby states. It's super easy to reach Washington DC with so many transport options!
Getting Around Washington D.C during your 4 Days DC Itinerary
Washington DC is a very walkable city as most of the famous sightseeing attractions are close to each other.
For a few faraway sites, you can take the Metrorail around the city, which is similar to the subway system of New York City. Trains run from pre-dawn to midnight or later! You can get a SmarTrip card at just about any station, and one-way ride fares start between $1.75 to $2.15 depending on the time of day you're traveling. You can also use this card on any public bus and for parking in certain areas.
If you're not in a hurry and tired from walking, you can catch Metrobus which may cost you $1.25 for a single trip.
The Other Option is DC Circulator buses which run about every 10 minutes and circulate daily between 1. Union Station and Georgetown and 2.Woodley Park-Adams Morgan Metro station and McPherson Square Metro. But keep in mind Buses loop around the National Mall on weekends only. The fare is $1 per ride.
But if you don't want to opt for Public Transportation or Walk, you can get tickets for a Hop-On Hop-Off Trolley Tour. They stop all across the city and while you're on the trolley you'll get shown the area by an English Speaking tour guide.
Book your Hop-On Hop-Off Bus Tour now!
Being a Capital city of the USA, you can also opt for Taxis from any ridesharing apps available to get around Washington DC. But be mindful of traffic in the DC!
And lastly, I will warn you about Driving! Driving is the least effective way to navigate the capital city. If you are arriving in DC by car, then park at the garage until you leave. Why?? Because traffic in DC is as worst as in Los Angeles !! So, Walk or take the metro after the Parking!
Hope, you now get the idea about the transportation options in DC. Choose it as per your physical limitations and cost when it comes to getting around DC.
Where To Stay For A 4 Days Washington DC Itinerary
When it comes to where to stay in Washington DC, I recommend staying near Metroline to avoid unnecessary walking and don't need to find parking, etc.
Here is my pick for accommodation options in Washington DC:
Best Time to Visit Washington DC
The summer months from June to August are the warmest and best time to visit Washington DC but it's peak tourist season. Expect to pay more during the weekends!
While the fall season from September to November is the best time of year to enjoy Washington DC with colorful fall foliage around. The weather is comfortable and there are fewer tourists past the peak summer season! It's the perfect time for walking around the city and seeing fall foliage.
Spring from March to May is a great time to visit the Washington DC vacation trip. The weather is mild and brings perfect temperatures to bloom blooming cherry blossoms around the city. It is one of the best attractions in the USA during the spring.
Winter time is the snow season in the DC and most of the activities and sights might be closed, so avoid visiting from December to February!
If you are visiting Washington DC for the First time, choose shoulder season with fewer tourists!
What to See in 4 Days in Washington DC: Quick DC Itinerary
Here's a quick overview of what you'll be doing and seeing during your Washington DC trip for 4 days. You can always customize it as per your interests and preferences. Here are my recommendations for what to see in Washington DC in 4 Days.
Day-1: National Mall area and White House
Day-2: Capitol Building, Library of Congress, Union Market, Explore the Best Museums of DC.
Day-3: Arlington Cemetery, Theodore Roosevelt Island, Georgetown, Dumbarton Oaks Museum, and evening at Georgetown Waterfront.
Day-4: US National Arboretum and Old Town Alexandria
Extra: National Cathedral
How to Spend 4 Days in Washington DC: Perfect Itinerary
Day 1: The National Mall & The White House
National Mall covers 2 miles and this is where most of the memorials, museums, and monuments are. You can take a leisurely walk around the Mall and National Monuments.
Depending on how much walking you can do, you can decide which ones you really want to see during your 4 days in DC!
Must check out this National Mall Map to help plan your visit. Also, if you don't know, the national mall is one of the National Park services sites in the USA!
I call National Mall a big treasure trove of information. So, start your first day in washington dc early, grab the map and walk in comfortable shoes and take a walking tour of these memorials.
Here is the list the memorial you can easily cover in a day in this order:
Lincoln Memorial (The last scene from Forest Grump shot here- the reflection pond scene)
Vietnam Veterans Memorial
Korean War Veterans Memorial
Martin Luther King Jr Memorial
Franklin Delano Roosevelt Memorial
World War II Memorial
Thomas Jefferson Memorial
Washington Monument
Lincoln Memorial
Start your day with a visit to the National Mall at the Lincoln Memorial. It is located at the western end of the Mall, so you'll be walking west to east. The nearest Metro stations are Foggy Bottom and Smithsonian.
The Lincoln Memorial was designed by famous architect Henry Benson and completed construction in 1922. Just climb the 58 steps of the memorial and you can see the scenery of the National Mall.
After visiting it, start walking towards Tidal Basin. This is one of my favorite spots in Washington dc and it's a famous site for the spring! The stunning artificial reservoir is lined by cherry trees where millions of visitors come to witness the National Cherry Blossom Festival every spring!
Vietnam War Veterans Memorial & Korean War Veteran's Memorials
You have to walk north of the Lincoln Memorial to get to the Vietnam Memorial. Dedicated in 1993, this Memorial Wall chronologically lists the names of more than 58,000 Americans who lost their lives in the Vietnam War.
Just south of the Reflecting Pool on the National Mall is the Korean War Memorial that memorializes those who served in the Korean War(1950-53).
You will see the 19 Soldiers statue in the Korean War Memorial which represents four branches of the military: Army, Navy, Air Force, and Marine Corps.
Pro Tip: The Korean War Memorial is open 24 hours a day every day of the year.
Martin Luther King Jr Memorial
As you walk along the Tidal Basin, you'll find the Big Martin Luther King Jr Memorial. This 30-foot-high monument sits along the western bank of the Tidal Basin.
The memorial honors the legacy of the prominent leader and the struggle for freedom, equality, and justice. It was carved by sculptor Lei Yixin.
If you want to make the most of your time at the memorial, book this African-American history tour.
While you're here, must see the Stone of Hope. On its walls are carvings of famous quotes by Martin Luther King on peace, democracy, and justice.
This memorial is the first to honor an African American individual on the national mall rather than US President or war hero!
Franklin Delano Roosevelt Memorial
Just a quick 5-min walk from the Martin Luther King Jr Memorial, you'll reach to Franklin D Roosevelt Memorial along the Tidal Basin in western Potomac Park. The monument is dedicated to the 32nd President of the United States.
Be sure to take a photo with the president or his trusted dog Fala, who was also immortalized as part of the memorial.
Thomas Jefferson Memorial
After taking in the western bank, just cross the Ohio Drive Bridge to reach the Thomas Jefferson Memorial.
Take an easy 15-minute walk filled with impressive sights such as the stunning Japanese Pagoda and the George Mason Memorial.
It was built in honor of Thomas Jefferson, the Principal author of the United States Declaration of Independence and 3rd President of the USA.
Inside, you can read inscriptions of many advocacy and philosophy quotes by the president. Don't forget to take some selfies with his stunning statue!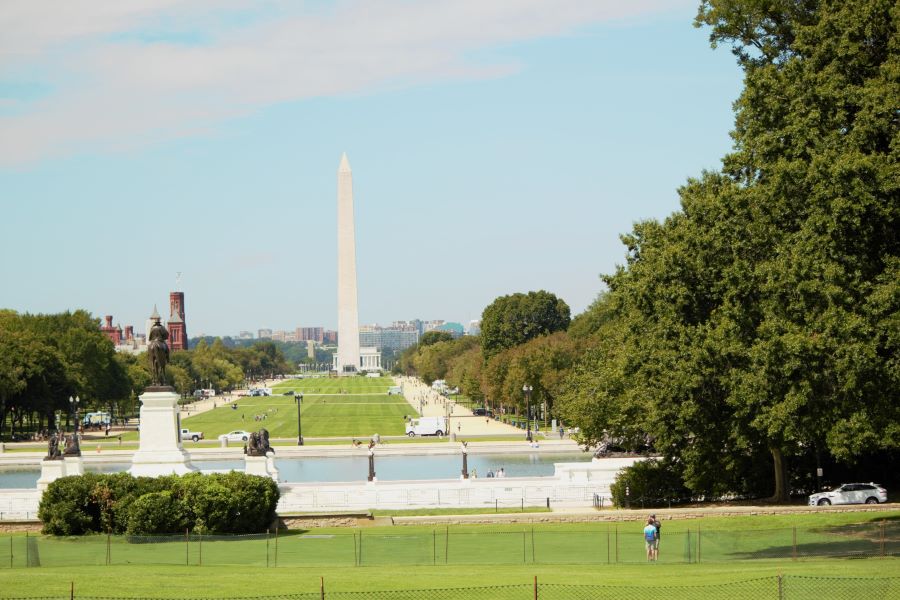 Washington Monument
One of the most famous and recognizable monuments of Washington DC. This 555-foot marble Obelisk is most impressive monuments of the National Mall. It's open daily from 9 AM to 10 PM.
Whenever you walk around the National Mall area, this tall obelisk will be seen from all other monuments. When you walk around the Washington Monument, it will lead you to the stunning Lincoln Memorial Reflecting Pool which is perfect for the snapshots.
Pro Tip: One of the easiest ways to see all the memorials is to rent a bicycle and ride around.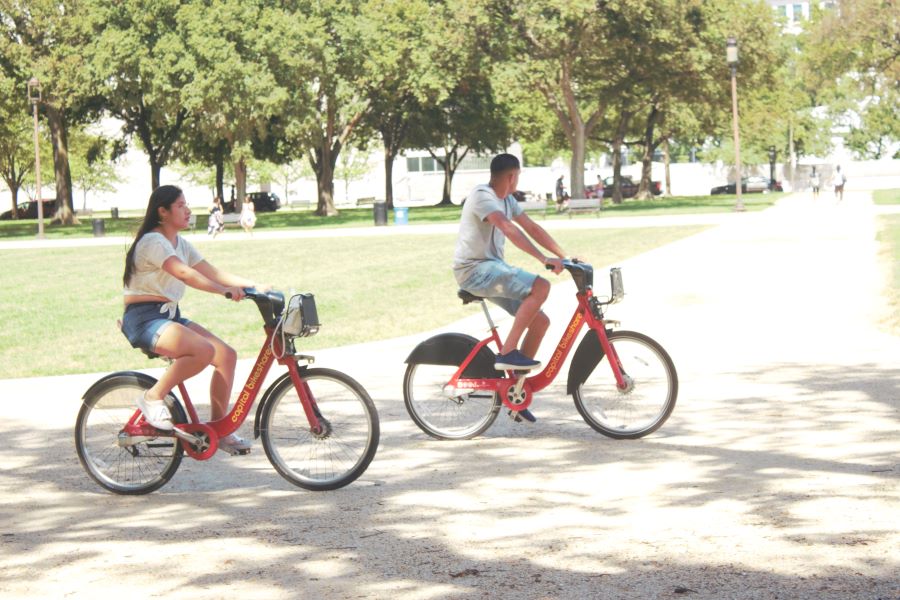 Alternatively, you can book this Washington Monuments Bike Tour or See the DC Segway Tour to make your first day memorable.
Alternatively, choose this Washington DC Guided Tour, which takes you to many iconic monuments.
By now if you are tired from all the walk around monuments, grab the food from one of the food trucks parked around the National Mall. You must try Food trucks in DC!
World War II Memorial
As you cross the Thomas Jefferson Memorial, you'll come across World War II Memorial. This memorial consists of 56 columns representing the U.S. states and territories surrounding an oval plaza and fountain.
You can visit it after the Korean Memorial or after you've come back around from the Jefferson Memorial.
The White House
Who doesn't want to see the iconic White House?? It's a short 20-minute walk from the Washington Monument. The best place to view the White House and get some good pictures is from South Lawn.
Also, you will be able to see the White House from Pennsylvania Avenue NW at Lafayette Square and view the White House and the South Lawn from the Ellipse.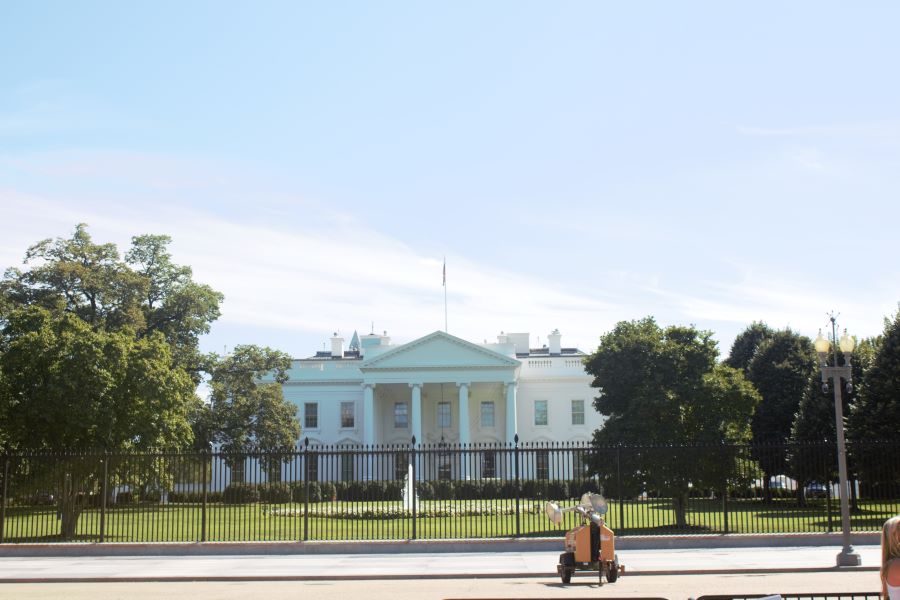 Note that Public tour requests are scheduled on a first-come, first-served basis and must be submitted through a Member of Congress and their Congressional Tour Coordinator. Through them, you'll request a tour, and their office will help you set it up. You absolutely can not buy tickets or tour The White House any other way. You can read more about the tour here.
Please note there is NO PARKING near the White House!
Evening:
After visiting the White House, grab a drink at the Rooftop bar in the evening! Washington DC has so many rooftop bars to enjoy the views of the National Mall. I recommend the VUE rooftop bar overlooking The White House, the Washington Monument, and National Mall.
For Dinner, you can head to upscale Old Ebbitt Grill, a historic restaurant and bar serving American cuisine and seafood.
You can check out these Guided Tours for your Washington DC Itinerary:
Day 2: Capitol Hill, Library of Congress+ Best Museums of Washington DC
On the second day of your Washington DC 4 Days trip, start your day by visiting Capitol Hill and the Best Museums in the city. You'll stop at all of the best museums in the city. Most of them are Smithsonian Museums, so they're free to enter! But make sure to reserve a timed ticket in advance!
Capitol Hill is home to the U.S. Capitol, the Supreme Court, and the U.S. House and Senate, so I highly recommend visiting the iconic buildings of DC. 
Located at the easternmost point of the National Mall, it's one of the oldest neighborhoods in DC surrounded by many government buildings!
You can wander around the area and visit the Eastern Market, old row homes, historic churches, and the Congressional Cemetery. It's a beautiful and incredibly historic part of Washington DC.
US Capitol Building
The Capitol Building is one of the top sightseeing attractions of DC and you must include it in your Washington DC Itinerary. It's open to the public for tours Monday to Saturday from 8:30 Am to 4.30 PM.
The nearest Metro stop is Federal Center SW or Capitol South.
If you want to visit it from inside, you need to book a tour of the U.S. Capitol. Tours of the U.S. Capitol can be booked in several ways.
U.S. residents can go through the offices of their Representatives or Senators. The Congressional offices either run their own tours or they can help you book one.
You can also book a tour through the U.S. Capitol Visitor Center's online reservation system.
I highly recommend booking your tour in advance!
Library of Congress
Don't miss the Library of Congress if you are visiting DC for the first time! It's not just the library, it's a beautiful architectural building and considered as nation's oldest federal cultural institution !!
It's free to visit but you need to reserve timed-entry passes to tour the building!
Book this highly-rated Small-Group Guided Tour inside the US Capitol & Library of Congress to save time!
The United States Botanical Gardens
One of the most fascinating places to visit on Capitol Hill is US Botanical Gardens. It's the oldest continually operating botanical garden in the United States.
More than 200 years ago, it was the dream of George Washington to create a national garden in the heart of the capital city to demonstrate and promote the importance of plants to the young nation. Now that dream has been realized and it's one of the best things to see in DC.
Actually, the garden is a museum with living treasures of the plant world. The Conservatory is open 10:00 a.m. to 5:00 p.m. daily, including weekends and most holidays and admission is free. It's a beautiful place where you can also rest and relax for a while.
After visiting capitol hill, go for lunch at Union Market. Here you'll find many food options to choose from and free parking is also available!
Smithsonian Museums: Best Free Things to Do in Washington DC
On the Afternoon of your 4 days in Washington DC, visit a few of the Best Museums in DC. Few are located around National Mall and others are on the Capitol Hill side. You may have passed a few of them when you walked the National Mall area on day one!
All the Washington DC Smithsonian Museums are free to visit. Please note that you need to make reservations in advance for the National Museum of African American History and Culture.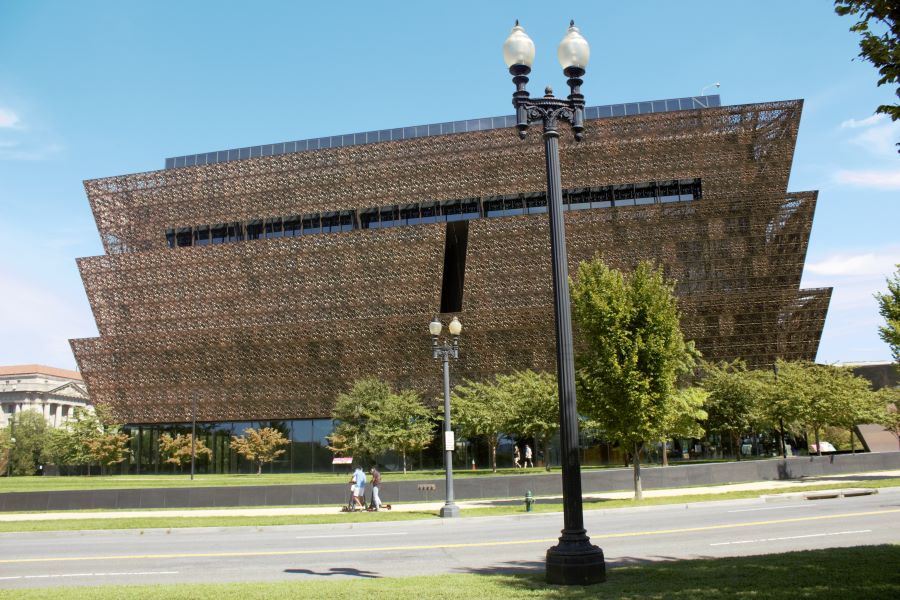 Here are my favorite Museums in Washington DC:
National Air and Space Museum
National Museum Of Natural History
National Museum of American History
National Museum of African American History & Culture
National Museum Of The American Indian
Hirshhorn Museum
National Portrait Gallery
National Gallery of Art
International Spy Museum
United States Holocaust Memorial Museum
Hirshhorn Museum and Sculpture Garden
There are many Museums to visit in DC but it may not be possible to see all of them in your 4 days Washington DC trip! So you'll have to pick as per your interests, maybe two or three in your Washington DC itinerary! Be sure to check the opening days and times before you go.
As you are museum hopping around the National Mall, must have a look at the iconic red building Smithsonian Castle. The Castle is actually named the 'Smithsonian Institution Building'. It's where most of the administrative offices for the various workers of the Smithsonian Museums are located. 
The building is constructed in Gothic style and designated as a National Historical Landmark of the US and is now a popular stopping place for visitors.
You can go inside the building and there is a small museum dedicated to its history. The Castle also serves as the visitor's center for the Smithsonian Museums' collective. You can visit any time when the building is open and you don't need tickets in advance.
If you're looking for Guided Tours of Washington DC, have a look at a few of them:
In the evening, head to the newly developed waterfront area District Wharf. If you want to enjoy a great drink, sit at Whiskey Charlie's rooftop to watch the sunset and airplanes landing/taking off from DCA airport! It's such a cool place to end your day!
If you still have energy left, you can take these 2.5 hours Washington DC Monuments by Moonlight Trolley Tour! It's an amazing experience to see the illuminated monuments at night! one of the must things to do during your 4 days of Washington in Washington DC.
OR
Book this highly recommended DC Dinner Cruise that includes an extensive buffet meal while cruising down the Potomac River. Dance to the onboard DJ or play exciting games as you like!
Day-3: Explore the Neighbourhoods- Best Things to Do in Washington DC in 4 days
On the third day of your 4-day Washington DC itinerary, you'll explore the neighborhoods of DC outside the national mall area.
You'll need to use the Metro, a Hop-On Hop-Off Bus, or a rental car or rideshare app to get to most of these destinations. But trust me, it's worth the visit!
Arlington National Cemetery
Begin your 3rd day of 4 days in Washington DC with a visit to Arlington Cemetery. Arlington Cemetery is located across the Potomac River. It is the final resting place for more than 400,000 military service members and their families in 639 acres of the cemetery.
Visitors can pay their respects and honor the sacrifices of those buried at Arlington by taking a guided or self-guided tour. On any given weekday, the cemetery hosts over 25 funeral services.
Service members from America's major wars, from the Revolutionary War to today's conflicts, are interred at Arlington National Cemetery. As a result, the history of our nation is reflected on the grounds of the cemetery.
Some of the notable sites to see at Arlington National Cemetery include the Tomb of the Unknown Soldier. This monument honors the unidentified American soldiers who died in World War I, World War II, the Korean War, and the Vietnam War.
You can watch the changing of the guard ceremony, which takes place every hour from October through March and every half-hour from April through September.
Check this Guided Tour: Arlington National Cemetery Tour with Changing of the Guards
At the Cemetery's Memorial Amphitheater, many important ceremonies and events happen, including wreath-laying ceremonies on Memorial Day and Veterans Day.
Pro Tip: Bring your ID/Passport. Everyone 16 or older is required to have their ID on them to enter.
Hours: April-September 8 am-7 pm daily. October-March 8 am-5 pm daily.
Theodore Roosevelt Island
From Arlington National Cemetery, cross back into Washington DC, and head to Theodore Roosevelt Island.
Theodore Island is a 91-acre island located in the Potomac River, dedicated to President Theodore Roosevelt, who was an advocate for conservation and the outdoors.
You can access the island by crossing a footbridge from DC or by taking a water taxi. Once on the island, you can explore its natural beauty and historical significance by taking a walk through the various landmarks, including the Roosevelt Memorial Plaza and Theodore Roosevelt Memorial.
But if you really want to enjoy this peaceful place, there are several easy walking trails through the island's forests and wetlands, offering views of the Potomac River and Washington, DC skyline.
The island is open year-round from dawn to dusk, and there is no admission fee. It's a great place to move away from the hustle and bustle of the city during your 4 days in Washington DC.
Explore Georgetown and have Lunch at Georgetown Waterfront
Georgetown is one of the most popular neighborhoods in Washington. The neighborhood is so adorable with a European touch and it is famed for its best restaurants, Instagrammable places, boutique shopping, beautiful houses, and the streets! It's one of the cute places to explore in Washington DC for your weekend trip.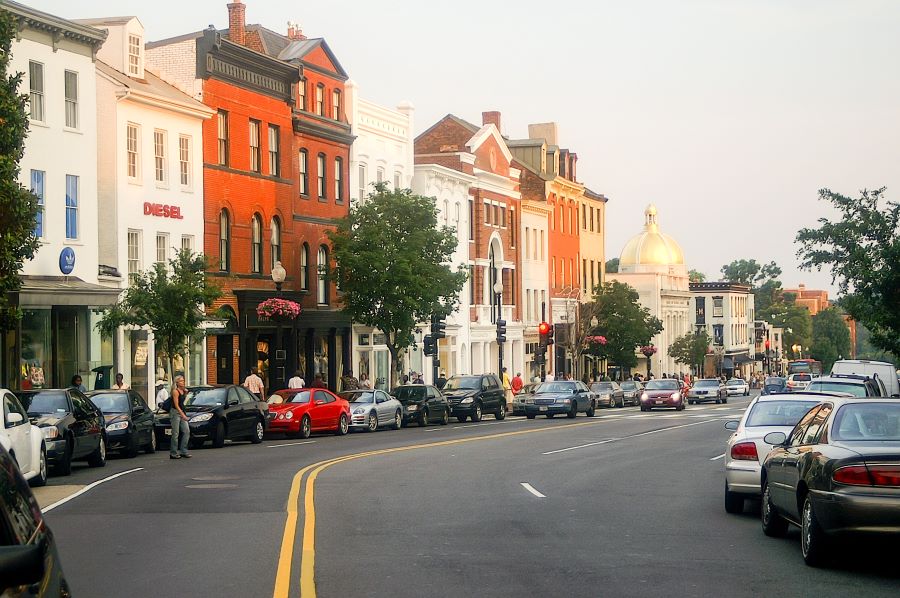 Notably, one of the most photo-worthy spots is in front of Call Your Mother Bagel Shop. Address: 3428 O St NW, Washington, DC 20007.
There are tons of things to do in Georgetown and easily you can spend the whole day here! But Georgetown is famous for the best restaurants in DC. So, I suggest having Lunch or dinner in the area.
If you want to know more about the food scene, I highly recommend this Foodie Tour and Neighborhood Walking Tour of Georgetown. Georgetown is known for its beautiful architecture and buildings. So, if you are like me, book this Architecture tour of Georgetown to learn more about the buildings.
Here are my recommendations for the best things to see and do in Georgetown:
Explore Georgetown University
Visit Exorcist Steps and boutique shops (If you love Horror movies)
Try Cupcakes at the Popular "Georgetown Cupcakes' or local favorite "Baked & Wired"
Dumbarton Oaks Park for photo-worthy spots everywhere
Walk around Georgetown waterfront and grab drinks at Watergate Hotel Rooftop
Afternoon:
Washington National Cathedral
If you want to break the cycle of visiting many monuments during your Washington DC Weekend trip, visit the beautiful National Cathedral.
The cathedral is known for its stunning Gothic Revival architecture, intricate stone carvings, and beautiful stained glass windows.
It's equally beautiful from the outside and inside! You can take a guided or self-guided tour to explore the building and its many features. A few of the notable features of the cathedral include the Great Choir featuring Gothic-style arches and columns and the Crypt featuring many important figures in American history, including Woodrow Wilson and Helen Keller.
Don't forget to look at the Rose Window- one of the largest in the world with beautiful colors!
In addition to its religious significance, the Washington National Cathedral also serves as a cultural and community center, hosting concerts, lectures, and other events throughout the year, so must check the website during your 4 days in Washington DC.
Embassy Row & Dupont Circle
As you walk outside the National Cathedral, you'' reach Massachusetts Ave NW street. This street leads to Dupont Circle, one of the best places to visit during your weekend trip to Washington DC. This quaint neighborhood is filled with coffee shops, bars, restaurants, and a vibrant culture scene along 17th Street!
The circle has a large central fountain and park, where you can relax, read, or enjoy a picnic. But one of the most famous things to do at Dupont Circle is taking a self-guided walking tour of Embassy Row(Massachusetts Ave NW).
During the walk, you'll find a line of diplomatic representations, diplomatic residences, and international organizations, including the embassies of France, India, Russia, etc. Also, it's known for its stunning architecture and impressive mansions, many of which were built in the early 20th century.
Dinner at Downtown City Center
End your 3 days in Washington DC by visiting the Downtown area. The downtown is pedestrian-friendly featuring luxury residential units, retail stores, and the best restaurants.
One of my favorite things to do in DC is to visit the DC City Center known for its spring decorations. Also, it hosts several events throughout the year, including holiday markets, outdoor concerts, and food festivals. check before you plan your 4 days in Washington DC itinerary!
Day-4: United States National Arboretum and Old Town Alexandria
On the last day of your 4 days Washington DC Itinerary, visit the other parts of Virginia.
Your first stop of the day is the National Arboretum, one of the unique places to visit in the DC. If you love Roman vibes, you will be excited to explore the National Capitol Columns. I recommend touring this landmark during your visit to Washington DC in 4 days.
It was originally established in 1927 and has become one of the most popular attractions. The National Capitol's 22 Columns once supported the east central portico of the United States Capito is now located at the National Arboretum. It provides a picturesque backdrop for photography.
This 446-acre Arboretum holds a beautiful botanical garden including the Azalea Collection, the Fern Valley, and the National Bonsai and Penjing Museum. You can take guided tours of the gardens and collections, including tram tours and walking tours.
The Place is far away but it's worth it and definitely suggest visiting the US National Arboretum during your 4-day Washington DC trip.
Old Town Alexandria
Most people skip this off-beat place in their Washington DC trip and it's Old Town Alexandria. This beautiful town is located across the river from Washington and is easy to get to via the Metro.
It is definitely a cool spot to check out during your 4-day Washington, DC itinerary! The town was founded in 1749 and has a rich history and culture that is reflected in its architecture, museums, and shops.
Here are some of the things to do in Old Town Alexandria:
Ride the King Street Trolley along King Street Mile and Enjoy the charming 18th and 19th-century architecture of the historic district.
Go on Brunch or dinner cruise and see the sights from the river!
Check out Old Town Alexandria's Historic Spots The tour includes stops at Gadsby's Tavern Museum, Christ Church, and the Lee-Fendall House.
Visit the Waterfront – Enjoy views of the Potomac River, stroll along the boardwalk, or take a river cruise.
Go on a Ghost Tour: Being a historic neighborhood one of the coolest things to do is go on ghost tour. It takes you around many haunted places and bars in the town!
Take Old Town Boutique Food Tour to learn about the evolution of the neighborhood on our history-infused walking food tour.
Lastly, 4 days in Washington DC is incomplete without visiting the Brewery in Old Town Alexandria. Visit the Port City Brewing Company and end the day in a fun way! This place has seasonal beers, including IPAs, stouts, and lagers, and also hosts events and tours for visitors!
Optional: If you can combine the Old Town Alexandria Trip with visiting Mount Vernon- George Washington's (first president of the United States) popular plantation in Virginia and one of the United States' most beloved historic sites! You can book this Mount Vernon and Old Town Alexandria Day Trip from Washington DC Bus Tour from DC.
After these exciting 4 days in Washington DC, this wraps up your 4 day DC itinerary!
Seasonal activities/things to do in Washington DC
In Spring, you must check out the Cherry Blossom Festival in DC.
During Christmas, witness the National Christmas Tree and Pageant of Peace.
Starting from 1st May, the month-long Passport DC festival pays tribute to Washington DC's thriving international culture. Several Embassies from around the world open their doors to welcome visitors. The best thing is, you can step inside a foreign embassy with the Around the World Embassy Tour and the EU Open House.
Each summer, the National Mall hosts the Smithsonian Folklife Festival, a massive, kid-friendly celebration of cultures across the globe.
In Summer, 4th July fireworks celebrations are held at the National Mall. You can attend free concerts at Capitol Hill grounds.
Spend Memorial Day Weekend in DC to witness the country's largest memorial day Parade.
If you are visiting the DC during the fall season, visit the Tidal Basin and surrounding areas for beautiful fall foliage. There are so many options for fall foliage road trips around DC.
4 Days Washington DC Itinerary Conclusion
Washington DC has so much to offer! I tried to squeeze into so many places in this itinerary, and this itinerary is jam-packed. If you can't visit all of them, there is a reason to come back again!
Resources for Your Washington DC Trip Planning