Christmas in New York Itinerary for 4 days: Complete Guide
If you are heading to New York this holidays, read this Christmas in New York itinerary for 4 days which includes best places to see Christmas decorations in New York, where to get the best city views in winter, and activities that are only possible to experience in New York during Christmas!!
Being Bollywood fan and seeing the city on TV many times, New York has been on my bucket list so long! Also, seeing the popularity of the city, it remains one of the most sought destinations to visit in the World for a reason! The city has been seen in classic movies, TV shows, Novels and so on.
Undoubtedly, Christmas in New York City is just as magical as you imagine ! So, it remains one of the most sought places to visit for Christmas holidays in USA and for good reason! I can tell you from firsthand experience that visiting New York City during Christmas is the most exciting time to explore town. Here's your guide to creating a perfect New York City Christmas itinerary for you and your family.
Also Read : Los Angeles 5 days Itinerary
New York is jam packed with art deco buildings, stunning skyscrapers, massive malls, so many museums, Galleries and it has amazing food scene. There is something for everyone to explore in this city! So keep reading this Christmas in New York travel guide.
Please note: This post may contain affiliate links which means I may earn a commission if you make a purchase by clicking a link on this post. This will be at no additional cost to you. Affiliate links help me keep this website up and running. Thanks for your support!
FAQs and useful Guide about Christmas in New York
If you are planning to visit Christmas in New York Itinerary, I am sharing some practical information to help you to visit New York in December.
How to get around NYC for Christmas in new York Itinerary??
As you plan your Christmas in New York trip, it is very important to plan how to get around the city. If you're coming in by plane, one of your first challenges would be how to get from the airport to your hotel. The same goes for arriving by train, bus, or ferry boat.
Though you can book taxi to get to the city center but ride sharing apps like UBER and Lyft is not verry common in the city!
Taxi
Yellow cabs are a common sight in the city and are readily available. If you need a taxi at the airport, you can't just lift up your hand from a sidewalk. You have to queue at a cab station and wait for your turn.
When stopping a cab in the streets, check the top lights to see whether the cab is available. Though you can book taxi to the city center but ride sharing apps like UBER and Lyft is not verry common in the city! It is more available to people with disabilities.
Bus
Buses are more economical than taxis in New York. From the JFK airport, you can take the NYC Express Bus to Grand Central or Times Square. The NYC Express Bus is also available at La Giardia(LGA) and Newark(EWR) Airports. You can buy your tickets online in advance.
Subway
The New York City Subway is one of the largest and busiest metro systems in the world. It covers all five boroughs and is a convenient way to travel around the city. You can purchase MetroCard's for subway and bus rides.
You can buy a Single Ride ticket for $3 US at a vending machine . You are going to use the Subway very often, it's better to buy a MetroCard for $1 US and refill it as needed. The most popular option is the $33 US unlimited weekly subway pass. The MetroCard can also be used with trams and buses. You can purchase Metro Cards at subway stations from vending machines or at local convenience stores.
When planning your Christmas in New York visit itinerary, use the official Metropolitan Transport Authority (MTA) online trip planner, Google Maps, City mapper to plan your subway route, provide real-time updates, and offer service alerts. to plan your commutes.
Walking: New York City is very pedestrian-friendly, especially in Manhattan. Walking is a great way to explore different neighborhoods and discover hidden gems.
Ferries: If you need to travel between boroughs or enjoy scenic views, you can take advantage of the NYC Ferry service. It operates on different routes, connecting Manhattan, Brooklyn, Queens, and the Bronx.
Hop on Hop Off Bus Tours
You can see the highlights of New York City without the hassle of navigating traffic or public transportation by booking a hop on hop off Bus tour. You can enjoy the sights from the double-decker bus. Along the way, you can choose the attractions that interest you most rather than being caught up on a group tour.
Book this highly recommended Big Bus New York Hop-On Hop-Off Open Top Tour with 2 routes uptown and downtown OR NYC Must-See Highlights of Manhattan Bus Tour including Boat tour.
Car Rentals
While owning a car in the city might not be practical for many residents, you can still rent a car if you need one for a specific purpose. Be aware of parking restrictions and traffic conditions. I would suggest to avoid renting the car for sightseeing as parking may cost extra $$!
What date do Christmas decorations go up in New York?
The famous NYC Christmas decorations usually pop up as early as the start of November but it's not until around Thanksgiving that the city really comes to life with its festive installations.
The legendary Rockefeller Christmas Tree is lit in a large-scale public ceremony on the Wednesday evening that immediately follows Thanksgiving.
Around this time and the end of November, more trees and decorations appear. By early December, all the major department stores and malls are fully decked with their decorations. I am including all Best Christmas Photo Spots in New York in this post. Keep reading!
What is like Weather in New York in December?
New York is located in North East Part of the USA, so basically it faces too much cold in winters and strong winds! So, December in New York City is cold.
The average daytime temperature in New York in December typically range from around 40 to 50 degrees Fahrenheit (4 to 10 ºC), while night time lows can drop to the 30s or even below freezing. On a warmer day, you might surpass 50ºF (10ºC) but that's still going to feel chilly.
Snowfall is possible in December, but it can vary from year to year. Some years may see significant snowfall, while others may have little to no snow. Be prepared for the possibility of snow and check the weather forecast for any snow-related advisories during your stay.
Where to stay for Christmas in New York?
If you are planning your NYC Christmas itinerary based around visiting all the best New York holiday photo spots then you'll need to stay in or as close to Midtown Manhattan.
Midtown Manhattan is very expensive option for stay for your New York Christmas trip however it will save you having to commute with busy subway lines and buses!
If you're traveling on a tighter budget then you can look out this area: Lower Manhattan, the Upper East Side, and Upper West Side for more affordable hotel stays.
Make sure you book your accommodation as early as possible to secure a place at a decent rate.
Here is my Top 3 recommendations for best hotels to stay during Christmas in New York City !
Is it worth going to New York during Christmas?
Yes, Christmas in New York is worth it! Visiting New York City during Christmas can be a magical and memorable experience. It's most wonderful time of the year to be in the city! The city is beautifully decorated with festive lights, Christmas trees, holiday displays, stunning skyline views and winter sun makes it perfect holiday destination.
Just put the crowds and cold weather aside and enjoy the Christmas trip at fullest as New York Christmas is one of the best Christmas destinations of USA.
Iconic locations like Rockefeller Center, Times Square, and Fifth Avenue showcase elaborate decorations, and the famous Rockefeller Center Christmas Tree lighting is a must-see event.
Pro tip : To make the most of your time in New York, just make sure that you pack carefully and prepare your route around the city as concisely as possible. You might need to walk a lot ! Another thing to keep in mind is to wake up early to visit the most popular sights to avoid the huge crowd!
Overview of Your New York Christmas Itinerary
How to spend Christmas in New York : 4 Day NYC Christmas Itinerary
Day-1 : Rockefeller Center Christmas Tree, Top of the Rock,5th Avenue, Times Square, Christmas decorations around Radio City Music Hall.
Day-2 : Empire State Building, Holiday displays at Macy's on 34th St, Grand Central Station, Tudor City Overpass, Winter Village at Bryant Park, New York Public Library, Dyker Heights Christmas Lights
Day-3: Central Park, Chelsea Market, High Line, Vessel, The Edge, Hudson Yards
Day- 4: Financial District, One World Trade Center & 9/11 Memorial, Oculus, Brooklyn Bridge, Time Out Market, Pebble Beach
Day 1 of Your Christmas in New York Itinerary
Visit Rockefeller Center Christmas Tree
Start your New York Christmas Itinerary by visiting iconic Rockefeller Christmas Tree which is most festive part of the city and one of the best things to do in new York during Christmas.
The Rockefeller Center is a complex of towering Art Deco buildings known for its incredible observation deck- The Top of the Rock ! But before ticking that off your list, I recommend that you visit the Christmas tree first thing in the morning as it gets crowded later during the day. This massive tree is adorned with colorful bulbs and you can marvel at it and get the best photos in the morning!
You can also try your hands on ice skating on the pop-up rink that sits at the base of the tree. You can book the tickets here for The Rink . The Rink is open daily from 9 AM to 12 AM.
Top of the Rock
Your New York Christmas Itinerary is incomplete without visiting observatories for skyline views! Top of the Rock located in Rockefeller Plaza offers one of the best aerial views of the city skyline.
It offers the panoramic views of the Empire State Building, Central Park, the Chrysler Building, and the Hudson River from its three observation platforms.
Top of the rock is one pf the oldest observatories and it is more famous as you can view Empire State building from here! If you're looking for the best Instagram spots in New York, definitely don't miss it!
I recommend to buy the Top of the Rock tickets online in advance in December due to heavy tourists rush! It is open daily from 9 AM to 12 AM.
Walk 5th Avenue : Must visit Places in New York during Christmas
New York is considered as most expensive city in the USA and your Christmas in New York Itinerary must include some luxury shopping! If not shopping, some window shopping in NYC along with admiring Christmas decorations is always Good idea.
5th Avenue is one of the most famous, Prestigious and most expensive shopping streets in the world! It is home to some of the world's most upscale and iconic retailers, including flagship stores like Tiffany & Co., Bergdorf Goodman, Saks Fifth Avenue, and Apple's flagship store.
Across from Rockefeller Center and the famous Christmas tree, start your New York City Christmas itinerary walk along Fifth Avenue to admire the window displays Saks Fifth Avenue.
Every year, Saks has a full five minute light show on its storefront every 10 minutes, featuring music, stunning lights, and an epic new storyline each year.
Once the light show ends, walk across the street to the Saks Fifth Avenue storefront and admire their window displays.
After watching the show, make your way towards the Central Park. This route takes you to the magnificent St. Patrick's Cathedral, New York public Library and high end luxury stores like Cartier, Harry Winston, Prada, and Louis Vuitton, Bloomingdale etc which are dotted with stylish Christmas decorations. End your walk at Pulitzer fountain for holiday displays.
The walk may take 15-20 mins and walk the same way back to the Rockefeller Center to continue your Christmas in New York itinerary.
Times Square and Broadway Show
The heart of New York City- Times square is most iconic and bustling areas in New York City, located at the intersection of Broadway and 7th Avenue. Times Square is known for its huge billboards, advertisements, yellow cabs, shopping and dining!
Times square is must visit during your Christmas in NYC itinerary though it doesn't have any holiday displays ! But it is worth hanging out in the area ! You can snap photos at Red Stairs of Times square. The electric signs and displays in bright neon lights and giant digital billboards have made Times Square a symbol of the entertainment industry!
Times square is often referred as 'theatre district' as its close proximity to Broadway, which is famous for its theaters and musical productions. You can watch Christmas Broadway Shows during your Christmas New York trip.
Pro Tip: If you aren't sure which Broadway show you want to see, visit the TKTS Booth and ask! In Times Square, you'll find them under the famous red stairs, but they also have a location at Lincoln Center and South Street Seaport. There, you can find a selection of Broadway and Broadway tickets between 30-50% off the price you'd pay at the box office.
Christmas decorations around Radio City
Radio City is one of the most iconic music venues in the city and every year the music hall hosts the Christmas Spectacular, featuring the world-famous precision dance company, the Rockettes.
Radio City Music Hall is beautifully decorated during the Christmas holiday season. It is adorned with festive lights, Christmas trees, and other holiday decorations, creating a magical atmosphere for you!
While you're here, see the sculpture of six giant candy canes as well as the Christmas Balls Fountain across the Radio City Music Hall.
Radio City Christmas Spectacular
One of the most quintessential experiences on any Christmas in New York itinerary might be watching the annual Christmas Spectacular at Radio City Music Hall featuring dazzling performances, festive music, and the world-famous precision dance company, the Rockettes.
The Christmas Spectacular features a variety of performances, including classic holiday songs, elaborate dance numbers, and scenes that capture the magic of Christmas. The show lasts for 90 minutes with no interval and it features around 140 performers and a bunch of different acts.
The show is designed to entertain audiences of all ages and has become a beloved tradition for families during the holiday season ! Undoubtedly, catching the show is one of the most festive things to do in New York during Christmas!
It's important to book your tickets in advance as early as possible, probably months in advance as the show is really popular and they sell out fast. Prices may vary depending on the date, time slot, and seats you choose.
Watching the Christmas Spectacular is really one of those can't-miss experiences for your New York City Christmas itinerary.
If you're interested in theater history, You can take this backstage tour of Radio City Music Hall to get an inside glimpse into the magic behind the production.
Fun Fact: If you're wondering, the animals in the Christmas Spectacular are real! Animals such as camels, sheep, and donkeys may make appearances during certain scenes, contributing to the festive atmosphere. If you happen to be around Radio City Music Hall either late at night or early in the morning, you might catch a glimpse of handlers walking the camels, sheep, and donkeys that are featured in The Radio City Christmas Spectacular.
Book your Radio City Christmas Spectacular Tour Here.
After seeing the show, you can return to the Rockefeller Center and the Christmas decorations on the 5th and 6th avenues to see what they look like in the dark. It will be harder to take photos at night but it's worth seeing twinkling at night!
Day 2 of Your Christmas in New York Itinerary
Visit Empire State Building
As the world's most famous skyscraper and New York city's most iconic landmark, the Empire State Building is symbol pf City's Skylines and another best observatories in NYC. It is one of the must visit sight for your New York Travel Itinerary for 4 days regardless of the time of year you visit!
The Empire State Building is renowned for its Art Deco architectural style, characterized by geometric patterns, vibrant colors, and sleek lines. During the Christmas holidays, the observation deck is bedecked with trees and decorations making this a magical addition to a Christmas in New York itinerary.
The Empire State Building has two observation decks that offer breathtaking views of New York City. The main deck is on the 86th floor, and a smaller, enclosed deck is located on the 102nd floor. You can enjoy panoramic views of the city, including landmarks like Central Park, the Statue of Liberty, and Times Square.
Empire State Building opens at 9 AM and Tickets to the landmark depend on which observation decks you want to visit! You can reserve your tickets online.
Holiday displays at Macy's : Best Places to Visit in New York during Christmas
Macy's on 34th Street is the flagship department store chain and claims to be the largest store of its kind in the world! You might have heard about it before and it must be in your list for shopping in New York but it's well-known for its elaborate and festive Christmas displays during Christmas holiday season.
If you don't know, Macy's hosts the famous Macy's Thanksgiving Day Parade, which concludes with the arrival of Santa Claus at the flagship store. This event marks the unofficial start of the Christmas season in New York City.
Macy's creates elaborate holiday window displays along 34th Street, often tell a festive story or showcase animated characters, capturing the spirit of the season! The street might be busy during the day, so visit early in the morning before it get crowded.
Grand Central Terminal
After Visiting Macy's , take short 15-20 mins walk towards Grand Central Terminal on 42nd Street. It is iconic transportation hub and historic landmark of NYC. The terminal is known for its magnificent Beaux-Arts architecture, characterized by its grand façade, ornate detailing, and the iconic four-sided clock on top of the information booth.
If you are architecture lover, don't miss stopping by it during your Christmas in New York trip.
Tudor City Overpass
Just short walk from Grand Central Terminal, you will come across a pedestrian bridge that connects two buildings in Tudor City, allowing residents to cross 42nd Street without having to navigate street-level traffic.
It is most famous with Photographers as it gives views of whole 42nd Street overlooking the Chrysler Building in front!
Bryant Park Winter Village : Christmas Market
One of the best things to do in New York City during Christmas is to visit the Bank of America Winter Village at Bryant Park. The park is transformed into a European-style holiday market, equipped with 100 vendors with popular ice skating rink.
The stalls sell fun Christmas decorations, handmade crafts, unique jewelry and food. Grab a hot chocolate or mulled wine as you make your way around the lively market. You must add at least one of the New York City holiday markets to your New York City Christmas itinerary.
There are Christmas markets and holiday villages in every borough of the City, showcasing items and foods from all different shops and stalls local to the metropolitan area.
Bryant Park has free ice skating rink in the city, making it one of the best free things to do in New York in December. As it is popular venue, make sure to book your tickets in advance.
The Winter Village is a 20-minute walk from the Tudor City Overpass.
Pro Tip : If you want to visit newest observatories of New York with beautiful decorations and mirror room, stop at Summit Vanderbilt before heading to Bryant Park. Of course, make sure to book your tickets online in advance.
New York Public Library
on the back side of Bryant park, you'll find stunning beaux-arts building which houses New York Public Library. Make sure to stop by this attraction during your Christmas in New York Itinerary.
Unarguably, it is most renowned and largest public library in the world. Mostly known as the Stephen A. Schwarzman Building is most captivating both from outside and inside!
The building is known for its iconic lion statues, named Patience and Fortitude, guarding the entrance and its decorated with frescoes, vaulted ceilings, and colonnades. During the holiday season, you get to see the lobby Christmas tree.
The New York Public Library is open to all and is free to visit. Before visiting, check their website for current opening hours.
Pro Tip : There aren't many options for rest rooms when you visit New York City, it might be good option to sneak away for rest room here.
Dyker Heights Christmas Lights
At the end of the day, cross from Manhattan to Brooklyn side and venture into Dyker Heights Neighborhood.
Almost most of the houses in the Dyker Heights neighborhood is draped with fairy lights, bows, and wreaths while trees and nutcrackers grace the front yards and lawns. It is one of the most impressive spot to include in your New York Christmas itinerary!
The entire neighborhood is adorned with decorations but the most beautiful decorations are on 83rd and 84th Street between 10th Avenue and 13th Avenue.
Travel Tip : It might take one hour to reach from Manhattan to Brooklyn so, consider having enough time before visiting.
The neighborhood is very popular with New Yorkers and tourists, organized tours are available for those who want to experience the festive atmosphere without worrying about transportation. These tours often include guided walks or bus tours to view the decorated homes. Some of them will even pick you up in front of your hotel.
Check out this Dyker Heights Christmas Lights Bus Tour!
Spend as much time you want exploring and capturing the photos. After that, head to Brooklyn area for dinner or you can head back to your hotel for the dinner.
Day 3 of Your Christmas in New York Itinerary
Walk the Central Park
Located between the Upper West Side and Upper East Side of Manhattan, bordered by Fifth Avenue to the east, Central Park can not be missed while exploring NYC during Christmas.
The Central Park spans approximately 843 acres, and is Popular with residents as well as with visitors. It is a great spot for some people watching. As December might be cold month in NYC, soaking in the winter sun is always good idea while walking the picturesque spots of Central Park !
Landmarks and Points of Interest in Central Park:
Belvedere Castle: The historic fort dates back to 1869 and it's set on Vista Rock and overlooks the Turtle Pond, offering the best vantage point in the park.
Bow Bridge: An iconic cast-iron bridge that spans the lake and offers stunning views of the park, is considered as most romantic places in New York. It provides a unique perspective of the city and is a great spot for photographers and couples to get some shots.
Bethesda Terrace and Fountain: A grand terrace overlooking the lake with a beautiful fountain and tree lined promenade leading to Bethesda Terrace is often occupied by street performers and Musicians.
The Pond : Check the magnificent view of the Plaza Hotel and the Gapstow bridge that were part of Home Alone 2.
The Mall : Famous alley of Central Park. Featured in "Maid in Manhattan" and "Night at the Museum".
The Loeb Boathouse: Offers boat rentals and dining with a lakeside view, also Sex and the City" and "27 Dresses" were filmed here.
The Lake : One of the best Lake in the heart of Manhattan.
At the end, check out the Plaza Hotel from outside.
Travel Tip : Central Park is massive and visiting different spots might require lots of walking! There is another fun way to explore central Park if your feet gets hurt! Book this fun Private Central Park Pedicab Tour OR Horse Carriage Ride Tour to cover the must-sees with a guide!
The last Spot in New York charismas Itinerary, I would like to mention is Columbus Circle Holiday Market, a pop-up located in the southwestern corner of the park. You can buy gifts ranging from lanterns and candles, Christmas decorations, holiday treats etc for your family!
Chelsea Market
After Visiting Central Park, take a subway towards Chelsea Market. Walking might take an hour from Columbus Circle holiday market. Chelsea Market offers stunning holiday displays for your New York Christmas Itinerary along with so many food options.
Located in the Chelsea neighborhood, the indoor Market is packed with stalls where you can purchase fresh produce, artisanal goods and Meals to order.
It is open daily from 7 AM to 10 PM for for breakfast, lunch, and dinner. You can come here anytime during the day !!
Walk the High Line
Take a 5 mins walk from Chelsea Market and you will reach the High line. One of the coolest things to do in New York is walking High Line, an elevated linear park built on a historic freight rail line.
It was constructed from old freight railway line, which was into disuse and disrepair. In the early 2000s, local community intervened and transformed it into the city's quirkiest public garden that also bridges Chelsea with the Hudson Yards development.
The elevated design of the High Line provides visitors with unique perspectives of the city, including views of the Hudson River, the skyline, and various architectural elements of the surrounding neighborhoods.
The walkway spans around 1.5 miles and takes 30-45 minutes to walk the full route which ends at Hudson Yards, the next stop on your Christmas in New York itinerary.
The High Line is wheelchair accessible, with elevators and ramps at various points along the route.
The Vessel
The last stop of your Christmas in New York Itinerary is Hudson Yards- shopping Mall with beautiful interactive displays during Christmas holidays.
First stop at the Vessel- honeycomb type structure that that measures 150 feet and comprises 16 floors of connected staircases. Sadly you can't climb the upper stairs and you can only admire it from the base level. You can admire all the decorations and Christmas trees in the area.
The Edge
Now its time to chase beautiful sunset from the observatory in your New York City Christmas Itinerary.
Situated on 100th floor of Hudson Yards, The Edge is the highest outdoor sky deck in the Western Hemisphere and offers incredible 360-degree views over NYC that rival those you get from the Top of the Rock and the Empire State Building.
The Edge offers a unique design featuring a triangular-shaped outdoor observation deck that extends from the building so that you can literally float in the Sky and provides unobstructed panoramic views of the city.
Make sure to buy your tickets in advance especially if you want to coincide your visit with the sunset.
An alternative option for the adventure seekers out there is to challenge yourself to the City Climb which gives you the opportunity to scale the outer edge of the tower.
Hudson Yards
After checking out the Vessel and Hudson Yards, you can spent the remaining time strolling around the Hudson Yards Shopping Mall and checking out holiday lights.
If you want to do shopping during Christmas in New York Itinerary, it has wide range of shops inside it ! Also, you can walk across the the Hudson River for beautiful photos.
If you want to have dinner in the shopping mall then there are tones of places to eat, ranging from American grills to international restaurants and beloved chains.
How to end Day 3 of New York Itinerary : Take a Cruise
New York Skylines can be viewed from so many places but seeing it from the water via cruise is completely different experience! Just short 10 mins walk from Hudson Yards, you can board the relaxing sightseeing cruise to see Manhattan skyline, Brooklyn Bridge and more along with live narration from the guide on board.
Book this highly rated New York City Landmarks Circle Line Cruise online !
Day 4 of Your Christmas in New York Itinerary
Financial District
New York's Financial District is a neighborhood located at Southernmost tip of Manhattan, in Lower Manhattan. It is city's oldest neighborhoods and has a rich history as the center of financial and economic activities.
Take a subway to wall street and than walk at leisure pace while seeing the iconic landmarks like New York Stock Exchange (NYSE) and the Federal Reserve Bank of New York.
Financial district New York Wall street during Christmas
Make sure to visit 11 Wall Street near NYC Stock Exchange, where you can take in the giant Christmas tree which is placed every year. You can also visit Zuccotti Park for beautiful lights that adorn the trees.
Financial district is rich in historical sites. So, take your time and add this iconic places in your New York in Christmas Itinerary. The Trinity Church, Federal Hall, and the Charging Bull sculpture are notable landmarks. Federal Hall was the site of George Washington's inauguration as the first President of the United States.
You can also take Wall Street Insider Tour with a Finance Professional to get the scoop about the lifestyle of a Wall Street trader !
One World Trade Center and 9/11 Memorial
The Financial District is home to the 9/11 Memorial and Museum, commemorating the 3000 victims of the September 11, 2001 terrorist attacks. The Memorial remains busy throughout the day with locals and tourists paying their respects.
Built in 2011 on the site of the former World Trade Center complex, the memorial comprises pools, monuments, and the National September 11 Memorial Museum.
The memorial remains open daily from 8 AM to 8 PM and are free to visit. The Museum is open Wednesday to Monday from 9 AM to 7 PM. You can also book guided tour at extra cost in addition to entry fees. Book your Tickets here.
If you have time, check out the observatory of New York- One World Trade Center Tower. The building has 104 floors above ground and six below ground. The One World Observatory, located on the 100th, 101st, and 102nd floors, offers panoramic views of Manhattan and the surrounding areas.
Book your Skip the line One World Observatory Ticket !
Oculus
Near the World Trade Center complex, there is a modern and distinctive piece of architecture, The Oculus. It may get your attention while passing by as resembles like a bird in flight or the ribs of a whale.It is basically World Trade Center Transportation Hub and key transit point for daily commuters and visitors to the World Trade Center area.
But during Christmas holidays, it is illuminated with lights and beautiful decorations. You can take a walk around and visit shopping Mall inside of it.
Do window shopping, grab a coffee or bite to eat, and admire the Christmas décor. It's a beautiful example of modern symbolic architecture that has key role in redevelopment of World Trade Center.
You can check this All-Access 9/11 Guided Tour that includes Ground Zero, 9/11 Memorial, skip-the-line access to the 9/11 Museum, as well as the One World Observatory.
Brooklyn Bridge
The most iconic Landmarks of New York City and one of the not to miss Place in your New York Christmas Itinerary is Brooklyn Bridge. It connects the boroughs of Manhattan and Brooklyn across the East River.
Take a short 10 minutes walk from Oculus and you will reach Manhattan side of the Brooklyn Bridge and you will walk towards Brooklyn side.
Construction of the Brooklyn Bridge began in 1869 and was designed by the engineer John A. Roebling and later the construction was completed by his son in 1883. The bridge's total length is approximately 1,595 feet (486 meters) with iconic suspension bridge/cable stayed design.
The Bridge features a pedestrian walkway elevated above the roadway! It takes 30-40 minutes to cross the Bridge from Manhattan to Brooklyn depending on how many stops you take to get the best views of New York Skylines and bridge.
Time Out Market
Now you are reached to Brooklyn and your first stop is Time Out Market that sits on the banks of the East River within the Empire Fulton Ferry Park.
The vibes are fun, the views are great, and you can have a look at the restored carousel that dates back to 1922 known as Jane's Carousel. Visit the rooftop terrace which is free to visit and you'll get unparalleled views of the Brooklyn Bridge and Manhattan.
The Place is worth checking out if you are hungry or want to have drinks with views! The food might be very expensive and not the best quality; you'll find better options in the Brooklyn area.
Washington Street DUMBO
DUMBO- Down Under the Manhattan Bridge Overpass, a trendy neighborhood in Brooklyn with cobblestone streets and converted warehouses is home to numerous art galleries, studios, and cultural spaces.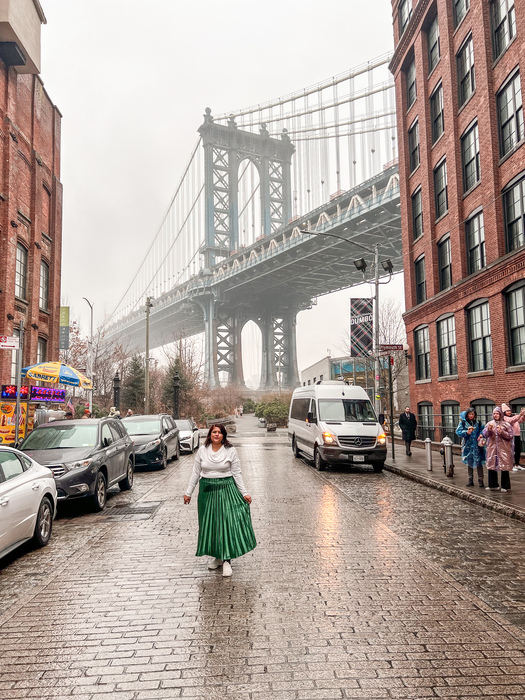 But prominently the DUMBO area is famous for the views. Enough attention is given to Brooklyn bridge, but Manhattan Bridge is also worth checking out for your New York Itinerary. And one such place you should visit for views is intersection of Washington Street & Water street with Manhattan bridge in background.
You can also visit adjacent Brooklyn Bridge Park, a popular waterfront park that stretches along the East River and offers stunning views of Manhattan.
Pebble Beach
Conclude your Christmas in New York Itinerary with most beautiful sunset at Pebble Beach. Come here at sunset and stay until the night for best skyline views.
This place provides outstanding views of Brooklyn Bridge and Manhattan during the night, and is a fantastic place for taking photos of the skyline for free!
Dinner in Brooklyn
If you haven't dined at Time Out Market, Brooklyn has so many sumptuous dinner and lunch options. I had Juliana's Pizza which is known to be the best pizza place in NYC. Pizzas are prepared in the coal ovens and the menu covers few vegetarian options too ! You can also customize as per you liking.
I am summarizing all the best things to and visit in New York during Christmas for quick look below.
Best Things to do & Experiences during NYC Christmas Trip
Santa's Winter Wonderland at Macy's 8th Floor
Saks 5th Avenue Light Show
Target Wonderland at Sea Port
New York Botanical Garden Train Show
New York Transit Museum Holiday Show
Lights cape at New York Botanical Garden
Visit the Gingerbread City
Best Christmas Photo Spots in New York
Rockefeller Center
Hudson Yards
Dyker Heights
Columbus Circle
The Penninsula Hotel Christmas Tree
NYC Stock Exchange Christmas Tree
Christmas Markets to Visit in New York
Grand Central Terminal Holiday fair
Union Square Market
Bryant Park Winter Village
Columbus Circle
Ice Skating Rings to Check out during Christmas in New York
Bryant Park Winter Village
Rockefeller Center
Glide at Brooklyn Bridge
Wollman Rink at Central Park
Best Christmas Themed Holiday Bars in New York
Trip to New York is incomplete without visiting Holiday themed bars. Here is few recommendations but make sure to make an advance reservation as December holidays are busy times to visit. Also, check the reviews before your visit.
Frosty's Christmas Bar
Oscar Wilde
ROLF's
Papillon Bistro
Pete's Tavern
Resources for Your Las Vegas ITINERARY PLANNING 
Hope you like to read this New York in Christmas Itinerary. Save and share for later !!