Itinerary to Explore Kashmir in a Week
It is a very late post. I visited Kashmir with my husband and it was our first trip together. It is well known that Kashmir is Paradise on the earth surrounded by Himalayas. I want to show you why it is called paradise. I am here writing about complete itinerary for a week for exploring Kashmir as first timer.
We had traveled by train to Jammu and from there we took road trip. We had booked Cab and hotels in advance.
Day-1: Arrival to Jammu and Heading towards Srinagar.
After arriving to Jammu in early morning, reached to taxi stand where  pre booked cab was waiting for us. We booked taxi through agent in Delhi. Driving distance from Jammu to Srinagar is 250-260 Km. I recommend to start early as roads are curvy and due to landslide there are possibilities of heavy traffic.
Try Rajama Chaval (Kidney Beans dish with Rice) at one of the Dhaba on the highway.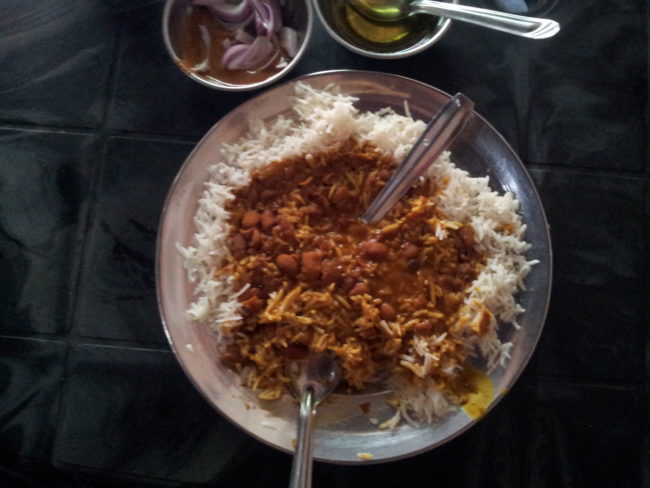 We reached to Srinagar after 7-8 hours with some quick stops at Patnitop and at some viewpoints on the way. After reaching to Srinagar, checked into the hotel and we slept early on that day due to long journey on the road.
Day-2: Day trip to Sonmarg.
Today proceeded to visit Sonmarg that means "Meadow of Gold" with backdrop of snowy mountains against a cerulean sky. The place received its name because of the fact that during the spring season, it is enveloped with beautiful flowers that look golden. In late April when Sonmarg is open for road transport, the visitors can have access to snow which is furnished all over like a white carpet.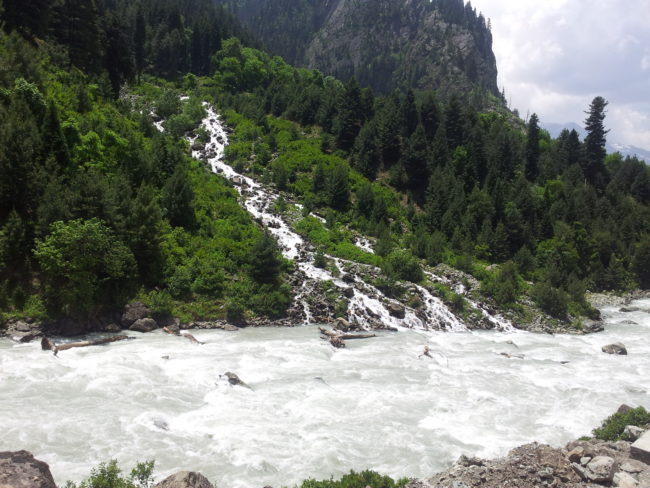 The main attraction being Thajiwas Glacier resting at the foot of Sonmarg Glacier.The Glacier remains snow covered throughout the year. One can reach by Pony or by walk.
It is like short trek to reach here,but it is doable by walk.We reached here and awe-stricken with the beauty of the place. The great joy was having Maggie at the mountain. After spending day on the top we got down and headed back to Srinagar in evening.
Day-3: Visit to Gulmarg.
Today Driver Bhaiya drove to Gulmarg. Gulmarg is a town and popular hill station and ski destination located in Baramula district of Jammu and Kashmir. The town is situated in the Pirpanjal range in the western himalays. It is also 'heartland of winter sports in India'.
On the way to Gulmarg, you can see apple and cherry tress all the way.We had visited one of the apple and cherry Garden and purchased the cherries.The route to Gulmarg is picturesque.
There are many attractions in Gulmarg including Gulmarg Gondola. It is one of the highest in the world measuring 3,979 metre from sea level. At stage 1 of Gondola at Aphrawat you can enjoy endless snow. But here there was some twist between two of us. We enjoyed snow in Sonmarg and we decided not to go for Gondola ride and we opted to visit Khalinmarg.
Khalinmarg is a valley located 5 km from Gulmarg covered with nature's beauty and splendour. Khalinmarg gives panoramic views of the majestic Himalayan peaks. Khalinmarg is carpeted with fragrant and blossoming flowers with greenery all around in spring and becomes a ski run destination for its visitors in winter. It is 1.5 hr trek or can reach by Pony. Me and my husband was not ready to go by Pony, but also we were unable to go by foot so hired a pony to reach there.
On the way we stopped at halfway and ate delicious Kashmiri Pulav at one of the dhaba and clicked some photos on the way. After reaching here, we just sat back and relaxed and enjoyed the weather, the beauty and everything it has to offer. Tourists were busy in playing with the snow but for us beauty was to be with nature.
It was wonderful day and retired for the day at Srinagar.
Day-4: Srinagar Local Sightseeing.
We started the day by seeking blessings at Hazrat Bal Shrine. It is located on the left bank of famous Dal lake. It is famous among the Muslims but all the community people go here to seek the blessings. It is very calm and serene place near Dal lake.
After that we headed to visit famous Mughal Gardens of the Kashmir.We visited Nishat Bagh,Shalimar Bagh,Chasme Shahi and botanical gardens till the noon. All the gardens are nearby.
After lunch at one of the restaurant near Dal lake, we headed to visit Shankaracharya temple on the hill top. Temple is located upstairs at 1000 ft above the plain. You can view entire Srinagar from the top of the hill.
After whole day sightseeing, in evening our driver left us on the bank of Dal lake for reaching to House boat. After checked into houseboat we opted Shikara ride for 2 hours. It is must do activity if you are in Srinagar.
We also explored floating market of Dal Lake, knew about the life of people who lives in houseboat. As sun was at dusk, we retired for the day with amazing sunset at Dal Lake.
Day-5: Srinagar to Pahalgam
Today we checked out from houseboat and started towards Pahalgam. On the way we pit stopped first for shopping of dry fruits and then visited Mattan sun temple; well known for its lovely Shiva Lingam,surrounded by clear blue water on all sides. We reached to Pahalgam by noon. One can visit saffron fields of Palampore; it was not the season time, so we couldn't visit it.
Pahalgam is located at a height of 7200 ft popularly known as the 'Valley of Shepherds'. It is a scenic hill station in Kashmir where many Bollywood movies have been shot. Perched at the intersection of Lidder River and the Sheshnag Lake, Pahalgam is encompassed by thickly lush pine backwoods, stunning vistas of knolls and the snow-clad Himalayan Mountains.
We pit stopped for photography at Lidder River and then Checked into the hotel, we took lunch at famous Dana Pani restaurant and headed for sightseeing to Baisaran.
Baisaran often dubbed as 'Mini Switzerland' because of its long dark meadows and dense pine forest that gives the green carpet look to the meadow provides a contrasting hue to snow-capped peaks of the surrounding mountains. It is major tourist place to visit in Pahalgam, a voyage to the meadow is truly a treat for the senses. Entry ticket is INR 10 per person. We sit on the grass and enjoyed the the beauty around.
Day-6: Visit to Aru Valley, Betaab Valley and Chandanwari
Our morning started with the walk along the Lidder river as our hotel was located just on the bank of Lidder river. Pahalgam is surrounded by so many walnut tree gardens. It was month of June and all the tress were loaded with green walnuts. Walnut harvesting season is Sep-Oct.
This day trip provide varying sights; from snow-clad white regions to green-filled meadows and rocky terrains to dense forests. It is possible only by hiring taxis available locally. While private vehicles can ply to these destinations without any restrictions, taxis coming from other parts of the state like Srinagar are not allowed to ply to these view points.
Our first stop was Aru valley. It is very famous for trekking and camping activities. This valley is at a height of 8,000 feet and provides wonderful scenery all round.  The drive through Aru valley is itself quite enjoyable and a traveler's delight.
Next stop was Betaab valley. The original name for this valley was Hajan Valleyand is at a distance of 15 kilometers from Pahalgam. A Hindi film by name "Betaab" was shot mostly in this valley and the valley is now known as "Betaab Valley".  It is a beautiful valley with the background of mountains and a long valley through which a river flows. A beautiful park is created along the river. When the days are bright and sunny, a whole day can be spent in the park to enjoy the scenery and flowing waters of the river. After some snaps here and resting for a while, we headed to our last point Chandanwari.
Last stop of the route was Chandanwari. It is the starting point for "Amaranath Yatra", Chandanwari is at a distance of 16 Kilometers from Pahalgam and at a height of 9,500 feet.The short journey from Pahalgam to Chandanwari itself is quite enjoyable, lidder river flows on one side of the road and mountains with green vegetation provide the setting on the other side. There are innumerable streams flowing down from the snow-clad peaks. Just stop for sightseeing and enjoy the scenery. You can see the melting snow of glacier converts into a stream and flowing downwards.
After returning from sightseeing we took lunch at Dana Pani restaurant and passed our evening time at the bank of Lidder river. Touch of water only gives you so much healing to the body. Overall, we loved Pahalgam very much as it has mountains, river and clear sky and beautiful weather.
Day-7: Pahalgam to Jammu and Train to Home bound.
This was the last day to be back to home with beautiful memories of the Kashmir trip.
Will always cherish it for the lifetime.
How to Reach:
By air : Fly to Srinagar airport [15 km away] which is well connected via all major Indian cities.
By Train : The nearest railhead in Jammu is located within the city and is known as Jammu Tawi. This rail head is linked to most of the Indian cities.
Where to Stay:
Kashmir is budget destination.You can stay at home stays,budget hotels or at luxury resorts as per your choice.I recommend to stay at House boat on Dal lake for 1-2 Nights, it is fabulous experience.
Getting around:
Taxis are available at reasonable rates at Taxi stand in Jammu and Srinagar.No need to book taxi in advance through travel agent.You can get it as and when required.Also autos are available for local sightseeing in Srinagar.
Travel Tips:
Entry fees for the Gardens are Rs.20 Per Person.
There are 245-250 steps leading up to the temple area of Shankaracharya temple. Entrance to the hill is guarded by army personnel and cars are not permitted after 17:00 hours, although the temple remains open until 20:00 hours. Camera, Mobile phones, purse etc not allowed.
In Pahalgam, you are required to hire taxi of Pahalgam taxi passing for sightseeing and rates are fixed.
If you are good at health, there is no need of Pony hire, you can trek for 2-3 hours and can reach to khalinmarg and Baisaran valley.