Perfect Weekend in Key West, FL : 3 Days Itinerary
If you are planning a weekend in Key West, you are reading the best travel guide. In this guide, I am sharing the ultimate 3-day Key West itinerary alongside top tips for visiting. If you are looking for a weekend of watersports, sandy beaches, and historic sites, then 3 days in Key west Florida is perfect for you!
Located in the state of Florida, Key west is considered as Southernmost Point of the United States. It is a beautiful vibrant town full of life, color, and celebration, yet still laid back enough. It is full of the history and tradition that make it one of the most sought and unique destinations in the United States. Your trip to Miami is incomplete without visiting Key West.
Please note: This post may contain affiliate links which means I may earn a commission if you make a purchase by clicking a link on this post. This will be at no additional cost to you. Affiliate links help me keep this website up and running. Thanks for your support!
Practical Information to Plan your Perfect Key West Trip
How to Spend 3 Days in Key West : 3 Days Key West Florida Itinerary
Although when I visited Key West, I know it's famed as the home of key lime pie but it has beautiful white sandy beaches, sub-tropical life, ancient history, culture, and offering amazing water sports activities. Key west has everything you can ask for your vacation!
Key west is the best destination whether you are a solo traveler or traveling with family or having a romantic getaway as a couple! You can spend your days adventuring with water sports, just lying at the beach or exploring the historical places !!
There's something for almost every traveler in Key West aka the "Conch Republic. The town also offers amazing dining experiences and cool bars, there is never a dull moment while visiting Key West!
With so many great options, you can easily spend 3 days in Key West. You will always crave more water and sun. Key West is definitely a place, I and my husband would love to visit again and again!
Here I am sharing my detailed Key West itinerary for the ultimate long weekend in Key West. I am also adding travel tips to visit Key West during the long weekend to make the most of your time in Key West.
3 days Key West Itinerary Overview
A long weekend in Key West is the perfect opportunity to enjoy nature, relax, and have a little adventure. Here is a quick snapshot of how to spend the perfect weekend in Key West Florida.
Key West is a small town and you can enjoy as many water activities from snorkeling, sailing, kayaking, and so on! So, here is how to spend 3 days in Key West.
Day 1: Arrive in Key West. Explore the Historic District attractions and explore the Duval Street
Day 2: Explore the Beaches, Snorkelling tour, and sunset Boat cruise
Day 3: Visit the Dry Tortugas National Park & Shopping.
Are 3 Days in Key West FL enough?
Three days is absolutely enough time to spend in Key West. The island is very small and walkable, offering the perfect 3-day vacation experience.
Also, there are so many things to do and you can easily extend your trip to Key West, trust me you will not get bored!
This 3 day Key West itinerary will give you the best experience of this fantastic island – nature, history, scenery, and food.
Getting to Key West Florida
Key West has its own Key West International Airport or EYW. You can reach via connections or direct flights from Miami or any Florida city in the USA. New York City to Key West is about 3.25 hours. 
From the airport, you can access ground transportation, including local shuttle buses and rental cars to get to your hotel or old town area.
This 3 days Key West itinerary is perfect for road-tripping from any city in Florida. You can spend one week in Florida combining Miami, Key West, Orlando, etc along with exploring a few national parks in Florida. Miami to Key West is 4 hours by road.
If you choose not to go by land or by air, you can reach by Sea! The Key West Express Ferry Service runs between Fort Myers and Key West or Marco Island and ey West from December to April.
Where to Stay during Your 3 Days in Key West
Key West has a range of accommodation options to choose from! You can choose as per your budget and style. Here are my recommendations:
Luxury Hotels:
Budget Hotels:
Getting around Key West
As I said, the island of Key West is quite small: two miles wide by four miles long, so practically everything is so nearby.
If you are staying in Old Town, there is no need to hire a car. But if you are staying away from the old town, you can use taxis and a hotel shuttle to get around conveniently.
Apart from it, other transportation options in Key West include cars, bicycles, and walking. There are also taxis, moped rentals, city buses, pedicabs, and hotel shuttles.
The island is mostly walkable and the neighborhoods are some of the most beautiful and charming in the nation. I recommend exploring the tiny island by walking.
There are now two trolley companies servicing Key West, and both offer multiple places to hop off and explore. Expect to pay $20 to $27 per day for a day pass, depending on which trolley you choose.
You can book the Trolley Tours online Now!
When to Visit Key West
Key West has a tropical climate so expect hot and humid weather. The best time to visit Key West is between March and May because this is when the weather is still nice, winter crowds lessen, and prices decrease. December to February is the island's most popular time of the year, so expect more people, higher prices, and ideal weather at this time.
But if you are looking for fewer crowds and the best weather, visit in late spring or early summer.
Also, the Fall season in Key West means the rainy season, so you will find fewer crowds and lower costs. Although, you can always check the weather at this time before planning your weekend in Key West.
Note that hurricane season is from June to November, so check the forecast before your visit.
Key West Tours
If you don't want to take the pain of hiring a car or walking, the best way to explore Key West is by guided tours.
It will give you less stress and you can know the history of the surrounding areas by guided tours than exploring on your own.
I use Get Your Guide to book the tours. You can explore so many tour options and have enough choices as per your liking.
If you are short on time, Trolly Tours is the best option to visit Key West in a day or choose this Bus Tour which covers all the major attractions in Key West Florida and is perfect for your one day in Key West.
You can also use the free Duval Loop bus shuttle, or get on the Conch Tour Train Tour.
Day 1 of 3 Days Long Weekend in Key West Itinerary
Explore the historic district of Key West, and Pub Crawl down Duval Street
Key West is mostly about the ocean and gorgeous views, the city itself is worth exploring. So start your time in Key West by exploring its historic sites. Most of the sightseeing places of Key West are around Duval street which is the center of Old Town, or downtown, and Key West's most lively area.
In fact, I loved its old town more than wandering around the beaches, I could have spent the whole day here! Also, it's very walkable to explore on your own.
Here is the list of places and things to do on your first day in Key West.
Wander the Historic District
Like other historical places around the world, Key West's historical district means 'Key West Old Town' and is a reflection of the city as it was in the 19th and 20th centuries. It is a fascinating insight into the growth and change of the Florida Keys archipelago over the centuries.
It is spread across 4000 acres and, is filled with grand mansions and charming cottages, some dating back to the 18th century including a few commercial buildings.
It also has a good selection of hotels ranging from grand luxury properties to charming guesthouses set in converted historic homes. Today, It is expanded to include more areas such as Mallory Square.
stroll down a few lanes and explore the beautiful lanes of the Key West historic district as you start your first day in Key West.
Key West Cemetery
Just beside the historic district, visit the Key West Cemetery. This cemetery dates back to 1847 and Within the fenced 19 acres of the property, between 80,000 to 100,000 people are buried here.
There are so many interesting facts about the cemetery and you can take a self-guided tour to learn more about it.
Key West Lighthouse and Keepers Quarters Museum
The current structure of Key West Lighthouse was built in 1848 as originally was destroyed in the hurricane. It reopened with a woman, Barbara Mabrity, as its Keeper – which was exceptional at the time!
Originally it was meant to assist ships to avoid hazardous reefs.
You can climb 88 steps to the top, you will be rewarded with amazing views over Key West and the surrounding waters of the Atlantic and Gulf of Mexico.
Tickets cost $17 onsite or $15.40 online and it gives you access to the lighthouse and Keeper's Quarters Museum.
You can visit daily from 10 AM to 4 PM.
With a history of more than 200 years, a visit to the onsite museum is a must-do activity in Keywest to learn more about the story of perilous sea journeys of that time through actors and films.
Ernest Hemingway Home and Museum
One of the most prominent places to visit in Key West is Ernest Hemingway's Home. Here you can actually walk through the former permanent residence of famous writer Ernest Hemingway who lived in Key West in the 1930s. Hemingway wrote some of the most significant works in his studio above the carriage house.
The home is well-maintained and it showcases its original architecture and furnishings. The house is decorated with European antiques as well as some souvenirs of Hemingway's African safaris.
But the most interesting and cool part of the Hemingway Home Museum tour is the Cats that live on the property! If you look at their paws, you may notice that many of them have six toes! Some of these cats are descendants of a 6-toed cat Hemingway received from a sea captain, who was departing Key West, and now more than 60 (and maybe more in the future) polydactyl cats that freely move around the property!
The museum is open daily from 9:00 AM to 5:00 PM for visits. General admission is $17.00 and must be paid in cash. The ticket includes a 20-30 min guided tour of the house or else you can walk the property at your own pace.
Key West Butterfly & Nature Conservatory
It is located at Duval Street, the Key West Butterfly, and Nature Conservatory is home to over 60 different species of live butterflies from all over the world. It is the best place to visit with kids and is considered the best attraction in Key West.
The butterflies are kept inside climate-controlled, and glass-enclosed habitats. The Conservatory is open daily from 9 AM to 5 PM, Tickets start at $11 to $15 USD.
Other than butterflies, you can meet the two cutest flamingos – Scarlet and Rhett.
Southernmost Point of the Continental United States
Just a 2-3 minutes walk from Butterfly Conservatory, you will reach the Southernmost Point of the Continental United States, marked by an anchored concrete buoy!
No key west itinerary is complete without having a photo at the Southernmost Point Concrete Buoy. You do get views of the Atlantic Ocean from standing here!
I was believing that this Buoy is the Southernmost Point of the US but recently came to know that it is actually in Hawaii instead of Key West! You can check it out on the map!!. So the accuracy of this claim is questionable.
From this point, Cuba is just 90 miles away. Fun Fact: Key West is geographically closer to Cuba than it is to mainland Florida and Miami, located 150 miles north!
This spot is also the lowest latitude of the contiguous North American states at 18 feet above sea level. Stop here in the morning to beat the line of people.
During the day, you will most likely need to wait in line for your photos. But the line moves fast and people are generally very cooperative in helping one another take pictures.
Mile Marker '0' Sign
Once you passed Southernmost Point, head to Whitehead Street and stop for the photo at Mile Marker 0 sign. It marks the end of the road and embodies everything that makes the island such an offbeat and quirky destination.
Harry S. Truman's Little White House
The next stop of your Weekend in Key west is Truman's Little White House. While this house was used intermittently by six American presidents, its most significant usage was during Harry Truman's presidency.
He used the Little White House as his winter home and spent about 175 days of his presidency here. Tickets are pricey at $22.52 ($20.27 online), but a tour here allows you to see why Truman saw this as a retreat.
While staying here, he also contemplated issues surrounding post-WWII foreign policy and the beginnings of the Civil Rights movement.
Kermit's Key Lime Pie Shoppe
After visiting Truman Little White House, maybe you need some energy! So, walk for 0.3 miles to Kermit's Key West Key Lime Shop on Front Street. This local establishment makes many lists for having one of the best key lime pies in Key West.
I had heard from friends and read good reviews from locals. It did live up to the hype for the most part!
In addition to traditional pie, this little shop sells key lime pie in several different ways. They are famous for chocolate-covered key lime pie on a stick but you can also get it naked or covered with cream.
The Key West Aquarium
The next stop of the Key West itinerary is Key West Aquarium. Key West is a wonderful destination for families with children of all ages.
The aquarium is the only and first established attraction in Key West, and is worth visiting! The aquarium showcases marine life indigenous to the Florida Keys.
Don't forget to check out Alligator Exhibit as well as Stingray Bay where visitors can pet and feed cow nose rays!
Tickets start at $22 USD for adults and you can easily spend 45 minutes to one hour here.
Mallory Square, Historic Seaport, and Sunset Celebration
A short walk from Aquarium will lead you to Mallory Square and the Historic Seaport. Mallory Square is a popular place to visit in Key West.
Mallory Square is a waterfront plaza that boasts terrific sunset views, delicious restaurants, and a vibrant nightlife scene. It is located in historic Old Town, facing the Gulf of Mexico. The cruise ship seaport is adjacent to it.
From here you can make your way to the famous Duval Street in Key West or you can hop on an Old Town Trolley Tour or Conch Tour Train.
So, grab a seat and enjoy some Cuban coffee with picturesque views at any of the charming cafes after all day's exploration. The Cuban Coffee Queen has excellent coffee and serves breakfast all day.
If I tell you that sunset is a big deal in Key West; that there is a daily Sunset Celebration in Mallory Square! This is one must-experience during your weekend in the Key West holidays.
So, the most popular time to visit Mallory Square is for their daily Sunset Celebration. Starting two hours before sunset each evening, people gather to be entertained in the square by magicians, jugglers, clowns, psychics, musicians, artists, and food vendors – all in celebration of the famous Key West sunset.
End your day at Duval Street
Duval street is a prime attraction or you can say the heart of Downtown Key West. One of the top things to do in key west is spending an evening at Duval street!
Duval street is about a mile long and famous for its active nightlife. Here, you will find so many pretty spots to hang out, restaurants to grab dinner, shops, bars, and nightclubs, making Duval Street the place for pub crawls.
If you're interested in a group-led pub crawl tour, check out the Key West Pub Crawl Tour.
Additional Sightseeing Places in Key West
Key West Shipwreck Treasure Museum, Audubon House and Gallery, The Oldest House Museum, Key West Historic Memorial Sculpture Garden, Mel Fisher Maritime Museum.
Day 2 of 3 Days Weekend in Key West Itinerary
Explore beaches, go Snorkelling, and take a sunset boat cruise
Day 2 in Key West features amazing sunrise and sunset views. Also, you will get to know about the city's strong Cuban culture.
So have the best of the key west itinerary by enjoying the sunrise at the beach, indulging in the water sports of your choice, relaxing on the beach, and having a sunset cruise to finish the day.
Start Your Day with a Picturesque Key West Sunrise
While Mallory Square is famous for its sunset celebration, you can have the best sunrise show in Key West. Head towards the local beaches on the east side of the island like Higgs Beach or Smathers Beach. Other options are Edward B. Knight Pier and Higgs Beach pier.
You will need to get up really early for this, but it's totally worth it. The sun rises anytime between 6:37 am and 7:37 am over the course of the year. Spend some time at the beach and head back to the hotel by the afternoon.
If you are water enthusiastic, you can indulge in watersport activities for 4-5 hrs. From snorkeling and jet skiing to dolphin watching, there are so many adventurous things to do in Key West.
I am here compiling a few activities which you can book online through Get Your Guide. You can book on the spot, but be wary of the availability in advance.
Dolphin and Snorkel Tour: You can Watch bottlenose dolphins in their natural habitat on a dolphin-watching tour from Key West. Cruise to the backcountry waters for some snorkeling fun of your own and admire marine life.
Sandbar Excursion & Kayak Tour with Lunch & Drinks: Experience the best Key West has to offer with a cruise to the Florida Marine Sanctuary. Relax in a sandbar, enjoy water activities, take a guided kayak tour, and have lunch with unlimited drinks.
Island adventure tour(4.5 Hrs): Combine the relaxation of a laid-back island adventure with the beauty of a famous Key West sunset! Snorkel the coral heads of the Florida Keys and explore on an optional kayaking adventure.
If you don't want to go for watersports, spend your time at the beach or join a food tour. Key West has so many gorgeous beaches to choose from and you won't be disappointed.
But I would personally love to pick one beach and settle in for the day. But you can also beach hop and if you want to visit a couple of beaches.
A few of the popular beaches in Key West include Smather's beach, South Beach, Rest Beach, Higgs Memorial Beach, and Simonton Beach.
Fort Zachary Taylor State Park
The best beach for those looking to get off the beaten path and enjoy nature. It is home to a pristine beach with breathtaking clear waters that are perfect for snorkeling.
Fort Zachary Taylor State Park is located in downtown Key West, covers 54 acres, and has a beach and fort worth exploring. The fee to enter the park is $2.50 for walkers and bikers and $6 if you are parking a car.
It offers beautiful scenery with its white sand and turquoise water that is popular for swimming. There are chair and umbrella rentals available, or you can simply grab a picnic table and enjoy the view.
Also, visit Fort Taylor, which was built before the Civil War to defend the nation's southeastern coast. The fort was used in the Civil War, Spanish American War, WWI, WWII, and the Cuban Missile Crisis, though it was never fired upon.
This state park also has the continental US's southernmost hiking trails, including the Tropical Hammock Trail and Fort View nature trail. If you have time, you can hike a bit!
Visit the Hand Rolled Cigar Factory
Key West is located just 90 miles from Cuba and these two islands have had cultural connections for more than 200 years! Cubans began migrating to Key West in the early 1830s in search of freedom from Spanish colonial rule.
So, when Cubans originally migrated to Key West, they brought the Havana cigar business with them. So, they started importing tobacco leaves and started rolling them by hand while maintaining the historical significance of the original cigar!
Rodriguez Cigar factory in Key West is the oldest on the island and makes several cigars with tobacco, not from Cuba. Also, Cuban cigars are illegal in the United States and the one you get in Key West is the original Key West Cigar.
So, you can take the tour that includes trying your hands at rolling a cigar. The tour will give you an idea of Key West as the first city of the USA called 'Cigar City'.
Tours are offered Monday through Saturday at 10:30 AM and 1:30 PM. The tour is 1 hour and 15 minutes.
Rum Tasting at Rum Distilleries
If you think about beach vacation drinks like Coladas, mojitos, and mai tas all have one thing in common- Rum! Rum plays an interesting role in Key West's history.
During the prohibition, Key West was one of the ports that hid smuggled spirits from Cuba.
Today, there's still a speakeasy from the Prohibition era on Duval Street – Speakeasy Inn. It is one of the few buildings in Key West that has a basement and a secret room and it's famous for its Rum Bar.
So if you are in Key West, must stop by the Rum Bar to enjoy the world-famous Rum Runner! The cocktails are a little pricey, but definitely the best in all of Key West.
If you're a rum drinker and you enjoy learning more about rum running, you can have multiple distilleries to choose from while in Key West:
Key West First Legal Rum Distillery – go on free daily tours to see how they make their rums using locally sourced flavors. It's a 15-minute tour, offered every 20 minutes daily, and also try a Mojito Class!
Papa's Pilar Rum Distillery – Made by the descendants of the Ernest Hemingway family, named after the famous author's boat. Papa's Pilar wins the award for cutest shaped bottles; take a 45-minute distillery tour to learn about the process from start to finish.
Key West Trading Company – they offer free tastings Mondays through Saturdays from 11 AM to 5 PM.
Take a tour, have a taste, have a drink, and enjoy your favorite drink at a rum bar in key west.
Sunset Sailing
As I said, Sunset summarizes the spirit of Key West, on the second day finish your beach day with a sunset cruise and enjoy panoramic views of the Gulf of Mexico.
One of the best tours in Key West is Sunset Sailing. Sunset from the water is spectacular in Key West and it's of the must things to do in Key West.
There are many different boat charter companies to choose from, from live music sunset sail to buffet Sunset dinner cruise with Sunset Sailing with Open Bar, there are so many options! Usually, it lasts for 2 hrs.
Book your Sunset Cruise with dinner here.
Day 3 of the Weekend in Key West: Visit Dry Tortugas National Park
Day 3 Key West Itinerary: Morning to Evening
Located 70 miles west of Key West, Dry Tortugas National Park is 100 sq mile that can be visited as a day trip from Key West.
Accessible only by boat or seaplane, this park is dotted with 7 small islands, considered the world's most unique attraction. It offers secluded beaches, outdoor water activities, historical sites, and snorkeling opportunities.
To visit Dry Tortugas National Park, you can take the Yankee Freedom Ferry from Key West first thing in the morning, with check-in at 7 AM. The ferry arrives back in Key West at 5: 30 PM.
The ferry trip and tour will take you on a full-day adventure tour. It also includes a tour of 19th-century Fort Jefferson and a snorkel adventure in some of the world's most pristine waters.
The cost for this visit to Dry Tortugas National Park is $200. This includes activities and meals. There are discounts for children, students, active military, and seniors. If you have America beautiful Pass, you can get discounts for up to 4 tickets.
In the Evening:
After spending a full day at the beach, you can spend your evening with some nighttime activities.
Sunset Pier: Have the best sunset views with drinks and live music.
Key West Theater: an award-winning performing art theatre
Dine at Latitude Restaurant: one of the most romantic dining experiences in Key West (reservation needed months in advance!)
Where to Eat and Drink in Key West Florida
Key West is a paradise for food lovers and you are in luck on a weekend trip to Key West. There are endless places to enjoy delicious food and drinks during your weekend getaway to the beach. Here are some recommendations which you should not miss during your Key West trip.
You can also consider Key West Guided Southernmost Food Tour to explore the sights, sounds, and intoxicating flavors of the city and learn how the Cuban and Caribbean influence Key West food and culture!
Key Lime Pie: Key Lime pie can be found in restaurants throughout the Key West and the Florida Keys but my favorites include Kermit's Key Lime Pie Shop and the Blond Giraffe.
Cuban Coffee and Cuban Food: Key west is 90 miles from Cuba and there is a lot of Cuban influence in the food and drinks in Key West.
Other dishes you shouldn't miss are Key West Shrimp, Lobster rolls Conch Fritters, etc, practically famous seafood dishes!
A few famous restaurants in Key West are:
Blue Haven- for Brunch
Latitude at Sunset Key
Cuban Coffee Queen
Santiago's Bodega
La Gringnote for Brunch
Cafe Marquesa
Better Than Sex – A Dessert Restaurant
Banana Cafe for Breakfast and Brunch
El Sibony – for authentic Cuban food
Day trips from Key West: 4 days or more in Florida Keys Itinerary
If you have more than 3 days in Key West, you can visit other national parks in Florida or you can visit Miami. If you are driving from Miami to Key West, it is one of the best road trips to take in the USA.
Day Trips from Key West
Bahia Honda State Park
One of the most beautiful beaches I found in Key West is Bahia Honda State Park. It is also known for its historic bridge.
Bahia Honda State Park is located 50-60 minutes from Key West and you can get here by car. You can also take a bus from mile marker 37 in the Florida Keys, it costs approx &1-$4. You can swim here all day and changing facility is also available at the park.
Everglades National Park
As there are many national parks in Florida, Everglades National Park is one of the worth visiting and the most popular national park to visit is a day trip from Key West. It is 2.5-3 hrs away by road from Key West.
The Everglades is a 20,202 km² area of wetlands made up of marshes, swamps, rivers, lakes, and mangroves that, because of its unique tropical ecosystem, are home to loads of different species.
You could easily spend days here, but if you are short on time, a day trip from Key West, opt for just one activity like a boat tour, bird-watching session, or alligator farm visit. On a day trip, you can also explore by enjoying short walks and strolls on well-marked boardwalks.
Biscayne National Park
Practically close to Miami, you can visit this amazing national park on a day trip from Key West. Biscayne encompasses a rare combination of aquamarine waters, emerald islands, and fish-bejeweled coral reefs. There are over 250 square miles of water and very little land in this park.
There are so many things to do in Biscayne National Park but you can cover the highlights of the National Park in one day. You can Walk the half-mile trail that loops around the island or you can opt for kayaking or stand-up paddle boarding in Jones Lagoon. Adams Keys is an excellent spot to go snorkeling or diving.
Key West to Miami Road Trip
If Key West is your entry point to Florida, then I do recommend taking a road trip from Key West to Miami or Vice Versa. It takes approx 4 hours one way, and you get to explore one of the finest cities in the US. The road trip is worth the drive, filled with beautiful beaches and colorful pitstops.
Here are a few pitstops you can consider stopping along the way during your Key West to Miami Roadtrip:
– Big Pine Key: It is perfect for outdoor activities and has beautiful scenery. You can Visit Bahia Honda State Park on the way.
– Marathon: The key West to Marathon is about an hour's drive. It is set on 13 islands in the Florida Keys and is known for tropical activities. On the southern edge is the Seven Mile Bridge – Overseas Highway. Although it takes 4 hours to complete the drive, you can surely admire the endless blue water views here.
– Islamorada: Key West to Islamorada is less than 2 hours. It is a pretty village in Monroe County. It is known for its coral reefs, dolphins, and the Diving Museum. Islamorada is home to craft beer in the Florida Keys. You can grab a beer at Florida Keys Brewing Company or Islamorada Brewing Company both located on the island.
– Key Largo: You can explore Key Largo as a day trip from Key West, or stop as you drive from Key West to Miami. It takes about 2 to 2.50 hours to get there. Key Largo is home to the world's second-largest artificial reef, beaches, and beautiful resorts.
The highlight of Key Largo is Crocodile Lake National Wildlife Refuge and John Pennekamp Coral Reef State Park which you must visit. Do visit Key Largo Conch House for delicious seafood and key lime pie.
– Miami: Last stop of the trip is Miami- a famous tourist destination in Florida. You can read my Miami travel guide for more information.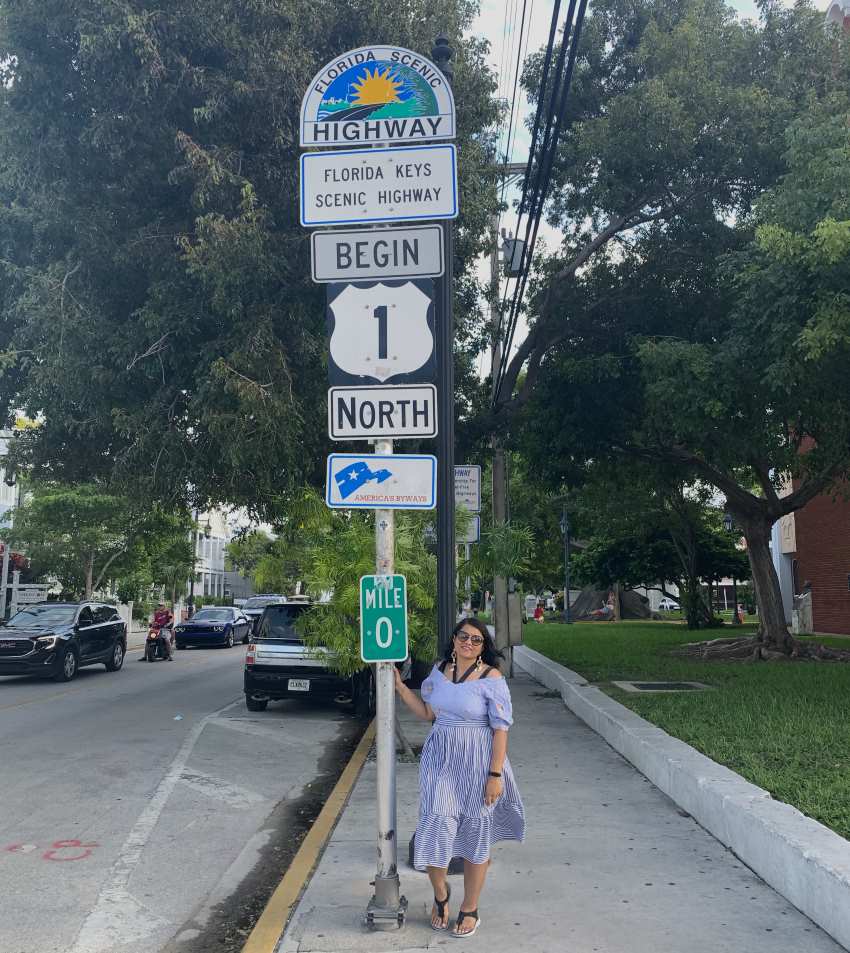 Key West Travel Tips for 3 Days Key West Itinerary
How many days do you need to visit Key West?
Practically, 3 to 4 days are enough for Key West. With an extra day in the city, you can either visit one of the national or state parks on a day trip.
Other than snorkeling and dolphin watching, you can also go on watersports tours like jet skiing, and sailing/parasailing!
How Expensive is Key West?
Key West is not that much expensive as Miami and it is possible to travel to Key West on a budget. Booking during the off-season is key to saving on flights, hotels, and tours. The city is walkable, so you don't have to spend on renting a car.

City sightseeing will not cost you a lot as almost all the attractions can be covered by walking. You can admire the coastlines and beaches for free or you can take the self-guided tour yourself.
Also, if you are a seafood lover, you can find so many places which serve fresh food on a budget.
Useful Resources to Plan your Weekend in Key West
Enjoy Your Long Weekend in Key West and I hope this 3-day weekend in Key West itinerary may excite you to book your next vacation to this beachside paradise!
If you have any questions about your key west trip, let me know in the comments. Pin this Post to read it later!!