Visit to Do Dham- Badrinath Part 2
In the month of May, when I planned to visit Kedarnath and Badrinath, my mind was still occupied with the stories of flood disaster of 2013.But I was keen on visit to Jyortiling shrine with my mother.After visiting kedarnath, we started for our journey to Badrinath.
Day-4 Kedarnath-Guptkashi-Chamoli-Joshimath-Badrinath
After staying for a night at Kedarnath, next day we rode back by helicopter in early morning.Our return journey ride was scheduled at 7 AM in morning.The weather was clear and it was relieving sign for me as the weather could have disturbed at any time in kedarnath.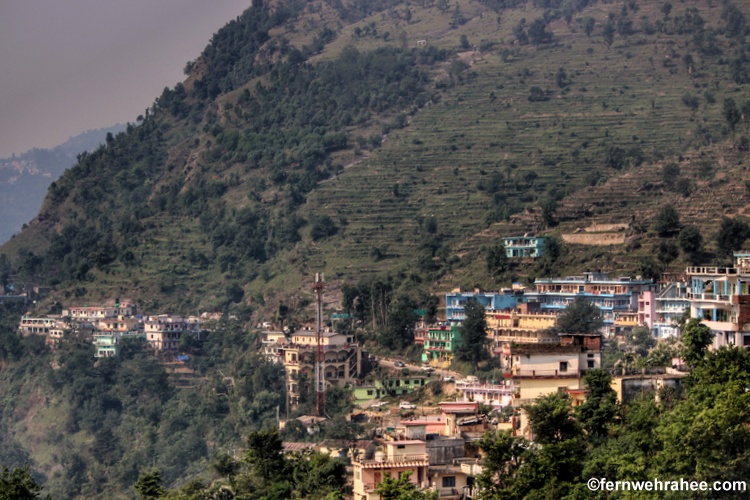 After reaching back to Phata, we started for Badrinath via Guptkashi. The distance between Guptkashi to Badrinath is 200 Kms and it takes 10-12 hours to complete the journey. As we walked past small villages and towns, we reached to place called Chopta. It is well developed town and beautiful hill station and a superb trekking destination in Uttarakhand. It is Surrounded by meadows and evergreen forest with the spectacular views of mighty Himalayan ranges which attracts many trekkers.  It is famous for temples and it is gateway to so many treks in the region like Chopta-Tungnath and many more. As we started early in the morning; took break at Chopta for hot breakfast.As we crossed Chopta, road became more serpentine with dense forest surrounding it. The jacaranda flowers were in full bloom,the colorful village houses dotted along the road and curvy road was giving me goose bumps during the ride.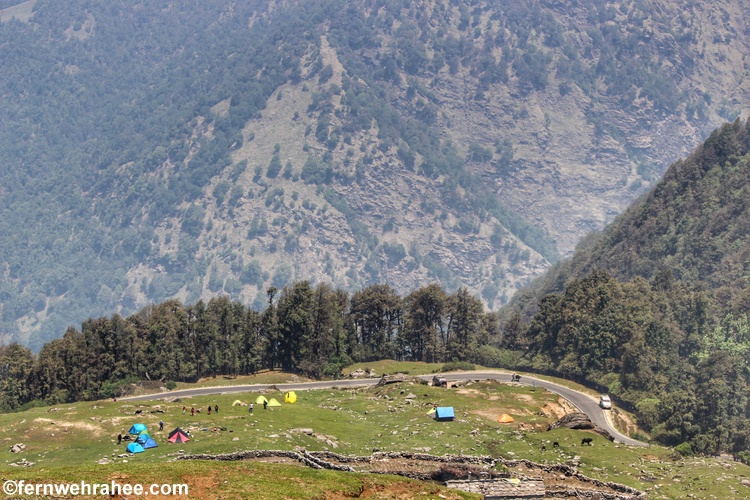 Read more : Chopta-Tungnath-Deoria Tal trek
After crossing chopta, we reached chamoli-Gopeshwar. It was early evening when we reached to Joshimath– holy shrine 45 Kms before Badrinath. The town of Badrinath remains snowbound for six months in a year and Lord Badrinarayan i.e Lord Vishnu was  brought to the  Narsimha Temple at Joshimath by the head Priests with holy ceremony. This way Joshimath is also known as 'winter abode' of Lord Badrinath.
We quickly visited the Narsimha Temple which is 1200 years old. The temple is dedicated to Lord Vishnu and the deity of the temple is 4th incarnation of Lord Vishnu- Narsimha Avtar in the form of half Lion and half man. It is said that the trip to Badrinath is incomplete without visiting the Narsimha Temple.
As we crossed Joshimath, the road was in bad condition at some patches till Govindghat. It is base for trek to Valley of Flowers which starts from Ghangharia. It is one of the holy places for Sikhs and we saw many Sikh devotes on the way. As you cross Govindghat, the road becomes curvier and it was almost cut through the rocks. I was delighted to see the mighty alaknanda river flowing on one side and serpentine road on the other; it was like roller coaster ride to badrinath.
It was dark when we reached to Badrinath. After driving for more than 10 hours it was time for some rest!!
Day-5: Badrinath
Badrinath is located at 10,170 ft is abode of Lord Vishnu and one of the most revered place among char dham for hindus. It is located on the banks of alaknanda river between Nar Narayan mountain range, with Neelkanth peak in the background.
In the morning, we proceeded for visiting the Badrinath Temple. The road that leads to the temple is full of the shops selling religious offerings, CDs, winter wears, Photographs etc. As we crossed it, we reached to the bridge on the Alaknanda River which leads to the temple area.The temple dates back to century ago when Adi Shankaracharya established math here (today's Joshimath). The temple is also believed to be Buddhist origin and later it was converted to Hindu temple.
At first look I was delighted with colors of the temple which are conventionally bright that left me in awestruck. I loved the decoration of the temple and I was tempted to click so many pictures of it. It does all the justice for the long journey. I was lost in the charming aura of this temple.
Interesting facts about the Badrinath Temple:
As far no historical records have been found about Badrinath temple's origin but some of the accounts state that a Buddhist shrine was present here before Adi Shankaracharya converted it into a Hindu shrine. Also, the architecture and the brightly painted façade of the Badrinath temple is similar to that of a Buddhist vihara (temple) which draws our attention to the fact.
The Badrinath Temple is among the four pilgrimages of Hindus. It is situated on the Alaknanda River at the NainaParvat, near TaptaKund, which is a hot water spring. The temple has three parts: The garbhgriha, Darshanmandap, and Sabhamandap. The Lord Badrinath is seated in the garbhgriha, second part is also known as DarshanMandap where all devotees come for worshipping, and sabhamandap is the outer hall where devotees wait for doing darshan of their lord.
The high priest of Badrinath is from the clan of Adi Shankaracharya. He is called 'Rawal'  is traditionally a Nambudiri Brahmin chosen from the South Indian state of Kerala. During his span as a priest, the Rawal cannot marry and has to be celibate. For them, even the touch of women is considered sin.

Conch which is favourite instrument of Lord Vishnu is not allowed to blow in Badrinath temple. According to a Hindu legend, when sage Agasthya was slaying the demons of Kedarnath the two demons by the name of Vatapi and Atapi escaped. Atapi took refuge in Mandakini river while Vatapi hid inside the conch to save his life. Since then it is believed if anybody tries to blow the conch, Vatapi will come out. Hence, it is prohibited to blow conch in this area. But according to science since Badrinath temple is covered in snow most of the times so blowing conch might create echo- a unique phenomenon which can create turbulence in the ecological environment, cause ice storms and endanger human life.

Adorned below the Badrinath temple, the Tapta kund is the group of hot sulphur water springs snuggled below the temple. It is believed that these hot water springs possess medicinal properties and is home to the Agni God, the Hindu Lord of Fire. Before paying obeisance at Badrinath temple, the pilgrims take a holy dip in this kund for purifying themselves. The temperature of Tapta Kund remains as hot as of 55 °C (131 °F) in 17 °C  temperature all round the year.
The name of the Badrinath Temple originates from a known word badri which is said a type of wild berry. A mythological story increases the faith of devotees. The story is when Lord Vishnu sat in penance in the mountains of Badrinath; then His Better half Goddess Laxmi changed herself in berry tree to shade her husband from the harsh sun. That is why sages and pilgrims belief in meditating here for mental peace and enlightenment.Hence, Badrinath is also known as "Badri-Vishal".
Temple Timings:
The temple opens at 4 AM and closes at 1 PM noon; once again it opens at 3 PM and closes at 9 PM. If you want to avoid queue, visit it in night. You can perform special Pooja also which you can book in advance.
The idol of Lord Vishnu is sculpted in black stone and it is seated in meditating posture 'Padmasana' hosed in gold canopy. As you walk around the main shrine area, you can see the idols of Ganesha, Garuda, Hanuman and goddess Lakshmi.
As you walk out from the temple, just below the temple, there is 'Tapt Kund'(hot water sulphur spring) –separate for both men and women. The water of the Kund is believed to have medicinal properties and pilgrims take bath before entering to the temple.
After offering our prayers, we left for visiting the Mana Village – Last Indian Village. Mana is located 3 Kms ahead of Badrinath at an altitude of 3200 mtrs. It is last village before Mana Pass and 24 Kms from the Border of India and Tibet. It requires mild trekking to reach the village and exploring few points of interests.
I was just happy to walk around and knowing interesting stories of River Sarswati-Vasudhara Falls and Bheempul. There is one more ritual here to have Tea at Last Tea Shop in India.We spent some time here and started back to reach Badrinath.
Day-6 : Badrinath-Karnaprayag-Srinagar
It was very sunny day with clear blue sky when we started to leave Badrinath in the morning. During our stay in Badrinath, it was drizzling. It has happened so many times with me that during my stay at particular place; rain plays hide n seek and the sky is not clear; and whenever I am about to leave that place, clouds get clear. But I am not complaining as I was happy with whatever nature was offering to me.
From Badrinath, road again passes through Joshimath and Chamoli. As we crossed chamoli, we passed through Nand Prayag- one of the Panch Prayag(five confluences). It lies at the confluence of Alaknanda River and Nandakini River. The distance between Badrinath to Srinagar is 9-10 hours, we didn't stop at the confluence.
After passing through numerous towns and small villages, we pit stopped at Karnaprayag.It lies in midst of Nandprayag and Rudraprayag.Also it lies at the junction from where one could travel to Badrinath as well as Kedarnath. Bedecked on the confluence of river Alaknanda and Pindari River- it is one of the Panch Prayag (five confluences) of river Alaknanda.
The town of Alaknanda is also known as 'The city of Karna of Mahabharat'.While on a visit to Himalayas, swami Vivekananda also meditated here with his gurus.With the hills in the backdrop and pristine surroundings, it is truly delight place.
After capturing few clicks in camera and offering prayers we started towards Srinagar. As the distance between Badrinath and Rishikesh was approx 12-14 hours, we decided to take break at Srinagar. If you don't want to go for tiresome hilly journey; take break at either Rudraprayag or Srinagar. The city of Srinagar is famous for temple of Dharidevi- 19 kms from Srinagar. The city's other attraction is the Alaknanda Hydro Electric Power Project.
We reached Srinagar in evening. After some rest, we started to walk on the main road. The town was full of chaat vendors and had a lot of decent restaurants too. It is probably the last town before the hill starts to badrinath and kedarnath. The town looks very pretty at night with dotted houses on the hills.
Day-7: Srinagar-Rishikesh
It was last day of our road trip and was saddening as trip was coming to end. It took almost 4-5 hours to reach Rishikesh. As we started descending, atmosphere started to change from cold to very hot. We were leaving behind the hills and started towards more plains.
We reached to Shivpuri by noon and stopped there for a while. There was rhythmic sound of Ganges and endless stretch of pebbles over there. This was therapeutic site and rendezvous with ganges. The river rafting starts from Shivpuri and people were arriving at the starting point of the rafting.I had already done river rafting in Ganges; so just spent time by the Ganges.
By the noon we reached to Rishikesh on hot summer day and ended our week long road trip to Badrinath and Kedarnath. Earlier we decided to explore a bit Rishikesh too; but due to hot weather we dropped the idea and started to reach Delhi by Bus.
Travel Tips:
Where to Stay:
Badrinath and Srinagar has decent accommodation options ranging from guesthouses, ashrams to budget hotels. As they are pilgrim places; don't expect luxurious amenities from them.
Food:
Hotel Saket – opposite to Badrinath temple (on the way to temple) is very good option for the North Indian and south Indian dishes. We loved all veg options here. Also town has numerous dhabas and decent restaurants which serve vegetarian food. It is pilgrim place; you won't get alcohol and Nonveg food here.At Srinagar, Hotel Shivika serves good food and very famous in the region.
Mobile Network:
I highly recommend carrying BSNL SIM card if you are visiting Badrinath. Reliance Jio and Vodafone works but it gives occasional signalling.
Important Points to remember:
Photography is prohibited inside the badrinath temple; don't try to attempt it.
It is popular pilgrim place and one of the dham for Hindus; receives thousands of visitors daily as temple remains open for few months in summer.Be prepared to stand in queue. If you want to avoid it, visit the temple in night before closing of the temple.
Carry comfortably warm and heavy woollen clothes along with you as the season is always cold there, and at high altitude it is impossible to survive in lighter clothes.
As you are travelling in the hilly region; always start early and reach early. Avoid travelling in night.
Bargain well before buying woollens and other souvenirs.