How to Visit Maldives on Budget in 2023
When you think about the word "Maldives" and scrolling pictures of it on social media; you will come across the beautiful white sandy beaches with crystal clear blue water and overwater bungalows that cost thousands of $$ per night! You think it's not in my budget but wait, it's possible to travel to this beautiful beach destination on a budget, Yes, in this post, I am sharing how one can travel to the Maldives on Budget for 60$-70$ per day.
When I and my husband choose any destination, the first thing that comes into our planning is the cost to travel to that country. Looking at the weak Indian currency, we are not lucky in terms of money ( 82 INR = 1 USD) and obviously, we work hard to save money for travel or for our annual holidays in winter/summer. So without stretching it long, here is my complete travel guide for budget travel to the Maldives.
Complete Maldives Budget Travel Guide
Now let's talk about – Maldives; considered one of the most expensive countries to travel to due to its high-end resort prices that start from a few $$ per night and go to thousands $$ per night for overwater bungalows.
Now there comes a question, do you find it worth it to travel here? Yes, definitely, it's worth every penny! In this post, I am compiling a complete guide on how you can visit Maldives on a budget that too at approx $800-900 for 7 days of Maldives vacation.
You heard right..read on further on traveling the Maldives with the cost of Maldives vacation.
General Information About The Maldives
The Maldives is a tropical country located in the Indian Ocean and comprises 26 Atolls from North to South. The Maldives is considered one of the world's most geographically dispersed and one of the smallest Asian countries by population. The male is the capital and one of the populated cities which is an island itself.
The atolls of Maldives consist of 1192 coral islands and sandbanks along the north-south direction spread over roughly 90,000 square km. It is located southeast of Srilanka and its islands are blessed with crystal clear turquoise water, white sandy beaches, luxury overwater villas, and houses one of the most exclusive and spectacular underwater life.
Interesting Facts About The Maldives
Male

– the capital city is the financial and commercial capital of the country. All major government offices, banks, and businesses are based in Male. It is one of the most densely populated cities in the world and that lead to the development of the man-made island Hulhumale which falls in the neighborhood.
The main airport of the country – Velana International airport is in Male. It is well connected to all the major destinations from around the world. Apart from it, there are other three airports – Gan (GAN) in Addu city, Hanimaadhoo (HAQ) in Haa atoll, and Villa International airport in Maamingilli (VAM). The good news is, apart from Male airport, there is a flight to

Gan Island

from Mumbai via Colombo.

The Maldives is a

Muslim country

and most of the Maldivians are Muslims of the Sunni sect. But the customs and social behavior of the Maldivians have been greatly influenced by the Indians, Sri Lankans, Arabs, and North Africans who visited the Maldives while traversing through the trading routes of the central Indian Ocean. The Maldivian culture is rich and vibrant due to the infusion of various other cultural elements.
Maldivians speak the official language 'Dhivehi'.It is close to the Sinhalese language of Srilanka. But Most of the locals understand English. I came across many ex-pats during my travel who were living and working there.
Official

Currency

of Maldives-

Maldivian Rufiyaa(MVR)

.

1$ = 15.40 MVR But all the local and resort islands widely accept payments in USD and cards.
As the Maldives is a strict Muslim Country, it is advisable to dress conservatively. If you are staying at local islands, always cover your shoulders and wear knee-length clothes while moving around. All local islands have separate bikini areas where you can swim in Bikinis. Don't try to roam around in shorts/bikini which may lead to an offense. On resort islands, you don't need to dress conservatively as they are private beach islands.
Now let's go ahead with my travel experiences and how I did everything on a budget Maldives holiday.
Getting to the Maldives on Budget
Maldives is an expensive country and it could be the dream of every sea lover. But flying to this country can be cheap if you're from India, Bangkok, Singapore, Malaysia, or Eastern European countries.
There is a good frequency of flights from Indian cities- Mumbai, Bangalore, Kochi, and Chennai which may cost you INR 15K-20K ($200-$300) return if you book well in advance. so the Maldives on Budget, It's Possible!! Right??
How To Find Cheap Flights To The Maldives
I paid $220 for Mumbai -Male return flight; booked 15 days in advance only. Really amazing deal, right?? Well, always lookup for airlines sale and bank credit card offers. I booked it via sale on Indigo airlines with discounts on HDFC Credit Card. GO Air and Indigo airlines have direct flights to Male from Mumbai and Banglore.
Maldives Visa
The Maldives offers visa-free or visa-on-arrival status to all nations of the world for 30 days Visa except Indian and Bruneian citizens. Indians get visas on arrival for 90 days with no questions asked. You must hold a passport valid for at least 6 months from the date of arrival.
My Experience with Visa on arrival
It was totally easy for getting Maldives Visa. Flight attendants handed an arrival card which needs to be filled with relevant details like travel dates, flights, and accommodation. At the immigration, you just need to show the arrival card and they will stamp your passport. For the safer side, I carried at least 500$ per head with confirmed hotel bookings to avoid any query by officials.
Maldives on Budget: How to Choose Perfect Island
Private Island Vs Local Island
The first thing you have to do is choose between a private resort island(Resort Island) and an inhabited island (Local Island) where local people live. There are no dearths of luxury resorts which are private islands with all the amenities you can vouch for.
The Resort Islands are the most expensive to stay in the Maldives but if you want to travel the Maldives on a budget you can choose to stay at Local Islands. The Local islands opened to tourists only in 2009 to cater to more tourists in the country and help the local community.
Let's see the Pros and Cons of each:
Private Resort Island
The Private resort islands typically consist of an exclusive hotel on its own island with an amazing beach and luxury overwater villas on the ocean. It's only accessible to guests of the resort and its workforce, with no local people. If you are looking for a budget family vacation to Maldives or Budget resorts for a honeymoon in the Maldives; you can choose resorts according to your choices.
Pros:
It is best for a luxury vacation with all amenities and high-quality standards with powdery white sandy beaches.
Experiencing a once in a lifetime stay at the overwater bungalows.
You are free to wear swimsuits and consume alcohol across private islands which are banned on local islands.
Cons:
Staying at a Private resort is a very expensive affair. Few are affordable with beachside rooms but others' prices can go up from $1500 or more per night. If you travel off-season;it could be possible to stay here.
There will be some views every day and eventually one can get bored easily if staying more than 2-3 days. At least I get bored in the same place.
There will be No interaction with locals and their culture. They will offer day trips to the local island but that could be also expensive as per their standard rates.
Transfer to the resort island is not possible via local ferries. You
compulsory need to take a speed boat or Seaplane transfer arranged by the resort.
Local Islands
Local Islands have recently opened up to tourism which allows budget travelers to visit Maldives.
Pros:
The cost of accommodation is cheaper than in Private resorts.
You can interact with local people, cultures, and traditions.
The beaches are as amazing as Private resorts.
Everything from food to souvenirs will be at affordable rates.
Cons:
You will not find local islands as clean as private resorts; though main beaches will be always clean. There is a big issue of disposing of garbage in the Maldives.
As alcohol is illegal in Maldives, You won't be allowed to drink beer, wine, or any hard drinks.
As Maldives is a conservative country, you need to cover up while getting around on the local island.
Now, if you are determined where to start, you can choose a Local island according to its Cost of living. This is solely based on distance from Male, the capital city, and how many guesthouses are on an island.
Choosing the Local Island for Maldives Budget Travel
There are so many local islands to choose from if you want to experience budget travel. All International flights arrive at Velanaa airport, Male and you need to book your local transfer from here. Many islands are located far from each other and when you want to travel to different atolls, you need to travel back to the main island Male.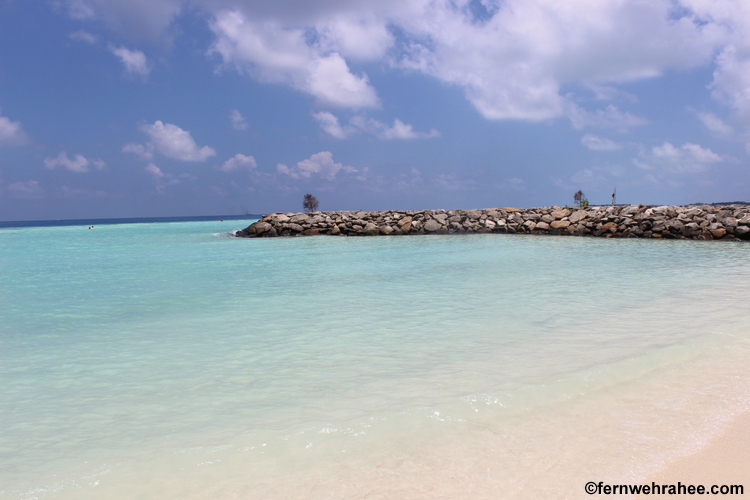 Let me explain it, all different local islands are under different Atolls. Local ferries ply from Male to different islands within one atoll. If you want to travel to the island of another atoll, you need to backtrack to Male. When choosing which local island to visit, it is wise to check the latest ferry schedules and transport options between different islands to create a perfect itinerary.
As you go further away from Male, the cost of transfer and travel time will be more. Hence, if you are short on time and want to save a few bucks; it is wise to include islands within the same atoll and close to each other.
There are many islands that are so farther away that require seaplane transfer !! It would be amazing to take a seaplane ride but that can make a big hole in your pocket.
Apart from the above, the main consideration could be – Beaches, Reefs, and Lagoons. The Maldives is the best place for diving and snorkeling. Do well research ahead and decide what activities you want to indulge in whether scuba, snorkeling, surfing, etc; choose accordingly. If you are traveling just for relaxing on the beach, then prefer a larger bikini beach area and diving sites just a short boat ride away.
Here I have compiled a list of Local Islands within the same atoll which can easily reach by ferry and ultimately will save time and money they are the Best and cheap Places to stay to travel the Maldives on a budget.
South Male Atoll

:

Maafushi, Gulhi, Guraidhoo

North Male Atoll

: Thulusdhoo, Dhiffushi, Himmafushi, Huraa, Hulhumale

North Ari Atoll

:

Rasdhoo, Thoddoo, Ukulhas, Mathiveri, Feridhoo

South Ari Atoll

:

Mahibadhoo,Dhigurah,Dhangeti

Vaavu atoll

: Fulidhoo
I stayed in Maafushi for 5 nights as it was 35 minutes speedboat ride away with good hotels, guesthouses, and restaurants. Though it is considered the most touristy island, I loved every bit of the moment spent there. Maafushi was the best place to stay in the Maldives on a budget.
Maafushi has a stunning bikini beach, so many options for activities, and an amazing vibe all around. Also, I could visit another local island Gulhi as a day trip for a change.
How to Get Around The Maldives on Budget
Transport from Maldives airport in Hulhumale to Capital Male
The Male airport is the main gateway into the Maldives islands for tourists. It is located on Hulhumale, mostly an artificial island near Male. Once you clear customs; make your way to the capital Male via ferry/Speedboat which costs 1$ for the public ferry and $2 for the speedboat which takes only 4-5 minutes. The boat terminal is on the left side of the airport and ferries to Male run till late at night. You can check the schedule and timing of ferries here.
The public ferry will drop you at the North corner of Male whilst most public ferries running to Maldive's local islands run from the Villingli ferry terminal in the southwest corner of Male. It would be the best option to take a taxi transfer between the two terminals unless you don't have luggage.
Taxi transfer may cost you 2$-3$ and it takes 10 minutes but it is still good for low-budget Maldives travel. You can prefer walking but it won't be possible with luggage as it is over 2 km.
Public Ferries to Maldives Local Islands
When you are traveling on a budget to the Maldives, the best way of traveling to Local islands is by using a public ferry from the Villingili terminal on Male.
Also, note that all the inhabited islands are connected by ferry a few times a week at a particular time. The ferry routes cover islands of the individual atoll; if you want to travel to different atolls; it would require you to return to Male.
Also, keep in mind that the Public ferry is used by locals and there is no official website to book it online; Still you can find a bit of information on atoll transfer. Though routes are mentioned online, always double-check by asking local guesthouses in advance and show up 30 minutes of schedule departure.
The cost for a Public ferry is usually a few dollars only and making it the most cost-effective and convenient option for low-budget travel. Also, public ferries don't run on Fridays in the Maldives; keep it in mind while planning your Maldivian itinerary.
The cost of a Public ferry from Villingili terminal to Maafushi is 3$ per Pax and it takes 90 minutes.
Local Speedboat to reach Maldives Local Islands
Another option to reach Maldive's local islands is Local Speedboats. The scheduled speedboats are run by local tour companies between islands. It is fast and costs 25$-50$ per Person depending on how far the island is from Male. The booking can be arranged online or you can ask your guesthouse/hotel to book for you.
In Maafushi, Icom tours, Maafushi tours, and Shadow Palm operates local speedboats. I suggest booking it through your guesthouses and they can give you discounts of a few dollars.
Private Speedboats
Private speedboats are also available for transfer between different islands but it is usually used by Private resorts. You will not use this if you are on Maldives budget travel. They are expensive options for transfer which may cost you hundreds of dollars.
Seaplanes
Another option to reach faraway local islands and Private resorts is an expensive seaplane transfer. There are many remote islands that are very far from Male; you need to take a seaplane transfer compulsory.
Even it is possible that your stay can be cheap at local islands than your transfer. Seaplane transfer starts from 100$ per person depending on the distance from Male. Transmaldivian airways operate this service and it can be booked by your resort. This is the most expensive option but I must say the views from above would be mesmerizing!
Quick Tips for Maldives on Budget Travel
The ferries are bigger and the most comfortable ways to reach but it is very slow. I took a public speed boat to Maafushi which took 35 minutes to reach Maafushi from Male. On the other hand, the ferry takes 1.5 hours to reach Maafushi.
The ferries are cheaper compared to Local speedboats but it doesn't run all weekdays. The timings and frequency are less as compared to local speedboats.
There are no ferries on Fridays as the Maldives observes the holiday on Fridays. I highly recommend you checking first the ferry schedule before booking your flights to the Maldives.
If you are arriving/departing on Friday, you have to stay at Hulhumale/ Male before travel day as most speedboats/ferries don't start early in the morning and late at night. One must first check it with hotels/guesthouses.
During my trip, I took a local speedboat from Maafushi tours for Male-Maafushi-Male for 40$ each. Also note that for Maafushi, Local speedboats run on Friday too.
How to Find Cheap Accommodation in the Maldives
So here comes the main part, where to stay in the Maldives for cheap ?? If you are backpacking the Maldives or looking for budget travel to the Maldives – It is now possible by staying at hotels/guesthouses on Local Islands.
You can get a nice and clean room in a guesthouse starting from 50$ per night with Breakfast and AC for two people. The hotels on local islands can be expensive and rates start from 100-150$ per night. I recommend you book it in advance or connect with them directly for discounted rates.
This way guesthouses are cheap accommodation options for Maldives budget travel. Other than this you can say at budget hotels in the Maldives which are near to Beach.
The Private island resort rates start from 600$ per night without frills during the high season. But if you want to still experience Maldives budget travel; you can take a chance during the offseason. Though there aren't any cheap Maldives resorts, you can visit them during the off-season when the prices drop a bit.
I Stayed at Venturo Maldives at Maafushi which is more than a guesthouse and provides excellent services and big rooms. I spent 274$ including taxes for two-person for 5 Night stay with AC room and breakfast.
Maldives on Budget : Cheaper Accommodation Tips
There are no hostels in the Maldives and if you want to make it on budget; you can travel with someone to split the cost between the two.
As all islands are very small and you can cover them by walking within 15-20 minutes, there is No need to book sea view rooms here. The rooms without a sea view OR guesthouses a bit far from the beach can be cheaper in price.
I recommend you check the prices of guesthouses online and then talk directly with them. They can give you the same room at less price if you book directly through them.
The most important thing while traveling to the Maldives – take care of local Taxes. The Maldives has a very high rate of taxes; always double-check the price and make sure it includes all the taxes.
Where to Eat in the Maldives when you are on a budget trip
If you are staying on local islands, there are plenty of restaurants and cafes which serve different cuisines at reasonable rates. In Maafushi and Hulhumale, you will get Indian Curries and Naan, Paratha too but they will be very expensive. On a few local islands, you won't get many restaurants and food can be an expensive affair.
Maldivian Local food is Tuna Fish. There are many traditional local dishes of fish that are eaten by locals like Garudhiya, Mas Huni, Roshi(like Indian Roti), etc. If you wish, in your guest house you can order a private dinner on the coast or a barbecue on one of the neighboring islands.
Alcohol is forbidden on local islands but in Maafushi, a floating bar runs on a ship where you can buy alcoholic beverages but it is very expensive.
All the guesthouses and hotels offer Breakfast included rates. The breakfast includes Local and Continental dishes with fruits; this way you have to bear two meals a day for yourself.
As a vegetarian, I hadn't many options to eat but still, you can survive on Rice, Noodles, and Pasta. Also, buy bakery items and fruits from Local Grocery stores to reduce your cost of food.
Maldives Travel Food Tips
Almost all the Guesthouses/hotels on local islands provide complimentary tea/Coffee throughout the day.
At Maafushi and Hulhumale where I stayed, they provided unlimited drinking water without paying extra. If they don't then buy it from local stores which may cost you 7 MVR.
If you are vegetarian, I suggest carrying dry snacks and ready-to-eat meals from India because you will hate eating pasta and noodles daily, and this way you can save a few bucks extra. You can ask your guesthouse to use their kitchen. If there is No kitchen at your guesthouse, you can always cook ready-to-eat Indian curries with Hot water. you can thank me later!!
The restaurant charges 12% extra on food service charges. Always keep it in mind while ordering the food.
Things to do in Maldives on Budget
Almost all hotels and guest houses offer similar activities but at different rates, so I recommend haggling around for the best rates. The prices may vary according to the islands you are on and how many people in your group are. If there are more people in the group, the cost of speed boat transfer will be less.
In Maafushi, you can book activities from I-com tours and Maafushi tours. They are the best operators in Maafushi. Some of the Popular activities/tours are:
Sand Bank & Snorkel Tours: 25$ onward
Scuba Diving: There are 3 diving centers on Maafushi; the prices there are practically the same ($35 per dive). It is not that expensive in comparison to the cost of diving on other islands. If you wish, you can take a course and get a certificate as an Open Water Diver.
Water Sports: Jet skiing, Parasailing, paddle boarding, windsurfing, etc.
Day & Night Fishing: 25$ onward (night fishing includes BBQ dinner)
Whale Shark and Manta Ray tour:100$
Resort Day trip: 100$ onward, includes to and fro transport, entrance fee to resort, unlimited Lunch and drinks, shower facility, etc.
You can take a day trip to nearby another local island.
You can carry your own snorkeling gear if you want to dive at a nearby bikini beach in shallow water which can save money; else you can rent it for a few dollars. You can say activities cost can make a hole in your pocket for low-cost Maldives holidays.
Getting Simcard in Maldives
Every hotel/guesthouse provides free Wi-Fi but if you want to be active more on social media; you can buy it from the airport itself or at any local island. I didn't purchase a SIM to sock into the Maldivian beauty more than being active on mobile; this way saved a few $$ too.
Maldives Currency
USD is widely accepted everywhere in the Maldives. you don't need to carry MVR all the time; however, I would suggest converting 10$-15$ to MVR at an airport as I experienced you will pay more in USD than MVR. Almost most local restaurants and ferry prices are in MVR and you will save money if you pay in local currency.
Keep in mind that MVR is a nonconvertible currency, hence always convert it back to USD before leaving the country.
Most of the local islands have banks with ATMs but it is advisable to carry more cash as many islands won't have ATMs. Also,s you can pay via credit card which charges 3.5% extra for processing fees.
Best Time to Visit The Maldives
The Maldives is a tropical country with dry months from December to April is the most preferable time to travel. There will be little or no rain showers during this time, hence, making it an ideal travel period. It is peak tourist season which means high prices for everything. Avoid traveling to the Maldives in summer due to harsh weather.
You can prefer to travel during the off-season from April-September to reduce your cost of travel which can be slashed by half when you travel during these periods.
The Cost of Maldives Budget Trip
Here is my Average cost of a Trip to the Maldives for two from India based on activities I chose and living on the local island of Maafushi.
Flights and Insurance: 216$
Visa: free on arrival
Transfer: 35$
Taxi from Male-hulhumale-airport : 15$
Accommodation: Maafushi: 274$ , Hulhumale: 55$
Food: 38$
Activities (snorkeling, resort day trip): 112$
Day trip to Gulhi island: 4$ for transfer
Souvenirs & tips: 20$
This is the cost per person, spending 6 nights/7 days in the Maldives, considering two people traveling together. I traveled here with my husband so the accommodation cost is considered full above. You can split between two if traveling with someone or in a group. Still, it is pretty good considering it is the most expensive country!!
Maldives on Budget: General Travel Tips
Carry Sunscreen lotion for the face and body with SPF 60 or more because I felt the sun is harsh here for normal Indian skin.
Pack 2-3 bright swimsuits that contrast beautifully with turquoise water. Always wear sunglasses and a sun hat to protect yourself from the sun.
Carry a travel adapter. Generally, the hotels/guesthouses will provide it but you can carry your own adapter if they don't have one or you need more than one.
Most of the hotels/guesthouses will provide fresh beach towels daily; so no need to carry them with you.
Don't forget to pack dry bags, flip flops/crocks, and a few beautiful dresses to enjoy the sunny side of life in the Maldives.
That's all about my Maldives on Budget travel post! Have you been to the Maldives yet?? If you have any queries regarding the Maldives, share them in the comment. Don't forget to pin this Maldives Budget Travel for Later!!