Haa Valley Bhutan: Must Visit destination of Bhutan
Last updated on May 23,2020
Located along the Haa Chu River, Haa Valley Bhutan is one of the most beautiful and unspoiled places in Bhutan with untouched natural beauty. Haa valley was opened for the first time to foreign tourists in 2002.
After a day hike to Taktsang Monastery, it was time to heading to Haa Valley in Bhutan. We  were so much tired and unable to even walk . The travel to Haa was such an ordeal feeling; we were unsure about whether to travel in evening or to travel next morning.
With the series of arguments and all, we decided to travel in evening which was in our original plan. It was about to dark and we started travel towards Haa valley. It was the month of April, snow had melted and roads were somewhat in bad condition for smooth drive.
After driving for 3 hours, we reached to Haa and checked into our home stay at Ugyen's Home. We were so much tired when we reached. Ugyen's homestay is located in Dumchoe remote village in Haa valley. Homestay is run by Ugyen and his wife Dole Bidha. They have two kids: Oldest son Kinga and Daughter Tenzin.
As we arrived, Tenzin and aunty were present. Neither Ugyen nor his wife understands English, but Tenzin and his brother understand well. We were asked to order the dinner when we arrived. After settling in our room, we started conservation with Tenzin about the family and we got to know that family earning mostly comes from vegetable cultivation in their farm and home stay business.
Ugyen also told us that their father mother also stay with him during summer time, in winter time they stay with his elder brother at Phueuntsholing. There is other home stay also in Haa valley run by Ugyen's sister Chimi. The house is 150 years old made of traditional stone and wood. Kitchen of the house is in center where activities like talking, gathering, watching TV and meeting other tourists happen. Tenzin was doing homework in between chatting and conversation with us. Aunty Dole prepared dinner for all of us. I must say she is very good cook.
The home stay is having traditional Bhutanese architecture and 2-3 rooms and common western toilet as little modification made for tourists. Our room had cosy mattresses and heater facility also. They also provided accommodation for our drivers. It was very tiring day of hike and travel so we slept early with the promise by Ugyen to take us to their farm.
Day-2:
Next Morning, we got ready and started walking tour nearby. I enjoyed the river streams, paddy fields and clicking lot of pictures. There were grazing cows and old houses and very friendly locals on the way.
Today Dole aunty was not available in noon as she had to go for Potato farming. After returning from walk, Ugyen took us to his farm which was on the river bank where he works in a day.
After that we moved towards the farm where Dole Aunty was working. We met so many people who were planting Potatoes together. What I loved was they all were working together as family and helping each other on their farm for plantation activities. We also met Chimi and his daughter who works as a Guide.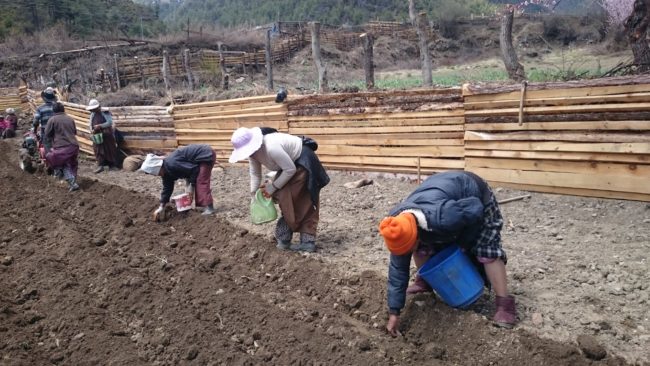 This experience was incredible which cannot be found in any guided tours. In return, we stopped by wooden factory which you can find prominently in Haa valley.
We stopped by 100-150 year old house. I loved the Bhutanese architecture.
After arriving at house, we also got some knowledge about Hot Stone Bath. I had heard a lot about it before. But as we didn't know one has to tell them in advance if one want to take it; we couldn't go for it.
In the noon, we ate local Bhutanese dish Kewa Datshi [dish made of Potato and Yak Cheese] with red rice and Dal. That dish was one of the best I tasted in my life. I avoided tasting Ema Datshi [National dish of Bhutan] as I am not Chilly lover and Bhutanese love chilly very much.
After spending wonderful time with them, we headed towards some sightseeing in Haa Valley.
Haa Valley Sightseeing:
Our next stop was Lhakhang Karpo [White temple] and Lhakhang Nagpo[Black temple] built in 7th century by Tibetan King Songtsen Gempo in his mission to build 108 monasteries in one day. According to a legend, a black and a white pigeon were released to select sites to build the temples. Lhakhang Karpo (white chapel) is the official residence of Ha monastic body.
Other point of attraction is Haa Wangchuk Lo Dzong. It was constructed in 1915 after the old dumchoe dzong burned to ground. Today, its role turned defensive following the Chinese invasion of Tibet in 1950s,when Bhutan gave the dzong over to the Indian military to use as a headquarter and training ground for Indian Military Training Team[IMTRAT].
In addition to this, it houses Wangchuk Lo Dzong military school,a military hospital and school for Indian army personnel.Due to this arrangement- most Bhutanese perceive Haa valley residents  known as "Haaps" as even not having dzong at all.
For me, it was amazing to see Indian army headquarter in another country which shows friendly relation between Bhutan and India.
After the sightseeing we moved towards Paro via Che Le La Pass [13000 ft] considered to be one of the highest Motor able Pass in Bhutan. read more about Paro sightseeing.
From this point one can have superb views of Mt. Chomolhari & Jichu Drakey. This is a very good place to walk around for few minutes enjoying the view.
Travel Tips:
Haa Valley is isolated and less populated area of Bhutan, it makes perfect destination to enjoy peaceful stay with stunning natural beauty.
You don't need any Haa Valley Permit to visit it.
How to Reach:
It is good to have a cab to travel Haa Valley from Paro, it takes 2 hours to cover 65 Kms. But if you want to travel via Bus you can take Bus from Thimphu bus stand, a local bus leaves for Haa every day at 1 PM from Paro bus stand, a bus leaves on Monday, Wednesday and Friday at 9 AM for Haa valley. As road to Haa valley is curvy, I suggest travelling via Cab.
Where to Stay:
Haa valley Bhutan has limited stay options.You cannot get commercialized hotels in Haa valley. Best option is to book home stay in advance. You can book it via Haa valley Home stay OR Bhutan Home stay.
If you ask me, Is Haa Valley worth the Visit?? I highly recommend to add it in your Bhutan Travel Itinerary.