Trip to Omkareshwar – Temples and Spirituality
I have gone through lots of Photographs of Omkareshwar temple which looks colourful and rivers being the best part that attracted me.After exploring Ujjain-the temple town, we decided to leave next morning for Omkareshwar.
Since few years I have been exploring the himalayas,but now I wanted to make visit to the cities.Before reaching to Ujjain,I was not well aware with the public transportation to Omkareshwar, so after having darshan at Mahakaleshwar temple; I reached to few of counters who were selling tickets for day trip to Omkareshwar from Ujjain. I wanted to stay at omkareshwar for my onward journey towards Maheshwar; I asked one of them for one way ticket and; to my surprise he was agreed to give it one for next day morning bus. If anyone want to make day trip from Ujjain to omkareshwar, thtere are 2-3 travel agencies near to Mahakaleshwar temple who sells the tickets to Omkareshwar.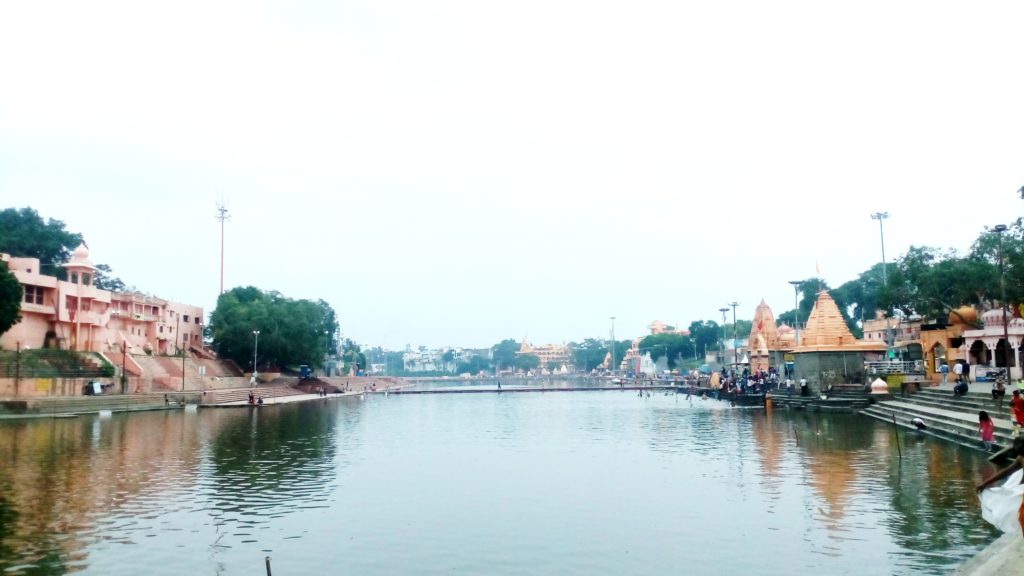 Next day we boarded the bus to Omkareshwar from near to the Mahakaleshwar temple compound. The private tour operator's jam packed the bus by overloading the passengers but we were lucky enough to get allotted seats as we booked the tickets early.I was only younger person in the Bus may be and all others were senior Citizens; as I started conversations with them, to my surprise it came to know that few of them visit the place every year!!!! I thought may be I am only one who don't visit temples often.
After bumpy and crazy ride of almost 3 hours with pit stop for lunch we reached to Omkareshwar. It looked small town filled with so many pilgrims and not traveler like me.After reaching to the Bus stand, we took a shared auto to Gajanan Nivasthan for a night stay. It is a very clean and comfortable place for staying at Omkareshwar. The place is just on the opposite side of Omkareshwar temple and walkable distance from the Ghats and market.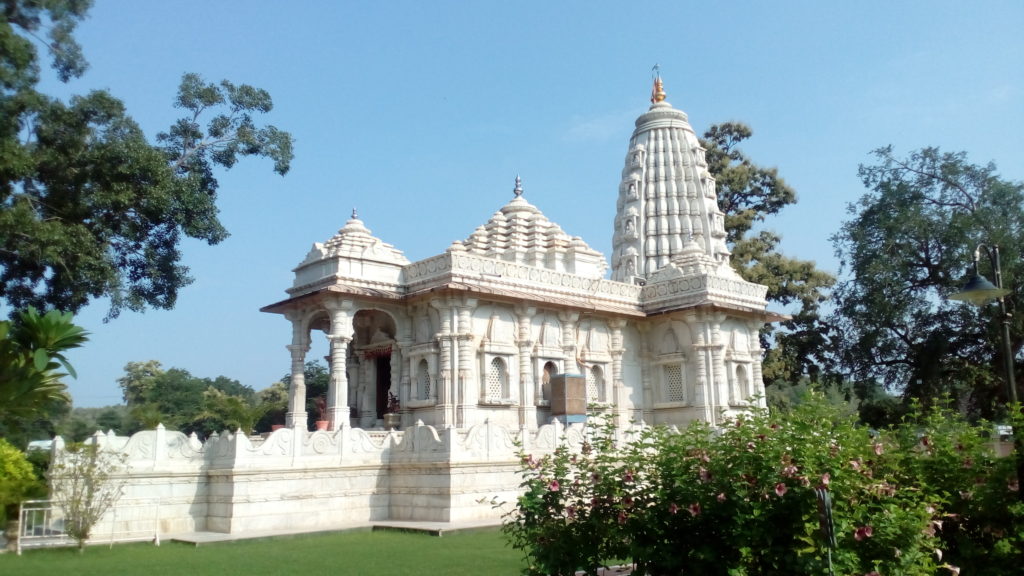 After checkin to the Ashram, we advanced towards the temple darshan. It is vehicle free area and so it was easy to navigate towards temple just parallel to few shops which we find in any holy city in India. They were selling Pooja saman,sindoor,bead jwellery and CD etc to devotees. The whole atmosphere was filled with spirituality and I was enjoying every bit of it.
Omkareshwar is one of the 12 revered jyortilinga shrines dedicated to Lord Shiva. It is very famous with Pilgrims from all over the India. It is on an island called Mandhata or Shivapuri in the Narmada river. The south bank has other temple named Amaleshwar. As per the belief's, it is said that unless one doesn't visit both the temples; the darshan is  incomplete.
As Narmada divides the Omkareshwar into two parts, one has to cross the river via bridge to reach for Darshan. One of them is 'Hanging Bridge as it literally swings when you walk through it. Other one is just like Normal bridge in main town. After crossing few shops, we walked through hanging bridge which we found interesting. You can also reach to the temple by crossing the river by boat.
Just after crossing the bridge, we reached to the temple area and stood in queue for darshan. As I am in favor of ecosystem I didn't purchase any flowers, Prasad for offering to God which later they either return or throw away in dustbin.I am not here to hurt anyone's feeling but this is about what I personally feel.
There were not so many people in the area and we slowly started towards entrance of the main temple. The temple was ancient looking with stone carved walls and ceilings. I must say, every temple fascinates me with intriguing art wherever I go. There were good arrangements for devotees for standing in queue.
Within half an hour we had darshan of Lord Shiva and we just came out from Main Shrine area. There were sellers for cucumber and photographers who give instant hard copy of your photo and so many other people were gossiping themselves. The atmosphere was filled with good spiritual vibes.
After descending the steps of temple through narrow lanes surrounded by shops, we reached to the Bank. There were so many boats at the Ghat which were ready to take you to the other side of the river. We joined few other devotes and set for the few minutes ride to reach other side of the River. I highly recommend taking boat ride; it gives you scenic view of the surrounding area and the temple.
After reaching to the shore, we reached to 'Gomukh' ghat where so many other people were taking holy dive in river Narmada. The ghat is mid way between two bridges. We just sprinkled the water over our head rather than taking a dive. There were so many small colorfully painted boats and boatmen were ready to take you for a ride through the river. From the Ghat you can have complete view of Omkareshwar temple which seems very photogenic.
Further, we preceded towards Mamleshwar temple. As I said earlier without visiting the Mamaleshwar temple, your Omkareshwar Pilgrim will be incomplete. Mamleshwar temple is small ancient temple with historical importance. It is also dedicated to Lord Shiva.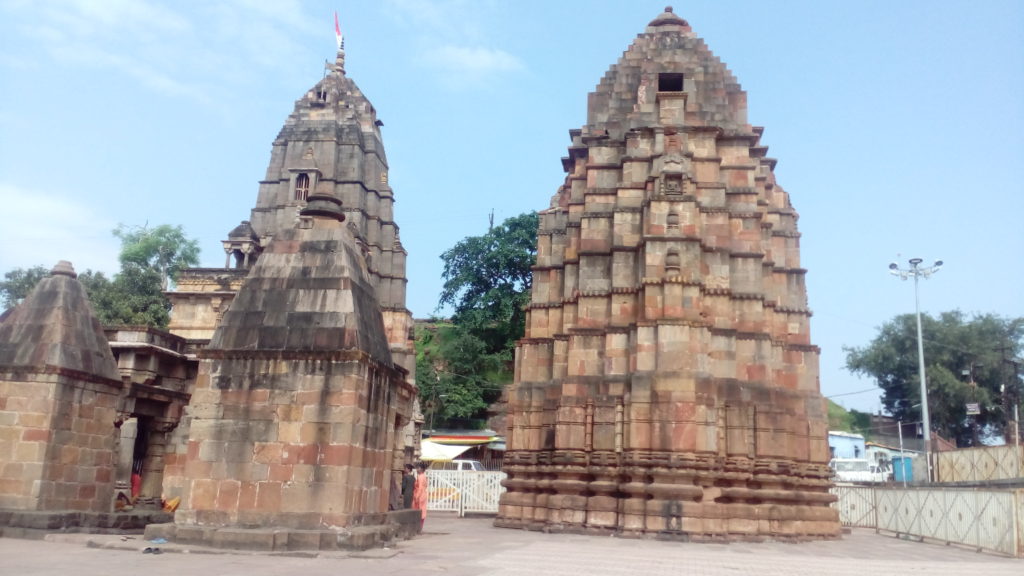 After temple darshan we rested for few hours and then again started walking towards narrow lanes and this time we visited crossed the bridge of main town,some temples and admired the view of Omkareshwar island. It was good place for people watching and enjoying how the slow life in the town goes on.
With this we called it a day.
So this is all about my wonderful trip to Omkareshwar.
How to Reach:
By Road: Omkareshwar is well linked by road to other places in India. It has direct road connectivity to destinations like Indore, Maheshwar etc. Most of the road conditions are good to travel. It has good bus & taxi connectivity with Indore and Maheshwar. Town have its own two Bus-stand in city center. You can easily get bus service in day time but rarely find any bus service in night hours.
By Train: For reaching Omkareshwar by train, nearest railway station is in Indore.
By Flight: For reaching Omkareshwar by flight, nearest airport is Rani Ahilyabai Airport at Indore city[78 Km]. It has direct flight connectivity from major cities in India.
Accomodation:
As it is small town, you cannot find any luxury hotels here, but MPSTDC run Narmada Resort is also good option for stay.If you are on tight budget as like me,can stay at Bhakta Niwas by Shri Gajanan Maharaj Sansthan which is best place for a night stay.It is very clean and comfortable place with so many room options. Also there are so many budget Dharamshalas available for devotees, one can go around and book according to their choice.
If you don't get any accommodation, get back to Indore  city and do day trip.You can also visit Maheshwar [3 hr journey] from Omkareshwar.
Trip Cost:
Bus from Ujjain to Omkareshwar : INR 170
Cost of stay : INR 350 for Non AC room at Bhakta Niwas
Food : INR 200 [Bhakta Niwas serves lunch and dinner plate at INR 55 per person]