Top Places to Visit in Paro,Bhutan – A Complete Guide
Paro is a little town in the tiny country of Bhutan. It is a home to many of Bhutan's old monasteries and temples. The valley is also home to Mount Jhomolhari situated at the northern end of the valley. This small town has a feeling of Modern village. It has paddy fields, modern hotels and restaurants, an airport. It is one of the most beautiful town of Bhutan. If you love the peace and serenity, stay in the Paro instead of Thimphu. Thimphu is much commercialized as like other capital cities in the world. If you think about the happiest place on the earth, Bhutan is the place to be.
Here I am writing about Places to visit in  Paro in with complete guide:
#1. National Museum of Bhutan/Ta Dzong
Ta Dzong built as watchtower and converted into a cultural museum in 1968 to collect, preserve and exhibit the cultural and artifacts of Bhutanese civilization, heritage and traditions. It also showcases Bhutan's rich bio-diversity through a Natural history Gallery. Main attractions I love here is Mask Exhibition and Thangka Gallery. Thangka is traditional paintings, often commissioned as donations for temple and shrines. The heritage gallery offers works of art that has been preserved through centuries.
Museum also offers great panoramic views of Paro valley.
Visit hours: 9 AM to 5 PM (Mar-Oct)/ 9 AM to 4 PM (Nov-Feb) on Tuesday-Saturday, closed on Sundays,Mondays and Govt Holidays.
Entry Fee: INR 25/person for SAARC country residents and INR 150/person for Non-SAARC Country residents.
#2. Rinpung Dzong
Rinpung Dzong is a largest dzong – Buddhist monastery and fortress in Paro. It is also known as Paro Dzong. It houses the district monastic body and government administrative offices. It comprises monk's assembly hall, shrines etc. Dzong have beautiful architecture that makes them most attractive tourist attraction.
If you come here during festival dates, you can witness the beautiful tshechu festival. I was here on the festival dates, could witness the festival. A traditional colorful mask dances performs and conveys the religious stories and incidents from as long ago as the 8th century, during the life of Guru Padmasambhava and  it is performed by monks for several days.It is believed that everyone must attend a Tshechu and witness the mask dances at least once in order to receive blessings and wash away their sins.Every mask dance performed during a Tshechu has a special meaning or a story behind it and many are based on stories.
Tshechus are grand events where entire communities come together to witness religious mask dances, receive blessings and socialize. In addition to the mask dances tshechus also include colorful Bhutanese dances and other forms of entertainment.
Just below the Rinpung Dzong, you can pit stop at a wooden bridge called NYAMAI JAM. It is a wooden bridge as like in Punakha Dzong. You can admire the view of Paro Chhu and Rinpung Dzong from here. Monks and local people use it to reach to Dzong and nearby places.
 #3. Kyichu Lhakhang
It is one of the oldest and beautiful temple of Bhutan. Established in 7th century it was a small structure, by the time many saints expanded the temple in size and grandeur over the period of time. At the entrance of the temple, blue jacaranda flowers and white apple tree flowers make it more beautiful. Inside the temple courtyards, orange trees and butter lamps makes the temple most wonderful and serene place.
Temple has so many prayer wheels than any other Lhakhang and one can see people whirls it and rounds up the temple throughout the day.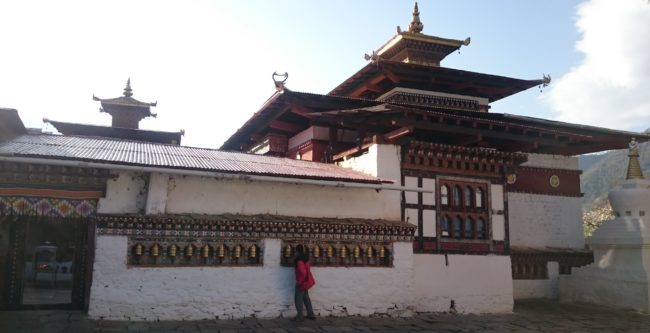 #4. Bird Eye View of Paro Airport
Stop at BIRDEYE VIEW of Paro airport. Paro airport located on the bank of Paro Chhu river. You can have the best view of the airport from here. If you go to this point early in the morning at 8.30 am, you can see the dramatic take offs from the airport. It is considered to be most challenging and dangerous airport in the world, so the flight takes off and landing is the trickiest here.
#5. Take River Side Walk
Just walk beside the river and enjoy the local vibe of the valley. Pass by beautiful local houses and agriculture land and just enjoy the natural flora and fauna. Also you can take a leisure walk on riverside promenade which is long stretch.
Other Points of Interest:
Apart from above you can visit to Pema Gift shop where you can dress like a Bhutanese; wear Gho (for men) and Kira (for women) at nominal rates and get clicked yourself.

Visit to Drukgyal Dzong.
How to Reach:
By Air:
Paro airport is the nearest airport. Druk Air and Bhutan airlines  only fly to Bhutan.
Other Option is to fly to Bagdogara airport in West Bengal,India and then take  road trip from Pheuntsholing.
Where to Stay:
There are so many hotels available in the budget of INR 1500-2000/night. I had stayed at Hotel Phendey Gakhil for INR 1800/Night near to Kyichu Lhakhang. You can directly book the hotels from Bhutan hotel and Tourism Bhutan. All the hotels in Bhutan provides free WiFi connectivity to stay in touch with digital Media.
Getting Around:
Local taxis for sightseeing are available at INR 1200-1500 from the Taxi stand.
Currency: Bhutanese Ngultrum (Nu). 1 INR = 1 Nu. Indian denominations up to INR 500 are accepted in Bhutan.
Travel Tips and Etiquette:
Bhutan is Buddhist country; littering, smoking, playing games are strictly prohibited inside the Dzongs/monasteries.

Photography inside Lhakhang and Dzong is prohibited.It is permitted in the courtyards and outside temple.

Always wear appropriate clothes. Avoid the shorts and sleeveless.

Don't cover your head with the Cap/dupatta/scarf inside the Dzongs/Lhakhang.

When pass by chortens, mani walls or prayer flag, pass by to the left or clockwise.

Apply lot of Sunscreen lotion if you are visiting Bhutan in summer, as it may give you sunburn.

Always carry water bottles with you; you might walk a lot at every sightseeing place.

Ask permission before taking a person's photo and respect their decision if they decline.
Rahee's Suggestion:
I recommend staying for 2-3 Nights in this beautiful town.

Always check the festival dates while planning your travel to Bhutan. Festivals shows unique,colorful and exciting displays of traditional culture.Two of the most popular Tshechus in the country are the Paro and Thimphu Tshechus in terms of participation and audience.check the dates from Tourism Bhutan.
Recommended Itinerary:
Day-1: Reach to Paro and evening at leisure
Day-2: Local sightseeing
Day-3: Hike to Tiger's Nest [you can alter the activities on day-2/3 as you want]
P.S Prices above mentioned are as on April-2017 during my travel to Bhutan.